Our goal is to give you the tools and confidence you need to improve your finances. Although we receive compensation from our partner lenders, whom we will always identify, all opinions are our own. By refinancing your mortgage, total finance charges may be higher over the life of the loan.
Credible Operations, Inc. NMLS # 1681276, is referred to here as "Credible."
When you're shopping for a home loan, you're bound to come across two numbers: the interest rate and the annual percentage rate (APR).
These numbers help you determine how much you'll pay to borrow money from a lender, but they're not the same. Knowing the difference between the two is important as you begin to shop around.
Here's how an interest rate and APR compare:
What is a mortgage interest rate?
The interest rate is the cost you pay every year to take out a home loan. It doesn't include extra fees or charges you may pay your lender to borrow the money. The rate can be variable or fixed, but it's always expressed as a percentage.
For example:
Let's say you take out a 30-year mortgage worth $160,000 with a fixed interest rate of 3%. During your first year in the
mortgage
, you would pay $4,754 toward interest.
How your interest rate is determined
Lenders take various factors into account when setting your mortgage rate. They look at the overall economy, as well as your personal financial situation.
Larger economic factors
Personal economic factors

Strength of the economy
Inflation rates
Employment
Consumer spending
Housing construction and other market conditions
Stock and bond markets
10-year Treasury yields
Federal Reserve policies

Credit score
Credit history
Down payment size
Loan-to-value ratio
Loan size, type, and term
Debt-to-income ratio
Location of the property
While you don't have much control over the economy, you can take steps to improve your financial situation and get a better mortgage rate. For example, you can:
Work on improving your credit score
Increase your down payment, which reduces risk for the lender
Buy a less expensive home, which reduces the amount you borrow
Work on your debt-to-income ratio by paying down debt or increasing your income
What is APR?
The annual percentage rate, or APR, provides a broader measure of the cost of borrowing money. The APR includes the interest rate along with other charges you might pay for the loan.
Because it includes costs beyond the interest rate, your APR is usually higher. In addition to the interest rate, the following costs may be baked into your APR:
Mortgage brokerage fees
Private mortgage insurance
For example:
Take a look at the home loan from the example described earlier. With a 30-year home loan for $160,000, you're paying $4,754 toward interest in year one. But say your lender also charges you $2,800 upfront in origination fees and discount points. That means your mortgage costs are actually $7,554.
By spreading the fees over the course of your loan term, the APR takes that upfront cost and helps you better measure it against other mortgage offers.
How your APR is determined
The annual percentage rate is determined by your financial institution, since it's composed of costs that vary from lender to lender.
According to the Truth in Lending Act (TILA), your lender must disclose the APR in all of your mortgage documents. But they might not include every fee in the APR.
To understand what you're paying for, ask your lender to explain how it calculates your rate.

The difference between interest rate and APR
The difference between an APR and mortgage interest rate is relatively straightforward. Here's a quick breakdown of how the two costs differ:
Interest rate: Annual cost you pay to borrow money
APR: Annual cost you pay to borrow money, plus other charges
In short, think of the APR as your interest rate plus other charges you'll have to pay to get that loan. While the difference between the two might seem small, it can have a significant impact on your total costs.
Comparing APRs across loan offers can give you a better idea of what you'll pay on a home loan.
Tip:
Some costs, such as the following, are generally not included in either the interest rate or APR:
Title or abstract fee
Notary fee
Closing agent or title attorney
Home inspection
Recording fee
Transfer taxes
Credit report review
Appraisal
Credible helps give you a better sense of what you'll pay in total for a home loan from one of our partner lenders by displaying the APR. This makes it easier to compare loans and lenders as some have more fees than others.
If you're shopping around for a home loan, let Credible help — you can see what mortgage rates you prequalify for in just a few minutes.
Credible makes getting a mortgage easy
Instant streamlined pre-approval: It only takes 3 minutes to see if you qualify for an instant streamlined pre-approval letter, without affecting your credit.
We keep your data private: Compare rates from multiple lenders without your data being sold or getting spammed.
A modern approach to mortgages: Complete your mortgage online with bank integrations and automatic updates. Talk to a loan officer only if you want to.
Comparing home loans using interest rate and APR
The best way to compare loan terms is by submitting mortgage applications and requesting a loan estimate. Lenders are required to give you this document within three days of applying for a mortgage.
The loan estimate lists important details, including your:
Closing costs
Monthly mortgage payment
Interest rate
APR
Estimated taxes and insurance
The loan estimate tells you if your loan amount, interest rate, and monthly payment can change after you close on the loan.
You can find the interest rate on page 1 of the loan estimate under "Loan Terms."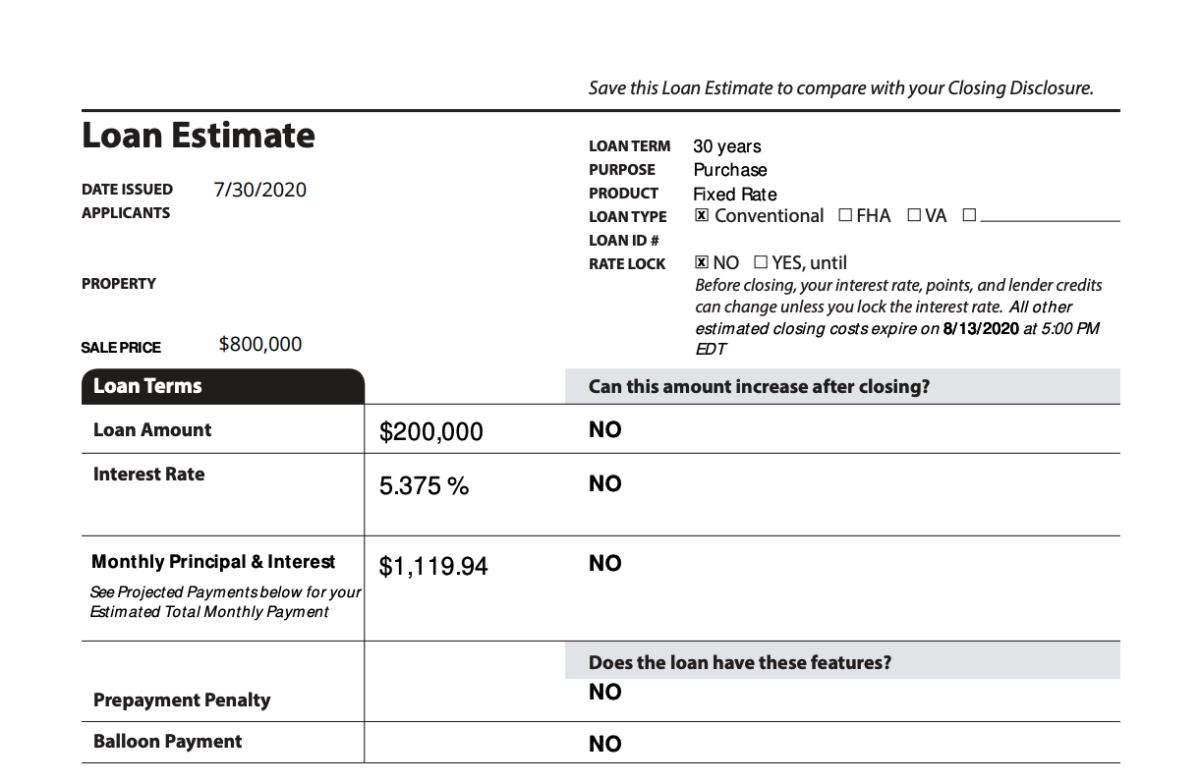 The APR, meanwhile, can be found on page 3 under "Comparisons.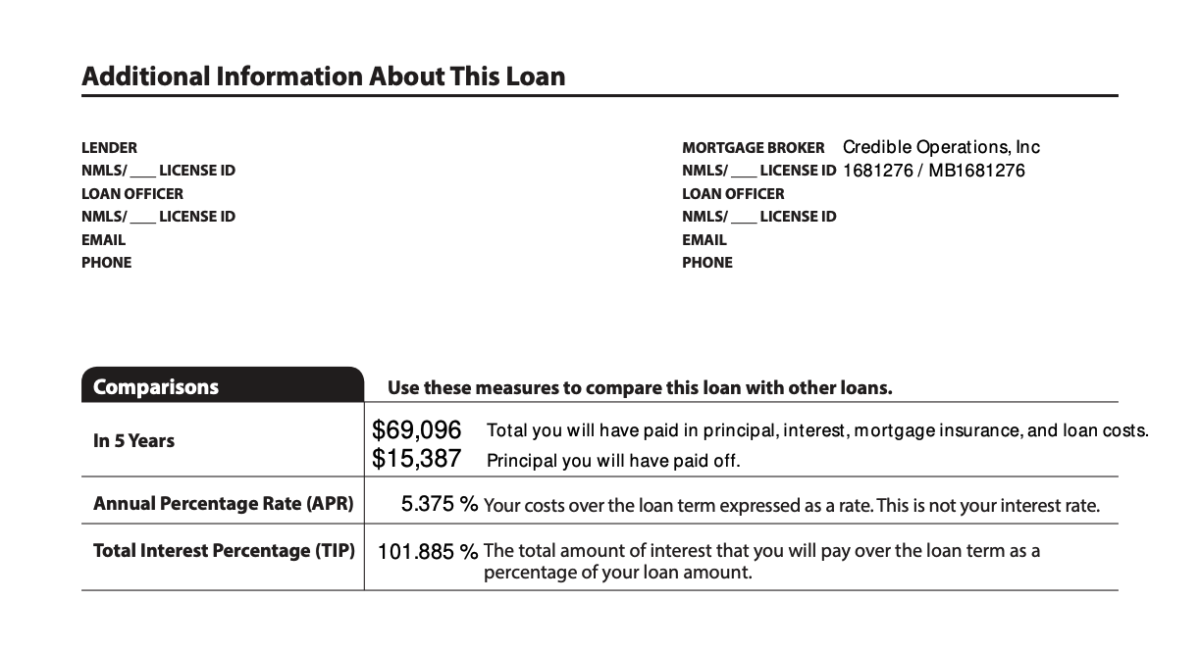 Once you've gathered loan estimates from multiple lenders, compare the interest rates, APRs, and closing costs.
Tip: After you've compared costs, negotiate your loan terms by taking the best offer and asking the other lenders to match or beat the deal. Having a strong credit history may help lenders compete for your business.
Learn More: How to Get the Best Mortgage Rates
What if my mortgage rate can change?
When looking at your interest rate on the first page of the loan estimate, check the right-hand column: "Can this amount increase after closing?" If it says "Yes," then you're taking out an adjustable-rate mortgage.
With an ARM, your interest rate can change following an initial fixed period, which means the APR won't reflect the maximum interest rate of the mortgage.
Your loan estimate should explain how your interest works in the "Projected Payments" table on page 1. Here's what your loan estimate might look like for an ARM: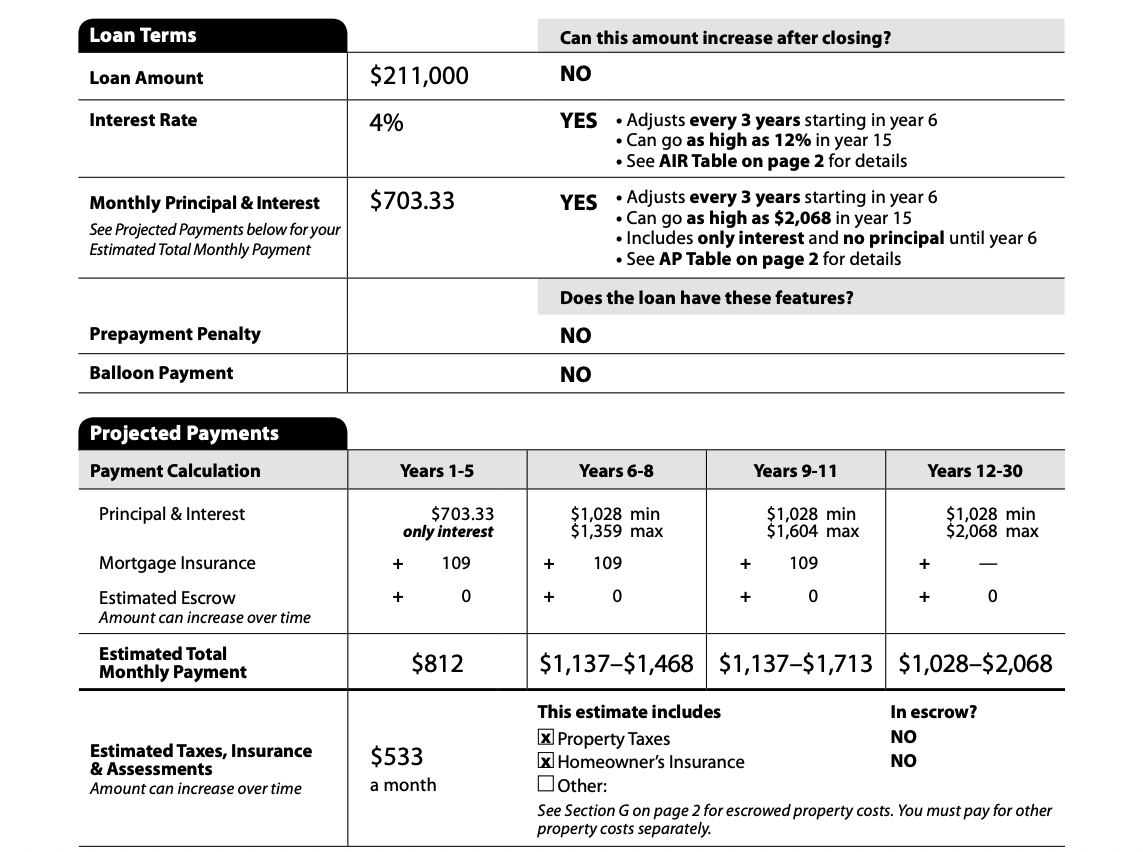 There are also a couple of tables on page 2 — the Adjustable Payment (AP) table and the Adjustable Interest Rate (AIR) table — that provide additional details on your ARM. Here's an example of what these tables look like:

Check Out: How to Find the Best Mortgage Lender

Low mortgage rate vs. low APR: What's more important?
When it comes to deciding between mortgage loans, it's a good idea to check both the interest rate and the APR. The interest rate tells you how much interest you'll pay every year, while the APR indicates the interest rate plus extra costs added by the lender.
Because the APR gives you a broader picture of the costs you pay, it's the more important figure when calculating your loan costs.
Check out this example: You're looking to buy a home for $200,000 with a 30-year fixed rate and a 20% down payment. After getting two loan estimates, you compare the costs you pay on Loan A versus Loan B.
Although Loan A has a higher interest rate, the APR is lower. You wind up paying less on Loan A over time:
Loan A
Loan B
Interest rate
3.2%
3.1%
Points and fees
$2,500
$4,000
APR
3.3%
3.4%
Monthly principal
(principal and interest only)
$691
$683
All costs in the first five years
$43,960
$44,980