Our goal is to give you the tools and confidence you need to improve your finances. Although we receive compensation from our partner lenders, whom we will always identify, all opinions are our own. Credible Operations, Inc. NMLS # 1681276, is referred to here as "Credible."
There's a lot to like about condo living. Depending on where you live and the specific community, a condo could come with a cheaper mortgage, less maintenance, and plenty of top-notch amenities.
But there are some drawbacks to living in a condo community — beginning with the loan. Your lender will put the condo under extra scrutiny during the underwriting process to make sure it meets all sorts of requirements.
Here's what you need to know before buying a condo:
What is a condo?
A condo, or condominium, is a single unit within a multiple-unit property. Unit owners might have access to amenities such as a gym, pool, dog-walking area, business center, and other shared areas.
Unlike an apartment, a condo board, elected by the unit owners, usually manages the amenities, sets the budget, and sponsors events.
As a unit owner, you'll pay a monthly condo fee to cover the property expenses set by the association.
Additionally, you might have to pitch in to cover special assessments, which are projects and repairs paid for by you and the other owners.

Pros and cons of buying a condo
There are several key differences between buying a condo and a single-family home. Familiarize yourself with some of the pros and cons before you start home shopping:
Pros
They're more affordable. Buying a condo is typically cheaper than buying a house. The median existing single-family home price in the U.S. was $314,300 in December 2020, while the median condo price tag sat at just $272,200, according to the National Association of Realtors.
You'll have access to shared amenities. Depending on the condo community, you might have access to great amenities and opportunities to socialize with your neighbors.
They might have better security. Some condo associations hire security guards to patrol the grounds, which can mean a safer neighborhood.
Cons
You'll have to pay HOA fees. Condo fees can range from a couple hundred dollars to more than a thousand dollars per month, but these vary with each association and might increase over time. These fees might pay for things like insurance, parking lots, security, and shared amenities. Before buying a condo, consider whether your budget can handle this extra expense.
You'll be subject to more restrictions. Each condo association sets its own covenants and restrictions, which are rules that members have to follow. These can range from simply annoying to outright restrictive, and breaking the rules might result in a hefty fine.
They might be harder to sell. Life under a condo association isn't for everyone, which might narrow the pool of buyers vying for your property.
If you're considering a condo purchase, be sure to shop around for a great rate. Credible makes this easy — you can compare all of our partner lenders and see prequalified rates in as little as three minutes.
Credible makes getting a mortgage easy
Instant streamlined pre-approval: It only takes 3 minutes to see if you qualify for an instant streamlined pre-approval letter, without affecting your credit.
We keep your data private: Compare rates from multiple lenders without your data being sold or getting spammed.
A modern approach to mortgages: Complete your mortgage online with bank integrations and automatic updates. Talk to a loan officer only if you want to.
See: Financing a Duplex: How to Get a Loan for a Multi-Family Property
How to get a loan for a condo
Getting a mortgage for a condo is generally harder than getting a mortgage for a house.
A condo unit is part of a multi-unit development, so the borrower's finances are intertwined with others — and lenders see this type of home as a riskier investment.
Your chosen condo will need to exhibit strong financial health if you want to qualify for a mortgage. Here are some tips for buying a condo: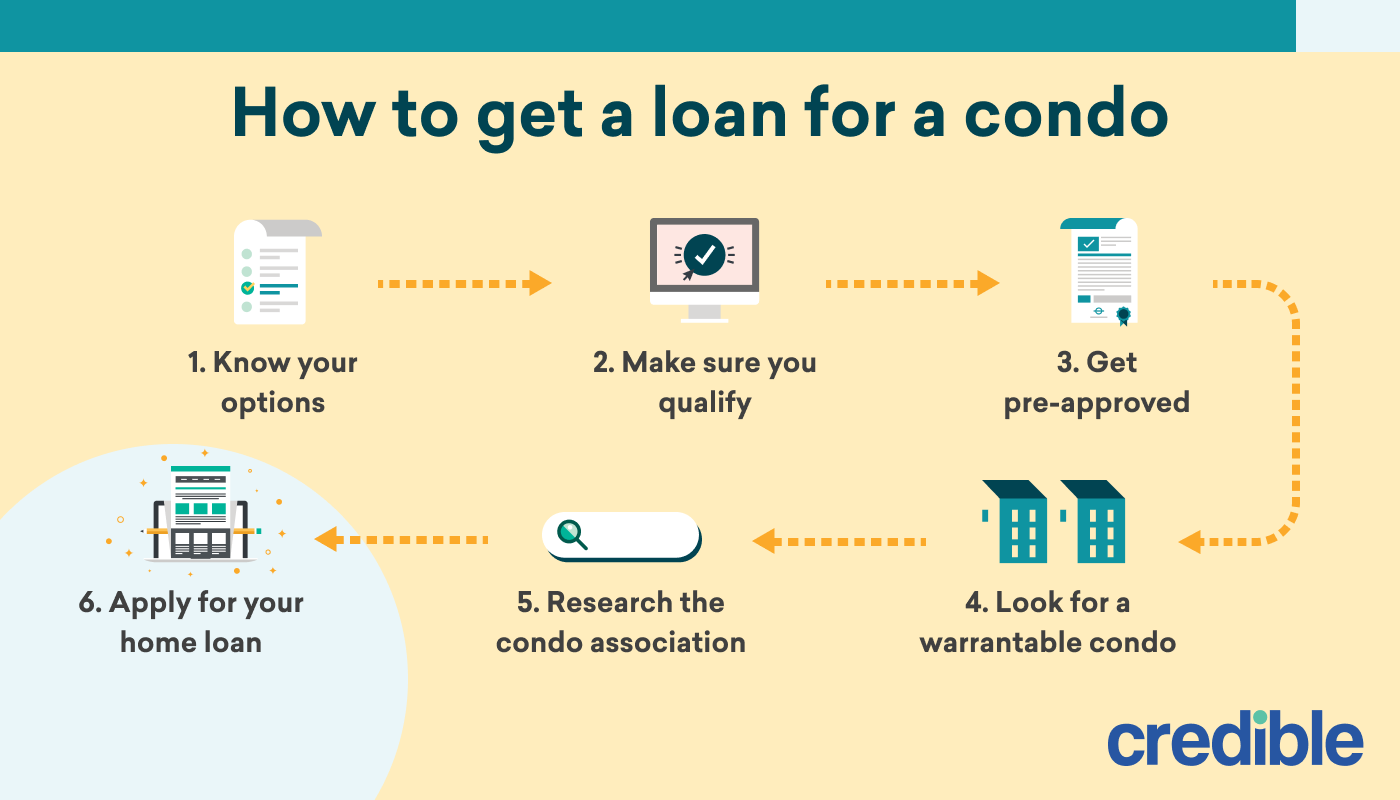 1. Know your options
When you're buying a condo, you have the same mortgage options as someone buying a single-family home. These include:
Conventional loans
FHA loans
VA loans
Keep Reading: 10 Mistakes to Avoid as a First-Time Homebuyer
2. Make sure you qualify
Every loan program will have its own rules surrounding mortgages for condominiums.
If you're looking to get an FHA loan — an attractive option for first-time homebuyers — then you'll need to see if the condo is listed on the agency's approved condominium list. The Department of Veterans Affairs publishes a similar list for VA loans.
If the condo appears on one of these lists, it will likely be approved for a conventional mortgage.
Learn More: FHA Approved Condos: How to Find One
3. Get pre-approved
The best way to tell whether the condo will meet program requirements is to ask a lender and get a mortgage pre-approval.
During this process, the lender will review your finances and let you know how much you can afford on a home loan. If you have a specific condo in mind, the lender might be able to tell whether it fits requirements.
Also See: How Does the Mortgage Underwriting Process Work?
4. Look for a warrantable condo
A warrantable condo is one that fits eligibility requirements set out by Fannie Mae and Freddie Mac.
These agencies, which purchase and insure most of America's conventional loans, want to make sure the condo is in a financially sound community before they buy the loan.
Fannie Mae and Freddie Mac say that warrantable condos generally meet these requirements:
No more than 15% of units are delinquent on condo association dues
The association holds at least 10% of its annual budget in reserves
A certain percentage of the units are owner-occupied
The condo development has many individual owners — so no single entity owns more than a certain number of units
The association carries appropriate insurance coverage
A non-warrantable condo does not meet these requirements, and it will be harder to qualify for a mortgage. In this case, you might consider buying a single-family home or paying for the condo with cash.
5. Research the condo association
Before buying a condo, you'll want to research the association to make sure the unit is a good investment.
Ask the association for copies of its governing documents, which will give you all the details on its financial health.
Tip:
If you spot low reserve funds or a history of litigation in the association's governing documents, those are red flags. A
real estate attorney
can help you decipher these documents.
You'll also want to see who's in charge of maintaining the day-to-day operations. If it's a property management company, you can research its reputation via the Better Business Bureau or through online reviews.
6. Apply for your home loan
If your condo meets eligibility requirements, then you can apply for the home loan. The lender will review your finances and send the condo association a list of questions.
For example, the lender will want to know how many units are in the community, who lives in them, and whether special assessments are coming down the line.

Is a condo right for you?
You'll need to consider whether your lifestyle aligns with the condo's rules and regulations.
For instance, if you have a pet, play musical instruments, and have plans to customize your home, then you'll need to check whether the homeowners association will allow it.
But if you don't mind following association rules, paying monthly dues, and living in close proximity to your neighbors, then owning a condo could be a good option for you.
When shopping around for mortgage lenders, you'll want to consider factors like rates, fees, and loan products. Credible makes comparing multiple lenders quick and easy; you can see your prequalified rates from our partner lenders in the table below in just three minutes.