Our goal is to give you the tools and confidence you need to improve your finances. Although we receive compensation from our partner lenders, whom we will always identify, all opinions are our own. By refinancing your mortgage, total finance charges may be higher over the life of the loan.
Credible Operations, Inc. NMLS # 1681276, is referred to here as "Credible."
No home is perfect. But there might be no better way to get your version of perfect than buying a newly constructed home.
When buying new construction, you'll be able to choose the layout and design features that work best for you, from built-in smart technology to home offices to a garage that actually fits all of your stuff.
At the same time, having a home built to your specifications can be an exhaustive and expensive commitment.
Here's what you need to know if you're thinking about buying a new construction home:
Pros and cons of buying new construction
Buying new construction gets you closer to having your dream home: one where the layout, color scheme, appliances, and technology better suit your needs and tastes.
Realizing this dream requires sacrifices, however. It takes time and effort to make all of your selections, and you'll have to wait for your home to be complete.
On top of that, a brand-new, fully customized property is likely to cost more than a similarly sized existing home.
Pros
We looked at the features America's largest homebuilders are offering to see what the biggest benefits of buying new construction are. Here's what we found:
They're customizable. You'll be able to choose your floor plan, design style, and finishes to create a home that suits your lifestyle.
They're more energy efficient. New construction often incorporates windows with superior thermal performance, water-saving faucets, and power-minimizing appliances.
They're Wi-Fi enabled. New homes can be constructed to avoid dead spots in Wi-Fi coverage, ensuring that your internet works as it should.
They're smart. Most new homes include smart-home devices like security cameras, locks, electrical switches, and thermostats.
They'll cost you less in maintenance. All-new everything means you shouldn't have to replace the roof or the air conditioner anytime soon. Your builder's warranty should offer protection against premature failure of the home's systems and structures.
If you're flexible on the design, you can save time by purchasing a new home that's already been built. It's called a spec home.
Cons
Now it's time to inject some realism into your new-home fantasies. Here's what you might not like about buying new construction:
New homes take time to build. You'll wait anywhere from three months to more than a year for your new home to be move-in ready. Aside from the home's size and complexity, factors such as weather conditions, labor shortages, and the local permitting and inspection process will affect how long construction takes.
They can get pricey. Builders advertise new homes starting at a certain price that might look appealing and affordable. But when you deviate from the simplest floor plans, smallest lots, and lower-end finishes, the price point can quickly increase.
New homes can suffer from construction defects. New homes aren't always built perfectly. Mistakes can lead to foundation cracks, roof leaks, doors that don't close properly, and drafty windows.
There's less room for negotiation. An existing home's owner might lower the price if the market and the home's condition justify it. A builder might refuse because a price cut could impact future sales and the community's previous buyers. Still, while the builder might not budge on price point, they might bend on upgrade costs.
Credible doesn't offer construction loans, but we can help you compare mortgage rates from all of our partner lenders if you decide that a new construction home isn't for you. Our process is simple and secure — and it only takes a few minutes to complete.
Credible makes getting a mortgage easy
Instant streamlined pre-approval: It only takes 3 minutes to see if you qualify for an instant streamlined pre-approval letter, without affecting your credit.
We keep your data private: Compare rates from multiple lenders without your data being sold or getting spammed.
A modern approach to mortgages: Complete your mortgage online with bank integrations and automatic updates. Talk to a loan officer only if you want to.
How to buy a new construction home
To get a better understanding of whether buying a new construction home is right for you, it can be helpful to talk to real estate agents, home builders, and new construction homeowners to learn more about the process in addition to gathering research online.
If you decide to proceed, here are the steps you'll need to follow.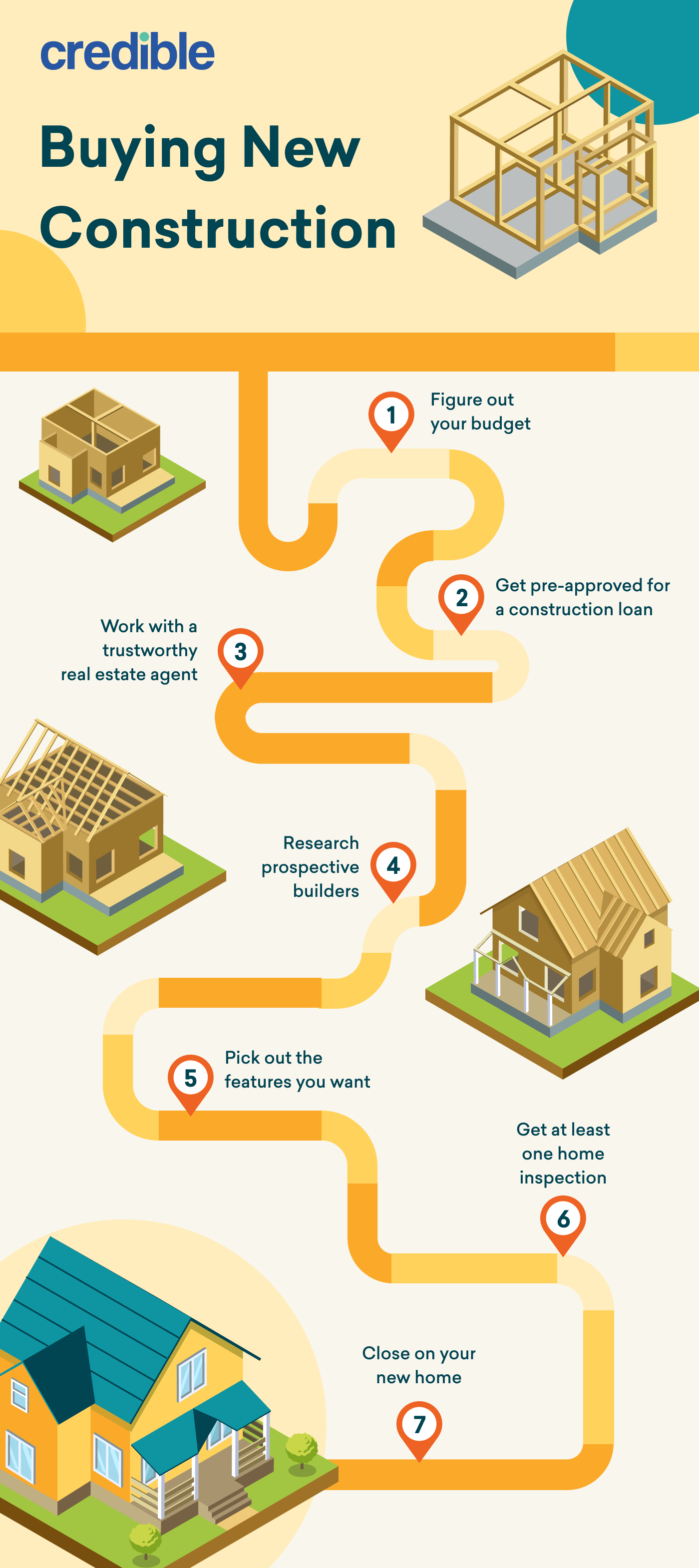 1. Figure out your budget
You might need to make payments while your home is under construction (though, some construction loans don't require this), and you'll probably still be paying for your current digs during that process. Therefore, it's important that you get your budget in order.
As with any home purchase, you'll also need to determine how much you can put down upfront and afford to spend each month.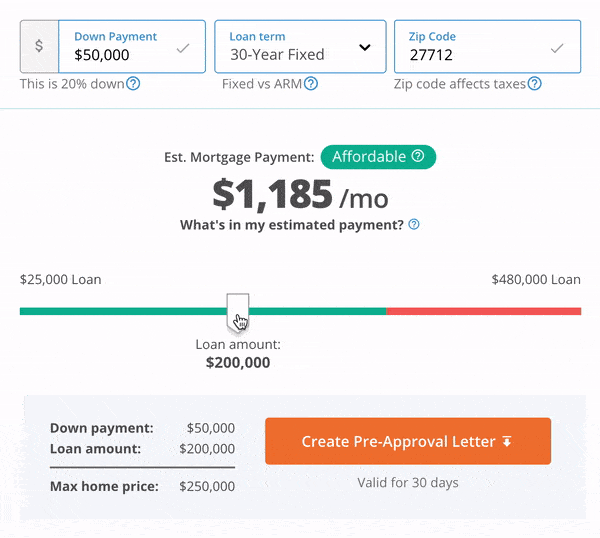 The minimum down payment will depend on the loan type. For example, the down payment can be as low as 0% on a VA or USDA construction loan.
Down payments for traditionally financed construction loans vary by lender, but typically require at least 20%.
Learn More: How Much Does It Cost to Build a House in 2021?
2. Get pre-approved for a loan
You can finance the purchase of a new construction home with a single home loan to cover both the construction period and the post-construction period, or you can use a separate loan for each.
You'll want to shop around for different lenders who offer construction loans to see what's available to you and what you qualify for.
Some builders also have relationships with preferred lenders. Examples include:
Pulte Homes (Pulte Mortgage)
Lennar (Lennar Mortgage)
Meritage Homes (MTH Mortgage)
KB Home (KBHS Home Loans)
You might enjoy a more streamlined process when you use the builder's preferred lender. But you should still compare pre-approval offers from multiple lenders to make sure you get the best deal.
Credible doesn't offer construction loans, but if you're still on the fence about purchasing a new construction home and would rather go the more traditional route, we can help you compare mortgage rates from all of our partner lenders. Get started using the table below.
Loading widget - purchase-rate-table
3. Work with a trustworthy real estate agent
When you're buying new construction, the builder will have a real estate agent representing them. You might be able to use this person as your purchasing agent, but they will have a conflict of interest.
Finding your own agent, and choosing someone with experience negotiating new construction purchases, can help you protect your own interests and get the best deal.
4. Research prospective builders
After finding a few home builders in your area, you'll want to narrow them down by checking their reviews and asking them questions like:
How many years have you worked in my area, and how many homes have you built here?
Tell me about a client who had a problem with their home after moving in and how your company resolved it.
What type of warranties do you offer on your homes? Can you give me a copy now to review?
What happens if I change my mind about something after construction begins?
Who oversees the construction process, and how long does it take?
What inspections take place during construction?
Tip: Your real estate agent can also be a good source of information about the reputations of local builders.
5. Pick out the features you want
Probably the most fun part of the process is working with your builder to choose your new home's features. The upgrades and customizations available will depend on the builder and the type of new construction you choose, as well as your budget.
When it comes to new construction homes, you can typically choose between three categories of construction: custom, semi-custom, and spec.
A custom or semi-custom home is what it sounds like — a home built completely or partially to your specifications. Meanwhile, a spec home is a newly constructed, move-in ready home designed by the homebuilder.
| | | | |
| --- | --- | --- | --- |
| | Custom | Semi-custom | Spec |
| Timeframe | A year or longer to design and build | Several months to one year | Already built or a couple months from completion |
| Customization level | Floorplan, design, features, and finishes all determined by the buyer | Choose among a variety of floor plans, then customize the finishes | Most or all features and finishes preselected by builder's designers |
| Resale potential | Market could be limited | Broad appeal, unless you pick unpopular customizations | Broad appeal |
| Best for | Uniqueness and total control | Some control, medium time frame | Speed and simplicity |
Learn More: How Much Does It Cost to Buy a Home?
6. Get at least one home inspection
Hire your own home inspector to be sure you're getting an unbiased opinion on the home's condition.
A home inspection generally costs $300 to $500, depending on your location, the home's size, and the complexity of the inspection.
Tip: Depending on what phase of new construction you're buying, you might only need an inspection of the completed property, or you might also need pre-build and pre-drywall inspections.
7. Close on your brand new home
Closing on a new construction home means that the home is physically ready to move into and that you've signed all of your financing documents. Your homeowners insurance is in place and purchase funds have been transferred.
You'll want to get regular updates from your builder as your home is close to being ready so you can work with your lender to coordinate the timing of your loan closing.

Is a new construction home right for you?
Buying a newly constructed home can give you a greater level of customization than you could get from existing construction — along with modern technology, energy efficiency, and minimal maintenance. It can also be expensive and test your patience.
Ask yourself these questions to help determine whether new construction is right for you:
Do I want features that I can't find or easily create in an existing home?
Do I have the patience to make numerous decisions and endure possible delays?
Am I willing to wait several months or longer for my home to be ready?
Can I afford the cost of a construction loan while I'm waiting to move into my new home?
If you answered yes to all of these questions, a new construction home might be a good fit for you.