Our goal is to give you the tools and confidence you need to improve your finances. Although we receive compensation from our partner lenders, whom we will always identify, all opinions are our own. By refinancing your mortgage, total finance charges may be higher over the life of the loan.
Credible Operations, Inc. NMLS # 1681276, is referred to here as "Credible."
The homebuying process can be confusing and complicated — especially if it's your first time around the block. 
If you're planning to buy your first home soon, here are 13 first-time homebuyer tips to help you stay on track:
1. Know what's on your credit report
When evaluating your application for a mortgage, lenders look at more than just your credit score. They also review your credit report to evaluate your payment habits, balances, and overall financial health.
Both of these items — your report and your score — will help your lender determine what interest rate you're eligible for. Generally speaking, the better your credit is, the lower your rate will be.
Tip: To make sure you get the best rate possible, review your credit report regularly and adjust your habits accordingly. If you see errors on your report, alert the credit bureau, as it could improve your score.
2. Set a budget
Carefully review your finances — including your monthly income and debts — so you can get a feel for how much house you can afford.
Here are some general guidelines to follow:
If you're debt-free: You can consider houses that are up to five times your total household income.
If less than 20% of your income goes to pay down debt: Feel free to shop for a home that is no more than four times your income.
If more than 20% of your monthly income goes to pay down existing debts: Try to only shop for houses that are three times your income or less.
To get a feel for what you can afford, try Credible's streamlined pre-approval process now. It only takes a few minutes, and there's no impact on your credit score.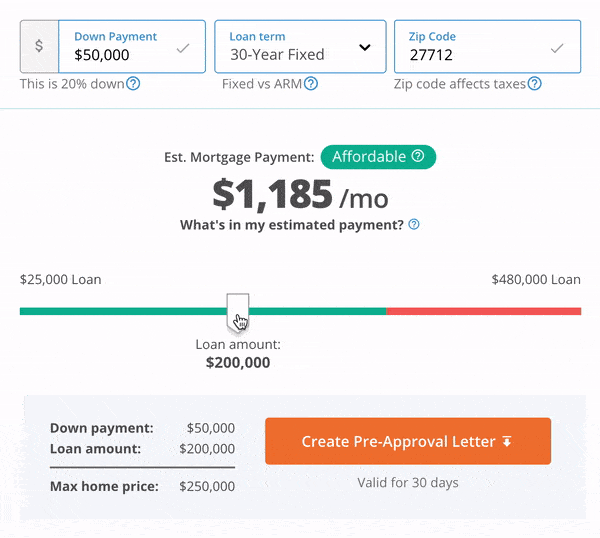 Check Out: How to Get a Streamlined Pre-Approval Letter With Credible

3. Save for a down payment in advance
It takes about 6.5 years for the average American homebuyer to save for a 20% down payment, so it's important to start saving early.
Consider setting up a dedicated savings account just for your homebuying costs, and look into apps like Chime and Acorns, which can automate the process for you.
You should also sit down and look at your budget. Identify areas of your spending where you may be able to cut back, and commit to putting those funds in a high-yield savings account or brokerage account. This could allow you to grow your funds more quickly.

4. Understand the hidden costs of homeownership
Once you're in your home, you'll be responsible for more costs than just your mortgage payment. There are HOA dues, insurance, property taxes, utilities, and more. Then, of course, there's also maintenance costs and repairs — which often come by surprise.
Make sure you take time to estimate these costs before diving into buying a home. Look to county records for an idea of what past property tax bills have been like.
You can also get quotes from a few insurers and utility providers to help you estimate other expenses.
Learn More:
5. Get pre-approved before you make an offer
A pre-approval is a letter from a lender that shows you're approved for a mortgage for a certain amount. Including a pre-approval letter in your offer shows the seller that you're a serious buyer — it's proof you can actually afford the home — and it may help you win in a bidding war, too.
Always get pre-approved for a loan before beginning your home search. You can secure a streamlined pre-approval letter in just three minutes with Credible — a faster process than if you were to go through a traditional lender.
Traditional lenders
Credible
How long does it take?
1 to 3 days
3 minutes
Credit check
Hard credit pull
(negative impact on your credit)
Soft credit pull
(no impact on your credit)
Online process
Typically minimal; instead processed via in-person visit at a branch or phone call with a licensed loan officer
100% online
Compare multiple lenders?
No, visit multiple lenders to receive multiple pre-approval letters
Yes, pre-approved across multiple lenders at once
Multiple pre-approval letters to make additional property offers?
No, must submit another request to lender for new pre-approval letter
Yes, generate additional letters instantly with a customized loan amount

Ready to get pre-approved through Credible?
Generate a pre-approval letter instantly

Start Now
6. Look into programs like FHA, USDA, and VA loans
If you can only afford a small down payment, FHA loans, USDA loans, and VA loans can be a good option to consider. These require minimal down payments — zero in some cases — and can make buying a home a bit more affordable.
FHA loans can be used anywhere, while zero-down USDA loans are for use in rural areas only. VA loans, which also can require no down payment, are reserved for military members, veterans, and their spouses.

7. Check out first-time homebuyer programs
Many city and state housing agencies have first-time homebuyer programs that can help lower the costs of homeownership. Some of these provide down payment assistance, while others cover a portion of your closing costs.
Options vary by location, so reach out to your local housing department for guidance. Your real estate agent may also be able to help.

8. Compare rates from multiple lenders
Mortgage rates differ from one lender to the next, which makes shopping around a critical step in the homebuying process.
You'll want to get quotes from at least three to five different lenders, being careful to compare the annual percentage rate (APR), additional fees, and the total costs of the loan — both upfront and over time.
You can use Credible to get quotes from several mortgage lenders at once. Just fill out this quick pre-approval form, and compare your loan options.

Keep Reading: 4 of the Best Mortgage Lenders
9. Keep your credit stable
Mortgage lenders want to see that your credit is stable, so avoid opening any new accounts or racking up credit card debt during the mortgage approval and underwriting process.
Your lender will re-pull your credit as you get closer to closing, and any changes — especially ones that indicate you're not good at managing your money — could mean a higher interest rate or more fees.
Tip: Wait until after closing on your mortgage to open up any new credit accounts, and avoid making big-ticket purchases, like new furniture, until after your loan is finalized.
10. Don't empty your bank account
There are a lot of upfront costs that come with buying a home, but don't empty your bank account to pay for them. Doing so is incredibly risky and leaves you with little money to handle unexpected expenses.
Instead, focus on saving money in a separate account from your emergency fund. It might take several years to save it all up, but once you've done it, you'll have greater peace of mind — not to mention a financial safety net in case things go awry.

11. Get a real estate agent
While it's entirely possible to buy a home solo, it's not advisable — at least your first time around. An experienced agent can help you vet neighborhoods and homes, schedule tours, negotiate, draw up contracts, and more.
Ask your friends, family members, and colleagues for agent recommendations in your area too, and be sure to interview at least a few. You want to make sure they're a good fit before deciding to work together.
In need of a real estate agent?
Credible can help you find a trusted agent with expertise in your market.
Find your agent
Over 90,000+ agents nationwide
Disclosure: Credible Operations, Inc. is a mortgage broker. We are not a real estate agent or broker and do not offer any real estate agency or brokerage services. All such services are provided by a licensed real estate broker who has agreed to display their services on the Credible website. These real estate brokers may receive compensation if you move forward with their agent match service.

Find Out: How to Find a Real Estate Agent: Step-by-Step Guide

12. Find a good home inspector
A home inspector is another good partner to have. For a few hundred dollars, they'll inspect the home, looking for any safety hazards or problems that need to be repaired.
You can then use their findings to renegotiate with the seller — asking them to make the noted repairs or give you the funds to do it yourself.
Getting a quality home inspection is critical to ensuring you buy a safe, well-maintained property that's worth the money you're paying for it.

Find out: How to Conduct a Property History Search Before You Buy
13. Vet the neighborhood
Your neighborhood — and your neighbors — can make or break your experience as a homeowner. Once you find a home you like, make sure to walk the neighborhood. Talk to people out in their yards, and get a feel for what the community is like.
You should also research crime rates, school quality, and neighborhood amenities. Knowing how close it is to things like your work, grocery stores, playgrounds, and other must-haves is important, too.
Buying your first home
Shopping for a house as a first-time homebuyer can be overwhelming. However, by doing your homework and following these tips, you can avoid falling into common first-time homebuyer traps.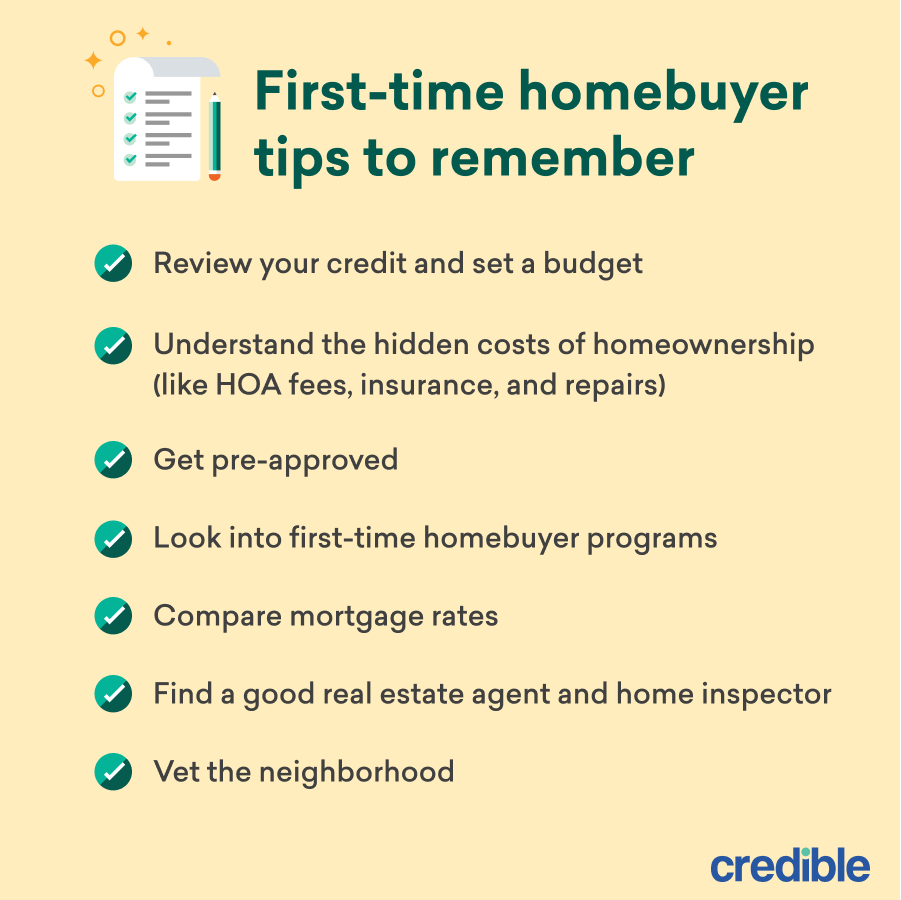 Learn more: Buying a House For Sale By Owner (FSBO)