Our goal is to give you the tools and confidence you need to improve your finances. Although we receive compensation from our partner lenders, whom we will always identify, all opinions are our own. By refinancing your mortgage, total finance charges may be higher over the life of the loan.
Credible Operations, Inc. NMLS # 1681276, is referred to here as "Credible."
If you want to buy a home, you'll need to know how to save for the biggest upfront cost — the down payment. Some loans don't require any down payment, but you'll typically need at least 3%. If you can put down 20%, you won't have to pay private mortgage insurance (PMI).
Here's what you need to know about saving for a down payment:
10 ways to save for a down payment
The following strategies can help you save up for a down payment on your mortgage.
1. Set up an automated savings plan
An automated savings plan transfers money from your checking account to a designated savings account at a set time and frequency.
Prioritizing your down payment savings and moving the money to an account where it's harder to spend may help you reach your goal sooner.
2. Keep your savings in a dedicated account
In addition to moving money automatically every so often, keeping that money in a savings account earmarked for your down payment can help you save.
You may be less likely to touch that money for other purposes, like repairing your car, if you have separate savings accounts labeled for different purposes.
Some banks make it easy to organize your savings. Ally, for example, has a "buckets" feature, which are just labeled sub-accounts within your main savings account.
3. Take up a side hustle
No one would blame you if you were sick of hearing the advice to take up a side hustle. Shouldn't one job be enough?
But a second job really is a great way to boost your income to meet a short-term goal, like saving for a down payment. With the increased ability to work remotely and take on flexible independent contractor jobs, generating extra income has never been easier.
Tip: While side-hustle income may help you fund your down payment, it may not count toward your qualifying income when you apply for a mortgage. Only income that you have a long track record of earning and that you expect to continue is likely to count for that purpose.
4. Trim your budget
Here's an easy way to trim your budget. When you're looking at your monthly spending in a certain category, or going through your recent purchases, ask yourself: "Would I rather have this, or would I rather own a home?" This simple question can help you prioritize your spending.
It's OK if you don't want to cut everything — or anything — to buy a home. Asking yourself this question repeatedly might reveal that you're actually happier renting, and that's fine.
5. Pay off credit card debt
High-interest credit card debt sabotages your savings. Paying down your balances will give you a great return on your investment and free up money you can put toward your down payment.
If paying off your credit cards isn't feasible right now, look into getting a new credit card with a 0% promotional interest rate and transferring your high-interest balances. Pay off as much as you can each month — and make sure you don't run up new charges on your paid-off cards.
6. Reduce your car payment
The average monthly payment for Americans with new car loans is nearly $600 per month, according to an analysis by Consumer Reports. What's more, the analysis revealed that borrowers often wind up paying interest rates that are much higher than average for their credit profile.
If more than 10% of your income goes to your car payment, consider trading in your car for a less-expensive used model. Used car payments average $430 per month, according to a recent Experian Automotive industry report — that's a savings of about $150 per month, or $1,800 per year. You might save even more by shopping around for a better interest rate.
7. Sell belongings you don't need
You could be sitting on a treasure trove of clothing, electronics, vintage items, and other belongings that might fetch good money for your down payment fund.
To get an idea of how much your items are worth, conduct a search for the item on eBay or a similar site like Poshmark, Mercari, or Etsy. Then list your items there at a competitive price. You can also sell them locally on platforms like Facebook Marketplace or OfferUp.
8. Move in with your parents or in-laws
At first thought, moving in with your parents might sound like a step in the wrong direction. But according to data from the Census Bureau, it's actually become more common in recent years due to the pandemic.
In exchange for giving up some freedom and privacy, you can potentially save hundreds or even thousands of dollars a month and put it toward a home down payment.
Meet with your parents ahead of time to get the OK and work out how you'll share household expenses and chores.
Tip: Figure out how much you need for a down payment on a home in your area and come up with a detailed plan to help you achieve your savings goals. Be sure to keep your parents in the loop so they know you're making progress.
9. Lower your bills
Reducing your monthly bills is a relatively painless way to divert more cash to your down payment fund. Infrequently used subscriptions for cable TV, music, and video streaming, and other digital content are a good place to start.
You might also shop around for or negotiate lower rates on phone and internet service. If you're unsuccessful, consider having a company like Billshark negotiate on your behalf in exchange for a percentage of any savings they get you.
Reducing your insurance premiums can also save you a lot of money. If your credit score has increased since you took out insurance, contact your insurer to see if you're eligible for a premium reduction.
Tip:
See if you can combine all of your insurance policies with the same company. Some companies offer discounts if you bundle multiple policies, like auto and
home insurance
.
You may also want to consider increasing your deductibles and dropping collision or comprehensive coverage on old cars to reduce your premiums. Some experts say these coverages might not be cost effective if your car is worth less than 10 times the premium.
10. Look into down payment assistance
Some people don't have the means to save for a down payment. If that's you, look into down payment assistance programs. They're designed to help low-income earners who want to buy a primary residence, and the money can come in the form of a low-interest loan or a grant you don't have to repay.
If you're looking for a great mortgage rate, Credible's streamlined process can help. We make comparing multiple mortgage lenders easy. In just a few minutes, you can see prequalified rates and generate a streamlined pre-approval letter all without leaving our platform.
Loading widget - purchase-rate-table
How much to save for a down payment
Among all buyers, the median down payment is 12%, according to the National Association of Realtors. However, this figure includes repeat buyers, not just first-time buyers, and repeat buyers often put equity from their current home toward the down payment for their next home.
Minimum down payment by mortgage type
Loan type
Description
Min. down payment
Conventional
No PMI. Credit-worthy borrowers with significant savings and/or gift funds
20%
FHA (Government-insured)
Government-insured mortgage for borrowers with low credit scores
3.5% or 10%
(depending on credit score)
VA (Government-backed)
Government-backed mortgage for active military, veterans, and qualified members
0%
USDA (Government-backed)
Very-low to moderate-income applicants in eligible rural areas
0%
You may also want to consider more flexible loan options, such as Fannie Mae's 97% LTV Standard or Freddie Mac's Home Possible mortgage.
These mortgages are geared toward low- to moderate-income borrowers and first-time homebuyers, and they only require 3% down.
Putting zero down
Zero-down mortgages can be incredibly appealing, especially to first-time buyers. But, as economists like to say, there's no such thing as a free lunch. The consequences of putting 0% down include:
Higher monthly payments
Paying more interest over the life of your loan
Ending up with negative home equity if the market declines
Possibly, a higher mortgage rate
Putting down more than required
For comparison, here are some benefits of putting down more than you're required to:
Lower monthly payments
Paying less interest over the life of your loan
Potentially avoid paying private mortgage insurance
Having home equity from day one
Possibly, a lower interest rate
With Credible, the pre-approval process is simple. You can generate a streamlined pre-approval letter in just a few minutes, and Credible's interactive pre-approval tool will help you figure out how much home you can afford.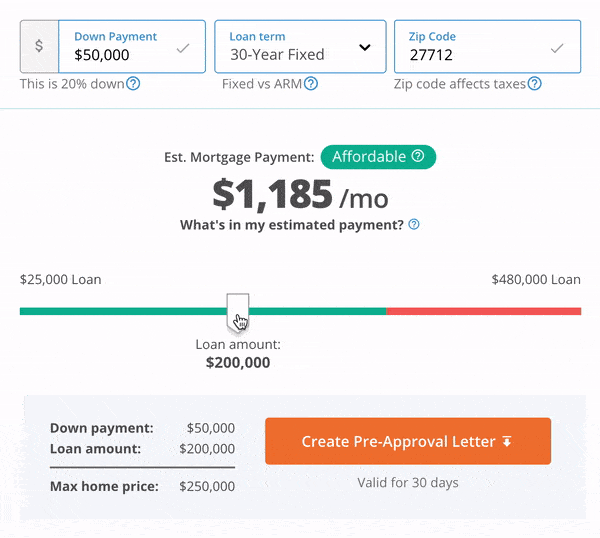 How long it takes to save for a down payment
How long it will take you to save a down payment depends on how expensive that home will be and how much disposable income you have.
Here's what you need to save monthly over the course of one to three years to hit various down payment goals:
Purchase price
Down payment goal
Monthly savings for 12 months
Monthly savings for 24 months
Monthly savings for 36 months
$200,000
3% ($6,000)
$500
$250
$167
20% ($40,000)
$3,333
$1,667
$1,111
$350,000
3% ($10,500)
$875
$438
$292
20% ($70,000)
$5,833
$2,917
$1,944
$500,000
3% ($15,000)
$1,250
$625
$417
20% ($100,000)
$8,333
$4,166
$2,778
Where to keep your down payment savings
As with any savings goal, the account that will hold your down payment savings should preserve your principal and help it keep pace with inflation.
You'll want to opt for lower-risk plays like high-yield savings accounts or certificates of deposit. Let's talk about your options in more detail.
Savings account
Upsides: Safe and reliable
Downsides: Poor interest rates
A standard savings account is a middling place to keep your down payment. It's better than saving large sums of cash at home: it can't be lost, stolen, or damaged.
However, the interest rates on regular savings accounts are almost zero, so your savings could actually lose value slightly because of inflation.
High-yield savings account
Upsides: Higher interest rates than regular savings accounts
Downsides: Not available at every bank
A high-yield savings account has the same benefits as a standard savings account but pays a higher interest rate.
You may not find these accounts at the big brick-and-mortar banks, but there are many online banks with excellent reputations and long track records that offer them. Some brokerage firms also offer them. Make sure that whichever type of savings account you choose, it does not have a monthly fee.
Certificates of deposit
Upsides: Stable and come in different term lengths
Downsides: Might have to pay a fee to withdraw early and returns are relatively low
Certificates of deposit are very safe; they're FDIC-insured and pay a guaranteed interest rate. They also come in many varieties:
No-penalty CDs let you cash out your CD at any time without paying an early withdrawal penalty
Rate-increase CDs let you get a higher interest rate without opening a new CD if rates go up during your CD term
High-yield CDs pay above-average interest rates but charge an early withdrawal penalty if you cash out before the term is up
You can invest in multiple CDs as you save for your down payment and time them to all mature by the date when you plan to buy a home. For example, you might hold a two-year CD, an 18-month CD, and a 12-month CD simultaneously.
Retirement account
Upsides: Don't have to pay income tax or early withdrawal fees on a 401(k) loan
Downsides: Taking a distribution reduces earning potential of your retirement accounts
Retirement accounts have provisions that allow certain homebuyers penalty-free withdrawals before retirement age. For example, if you want to use your 401(k) for a down payment, you can either borrow from it or take a hardship distribution.
Here's a quick breakdown of these two options:
A 401(k) loan must be repaid, with interest. You can borrow up to $50,000 or 50% of your vested account balance, whichever is less. The loan is not taxable or subject to early distribution penalties unless you fail to repay it.
A 401(k) withdrawal cannot be repaid. You must pay income tax on the amount you withdraw and you may have to pay a 10% early withdrawal penalty. The maximum you can withdraw is the amount needed to purchase your home.
The big questions about using a retirement account for your down payment are:
How far will I be setting back my retirement goals by taking out this money to buy a home?
What investments will I have to sell to get this money, and will I be selling at a gain or a loss?
Learn More: IRA Withdrawals for First-Time Homebuyers: A Good Idea?
Brokerage account
Upsides: Potential for larger returns
Downsides: Investing primarily in stocks presents greater risk
The risks of saving for a down payment within a brokerage account overlap with the risks of using retirement savings for a down payment. In other words, what will you be investing in, how risky is it, and will it be worth more or less than it is today when you need that money for your down payment?
It might make sense to invest your down payment savings if you're on the fence about buying a house and you don't want to miss out on years of growth in the stock and bond markets.
It also might make sense if you have a very long time horizon for buying a home, like 10 years or more. The potentially large gains you make could easily cover the cost of a home.
Other homebuying costs to save for
While your down payment will likely be the biggest homebuying expense you have to save for, it's not the only one.
| Expense | Estimated cost |
| --- | --- |
| Closing costs | 2% to 5% of the loan amount |
| Moving costs | $1,250 in state, $4,890 out of state |
| Home inspection | $280 to $400 |
| Home appraisal | $300 to $500 |
Keep Reading: Mortgage Closing Costs: What They Are and How to Lower Them
Daria Uhlig contributed to the reporting for this article.