Our goal is to give you the tools and confidence you need to improve your finances. Although we receive compensation from our partner lenders, whom we will always identify, all opinions are our own. Credible Operations, Inc. NMLS # 1681276, is referred to here as "Credible."
The Truth in Lending Act (TILA), or Regulation Z, is a federal law that protects you from unfair and predatory lending practices. Under TILA, you have the right to rescission. This is a consumer protection that lets you back out of certain home loans within three days without penalty.
Here's what you need to know about the right of rescission, including when it starts:
What is the right of rescission?
The right of rescission allows you to cancel certain mortgage agreements within three business days of signing the promissory note (loan contract). Think of the right of rescission as an opportunity to make sure you're comfortable with your loan before it's final.
Some of the home loans you're allowed to cancel under this protection include:
Refinance loan (with a different lender)
Home equity loan
Home equity line of credit (HELOC)
Bridge loan
Most reverse mortgages
The right of rescission doesn't apply when you're buying a home, and it only applies to a loan against your primary residence. So, for instance, you won't be able to rescind your mortgage if you're buying or refinancing a second home, vacation home, or investment property.
Finally, you can't rescind your loan if you're refinancing your mortgage with your existing lender — though if you're doing a cash-out refinance, you can cancel the cash-out part of the transaction.
Learn More: Home Equity Loans: How They Work and How to Use Them
When does the right of rescission start?
The right of rescission starts on the next business day after all three of these steps are complete:
Your lender provides your Closing Disclosure.
You sign your promissory note.
Your lender gives you two printed copies or one electronic copy of the notice explaining your right to rescind.
The right of rescission ends at midnight of the third business day. For example, if Monday is day one, Tuesday is day two, and Wednesday is day three, your right to cancel the transaction expires one minute after 11:59 p.m. on Wednesday, when the calendar switches over to Thursday.
Good to know: If your lender doesn't provide you with your Closing Disclosure or copies of the notice of your right to rescind, you may be able to cancel your loan for up to three years instead of three days.
Sundays and federal holidays aren't considered business days, but Saturdays are. The National Notary Association's rescission calendar can help you determine when your rescission period ends.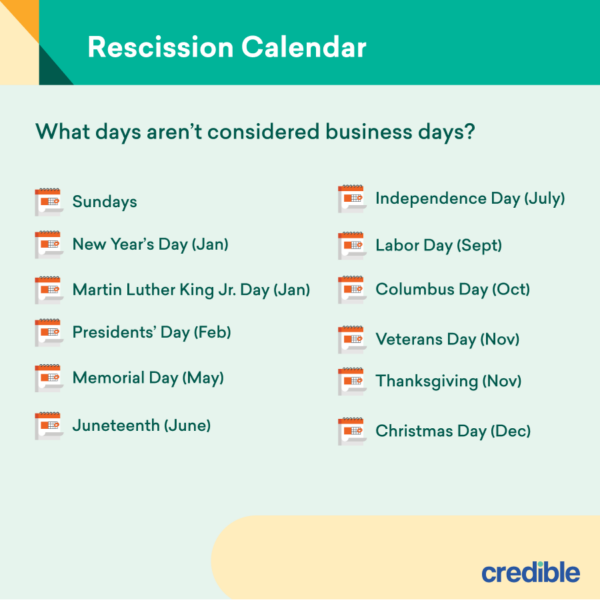 Home loans that are covered by your right to rescind will take slightly longer to fund than loans that aren't because of this three-day waiting period. Keep this in mind when planning how and when you'll use the proceeds of your new loan.
How to exercise the right of rescission
If you want to exercise your right of rescission, follow these steps:
Notify your lender in writing. Use the address provided on the lender's notice explaining your right to rescind. Make sure your notice to your lender is mailed or delivered before your three-day window closes. In addition to a mailed letter, it'd be a good idea to email your lender informing them of your decision to rescind. However, it's not clear from the law whether email counts as an official notice to rescind.
Keep proof for your records. Send the notice with a method that lets you prove when it was sent, where it was sent, and when it was delivered. A postmark might be helpful, but the law doesn't require your notice to be postmarked before the three-day period ends, which is good news if you want to mail your notice on a day when the post office is closed. The Federal Trade Commission recommends sending your letter by certified mail and requesting a return receipt.
Should I exercise my right of rescission?
Some common scenarios for when you might want to rescind your mortgage contract include:
You can't afford the monthly payment. Even though your lender has approved you for the monthly payment, you might feel it's too much of a stretch.
You found a better offer. Maybe you didn't shop around and compare mortgage rates at first, and you've recently applied with other lenders who have approved you on better terms. Or, maybe interest rates have suddenly dropped.
You felt pressured. If you feel like the loan officer wants you to get this loan more than you do, maybe it's not in your best interest. Loan officers aren't supposed to pressure borrowers, but it happens — and that's one of the main reasons this law exists.
You want something totally different. Maybe you'd prefer to do a cash-out refinance instead of a HELOC, or you'd rather sell your home instead of refinancing.
You've changed your mind for any reason at all. Your lender will likely want to know why you're backing out, but you can cancel your contract for any reason, without explanation.
See: 15 Home Improvement Projects to Complete Before You List Your Home
What happens after I rescind my loan?
If you do rescind your loan, your lender has 20 days after receiving your notice to begin the cancellation process.
The lender has to refund any fees you've paid for your loan, including application fees and home appraisal fees that you may have paid up front. Also, you have to return any funds you've received.
Once you rescind, the transaction is void. If you change your mind, you'll have to apply for a new loan and restart the process.
Can you waive the right of rescission?
Yes, in limited circumstances, such as medical emergencies, you can waive your right to cancel the home loan in an attempt to secure the funds faster. You'll need to request the waiver in writing, state that you're experiencing a personal financial emergency, and specify what the emergency is. The law doesn't say that the lender is required to approve your request, however.
If you're looking for a great mortgage refinance rate, Credible's streamlined process can help. We make comparing multiple refinance lenders easy. In just a few minutes, you can see prequalified rates and generate a streamlined pre-approval letter all without leaving our platform.
Loading widget - refi-rate-table