Our goal is to give you the tools and confidence you need to improve your finances. Although we receive compensation from our partner lenders, whom we will always identify, all opinions are our own. Credible Operations, Inc. NMLS # 1681276, is referred to here as "Credible."
Before you start shopping for homes, you'll want to get pre-approved for a loan. By getting pre-approved, you'll demonstrate to the seller that you're a serious and qualified buyer. You'll also know how much money you can borrow.
It's important to note that getting pre-approved isn't the same thing as getting approved for a loan; it's not an offer of credit. It's more like a really good personalized estimate so both you and the seller have a solid idea of how much house debt you can shoulder and on what terms.
If you're ready to get pre-approved, Credible's pre-approval process is simple and only takes a few minutes.
Here's what you need to know about Credible's streamlined pre-approval letter:
How Credible's process is different
Getting several pre-approvals from different lenders can be time-consuming. You might have to wait a day or two to get pre-approved with a single lender.
Credible, on the other hand, allows you to generate a streamlined pre-approval letter in as little as three minutes — and you'll be pre-approved across multiple lenders at once.
Traditional lenders
Credible
How long does it take?
1 to 3 days
3 minutes
Credit check
Hard credit pull
(negative impact on your credit)
Soft credit pull
(no impact on your credit)
Online process
Typically minimal; instead processed via in-person visit at a branch or phone call with a licensed loan officer
100% online
Compare multiple lenders?
No, visit multiple lenders to receive multiple pre-approval letters
Yes, pre-approved across multiple lenders at once
Multiple pre-approval letters to make additional property offers?
No, must submit another request to lender for new pre-approval letter
Yes, generate additional letters instantly with a customized loan amount

Ready to get pre-approved through Credible?
Generate a pre-approval letter instantly

Start Now
Our process is 100% online and allows you to customize and edit your down payment, purchase price, and address so that you can easily create additional letters instantly for multiple scenarios.

Keep reading: Does Mortgage Pre-Approval Affect Your Credit Score?
How to get a pre-approval letter with Credible
With Credible, you can get a streamlined pre-approval letter in as little as three minutes without affecting your credit score. To get started, click here.
Here are the steps you'll take to get pre-approved and create your first pre-approval letter:
1. Tell us about the type of property you're looking to buy
After indicating where you are in the homebuying process, you'll enter in the ZIP code of your new home (you can change this later) and answer a few questions about the type of property you want to buy.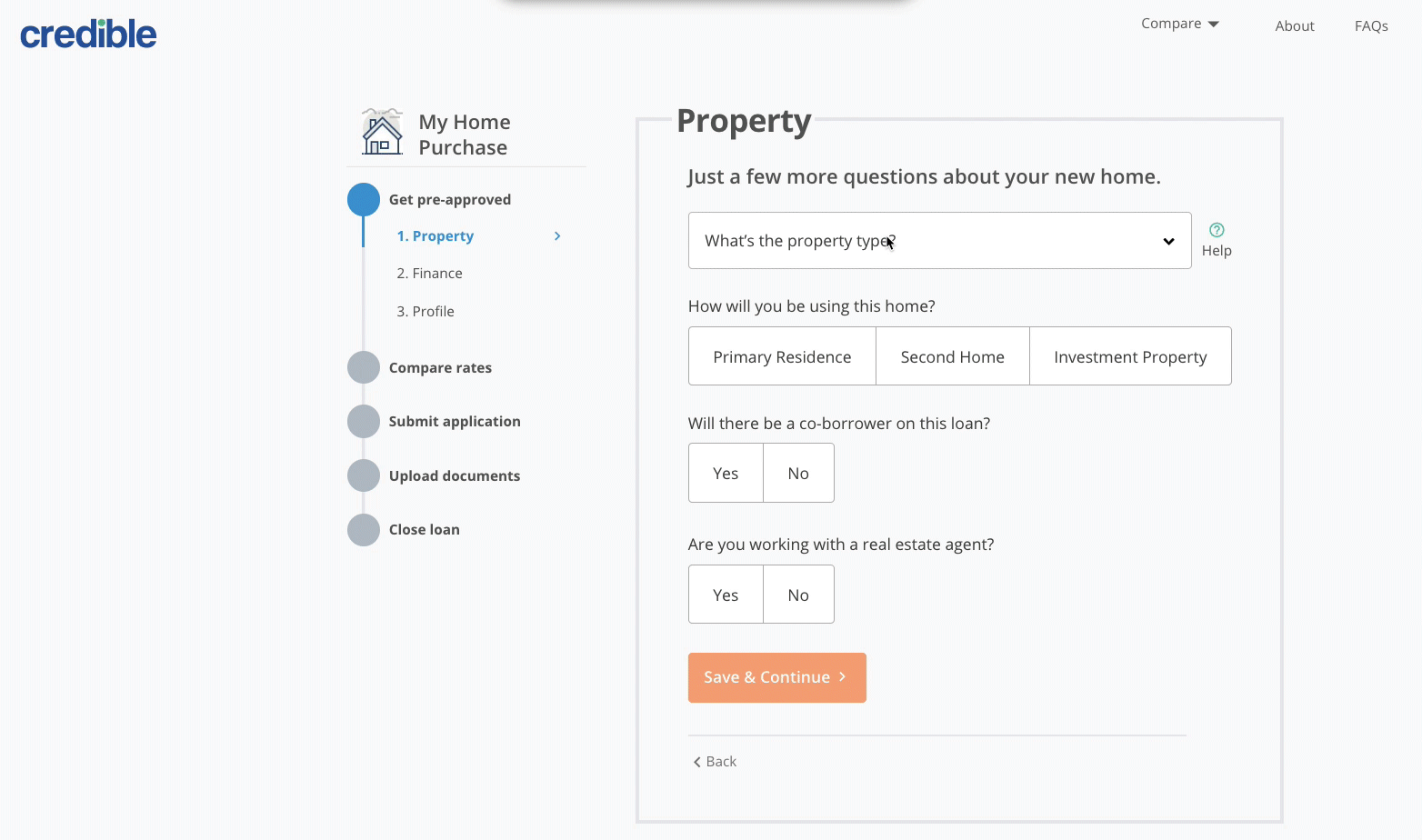 Select what type of property it is and state how you'll be using the home. You'll also have to indicate whether or not there will be a co-borrower on the loan and if you'll be working with a real estate agent.

2. Enter your financial details
To provide you with the most accurate results, you'll need to answer some questions related to your income and assets.
First, check off your various sources of income and indicate the monthly or annual amount in the field that appears. For example, if you select salary, you'll include your income before tax and, if applicable, the average of any bonuses or commissions.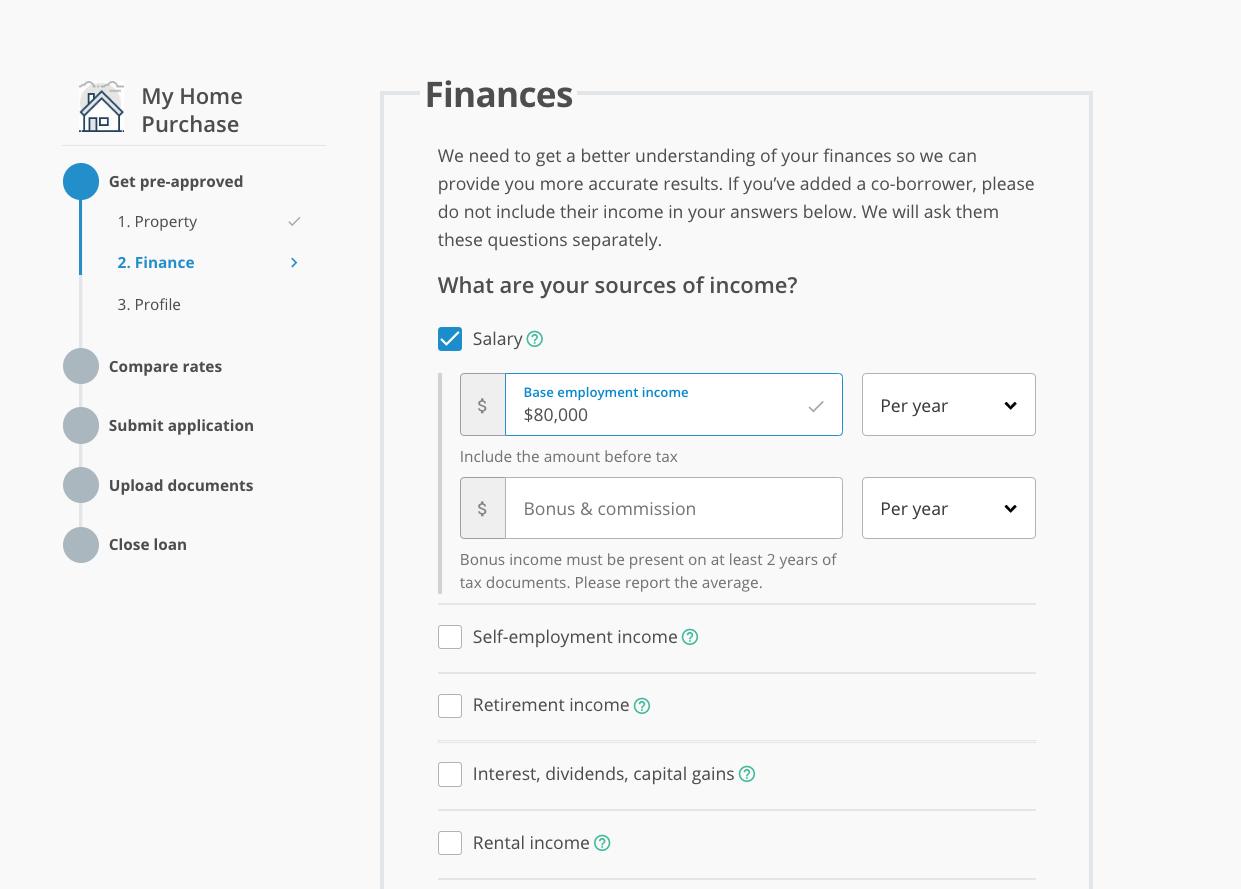 Finally, you'll input information about your current assets, such as all of your checking accounts and retirement accounts, along with any additional funds you might have. These are just estimates, and you won't have to provide any documentation at this stage.

3. Create a profile to save your info
The last step you'll need to take before you can see rates is to create a profile. Here, you'll include your current address, state whether you rent or own the property, and indicate if you own any additional properties.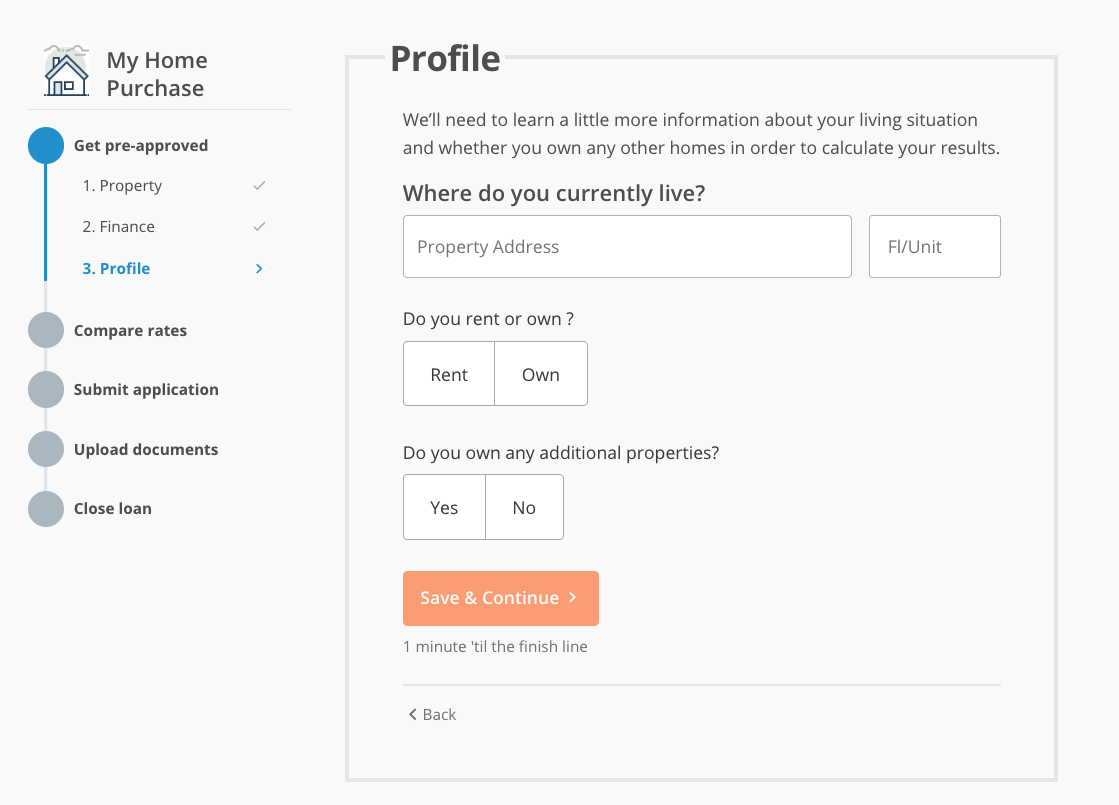 After inputting some basic personal information, you'll then be taken to the dashboard where you can compare your pre-approved rates and create a streamlined pre-approval letter.
Important: Credible takes your privacy seriously — we don't sell your information to third parties, and you won't receive any spam phone calls from lenders.
4. Check out your pre-approval dashboard
Congratulations! You're ready to make an offer. At the top of the dashboard, you'll see the total amount you're prequalified for along with a couple of options.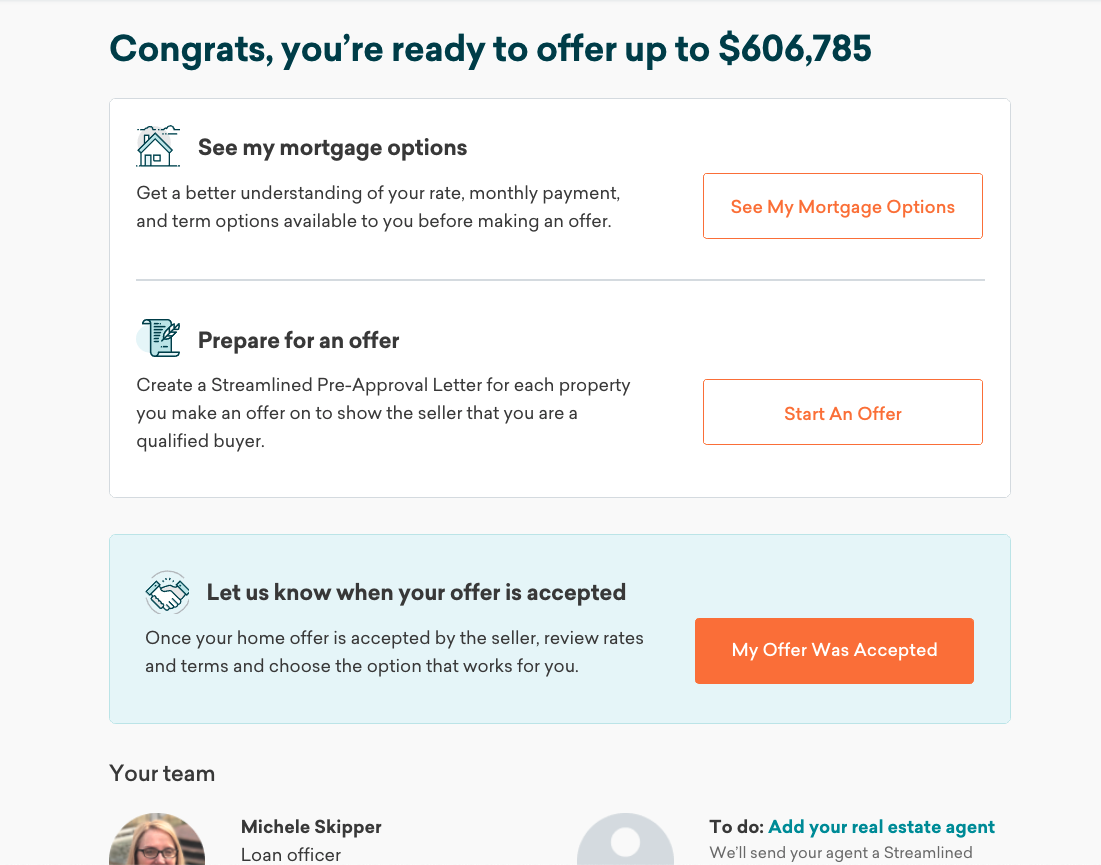 From here, you can:
See your mortgage options
Prepare for an offer
Let us know that your offer was accepted
You'll also be able to see your team at the bottom of the screen. This is where you'll find contact information for the Credible team, as well as an option to add your real estate agent.

5. Compare your home loan options
Before you prepare an offer, you'll want to see the mortgage options available to you. From the dashboard overview, click "See My Mortgage Options." To see your pre-approved rates, you'll need to input the purchase price (up to the amount you're pre-approved for) and your down payment.
Once your rates have been generated, you can change the mortgage term, view the cost breakdown of a specific loan, or compare up to three different loans side by side.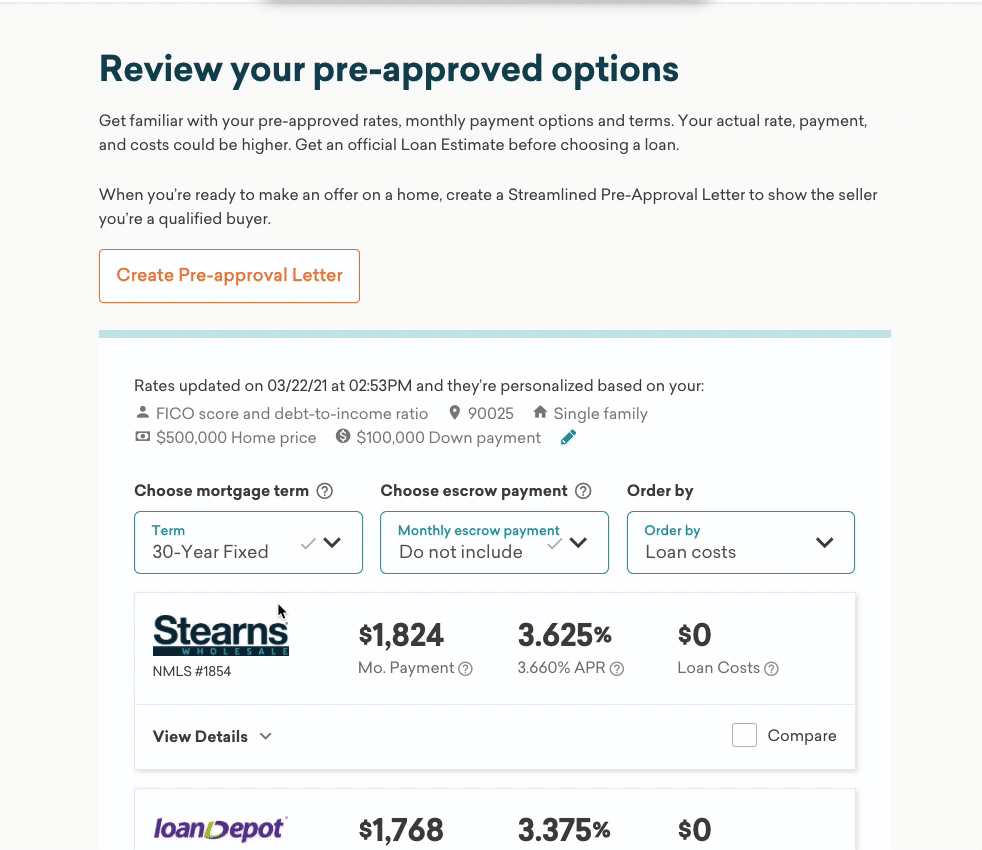 If you like the rates that you see, you can begin to create your streamlined pre-approval letter.

6. Create a custom pre-approval letter
Start by entering the exact offer amount and down payment. After that, input the property address, property type, and your estimated offer date.
Tip: You can edit the letter later if you need to change your offer.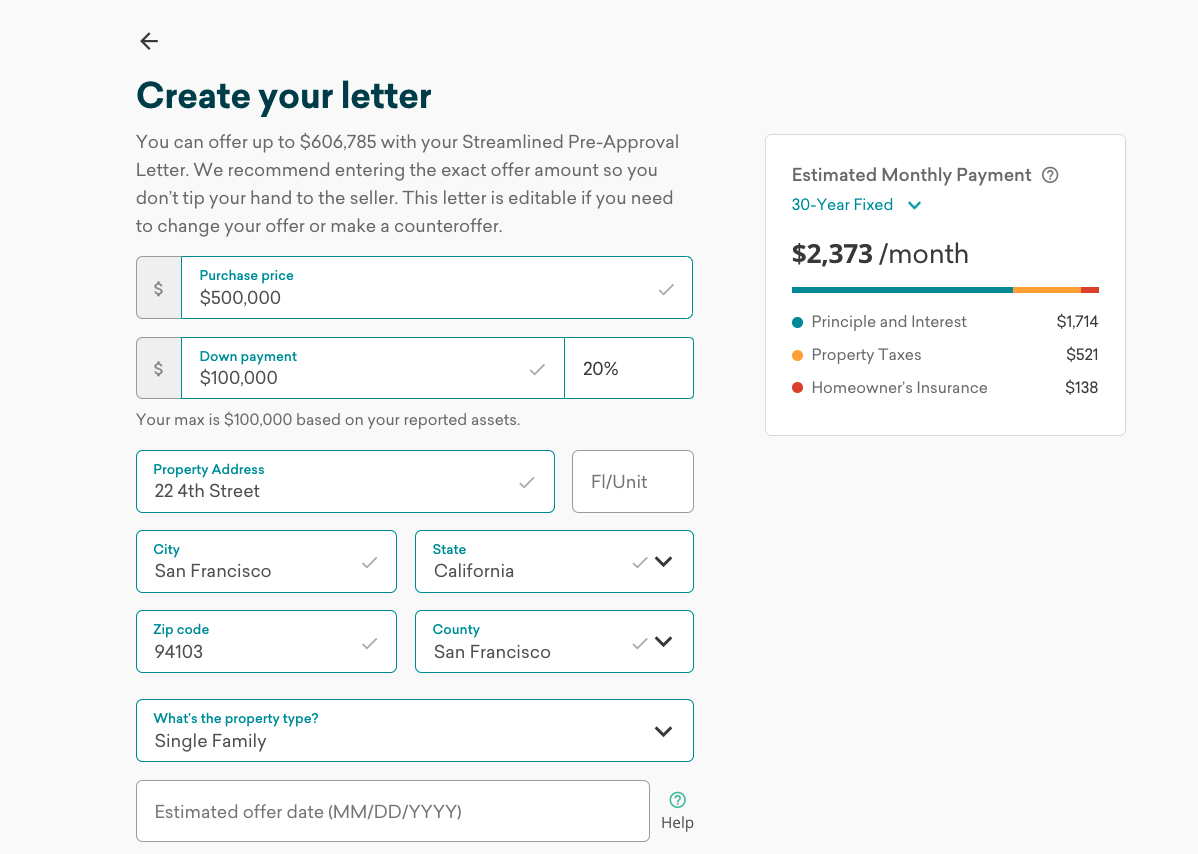 To the right will be a box with your estimated monthly payment, showing you a breakdown of how much you can expect to pay in principal and interest, property taxes, and homeowners insurance for a 30-year fixed mortgage.
You can also adjust the term to see the estimated payment for a 15-year fixed mortgage.

7. Share the letter with your real estate agent
Once you've created your streamlined pre-approval letter, you'll have the option of sharing it with your real estate agent. This helps prove that you're qualified to buy the property and will allow your agent to submit the pre-approval letter to the seller's agent.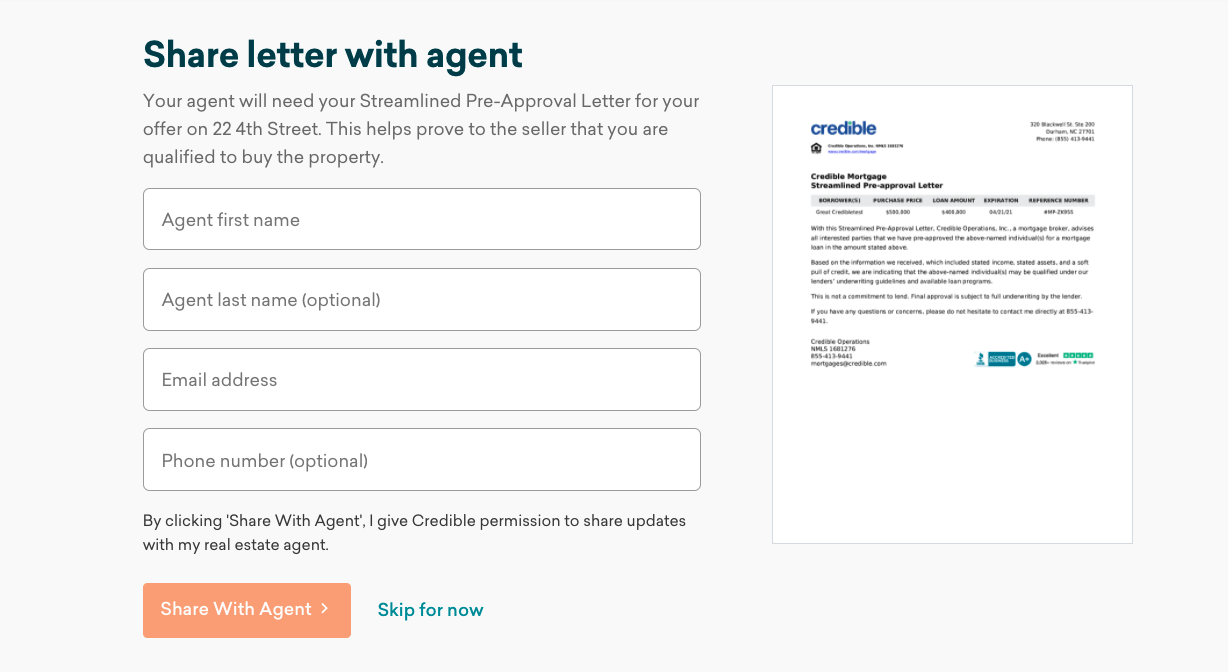 Simply enter the agent's name, email, and phone number (if applicable) in the respective fields. You can skip this step and share the letter with your agent later if you wish.

8. Come back and edit your letter whenever you like
After you've shared your letter with your real estate agent, you'll be taken to a copy of your letter complete with the information you input in step 6.
Here you can:
Edit the letter
Share it with your agent
Download it as a PDF
You may need to edit your letter if, for example, the seller raises the purchase price on the home or you need to make a counteroffer. The letter will update with any changes you make — we'll email you a new copy too — and you can easily reshare it with your agent.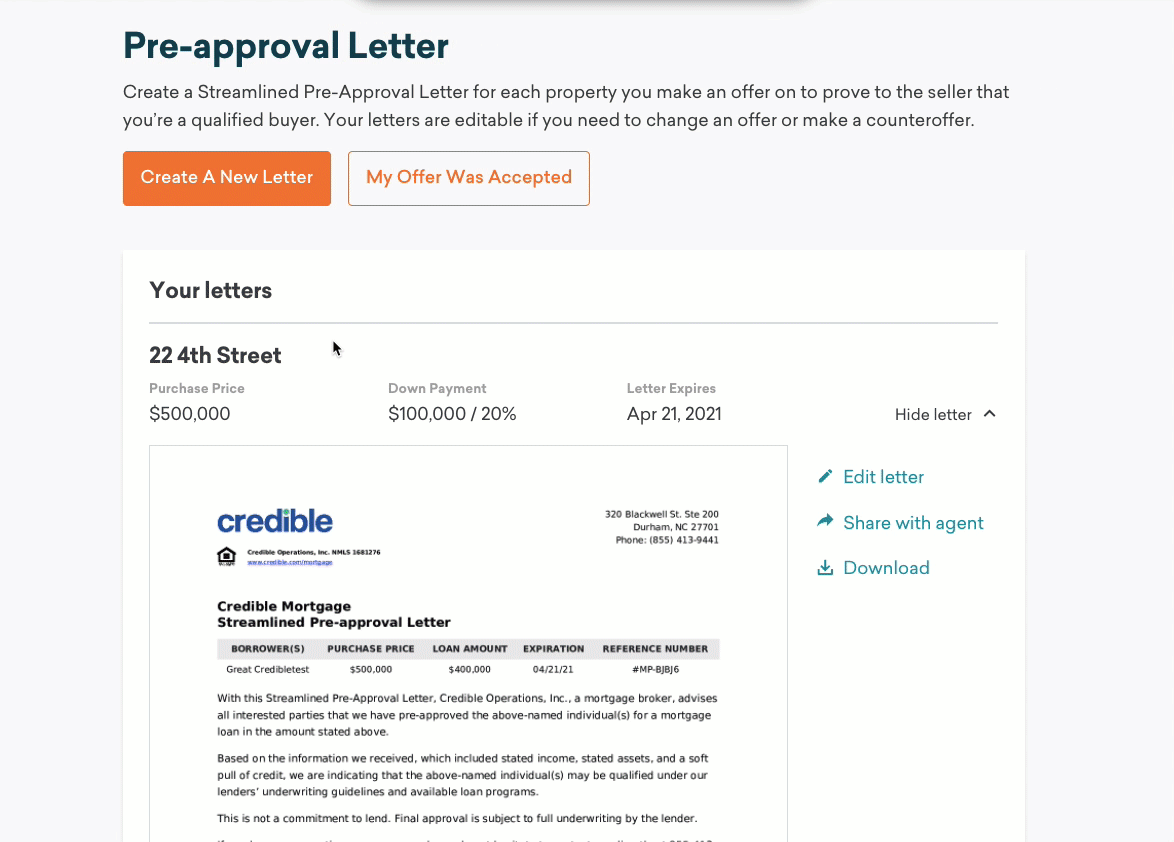 You may also create a new streamlined pre-approval letter or let us know that your offer has been accepted.

Breaking down your pre-approval letter
Your Credible streamlined pre-approval letter demonstrates that you're qualified to purchase the home based on your stated income, assets, and a soft credit pull. You or your agent will want to provide this letter to the seller when submitting an offer on a home.
The first page of the pre-approval letter provides a quick glance at the purchase price of the home, the loan amount, and the expiration of the pre-approval. If you need to provide your reference number to your Credible loan officer, you can also find that information here.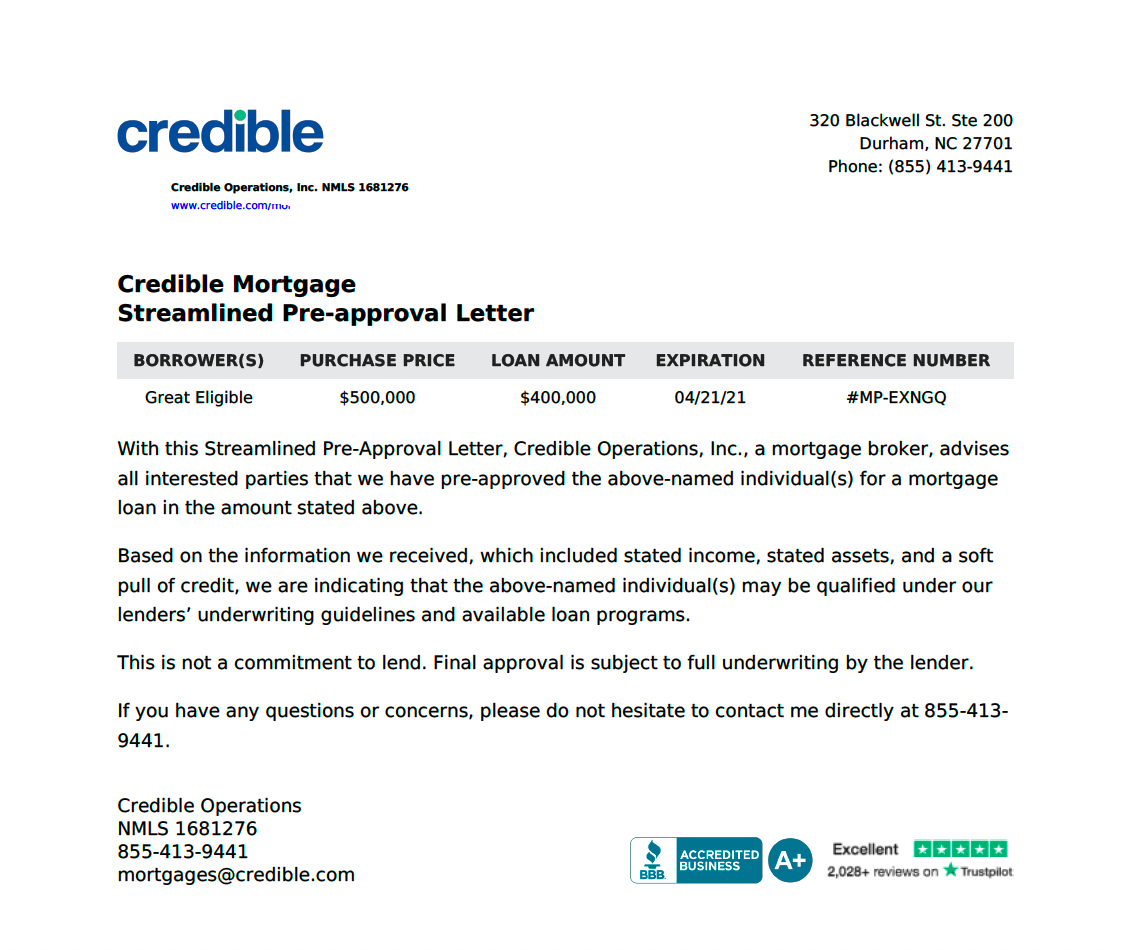 If you download a copy of the pre-approval letter, you can see a more detailed personal summary of information on the second page, including when you initially received the pre-approval and the financial information you entered prior to creating your profile.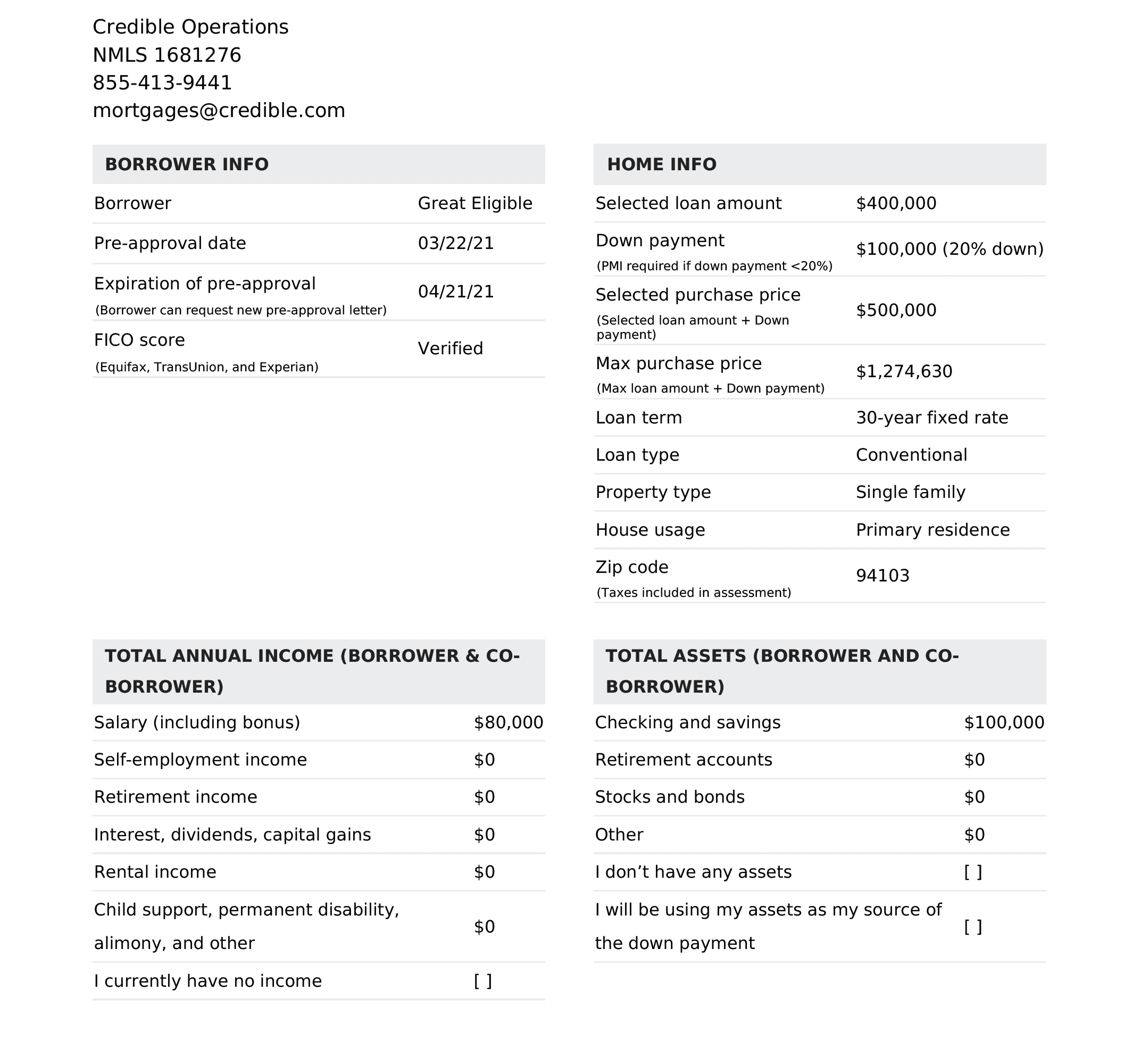 The third page of the pre-approval letter lists the additional steps you'll need to take should you find a home and want to move forward with Credible.

What to do after your offer is accepted
If your offer has been accepted, and you're ready to move forward with Credible, click "My Offer Was Accepted" on the pre-approval dashboard.
From here, simply enter the details of the property, the date your offer was accepted, and the closing date. You'll then be able to choose a loan option and continue to the full application.