Our goal is to give you the tools and confidence you need to improve your finances. Although we receive compensation from our partner lenders, whom we will always identify, all opinions are our own. By refinancing your mortgage, total finance charges may be higher over the life of the loan.
Credible Operations, Inc. NMLS # 1681276, is referred to here as "Credible."
People looking to buy a home rarely have enough cash to pay for the whole thing upfront. That's why mortgage loans are popular. They allow you to borrow money for the home purchase, usually with a down payment, and gradually repay the loan with interest. As much as 87% of recent homebuyers financed their purchase with a mortgage.1
Here's what you should know about mortgage loans:
What is a mortgage loan?
A mortgage is a loan you take out to finance your home purchase or refinance. Here are a few points to remember about a mortgage:
It's secured by your home or other property.
You pay it back over a period of time — usually 15 to 30 years.
If you fail to make payments at any point during the loan term, the lender can take possession of your home through foreclosure.
It's important to consider the costs before signing for the loan. There are two main types of costs to consider:
Upfront costs: These are one-time costs you pay when you buy the home. They include closing costs, which are typically between 2% and 5% of your home's purchase price, and the down payment.
Ongoing costs: These come in the form of a monthly mortgage payment, which you'll make throughout the life of your loan. The payment typically includes a portion of your principal balance and interest, plus property taxes, homeowners insurance, and mortgage insurance in some cases.
Down payment tip:
While some
home loans
allow you to put down as little as 0% or 3%, the average homebuyer puts down 6% to 12%. If your down payment is under 20%, then your lender might require you to pay for mortgage insurance until you've built enough home equity.
Types of home loans
The most common types of mortgages are conventional loans, jumbo loans, FHA loans, VA loans, and USDA loans. All of these loans are typically available through private lenders such as banks, credit unions, and online institutions. The main difference between these mortgage programs is who insures the loan.
Conventional loans
Conventional loans are mortgages that aren't backed by government entities. They're guaranteed by agencies Fannie Mae and Freddie Mac, so each loan must conform to agency standards.
A conforming loan on a single-family property must be less than $647,200 in most areas of the U.S., but it can be up to $970,800 in high-cost areas.
Jumbo loans
Jumbo loans are mortgages that exceed the conforming price limits for the county you're buying or refinancing in. Unlike conforming conventional loans, jumbo mortgages aren't purchased, guaranteed, or securitized by Fannie Mae or Freddie Mac.
Every lender sets its own jumbo loan limits and qualification requirements, which are generally stricter than on conventional loans because the lender takes on more risk.
FHA loans
FHA loans are insured by the Federal Housing Administration and must meet FHA loan requirements. While borrowers pay mortgage insurance at closing and throughout the life of the loan, these mortgages are popular among first-time homebuyers.
Compared to conventional loans, FHA mortgages typically come with competitive interest rates and have lower credit score and down payment requirements.
VA loans
VA loans are designed for eligible service members, veterans, and surviving spouses, and they're guaranteed through the U.S. Department of Veterans Affairs. Borrowers won't have to make a down payment or pay private mortgage insurance, but they'll be responsible for an upfront funding fee.
USDA loans
USDA loans are backed by the U.S. Department of Agriculture. To qualify, you need to meet income requirements and buy a home in a USDA-defined "rural" area. There's no down payment, but borrowers pay mortgage insurance at closing and throughout the life of the loan.
How mortgages work
Taking out a mortgage involves borrowing a lump sum of money to pay for a property. When you sign the loan papers, you may need to pay closing costs along with a down payment, which is calculated as a percentage of the purchase price.
Why do I need to make a down payment? Down payments lower the risk for the lender, but they also help you by shrinking the amount of money you need to borrow and, in turn, the amount of interest you'll pay over the life of the loan.
You'll repay your home loan over time through monthly installments that include a portion of the principal due plus interest. The monthly payment may also include mortgage insurance, homeowners insurance, and property taxes.
Lenders determine the amount you can borrow and your mortgage rate based on your credit score, debt-to-income ratio (DTI), and down payment. You may be able to lower the interest rate by buying mortgage points. This is an optional fee you can pay the lender in exchange for a lower interest rate.
Mortgage qualification
When you apply for a mortgage loan, lenders check you have strong credit, the monthly income to pay your mortgage, funds for a down payment, and cash reserves to cover the mortgage in a financial emergency. These are typically the minimum requirements:
Credit score
Lenders use your credit score to determine whether you qualify for the home loan along with the interest rate you receive. Here are the minimum scores you typically need for each loan program:
Conventional loans: 620
Jumbo loans: 700
FHA loans: 500 to 580, depending on your down payment
USDA loans: Varies by lender, but often 640
VA loans: Varies by lender
Debt-to-income ratio
Your DTI ratio shows how much of your monthly income goes toward debt, including your mortgage payment.
If you earn $6,000 a month and $2,400 goes toward your mortgage payment and other debts, then your DTI ratio is 40% ($2,400 is 40% of $6,000).
Conventional loans and FHA loans typically require a DTI ratio around 43% or less to qualify.
Down payment
The minimum amount you need for a down payment depends on the mortgage program and lender. You'll typically need a down payment of at least 3% to 5% for a conventional loan, but you won't need one for USDA loans and VA loans.
The FHA requires borrowers to put at least 3.5% down with a credit score of at least 580, or 10% down for borrowers with a credit score around 500.
Generally, a larger down payment may help you qualify for a lower interest rate because it lessens the lender's risk.
Cash reserves
Lenders may also check that you can easily access cash — in a bank account or investing account, for instance — if you were to need help covering your mortgage payments. Cash reserves are what you have left over after making the down payment and paying closing costs. Requirements vary with each mortgage program, lender, and borrower.
Mortgage payment
Your mortgage payment is the amount you send your loan servicer each month to keep the account in good standing. Each monthly payment has principal and interest, and some also include taxes and insurance.
Principal
Your loan principal is the amount of money you owe on the home loan. For instance, if you buy a home worth $200,000 and put down 20%, then your principal starts out at $160,000.
A portion of your monthly mortgage payment goes toward your principal, which further reduces the amount owed over time. You may also make extra payments toward the principal to speed up your payoff timeline and reduce the total interest paid.
Interest
The interest portion of your loan payment is determined by your mortgage rate and loan principal. You'll pay more toward interest and less toward the principal in the beginning — then, as the loan matures, more of your monthly payment goes to paying off the principal. This process is called amortization.
Taxes and insurance
Your lender may collect property taxes and homeowners insurance premiums from you each month and put the money in an escrow account. When the homeowners insurance and tax bills are due, the lender pays them on your behalf.
Mortgage insurance
Mortgage insurance protects the lender in case you default on the home loan. There are two types: private mortgage insurance, or PMI, and mortgage insurance for government-backed loans.
Private mortgage insurance is usually required on conventional loans if your down payment is less than 20%.
All FHA loans and USDA loans require mortgage insurance at closing and over the life of the loan. If you have to pay for this type of insurance, the premiums will be included in your monthly mortgage statement.
Where to get a mortgage
You can get a home loan from a bank, credit union, or online lender. Credible's online loan marketplace can help you figure out how much you can borrow, get pre-approved, and compare lenders. You can compare prequalified rates from all of our partner lenders in the table below in just a few minutes.
Loading widget - purchase-rate-table
Check each lender's loan terms side by side, and select the loan that works best for your financial situation. Generally, a sizable down payment, high credit score, longer loan term, and low mortgage APR can help make your mortgage payment affordable.
Tip: Keep in mind that if you opt for the longer loan term, you pay more interest over the life of the loan.
Find Out: How to Choose a Mortgage: Tips for Getting the Best Loan
How to get a mortgage
The homebuying timeline can stretch over several months. But there are some basic steps to follow.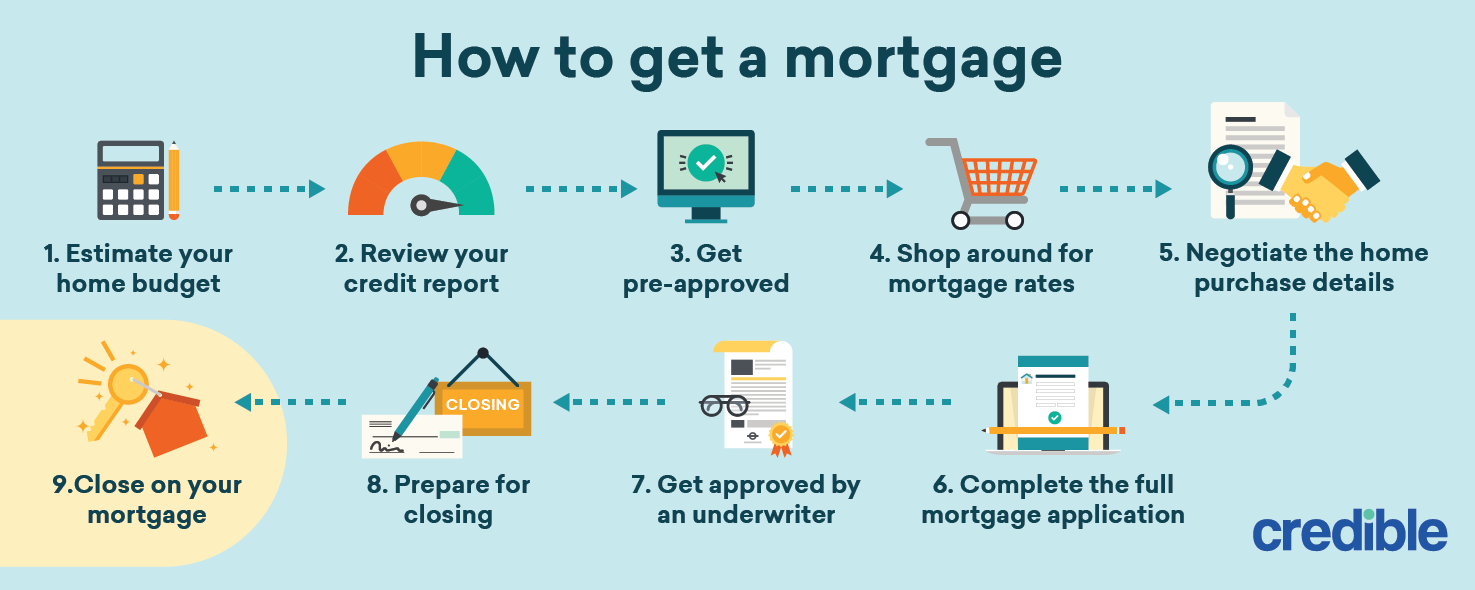 Here are the major parts of the process:
Review your credit report. You might qualify for a conventional mortgage with a credit score around 620 or higher, and government-insured loans have more flexible requirements. But if your score is on the low side, try to improve your credit score before applying. This could help you get a lower mortgage rate.
Get pre-approved. Ask a lender for a mortgage pre-approval. This letter tells you how much you qualify to borrow based on your credit, income, and other factors. A pre-approval can help you estimate your home budget and make a strong offer on a home. You'll need a recent tax return, pay stubs, W-2, and bank statements for the pre-approval process.
Shop around for mortgage rates. Even a slightly lower mortgage rate can help you save a lot of money over the loan term, so it's important to compare multiple lenders. Credible lets you do this by filling out a single form.
Negotiate the home purchase and complete the application. A real estate agent can help you through the homebuying process, like scheduling house showings and negotiating the purchase. Once you've signed a purchase and sale agreement and you choose a lender, fill out and submit the mortgage application.
Get approved and close on your mortgage. Your lender will go through all your information to make sure you can afford the loan. They'll verify your income, go over your debts, and pull your credit. They'll also confirm the value of the home through an appraisal.
Keep Reading: How to Get a Mortgage
Once the lender approves your mortgage, you'll sign paperwork promising to repay the loan. From here on out, the best thing you can do for your mortgage loan is focus on making on-time payments each month.
Credible makes comparing multiple lenders quick and easy, providing actual prequalified rates in minutes without affecting your credit score.
Credible makes getting a mortgage easy
Instant streamlined pre-approval: It only takes 3 minutes to see if you qualify for an instant streamlined pre-approval letter, without affecting your credit.
We keep your data private: Compare rates from multiple lenders without your data being sold or getting spammed.
A modern approach to mortgages: Complete your mortgage online with bank integrations and automatic updates. Talk to a loan officer only if you want to.
How much will a mortgage cost?
What you'll pay each month for your mortgage depends on a number of factors, but you can get a good estimate based on the interest rate and loan amount.
Use our mortgage payment calculator below and enter in your loan information to determine what you'll pay monthly and over the life of the home loan.
Enter your loan information to calculate how much you could pay
?

Enter the total amount borrowed
$
?

Enter your annual interest rate
%
or
?

Enter the amount of time you have to repay your loan
years
Total Payment $
Total Interest $
Monthly Payment $
With a $ home loan, you will pay $ monthly and a total of $ in interest over the life of your loan. You will pay a total of $ over the life of the mortgage.
---
Need a home loan?
Credible makes getting a mortgage easy. It only takes 3 minutes to see if you qualify for an instant streamlined pre-approval letter.
Find Rates Now
Checking rates won't affect your credit score
1
National Association of Realtors