Our goal is to give you the tools and confidence you need to improve your finances. Although we receive compensation from our partner lenders, whom we will always identify, all opinions are our own. Credible Operations, Inc. NMLS # 1681276, is referred to here as "Credible."
A mortgage payment is typically a homeowner's largest bill, and it can be the most difficult one to pay during a period of financial hardship. Lenders often work with homeowners to help them stay in their homes. But when that's not possible, the lender takes possession of the home through foreclosure.
Although devastating for the individual who loses their home, foreclosures can present buyers with the opportunity to purchase a home at a discounted price.
Here's what you need to know about foreclosure:
What is foreclosure?
A foreclosure is the repossession of a home by a lender after a homeowner defaults on their mortgage. The exact process varies by state, but in the most common scenario, the lender attempts to sell the repossessed home at auction.
If it doesn't sell, the lender retains ownership — at this point, the home is considered real estate owned (REO).
An REO is then listed for sale by a local real estate agent hired by the lender. The agent will market the home and represent the lender in the eventual sales transaction.

Why homeowners go into foreclosure
You may go into foreclosure for any number of reasons. Whatever the reason might be, it's likely impacting you financially and causing you to fall behind on mortgage payments.
Here are a few common situations that lead to foreclosure, as well as some tips for avoiding them: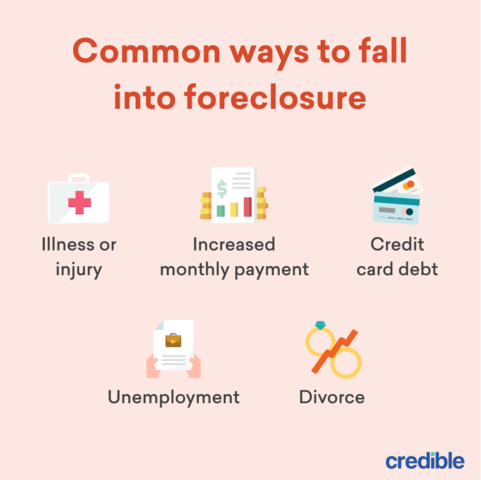 Increased mortgage payment
Adjustable-rate mortgages (ARMs) typically have lower starting rates, which keeps the monthly payment low in the early years of the loan and makes it an attractive option for buyers.
But at some point — after five or seven years, for example — the loan adjusts. If interest rates have increased since the loan was originated, so will the payments.
And when that happens, you might find yourself struggling under the weight of the new, higher payment.
How to avoid it: If you have an ARM and are close to the end of that initial fixed period, consider refinancing into a fixed-rate loan. Fixed-rate loan payments never change, and because these loans are fully amortizing, you'll have fully repaid your debt by the end of the loan term.
If you're looking to refinance your adjustable-rate mortgage into a fixed-rate conventional loan, Credible has you covered. With Credible, you can see prequalified rates from all of our partner lenders in as little as three minutes.
Find out if refinancing is right for you
Actual rates from multiple lenders – In 3 minutes, get actual prequalified rates without impacting your credit score.
Smart technology – We streamline the questions you need to answer and automate the document upload process.
End-to-end experience – Complete the entire origination process from rate comparison up to closing, all on Credible.
Find My Refi Rate
Checking rates will not affect your credit
Unemployment
Losing your job can have devastating consequences on your finances. Under normal circumstances, unemployment benefits often cover only a fraction of an individual's usual earnings. If that's enough to cover your mortgage payments, you might fall into foreclosure.
How to avoid it:
The specific options available to you depend on the type of loan you have. But, generally speaking, a
loan modification
can change your loan's term and/or interest rate to make it more affordable. However, not everyone is eligible for a loan modification.
Mortgage forbearance, which temporarily pauses your payments, might also be possible.
Illness or injury
Homeowners suffering from illness or injury face a double whammy — diminished earnings from not being able to work plus expensive medical bills that can result in missed mortgage payments.
How to avoid it:
First, investigate disability benefits offered through your employer. If you're not covered, or aren't sufficiently covered, you can also get individual disability insurance through another insurance provider, but it will likely be more expensive.
Once you've squared away your disability benefits, contact your lender about modifying your mortgage.
Divorce
Divorcing couples can find themselves in financial straits simply by virtue of carving two separate households out of one. When there's a marital home to contend with, things can turn complicated very quickly. Inaction could land you in foreclosure.
How to avoid it:
You'll have to agree on which of you will keep the home, and that person will have to assume the mortgage or
refinance the home
to get a mortgage in their own name.
If neither of you can afford the payments on your own, the best option might be to sell the house before you fall behind on payments, or rent it out — whether on your own or through a property management company — and let the rental income cover the expenses.
Credit card debt
Paying 18% or more in interest on credit card debt can lead to financial ruin and the eventual loss of your home if you can't make payments on time. Signs you're headed for trouble include maxing out your credit limit and making only the minimum required payments.
How to avoid it:
Consolidating your credit card debt can reduce your interest rate and your payment, and leave you with just one bill to pay each month.
You can do this by transferring balances to a single card with a low rate, taking out a lower-rate consolidation loan, or using a home equity loan to pay off the expensive debt.
How do foreclosures work?
Foreclosure laws vary by state and can take one of two forms: judicial foreclosure or non-judicial foreclosure. A judicial foreclosure involves the court system, while a non-judicial foreclosure takes place out of court.
1. The homeowner misses mortgage payments
A missed payment is one that's 30 days past due. A loan is generally considered to be in default after the third missed payment.
2. The lender issues a notice of default
In most cases, a lender will issue a notice of default after you're more than four months (120 days) past due. This is your opportunity to bring the loan current or request a modification to allow you to remain in the home.
Modification options include:
Extending the term of the loan or reducing the interest rate to lower the payments
Forgiving a portion of the loan principal
Adding the past-due payments and fees to the loan balance
3. The home enters pre-foreclosure
If you and your lender can't work toward a solution to keep you in your home, the home enters pre-foreclosure, and your lender will file a suit asking the court to allow a foreclosure sale.
Good to know: In some states, rather than file suit, a trustee will record a notice with the county recorder of its intent to hold a foreclosure sale as part of a non-judicial foreclosure.
The sheriff or process server in the county where the home is located will then serve you with the complaint and a summons. You'll have two options at this point:
Fight the foreclosure: If you want to fight the foreclosure, you'll generally have up to 30 days to answer the complaint.
Don't fight the foreclosure: If you don't want to fight the foreclosure, no further action is needed. The judge will rule in the lender's favor and give permission for the sale.
Fighting the foreclosure delays it but doesn't stop it unless the judge rules in the borrower's favor. Otherwise, the auction sale proceeds. The homeowner can remain in the home until they receive written notice to vacate.
Tip: This stage can take a few months for a non-judicial foreclosure and anywhere from a few months to more than a year for a judicial foreclosure.
4. The home is put up for auction
If the delinquency can't be resolved, the lender ultimately holds a real estate auction to try to recoup its loss.
In the event the house doesn't sell at auction, the lender retains possession and lists it for sale as an REO with a real estate agent or broker.

Buying a foreclosed property
Lenders are in the business of financing real estate, not selling it. To get the property off its books and recoup at least some of its loss, a lender might list a foreclosure below market value or accept an offer that's below market value. This can lead to great deals for buyers.
But a low price isn't always a good value. Foreclosed properties are often neglected properties that need work, and they're sold as-is, which means the lender won't make repairs.
Sometimes the issues are just cosmetic. Other times, the homes need so much work that they don't qualify for financing and so require a cash purchase.
Pros
Cons

Possibility of a good deal
Instant equity if the home is purchased below market value

Sold as-is
Foreclosed homes are often vacant and neglected for an extended period
If you're shopping around for a conventional loan, let Credible help. Credible streamlines this process, allowing you to compare rates from multiple lenders at once. It's simple and secure — and checking rates won't affect your credit score.
Credible makes getting a mortgage easy
Instant streamlined pre-approval: It only takes 3 minutes to see if you qualify for an instant streamlined pre-approval letter, without affecting your credit.
We keep your data private: Compare rates from multiple lenders without your data being sold or getting spammed.
A modern approach to mortgages: Complete your mortgage online with bank integrations and automatic updates. Talk to a loan officer only if you want to.
Buyers comfortable with the risks have a few options for purchasing a foreclosed home.
Through a short sale
A short sale occurs with a home in pre-foreclosure that's worth less than the owner owes on the mortgage. Despite the name, short sales can be quite lengthy because the lender must approve the sale, and the seller must submit a number of documents in pursuit of that approval.
Otherwise, the process itself is similar to the process for buying any other home except that the contract includes a short sale addendum.
What is a short sale addendum? The short sale addendum has special details of the sale, including how long the buyer will wait for the lender to approve the sale before they terminate the sales agreement.
Keep reading: What Is a Short Sale, and Should You Buy a Home Through One?
At an auction
You can find auction notices in several places, such as:
The legal section of local newspapers
Online real estate marketplaces, like Zillow and Auction.com
Local government websites
On auction day, the winning bidder is usually required to pay in full following the auction, or make a deposit of a certain percentage of the winning bid with a certified check and pay the balance within 30 days.
Be careful: Auction bidders don't always get to see the inside of the home before the auction. This makes buying a home at auction risky for an inexperienced buyer.
From a bank
Lenders use local agents to market their REOs and represent them in the sale. The homes are listed in the MLS just like other homes are, and the listing indicates that it's a foreclosure.
Another way to find foreclosed homes is to use an online resource like Fannie Mae's HomePath, which lets you search exclusively for foreclosed homes in your area.
With an REO home, you'll schedule showings with the listing agent, just as you would with any other home. When you're ready to make an offer, your agent will follow the lender's procedures for submitting the contract.