Our goal is to give you the tools and confidence you need to improve your finances. Although we receive compensation from our partner lenders, whom we will always identify, all opinions are our own. Credible Operations, Inc. NMLS # 1681276, is referred to here as "Credible."
Considering that your job is where you'll likely spend most of your daylight hours, it's important to find a job that you enjoy.
But that can be easier said than done — in 2019, only 40% of U.S. workers said they had good jobs while the rest said their jobs were mediocre or outright bad, according to a Gallup survey.
Here are eight tips on how to find a job — and hopefully land a new position that you'll love:
1. Visualize what you're looking for in a career
Don't: Apply to every job that's related to your industry
Whether you're looking for a new role or searching for your first job after college, you might think applying to every listing related to your industry will improve your chances of securing a job.
But applying to so many different positions could work against you — for example, you might end up wasting your time applying for jobs that aren't a good fit.
Instead, take the time to picture what you're looking for in a career. Consider what tasks you really enjoy doing and others you dread.
Tip:
If you're not sure what your ideal job would entail, spend some time researching professionals in your industry that you admire. Once you have a list, reach out to see if you can schedule an informational interview with some of them to learn more about what they do and how they got to where they are.
Also consider finding people on LinkedIn who have the job you want. Spend some time looking through their job histories to see what path they took to get to their position — this can give you a good idea of how to start building the experience you need to potentially land your dream job in the future.
Hearing these first-hand experiences could help you more easily decide exactly what you want to do.
Learn More: High-Yield Savings Accounts

2. Update your resume
Don't: Use a standard resume and cover letter for every application
If you haven't looked at your resume in a while, it's essential to spend some time sprucing it up to entice potential employers. You'll also need to consider the cover letter you'll send with your resume as you apply for jobs.
Here are a few ways to get your resume and cover letters into good shape:
Focus on the listing's key tasks. In your cover letter, make sure you mention the experience you have accomplishing the job listing's key tasks. For example, if a core responsibility listed in the job posting is search engine optimization (SEO), share how you were in charge of developing SEO strategies in your current role.
Be specific. Whenever possible, be specific about what you accomplished and what the results were. For example, instead of just saying "updated website," you could write, "Updated the website to be mobile-friendly, resulting in a 25% increase in page views."
Simplify your design. While graphic design elements are nice to look at, using them in your resume might mean getting skipped over. Many automated programs that review resumes upon initial submission aren't able to read visual elements — which means having them in your resume could negatively impact your chances to have it viewed by a real person.
Update your LinkedIn profile. LinkedIn can be a powerful tool to find jobs and network with fellow professionals in your field. Include your resume information on your LinkedIn profile along with a professional photo and samples of your work to make yourself more appealing for open jobs.
Tip: Instead of using one standard resume and cover letter for every application, be sure to customize them for each application you submit. This could help you stand out as an applicant who has done their research and is actually interested in the position.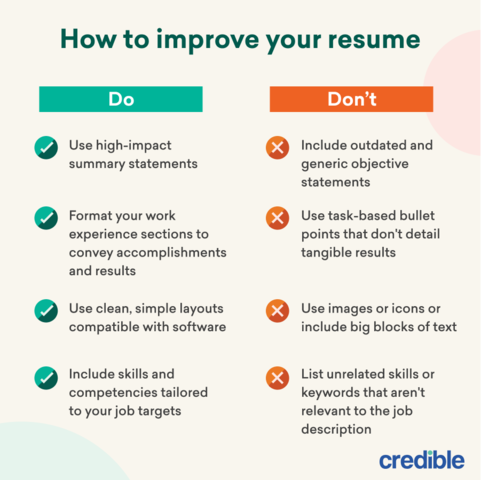 Check Out: Debt Snowball Method

3. Use an online job search engine
Don't: Call potential employers
If you're searching for a new job, you'll likely come across some bad advice — for example, some people recommend calling potential employers to inquire about available opportunities.
But this approach can backfire. Human resources professionals and hiring managers are already busy, and your calls could annoy them enough for you to end up in their "do not hire" files. Instead, peruse online job boards or company websites to find relevant opportunities.
Tip:
Most online job boards let you refine your searches according to keyword, job type, location, and other parameters, which can help you locate the opportunities most suited to you.
Here are a few online job boards that could help you kick off your search:
Learn More: Private Student Loans

4. Use your connections
Don't: Wait for employers to find you
Some people upload their resumes to job boards or create LinkedIn profiles before passively waiting for employers or recruiters to find them. However, you could be waiting for a long time — few companies have the time to search for potential employees on their own.
Instead, reach out to your professional connections and friends. You might be surprised at how much help your existing network can be in identifying new job opportunities for you.
Tip:
Send a message letting your friends and connections know that you're looking for a new position and would appreciate any leads they might have.
Be sure to thank them for any information they share in case you need to ask them again in the future.
Check Out: What Is APR?

5. Prepare, prepare, prepare
Don't: Go into interviews without doing research beforehand
It's never a good idea to walk into an interview without doing your homework first. Before an interview, make sure to research the company's background as well as its products or services, mission, and goals.
It's a good idea to review the company's website and annual report as well as any recent press releases as you prepare. Also spend some time practicing your answers for common interview questions, such as "What are your weaknesses?" and "Where do you see yourself in five years?".
Tip:
At the end of the interview, the interviewer will likely ask if you have any questions for them. This can be a great opportunity to stand out from other candidates by showing your interest and enthusiasm for the position.
For example, some questions you might ask include:
How would you describe the company culture?
What are the biggest priorities of your department?
How has this position changed or evolved over the past few years?
Learn More:
Find Your Mortgage
6. Send a thank-you note
Don't: Forget to follow up
Once you've finished the interview, you might think there's nothing else you can do to help your chances. However, sending a thank-you email afterward is a good way to leave your interviewers with a positive impression.
While a thank-you note won't secure the job for you and is entirely optional, sending one could make a difference.
For example, if an interviewer is torn between two candidates and one sends a thank-you email while the other doesn't, the thank-you note might give a slight edge to the first candidate.
Tip:
In your thank-you note, be sure to:
Thank the interviewer for their time
Emphasize your qualifications for the job
Mention one or two key points from the interview
Check Out:
Refinance Your Student Loans
7. Negotiate your salary and benefits
Don't: Accept the first offer you get
After what feels like months of crafting cover letters, submitting applications, and going through interviews, it finally happens: the hiring manager calls with a job offer.
But while this is extremely exciting, it's important not to automatically accept the first offer given to you. Instead, use this chance to negotiate your salary and benefits — for example, maybe you can ask for a higher salary or more time off.
Keep in mind that if you don't take advantage of this opportunity, you could be leaving money or benefits off the table.
Tip:
Be sure to research what people in your role are typically paid using a resource like
PayScale
to determine your salary worth. This will help prepare you to answer questions regarding salary expectations during the interview process and to negotiate a potential job offer.
When you speak with the hiring manager or human resources representative, be polite but direct. For example, if you want to ask for a higher salary, you could say something like, "Based on my experience and skill set, I was expecting a salary in the range of $X. Is there any flexibility on your end?"
Learn More: Find a Personal Loan

8. If you get turned down, keep applying elsewhere
Don't: Focus all of your efforts on one job listing
If you feel like you've found the perfect job opportunity, waiting to hear back can on an application or interview can be torturous. But make sure not to put all of our eggs in one basket: Lots of things can change during the job application process. Plus, the company might also be interviewing other candidates you don't know about.
Instead, try putting the role out of your mind so you can focus on applying for other jobs. This way, if you do get the job, it will be a lucky surprise. And if you don't, you won't have lost any time worrying about it.
Tip: Keep applying to as many relevant opportunities as you can. Remember that the right position for you is out there — and might be just around the corner.
Keep Reading: Using the Debt Avalanche Method to Pay Off Debt