Our goal is to give you the tools and confidence you need to improve your finances. Although we receive compensation from our partner lenders, whom we will always identify, all opinions are our own. Credible Operations, Inc. NMLS # 1681276, is referred to here as "Credible."
If you've taken out a student loan (or multiple loans) to finance your higher education, there's a good chance you've heard of the loan servicing company Great Lakes Higher Education Corporation, or "Great Lakes" for short.
In this article, we'll walk you through some basics about Great Lakes, including what it's like to make payments, the loan repayment options you'll have access to, and tips for having the best experience with Great Lakes.
Are you paying more than 6% on your Great Lakes Loans?
See if you can get lower rates using Credible's rate estimator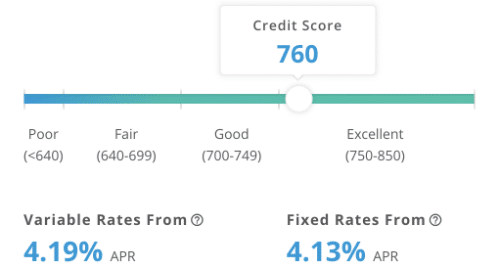 *Rates displayed above are estimates based on your self-reported credit score and should only be used for informational purposes.
Great Lakes Student Loans: legitimacy and basics
If you've taken out a student loan and you're suddenly being contacted by an organization you've never heard of called Great Lakes, you have every right to be skeptical.
Rest assured, though—Great Lakes is actually one of the country's biggest student loan servicers. They service more than $238 billion in student loans for over 8 million borrowers, working with 6,000 schools and 1,100 lenders. The company also employs more than 2,000 people nationwide.
A non-profit company based in Madison, Wisconsin, Great Lakes has been in business since 1967 and pride themselves on giving back to their community, with a company slogan of 'Doing what's right to change lives for the better'.
Unlike a lender, Great Lakes does not initiate any of the loans it services but rather acts as the intermediary and guarantor between the borrower (you) and lender (the federal government or a private company, depending on your loan type) once the loan enters repayment.
Great Lakes also has a philanthropy arm that offers scholarships, grants, and college advising, and has committed nearly $225 million to these efforts since 2006.
Keep in mind:
As a loan servicer, Great Lakes is neither a private nor a federal loan. The company actually services both private and federal loans, so the type of loan you have won't change once you start paying it off with Great Lakes.
That could change if you decide to refinance student loans through a private lender, though.
If you're wondering how competitive your Great Lakes loan is, the loan score tool below can help. Just enter your APR, credit score, monthly payment, and remaining balance (estimates are fine) to see how your loan stacks up.
Loading widget - loan-score-tool
Making monthly loan payments to Great Lakes
Making your student loan payments to Great Lakes is pretty straightforward, and borrowers have a number of options when choosing how to pay.
Traditionalists have the option to pay with a check or money order through snail mail
You can also pay over the phone, either by speaking to a representative during business hours or using the automated system at any time
Those who would rather use a computer can use the Great Lakes website to make payments with a debit card, and the savviest borrowers may even want to pay via the mobile app.
Those hoping to build their credit or earn rewards by using a credit card for Great Lakes student loan payments are unfortunately out of luck, as you'll need to use a debit card to pay your bill or enroll in autopay.
*Speaking of autopay, it's a good idea to get it set up as soon as makes sense for your budget, as you'll receive a 0.25 percent interest rate reduction for any Direct Loans you're repaying. Some private lenders may also offer this discount, so it's worth checking.
In addition to the discount, autopay is generally a good idea because automatic debits reduce the chance that you'll miss a payment, which is easy to do—especially if you're managing multiple loans.
If you've been on autopay for a while and could use a refresher on what you're actually paying, the borrower portal on mygreatlakes.org will tell you everything you need to know and more.
And once you set up autopay, you're not stuck to the original amount—if you get a raise or have other extra funds to put towards your payments, it's easy to log on and change your payment amount.
Student loan repayment options
The repayment plans available to you will depend on your finances and whether you have private or federal loans.
Great Lakes doesn't actually play a role in determining repayment options, but rather makes sure the borrower is being charged the appropriate amount given the plan he or she has selected.
Those with private student loans serviced by Great Lakes may have different repayment options depending on their lender. If you're struggling to make your payments, contact your lender to see what they can offer. Some private lenders will allow for repayment plans similar to what the government offers, but keep in mind that, unlike for federal loans, they're not obligated to offer any breaks or alternative payment options.
If you're repaying federal loans through Great Lakes, on the other hand, you'll have access to federal income-based repayment options including Revised Pay As You Earn (REPAYE), Pay As You Earn (PAYE), Income-Based Repayment (IBR), Income-Contingent Repayment (ICR), as well as federal loan consolidation, deferment, and forbearance in certain cases.
If you don't choose an alternate plan, the Standard Repayment Plan for federal loans will charge fixed payments over a 10 year loan term.
Here are the income-based repayment options you may have the option of choosing for your federal loans serviced with Great Lakes—visit this page to see which federal loans are eligible for which repayment options:
REPAYE offers the potential of both lower monthly payments and loan forgiveness. Monthly payments on REPAYE will be 10 percent of your discretionary income, which is recalculated each year based on your family size and income. Note that if your income is relatively high, your monthly payment on REPAYE may be more than it was on the Standard Repayment Plan—but could be much lower if your paychecks are smaller. On REPAYE, any outstanding balance is forgiven after 20 or 25 years of repayment, but you may have to pay income tax on any amount that's forgiven
PAYE is very similar to REPAYE, but is intended for those with high debt relative to their income. Payments will similarly be 10 percent of discretionary income and outstanding balances are forgiven after 20 years, but those on PAYE will never pay more than they would on the Standard Repayment Plan. Because of this, PAYE costs borrowers more, as lower monthly payments mean it'll take longer to pay off the loan—and therefore more interest accrues
IBR is another option for those looking to lower their monthly payments, as IBR payment are always lower than payments on the standard 10-year plan. On IBR, monthly payments are 10 or 15 percent of discretionary income, and your payment could change each year your family size or income changes. IBR is meant for those with a high debt-to-income ratio, so can help you manage monthly payments, but will mean you pay more in interest over the life of the loan. As with the other plans, your outstanding balance will be forgiven after 20 or 25 years of repayment
ICR is an option that can help you pay your loans faster as your income goes up over time. Your monthly payment on ICR will be either 20 percent of discretionary income or the income-adjusted amount you would pay for a fixed loan term of 12 years, whichever is less. Your monthly payment with ICR may be more than it would be with the standard repayment plan, and any unpaid balance is forgiven after 25 years.
Tips for the best Great Lakes borrowing experience
1. Take advantage of Great Lakes' online tools: The plethora of federal repayment options can be overwhelming. Luckily, Great Lakes knows that borrowers can struggle to select the right repayment option and they've built a Repayment Planner to make the choice easier.
The Repayment Planner allows you to see the potential impact of each program your loan(s) are eligible for, including how your length of repayment and interest paid will change. You can access the Repayment Planned by logging into your Great Lakes online account.
2. Start paying as soon as possible: While student loan repayment may be far from your mind while you're in school, it's a good idea to start thinking about it early. With Great Lakes, you can even start making payments while you're still in school, which can give you a valuable head start.
Most loans start accruing interest even while you're in school (unless you have a subsidized loan), so beginning repayment early, even in small payments, can cut down on the total interest that accrues and get you closer to paying off your loan principal.
3. Leverage Great Lakes customer support: If you're struggling to make your monthly payments or simply want to talk through all of your options with someone knowledgeable on the topic, Great Lakes customer support can help.
You should never have to pay for help with your student loans, and the Great Lakes team can help you understand and decide on federal student loan consolidation, payment plans, service member benefits, and more.
In addition, you don't have to call or email for support—Great Lakes also offers assistance via Facebook and Twitter. This can be a great option if you have a quick question but don't have the time to pick up the phone.
Great Lakes contact information
Whether you want to make a loan payment or have a question about your loan, Great Lakes has multiple support channels you can go through.
Phone: Call (800) 236-4300 or (608) 246-1700 for local/international. Representatives are available Monday-Friday 7:00 a.m. to 9:00 p.m. Central Time, but you can make a payment using the automated phone system 24/7.
Email: [email protected], or submit a web form here.
Fax: Toll-free (800) 375-5288, or (608) 246-1608 for local/international faxes
Mail: General correspondence address is below. If you're mailing in a payment, you'll need to find the right mailing address, which you can access in your online account.
Great Lakes
PO Box 7860
Madison, WI 53707-7860
Social media: As mentioned above, you can contact Great Lakes via Twitter or Facebook.