Our goal is to give you the tools and confidence you need to improve your finances. Although we receive compensation from our partner lenders, whom we will always identify, all opinions are our own. Credible Operations, Inc. NMLS # 1681276, is referred to here as "Credible."
If you've been accepted to college, congratulations! That's a huge achievement, and you should be proud of yourself.
Now that the pressure is off and you know you got in, you can start coming up with a plan on how to pay for it. If you're like most students, you'll have to borrow money to complete your degree. If you're not sure how to take out a student loan, here's what you need to know.
Overview: Taking out student loans
Before diving into all of the details, it might be helpful to visualize the process. Here are the steps you can follow to take out a student loan.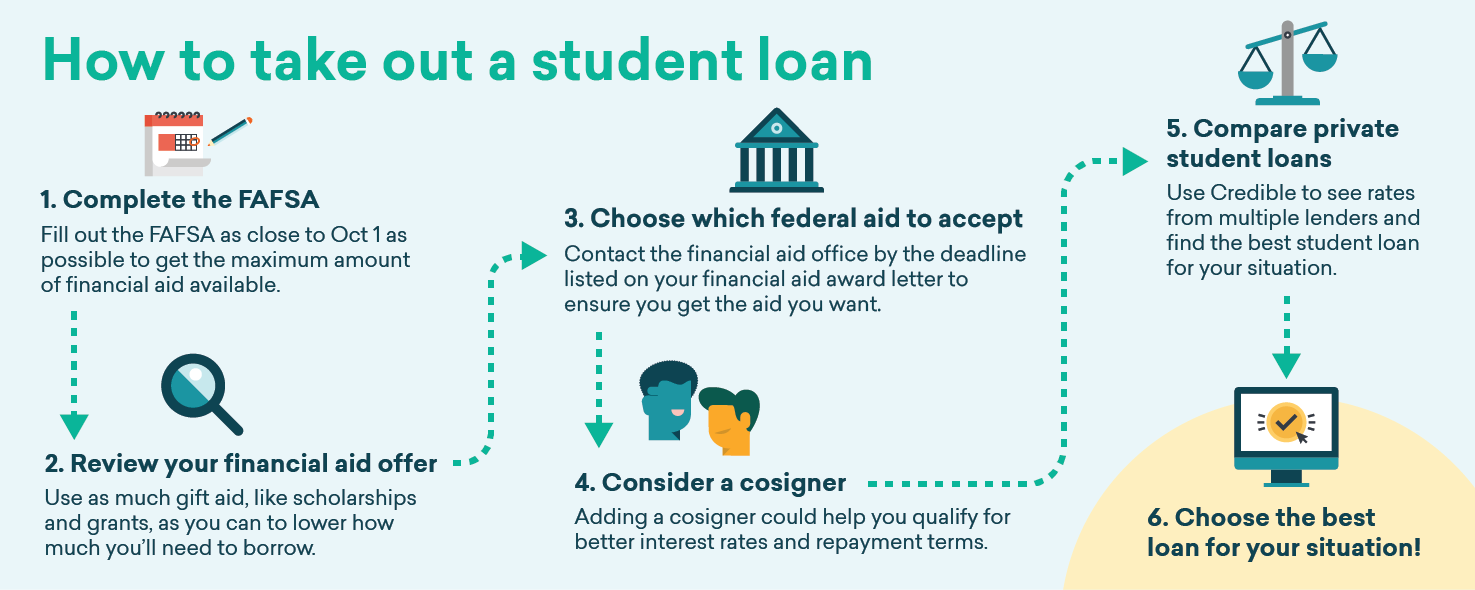 How to take out federal and private student loans
When it comes to student loans, there are two main types: federal and private.
Federal student loans are issued by the U.S. Department of Education. They don't require a credit check, but there are limits on how much you can borrow each year.
Private student loans are handled by individual lenders and have different student loan requirements. Private student loan lenders will usually review your credit to determine whether or not to issue you a loan. With a private loan, you can often borrow up to the total cost of attendance at your selected school.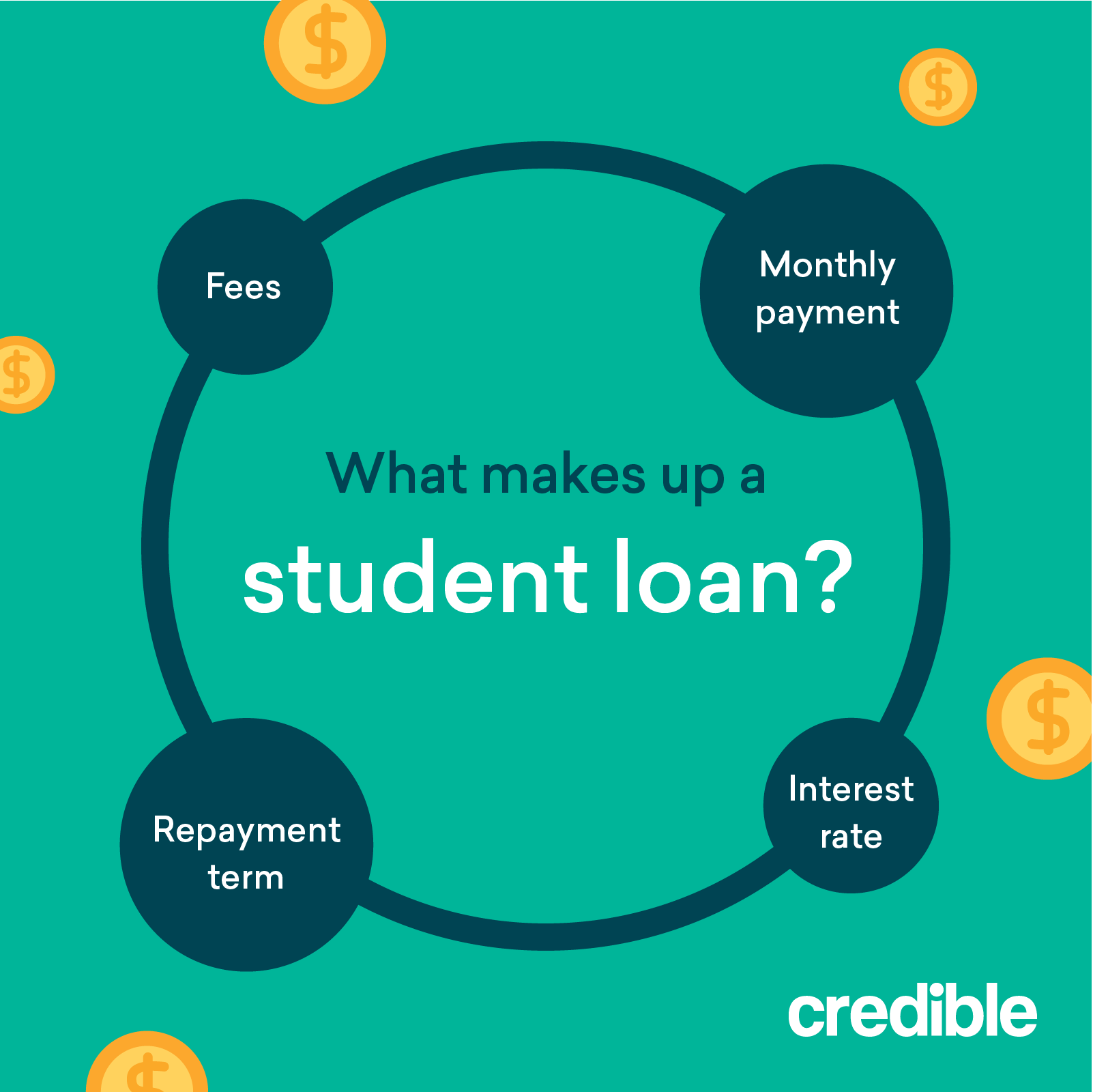 To take out federal or private student loans, follow these five steps:
1. Complete the FAFSA
Tip: Fill out the FAFSA as close to October 1 as possible to get the maximum amount of financial aid available.
First, you'll need to complete the Free Application for Federal Student Aid (FAFSA). You'll need to include information about your family, such as your household size and how much money your parents make each year. The government and schools use this to decide what kinds of financial aid you qualify for.
The earlier you submit the FAFSA, the better. While you have until June to finish it, some aid is disbursed on a first-come, first-served basis. By submitting the FAFSA as soon as possible, you're more likely to get all of the aid available to you.
2. Review your financial aid offer
Tip: Use as much gift aid, like scholarships and grants, as you can to lower how much you'll need to borrow.
When you're accepted by a college, you'll receive a financial aid offer letter. It will list all of the scholarships, grants, institutional aid, and federal student loans you're eligible for. Depending on the school, you might be offered a mix of financial aid types.
When reviewing your options, keep in mind that grants and scholarships are a form of gift aid, meaning they don't have to be repaid. Grants and scholarships can help reduce how much you'll need to take out in student loans. Once you've used all of that aid up, you can turn to federal student loans.
3. Choose which federal aid to accept
Tip: Contact the financial aid office by the deadline listed on your financial aid award letter to ensure you get the aid you want.
If you decide to move forward with a particular school, decide which financial aid options you'll accept. For example, you might go with a scholarship and federal Direct Subsidized Loans. You might also be offered more aid than you need, so you can choose to decline some of it.
Once you know what aid you'll accept, contact your school's financial aid office to let them know your decision. If you decide to take out federal loans, the financial aid office will notify you with the next steps to take, such as signing a master promissory note.
4. Consider a cosigner
Tip: Over 90% of private student loans are taken out with a cosigner. Adding a cosigner could help you qualify for better interest rates and repayment terms.
As a new college student, you likely don't have much income and might not have a high credit score. If that's the case, adding a cosigner with good credit on your loan application can improve your chances of qualifying for a loan. A cosigner could also get you a better interest rate.
5. Compare private student loans
Tip: Use Credible to see rates from multiple lenders and find the best student loan for your situation.
The aid your school offers might not be enough to cover the full cost of tuition, plus room and board. If you need more money to pay for school, consider taking out private student loans to cover the remainder.
Private loan interest rates and repayment terms vary from lender to lender, so it's a good idea to shop around and compare offers from multiple private student loan lenders to find the best deal. Credible makes it easy to do just that — and you only need to fill out one simple form instead of filling out forms multiple times.
Lender
Fixed rates from (APR)
Variable rates from (APR)







4.48%+10
6.03%+10







4.43%+1
5.8%+







4.41%+2,3

5.49%+2,3







4.43%+
5.36%+







6.25%+7
8.11%+7







4.6%+8
7.37%+8







5.35%+
N/A







4.50%9 - 15.49%9
6.37%9 - 16.70%9

Compare rates without affecting
your credit score. 100% free!

Compare Now




Lowest APRs reflect autopay, loyalty, and interest-only repayment discounts where available | 10Ascent Disclosures | 1Citizens Disclosures | 2,3College Ave Disclosures | 11Custom Choice Disclosures | 6Discover Disclosures | 7EDvestinU Disclosures | 8INvestEd Disclosures | 9Sallie Mae Disclosures