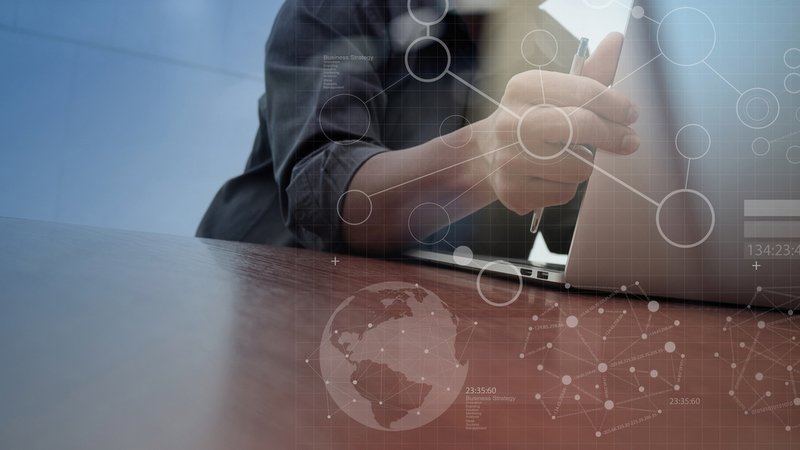 Having boosted third quarter loan originations by 92 percent from a year ago and booking its first profit since going public, Lending Club Corp. says it's delivering on promises made by marketplace lenders that they can beat the banks at their own game.
Not only are more borrowers flocking to the company's platform, but so are investors, as Lending Club charges borrowers less and pays investors more than traditional lenders who fund loans from customer deposits.
After originating $2.4 billion in the three months ending Sept. 30, Lending Club can now boast that it has channeled $13.4 billion in loans to more than 1.1 million borrowers since 2007.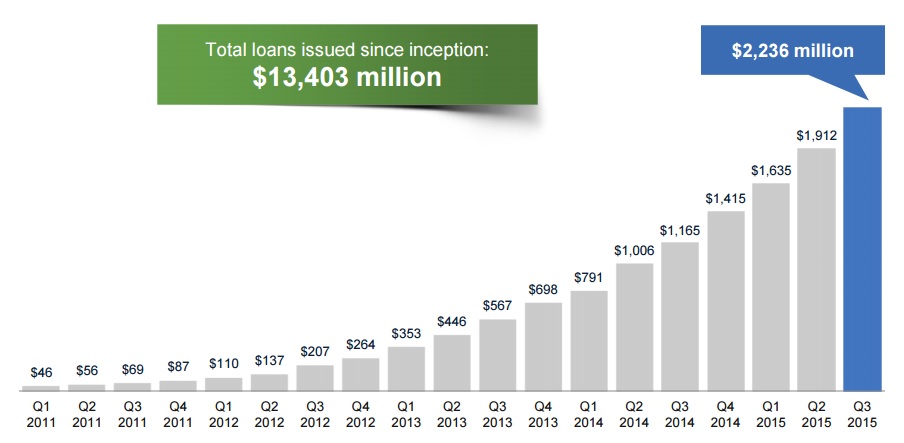 Source: Lending Club.
In a shareholder presentation (Lending Club went public in December, 2014), CEO Renaud Laplanche detailed what the company sees as its competitive advantages over banks.
For one thing, with no brick-and-mortar branch offices or capital reserve requirements, Lending Club's operating expenses are about half of traditional lenders' (typically equal to about 5-7 percent of outstanding loan balance).
Potentially even more worrisome for banks are the "network effects" that are helping Lending Club expand the pool of borrowers and investors it serves, and lower the rates it charges borrowers.
Lending Club says its focus on customer experience results in higher customer satisfaction, higher conversion rates, and more repeat customers — all of which help lower the cost of attracting more borrowers.
The company's expertise in managing data and analyzing it to make underwriting decisions helps Lending Club serve a broader customer base, and lower the interest rates it charges them.
Lower marketing and operations costs result in higher profit margins, which allow the company to keep plowing money back into improving its products, underwriting, automation and regulatory compliance.
"If you consider a bank as a two-sided marketplace with depositors on one side and borrowers on the other side, there is no network effect between borrowers and depositors as greater volume or efficiency on one side doesn't translate into the same on the other side," Laplanche said in a conference call with stock market analysts. In marketplace lending, however, "the two sides of the marketplace feed on each other."
"Our track record of performance leads investors to accept lower returns as they perceive these returns us being more dependable," he said. "Lower return requirements from investors (helps) lower rates to borrowers, which lead to lower acquisitions costs and positive selection in the quality of the borrowers attracted by the lower rates which in turn fuels a strong track record of performance."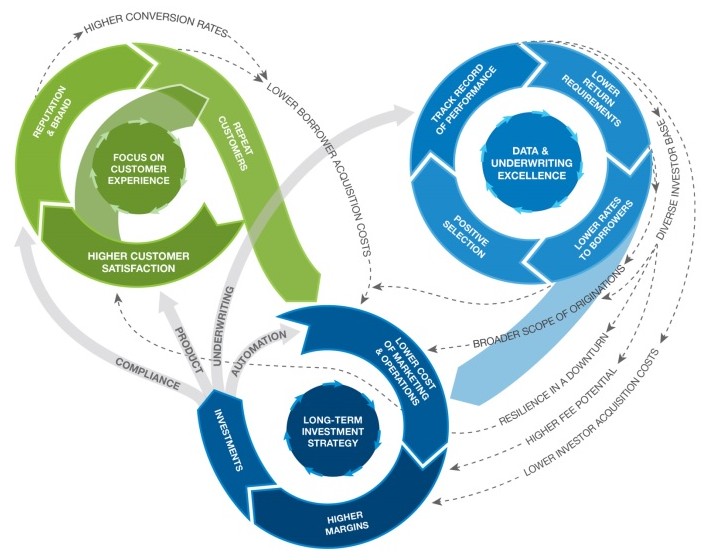 Lending Club says "network effects" fuel the company's growth.
It used to be that mom-and-pop investors had only four main places to park their money: stocks, bonds, real estate and commodities like gold. Although investors could get indirect exposure to consumer and small business lending by buying shares in banks, Lending Club gives them direct access to those asset classes.
More than 100,000 investors are now active on the Lending Club platform, with funding from new investors up 70 percent from a year ago. Existing investors are more enthusiastic than ever, providing 90 percent of loan funding during the third quarter.
If it all sounds too good to be true, there are questions about how sustainable marketplace lending will be in an economic downturn, and whether the government needs to beef up regulations to protect investors and borrowers alike.
This summer, in what some have speculated could be a precursor for additional regulations, the Treasury Department put out  a request for public comments on the business models employed by marketplace lenders.
While acknowledging the potential for marketplace lending to expand access to credit to "historically underserved market segments," Treasury also wanted input on how regulations should evolve "to support the safe growth of this industry."
Some of the issues regulators are looking for insights into include:
How accurate are the models employed by online lenders to assess the credit risk posed by borrowers?
Should marketplace lenders be required to have "skin in the game" for loans they originate or underwrite, to align their interests with those of the investors they serve?
How are marketplace lenders managing operational issues like loan servicing, fraud detection, credit reporting, and collections?
The Treasury Department is also interested in issues that arise when marketplace lenders operate across state lines — an allusion to an ongoing legal battle that could complicate things considerably.
Marketplace lenders typically partner with an FDIC-insured depository institution to make loans across state lines. Federal preemption of state usury laws means that marketplace lenders have presumed when they're partnered with a bank in one state, they don't have to worry about interest rate caps put in place by other states.
Lending Club and a number of other marketplace lenders are partnered with Utah-based WebBank. Another Web-only bank with a big presence in marketplace lending is New Jersey-based Cross River Bank.
An appeals court decision has cast some doubt on that model, however. In Madden v. Midland Funding LLC, the U.S. Court of Appeals for the Second Circuit ruled that Midland — a non-bank debt collector that purchased bad credit card debt from a bank — could not rely on the bank's federal preemption of state usury laws.
While the ruling has been appealed to the Supreme Court and only applies in New York, Connecticut and Vermont, there's uncertainty about its ramifications if it's upheld.
"If courts were to interpret the Madden ruling broadly and apply it to marketplace lending loans, a non-bank entity that buys a loan from a bank would be subject to applicable state usury limits," an analyst with Moody's Investors Service noted in July. "Therefore, the loan buyer might not be able to charge and collect interest at the contract interest rate, while in the worst case a loan could be unenforceable."
Lending Club and other marketplace lenders who are partnered with bank lenders continue to do business with them, saying they're in a much different situation than Midland Funding.
Laplanche said Lending Club still generates 10 percent of its loans in New York, Connecticut and Vermont — the same proportion as before the Madden ruling came out in May.
Lending Club's "sophisticated institutional investors" funded 40 percent of loans in those states during the third quarter, he said, up from 35 percent during the quarter ending in June.
"Like many of our institutional investors, we continue to operate with a strong conviction that the facts of the Madden case were very different from our situation and that in addition, our choice of loan framework will continue to prevail," Laplanche said.
As for the Treasury Department's interest in marketplace lending, Laplanche said Lending Club submitted its own perspective — that the existing regulatory framework "offers borrowers the same level of consumer protection they receive from a bank, while providing us with a more cost-efficient" environment.
All loans made through the Lending Club marketplace are subject to federal regulations including Truth in Lending Act disclosures and fair lending laws, Laplanche noted.
The company also has "a tremendous amount of skin in the game," he said. "We have over 20 percent of our revenue from each loan being subject to loan performance over time and an ongoing alignment of interest with investors."
The Treasury Department is not the only federal regulator studying marketplace lending. There are 22 regulators attending an American Banker conference this week on marketplace lending and investing, including four from the Consumer Financial Protection Bureau, notes Scott Pearson, a partner with the law firm Ballard Spahr LLP.
"Could there be a stronger indication that federal regulators are keenly interested in the space?" Pearson notes in a post for the firm's CFPB Monitor.
Laplanche remains unfazed.
"Our opinion is being sought after and heard as a clear leader in this space and we continue to see strong alignment between our values and the guiding principles and the goals the regulators are pursuing of ensuring that consumers benefit from affordable, transparent and responsible credit," he assured Lending Club investors.
Matt Carter <mcarter@credible.com> is editor of Credible News. Follow us on twitter @News_Credible.
---