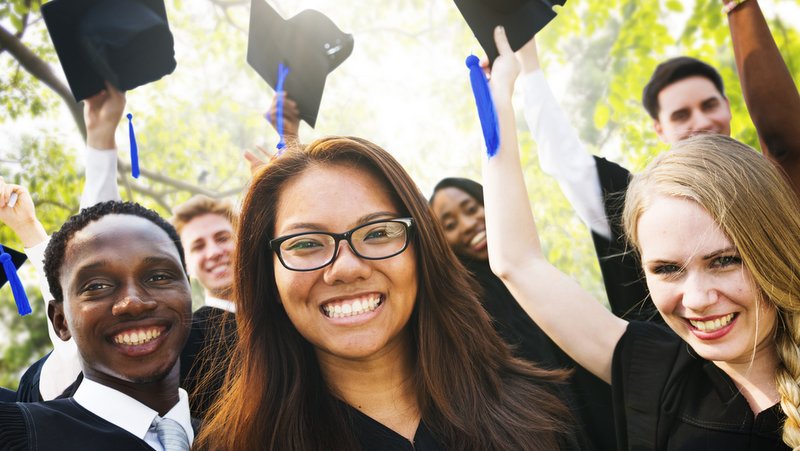 Women not only take on more student loan debt to obtain a college degree than men, it will take them longer to pay that debt off, according to an analysis by the American Association of University Women.
The finding is part of a larger AAUW report exploring why, all things considered, men continue to make more than women, and what society can do about it.
Among members of the class of 2007-08 who landed full-time jobs, men took out an average of $22,656 in student loan debt to get their college degrees, and had paid off 44 percent of it by 2012, the AAUW found.
Women, in contrast, graduated with $24,126 in student loan debt, and had only paid off 33 percent four years after graduation.
African American and Hispanic graduates — who, the report showed, earned considerably less than white women and men — managed to pay off less than 10 percent of their student loan debt during the same time period. Asian American women, however, trounced men in taking out less student loan debt ($19,687) and paying more than half of it back within four years of graduation.
Student loan debt by gender and race/ethnicity

Source: "The Simple Truth about the Gender Pay Gap," American Association of University Women. Based on 2007–08 college graduates, age 35 or younger at graduation, working full time in 2009 or 2012, who had not pursued an additional degree.
The AAUW points to the pay gap between men and women as the underlying cause: In 2014, a woman working full time could expect to earn 79 cents for every dollar that men were paid.
After falling steadily since the 1970s as more women went to college and joined the workforce, the pay gap has "barely budged in a decade," the AAUW said in a tweet publicizing the study. "At the current rate, the gap won't close for more than 100 years."
Part of the pay gap can be explained by choice of college major and career paths after graduation — women are more likely to take a leave from work to have children, or enter careers like teaching, for example.
But after accounting for factors like college major, occupation, hours worked, months unemployed since graduation, and marital status, a previous AAUW study, "Graduating to a Pay Gap" found there was still a 7 percent gap in the earnings of male and female college graduates.
The latest report, "The Simple Truth about the Gender Pay Gap," concludes that education alone can't close the pay gap: "At every level of academic achievement, women's median earnings are less than men's median earnings, and in some cases, the gender pay gap is larger at higher levels of education."
Median weekly earnings by level of education and gender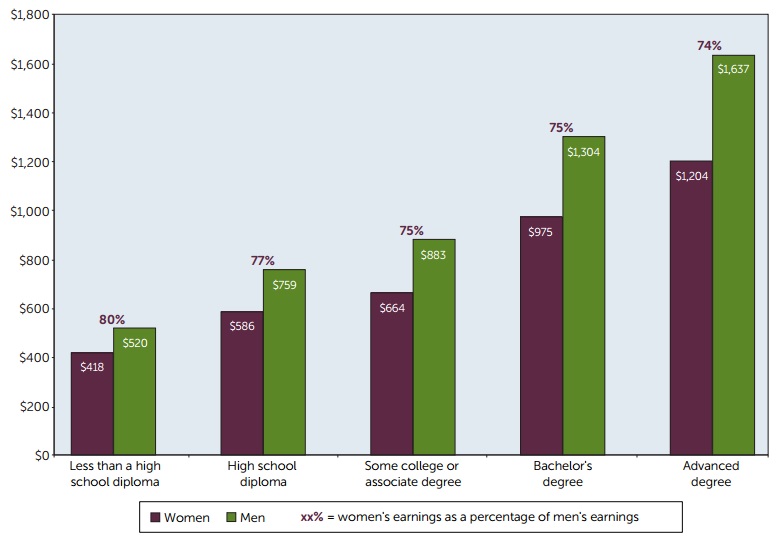 Source: "The Simple Truth about the Gender Pay Gap," AAUW. Median weekly earnings of full-time wage and salary workers ages 25 and older, 2015 annual average.
Discrimination is also a factor. The AAUW study found that white women are paid more than African American and Hispanic women at all education levels.
A study by liberal think tank Demos found that while higher education is touted as a way to level the playing field between students from different backgrounds, student loan debt exacerbates the wealth gap between black and white students.
So what can be done? Noting that the Equal Pay Act hasn't been updated since 1963, the AAUW is endorsing legislation, the Paycheck Fairness Act, which would bolster the law and give federal regulators more enforcement powers. The bill, which was referred to the Subcommittee on Workforce Protections in November, has 193 cosponsors.
Gender pay gap by state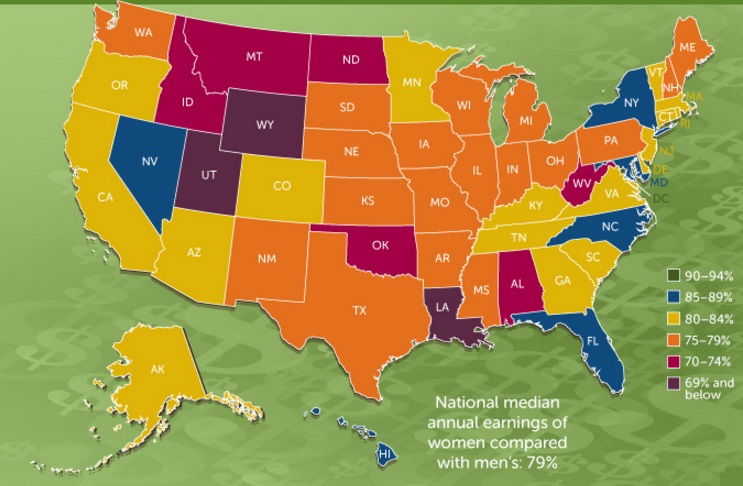 Source: American Association of University Women. 
Pay equity laws also vary greatly from state to state, and the group urges voters to take action where they live.
Companies, the AAUW says, should conduct salary audits to make sure they're being proactive about fixing the problem.
Women can learn about their workplace rights by visiting the AAUW's website. The group also offers salary negotiation workshops designed to help women obtain better salaries, benefits, and promotions.
---