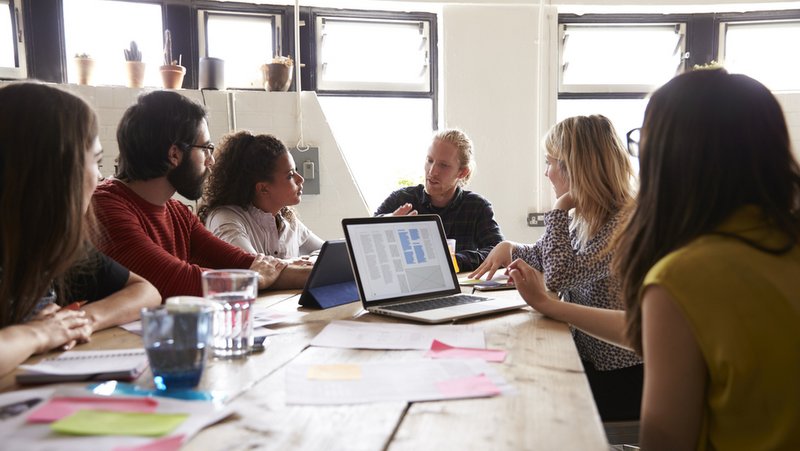 Unless you're a student at Purdue University or a higher education policy wonk, you may not have heard of a new way to pay for at least some of your college expenses: the income share agreement, or ISA.
But there are signs that this alternative method of financing college — available to Purdue students since the fall of 2016 — may be about to take off.
First of all, the company that helps Purdue manage its "Back a Boiler" ISA program, Vemo Education, just landed $7.4 million in seed funding. Vemo says it will use the money to hire more employees and invest in its technology platform, a "turnkey solution" for any college that wants to offer ISAs as an alternative to loans.
Secondly, there's bipartisan support in Congress for legislation that would provide a regulatory framework for students, investors, employers and schools that might be interested in participating in ISAs.
What is an income share agreement?
At Purdue, ISAs aren't intended to replace government-subsidized loans. Instead, they're marketed as an alternative to private or federal parent PLUS loans for students who have hit their limits on more affordable loans. All told, about 160 students have received $2.2 million in Back a Boiler funding since the program launched.
Purdue students who turn to ISAs pledge to pay a small percentage of their income after they graduate for a set number of years. The percentage of income they'll be required to pay is based on their expected earnings. Often, their monthly payments will be as much or more than if they'd taken out a loan.
But ISAs can be appealing to students who are worried about taking on too much debt. That's because if your earnings fall short of what you'd expected, your monthly payments will be smaller. Once you've made the required number of payments, you're off the hook — regardless of what you've managed to pay back.
Although students taking out federal student loans may qualify for loan forgiveness, it can take 10, 20 or 25 years of payments before their loans are forgiven.
ISA vs. parent PLUS loans
Purdue's Back a Boiler program provides a comparison tool that illustrates how repayment of ISAs works in practice.
The comparison tool shows that a student who accepts an ISA of $12,000 and graduates in 2020 with a degree in aeronautic engineering would be expected to make eight years of monthly payments equal to 4.91 percent of their monthly salary. Although the monthly payments would start out at $185, they'd increase to $250 in the final year, assuming a $45,000 starting salary that grows by 3.8 percent a year.
In the end, this hypothetical student would make $20,907 in payments over eight years. If the same student's parents had taken out a federal PLUS loan at 7 percent interest instead, the comparison tool shows them making 10 years of payments at $177 a month, or $21,235 all told. So far, so good.
ISA vs. private student loan
Whether or not an ISA is a better deal than a private student loan can depend on the interest rate you're paying on the loan.
Using the Back a Boiler comparison tool's default assumption that you'd pay 9.5 percent interest, a private student loan would entail 10 years of monthly payments at $201 a month, or $24,091 in total.
But rates on private student loans depend on the borrower's creditworthiness — or, more often, their cosigner's. Rates on private student loans can be well below 6 percent for fixed-rate loans, and in the high 2s and low 3s for variable-rate loans.
The Back a Boiler comparison tool allows you to adjust compare private loans with different interest rates. If you were able to qualify for a private student loan with a fixed rate of 6 percent, you'd make 120 monthly payments of $158, and pay back $18,944 — almost $2,000 less than the ISA.
When launched, the Back a Boiler program used 2016-2017 rates on federal parent PLUS loans and private student loans as the basis for setting the terms of students' financial obligations. Although rates on new federal student loans increased by 0.69 percentage points on July 1, 2017, the financial obligation for students enrolling in Back a Boiler ISAs for the 2017-2018 academic year remain unchanged.
How is an ISA not a loan?
Although an ISA may technically not be a loan — there's no principal balance, and no interest is charged — the "underlying mechanics" are pretty much the same, says Ben Miller of the Center for American Progress.
"A student receives money upfront, and has to pay those funds back over time. All that's different is how the payments are calculated," Miller writes. "The whole thing may sound friendlier, but failing to pay up will have consequences."
Purdue's Back a Boiler ISA does give students the tools they need to estimate their monthly payments, and the total amount they'll repay, so that they can at least compare the cost to a traditional loan.
But borrowers enjoy a number of rights of protections when they take out traditional loans that are spelled out in numerous laws and regulations that don't apply to ISAs.
Legislation now pending in Congress would provide some protections for student and their families, including caps on payments based on income and length of the contract.
The ISA Act of 2017
In the House of Representatives, eight lawmakers are backing the Investing in Student Achievement Act of 2017, which would also create a legal framework that could make it easier for colleges and private investors to create income share agreement programs like Purdue's.
Introduced on June 29 by Indiana Republican Luke Messer, the ISA Act of 2017 stipulates that students would not be required to make payments on an ISA until their earnings are 1.5 times the federal poverty level.
Students who enter into ISAs could not be required to pay more than 20 percent of their monthly income, either, with the bill employing a formula that steps down the cap payments on contracts running longer than about 11 years.
Payments on an ISA with a 15-year term could not exceed 15 percent of monthly income, for example. For an ISA with a 30-year term (the maximum that the bill would allow), payments could not exceed 7.5 percent of monthly income.
Purdue University President Mitch Daniels said there's strong interest in the Back a Boiler program from universities across the country, and that adoption of Messer's bill could "result in widespread availability of ISAs to college students nationwide."
The House bill's cosponsors include two Democrats — Jared Polis of Colorado and Kyrsten Sinema of Arizona.
In the Senate, three Republicans — Todd Young of Indiana, Marco Rubio of Florida, and Tom Cotton of Arkansa — are backing similar legislation.
Both bills would exempt ISAs from state laws that limit interest rates or regulate assignments of future income.
Technology behind ISAs
Vemo Education, the Vienna, Virginia-based company that powers Purdue's Back a Boiler ISA program, says it's facilitated $23 million in funding to date.
Together with the Purdue Research Foundation, the company says it's ready to help colleges and universities develop ISA programs by leveraging Vemo's experience at Purdue and replicating it at other schools.
Vemo says it can provide interested schools advice on contract design (including rates and terms), technical support that includes an origination and servicing platform "specifically designed for ISAs," plus "access to capital required for a quick ISA program launch."
Vemo also provides outbound marketing services to colleges through its "StudentConnect" program.
Another established company, Lumni, designs and manages ISAs in the U.S. and Latin America.
---