Our goal is to give you the tools and confidence you need to improve your finances. Although we receive compensation from our partner lenders, whom we will always identify, all opinions are our own. Credible Operations, Inc. NMLS # 1681276, is referred to here as "Credible."
Choosing the right insurance policy for your home is a delicate balance between saving money and making sure you're covered if something happens. When it comes to what your homeowners insurance covers, you can choose between two types of policies: a named perils policy and an open perils policy.
These policies differ in price and level of coverage. While a named perils policy only covers specific causes of damage, it also costs less. An open perils policy covers more, but you'll also pay a higher price for it.
Here's what you need to know about named perils vs. open perils policies in home insurance:
What is a peril in insurance?
In simple terms, a peril in homeowners insurance is something that could cause damage to your home or personal property.
Here are the most commonly covered perils: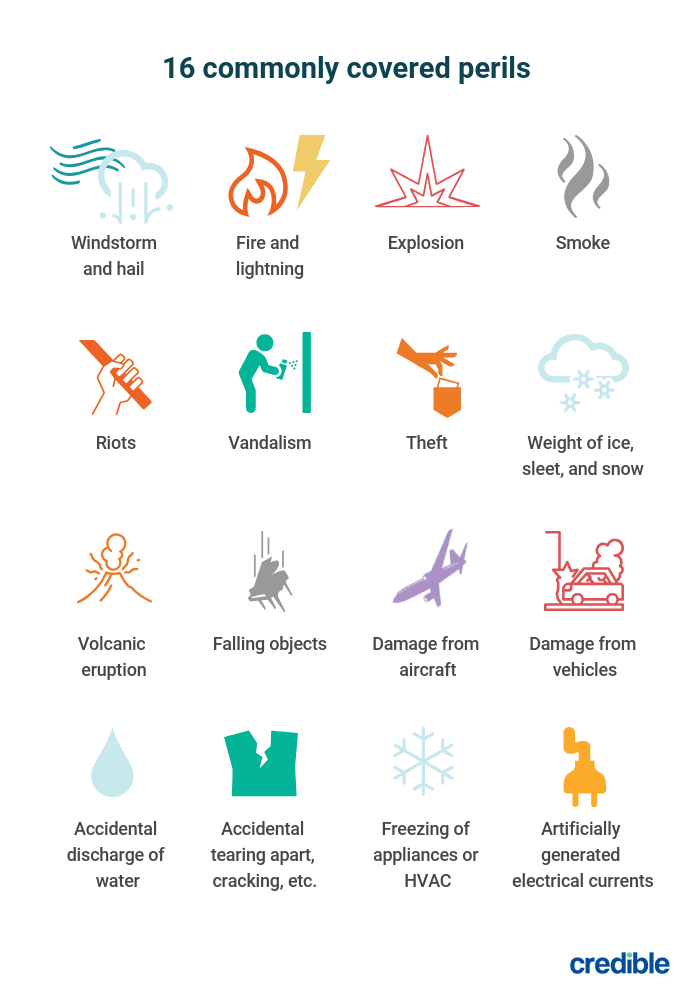 Compare home insurance from top carriers
Fully online, buy home insurance coverage instantly
Compare quotes from highly rated home insurance carriers in your area
No spam, phone calls, upselling, or fake quotes
What is a named perils policy?
A named perils policy is an insurance policy that only covers the perils specifically listed in your home insurance policy. If you live in an area with very little risk of natural disasters, named perils coverage may be a good option.
A named perils policy will save you money on your insurance premium (since you're getting less coverage than you would with an open perils policy), but it may cost you more in the long run if something goes wrong and you aren't covered.
Certain homeowners insurance policies have named perils coverage. The following policies have named perils coverage for your home's structure:
Basic form (HO-1): This is the most restrictive policy, with the least number of named perils. It offers named perils coverage for both your home and belongings. These policies are less common and harder to find.
Broad form (HO-2): This policy covers more perils, but still offers less coverage than an open perils policy. Like an HO-1 policy, it provides named perils coverage for your home and personal property.
Modified coverage form (HO-8): Similar to an HO-1 policy, an HO-8 offers bare-bones coverage and is designed for owners of older homes who may not be able to get standard home insurance. It offers named perils coverage for your home and its contents.
What is an open perils policy?
An open perils policy will cover any perils that aren't explicitly excluded in your policy. Common exclusions are earthquakes, floods, and sinkholes.
An open perils policy can be a great way to protect yourself from a big financial loss in the event of the most common types of damage and disasters. This policy will cost you more in premiums than a named perils policy, but it comes with significantly higher coverage.
The following homeowners insurance policies have open perils coverage:
Special form (HO-3): This is the most common home insurance policy. It offers open perils coverage for your home and named perils coverage for your personal property.
Comprehensive form (HO-5): This policy offers the highest level of coverage you can get, with open perils coverage for both your home and your personal belongings..
Mobile home form (HO-7): This coverage offers open perils coverage for your mobile home and named perils coverage for your home's contents.
Check Out: Is Homeowners Insurance Required?
Additional coverages for non-covered perils
Even the most extensive open perils policy will still have perils it doesn't cover. The most common exclusions you may need coverage for are earthquakes and floods.
Earthquake insurance
You may want to consider purchasing earthquake insurance, even if you don't live in a high-risk area. The United States Geological Survey estimates the annual cost of earthquakes in the U.S. is $6.1 billion. You can purchase earthquake insurance as a separate policy or as a rider on your current home insurance policy.
Flood insurance
Your mortgage lender will require flood insurance if you live somewhere that FEMA designates as a high-risk flooding area. Even if you're not required to get flood insurance, it's a good idea to review the flood map for your community and find out your risk level.
As floods become more common and more severe, with 16.2 million homes projected to be at risk by 2050, according to the nonprofit research group First Street Foundation, buying flood insurance can be the right move.
Related Read: How Much Does Flood Insurance Cost?
Other exclusions
When you have limited coverage, your homeowners insurance has significant gaps. Consider adding the following types of coverage through riders:
Water backup coverage: This covers water damage that a backed-up drain or sump pump causes.
Scheduled personal property coverage: Even if you have personal property coverage, your limits may not provide enough reimbursement for high-value belongings. A scheduled personal property rider can increase your coverage for valuable items like antiques or an engagement ring.
Business property coverage: If you run a business out of your home, this can be a vital coverage. It protects business property that you store in your home, like inventory.
How to determine which type of policy you should have
The perils that are most common where you live and your personal comfort level with risk are both important factors in determining what type of policy you should get. Speaking to a licensed insurance agent can help you discover the most common risks for your home in particular. Talking to neighbors can also help you find out which coverage you should buy.
Here's a quick comparison of named perils coverage and open perils coverage to help you decide which type of policy is right for you:
| Named perils policy | Open perils policy |
| --- | --- |
| Lower premiums | Higher premiums |
| Lower coverage | Higher coverage |
| Covers only listed perils | Covers all perils not specifically excluded |
If you live in your home year-round in an area with a mild climate, you might find that named perils coverage is enough for you. However, if you prefer to have more coverage for more peace of mind, and you can afford a higher premium, an open perils policy may be better for you. Consider your budget and lifestyle when deciding between named perils and open perils coverage.
Compare home insurance from top carriers
Fully digital experience — Fill out all of your insurance forms online, no phone call required!
Top-rated carriers — Choose from a mix of highly reputable national and regional home insurance carriers.
Data privacy — We don't sell your information to third parties, and you won't receive any spam phone calls from us.
Keep Reading: Benefits of Bundling Home and Auto Insurance
Copyright (c) 2023, Credible Insurance, Inc. d/b/a Credible Insurance Agency (CA Lic. # 0M90597). Insurance Services provided through Credible Insurance, Inc., VA: Credible Insurance Agency, Inc., MN SOS: Credible Cover, Inc. Credible Insurance is a subsidiary of Credible Labs Inc. 1700 Market St. Ste. 1005, Philadelphia, PA 19103.