Our goal is to give you the tools and confidence you need to improve your finances. Although we receive compensation from our partner lenders, whom we will always identify, all opinions are our own. By refinancing your mortgage, total finance charges may be higher over the life of the loan.
Credible Operations, Inc. NMLS # 1681276, is referred to here as "Credible."
Credit is one of the main components of qualifying for a mortgage — and while some buyers have built a long credit history, others are just getting started. First-time homebuyers are less likely to have credit, which means they could face challenges getting a loan.
If you're in this position, don't fret, it's still possible to buy a house with no credit. You'll just need to show you can afford the upfront costs and monthly mortgage payments.
Here's how to get a mortgage with no credit history:
What is credit?
Credit is the ability to borrow money when you need it. If you've heard people talk about building credit, they mean taking steps to show you generally pay back the money you borrow as agreed.
There are three major pieces to your credit, and understanding how they fit together can help you qualify for a mortgage.
Credit history
Your credit history is a record of any loans or credit cards you've taken out in the past. Mortgage lenders review your credit history to see what types of credit you've taken out and how you've handled that debt.
They use that information to predict whether you'll repay your mortgage loan in the future.
Credit report
The details of your credit history are captured in your credit reports. These documents may include:
Each credit account you've taken out, including the type of account
A history of each payment you've made and whether they were on time
The reported account balance
Public records, such as foreclosures and bankruptcies
You can access your credit reports at AnnualCreditReport.com, or by going through the three major credit bureaus: Experian, TransUnion, and Equifax. These companies collect information about your accounts and add the details to your credit reports.
Credit score
Credit-scoring companies regularly scan your credit reports and use the information to calculate your credit scores. The major credit scores, such as FICO, range from 300 to 850. Generally, a higher score can help you buy a home with a good interest rate.
There's a different minimum credit score requirement for every mortgage program. Here's a quick overview:
| Loan type | Min. credit score |
| --- | --- |
| Conventional | 620 |
| FHA | 500 |
| VA | None |
| USDA | None |
Learn More: 5 Types of Mortgage Loans: Which One Is for You?

No credit vs. bad credit: What's the difference?
If you have no credit, it means your credit reports lack enough recent information to calculate a credit score. This is known as having a "thin credit file" or being "credit invisible."
This may happen if:
You've never applied for a loan or credit card
You've borrowed money but your creditors don't report your account information to the credit bureaus
You paid off your loans more than two years ago and haven't opened new accounts
With a thin credit file, creditors don't have a good way to predict how likely you are to repay your debt. The federal government estimates 1 in 10 adults lacks a credit history with the three main credit bureaus.
Tip: Having no credit is different from having bad credit, which means your credit history contains blemishes. This might happen if you've missed loan or credit card payments, or you've taken on a lot of debt.
Generally, a person with a credit score of 640 or lower is considered to have bad or poor credit — here's what the standard credit score ranges look like: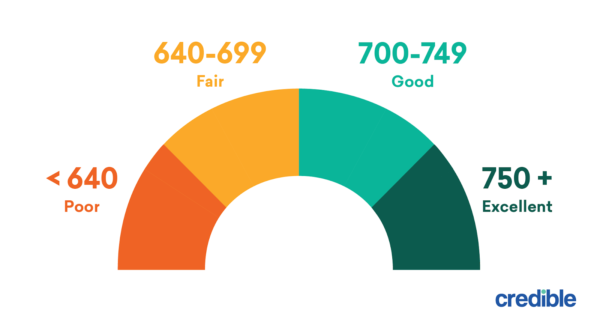 Major negative events, such as foreclosures and bankruptcies, can considerably bruise your credit, too. Lenders might see a low credit score as a warning sign that you may default on your mortgage payments at some point.
Good to know:
According to Experian, it might be harder to qualify for a mortgage with a
low credit score
than it is with no credit.
How to get a mortgage with no credit
Prospective homebuyers without extensive credit histories still have options for getting a home loan.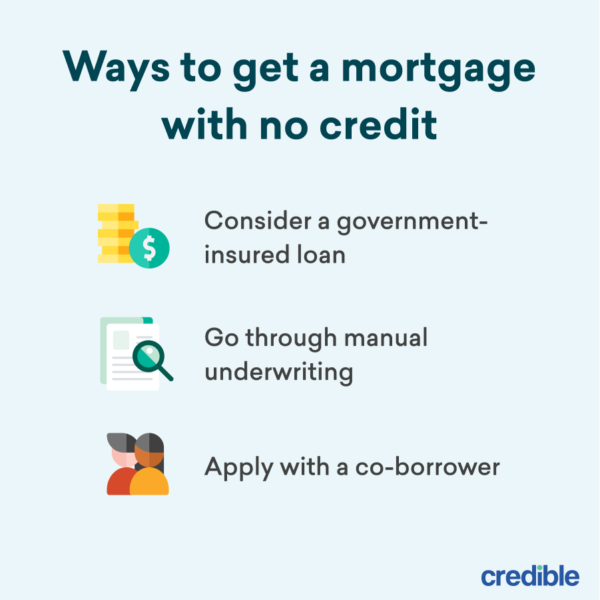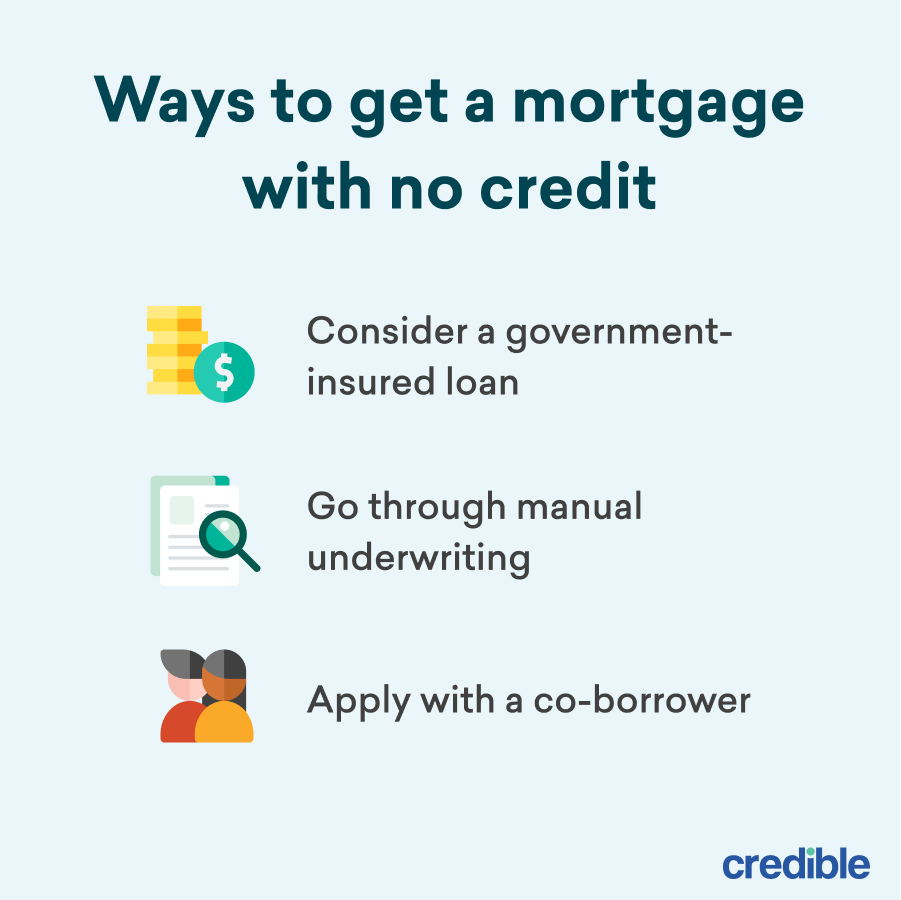 Shopping around for a mortgage can be stressful. Fortunately, Credible simplifies this process and makes comparing multiple lenders easy.
You can see prequalified rates from our partner lenders and generate a streamlined pre-approval letter in just a few minutes.
Credible makes getting a mortgage easy
Instant streamlined pre-approval: It only takes 3 minutes to see if you qualify for an instant streamlined pre-approval letter, without affecting your credit.
We keep your data private: Compare rates from multiple lenders without your data being sold or getting spammed.
A modern approach to mortgages: Complete your mortgage online with bank integrations and automatic updates. Talk to a loan officer only if you want to.
Consider a government-insured loan
A government-insured mortgage is a home loan backed by the federal government. FHA loans are backed by the Federal Housing Administration and come with flexible credit requirements.
This mortgage program typically requires borrowers to have a credit score of at least 500. But instead of using a traditional credit report, lenders can request a "non-traditional merged credit report" from a credit reporting company.
Or the lender can develop a credit history using alternative tradelines, such as:
Utility payment records, including cellphone bills
Home rental payments
Car insurance payments
Payments to child care providers
Rent-to-own services
12 months' worth of savings deposits
A car lease
A personal loan with repayment terms in writing
Upsides:
You may qualify for a mortgage with a down payment as low as 3.5%.
Downsides: All FHA loans come with mortgage insurance premiums, which increases your monthly payments.
Go through manual underwriting
When a mortgage application goes through manual underwriting, an underwriter personally reviews the application instead of an automated system. If you're applying for a conventional loan, the underwriter checks that you:
Have the funds to make a down payment
Earn enough income to cover the mortgage payments
Have an acceptable debt-to-income (DTI) ratio
Have cash reserves in your bank account
In lieu of a traditional credit history, be prepared to hand over these documents to show a track record of making on-time payments:
Rent payments for the previous two years
Utility and cellphone payments
Payments for other recurring expenses
Upsides:
Manual
underwriting
could help you qualify for a mortgage.
Downsides: Some lenders won't manually underwrite a mortgage because of the extra time and expense involved. Lenders willing to do this may charge a higher interest rate.
Apply with a co-borrower
Another option is to apply with a co-borrower who has a strong credit history. The co-borrower can be a spouse, relative, or friend, and they don't have to live in the home.
The lender would include that person on the loan and base the mortgage qualification on their income and credit score. You and the co-borrower are equally responsible for making mortgage payments, and you both would be included on the property title.
Upsides:
If your co-borrower has strong credit, it could help your chances of qualifying for a mortgage.
Downsides: To qualify for a home loan, you might have to take out a smaller mortgage than you would have with two borrower incomes.
How to build credit
While it's possible to get a house loan with no credit, the process is easier when you have a good credit score.
If you decide to put off the purchase for a few months, work on building credit to improve your chances of qualifying for a home loan. Here are some ways to do so:
Become an authorized user. When a trusted friend or relative adds you to one of their credit card accounts, the credit card issuer reports the account as part of your credit history. You won't be responsible for paying the charges, and you benefit from their credit history.
Take out a secured credit card. A secured credit card works the same as an unsecured credit card, except you supply a security deposit upfront. Making on-time payments and keeping your balance low can help you build a positive credit history. This could be a good option if you can't find someone who will add you as an authorized user.
Apply for a credit-builder loan. Some credit unions offer small loans specifically to help people build credit. Instead of getting the money upfront, the financial institution puts it in a savings account. You'll build credit over several months or a couple of years as you make on-time payments. At the end of the loan term, you'll receive the funds.
Find a creditworthy co-signer. When you get a co-signer, that person agrees to make your mortgage payments for you if you can't. This could help you qualify for the mortgage and get a lower interest rate, too. However, the co-signer should understand the risks involved before signing on. They'll be equally responsible for repaying any debt.
Keep Reading: 10 Mistakes to Avoid as a First-Time Homebuyer