Our goal is to give you the tools and confidence you need to improve your finances. Although we receive compensation from our partner lenders, whom we will always identify, all opinions are our own. By refinancing your mortgage, total finance charges may be higher over the life of the loan.
Credible Operations, Inc. NMLS # 1681276, is referred to here as "Credible."
Most homebuyers work with a real estate agent — and for good reason.
Having an agent to negotiate on your behalf and manage the transaction helps to ensure you get a fair deal and close on time. But knowing you need an agent and knowing how to find a real estate agent are two entirely different things. Fortunately, the process isn't as difficult as you might think.
Follow these steps to find a qualified real estate agent in your area: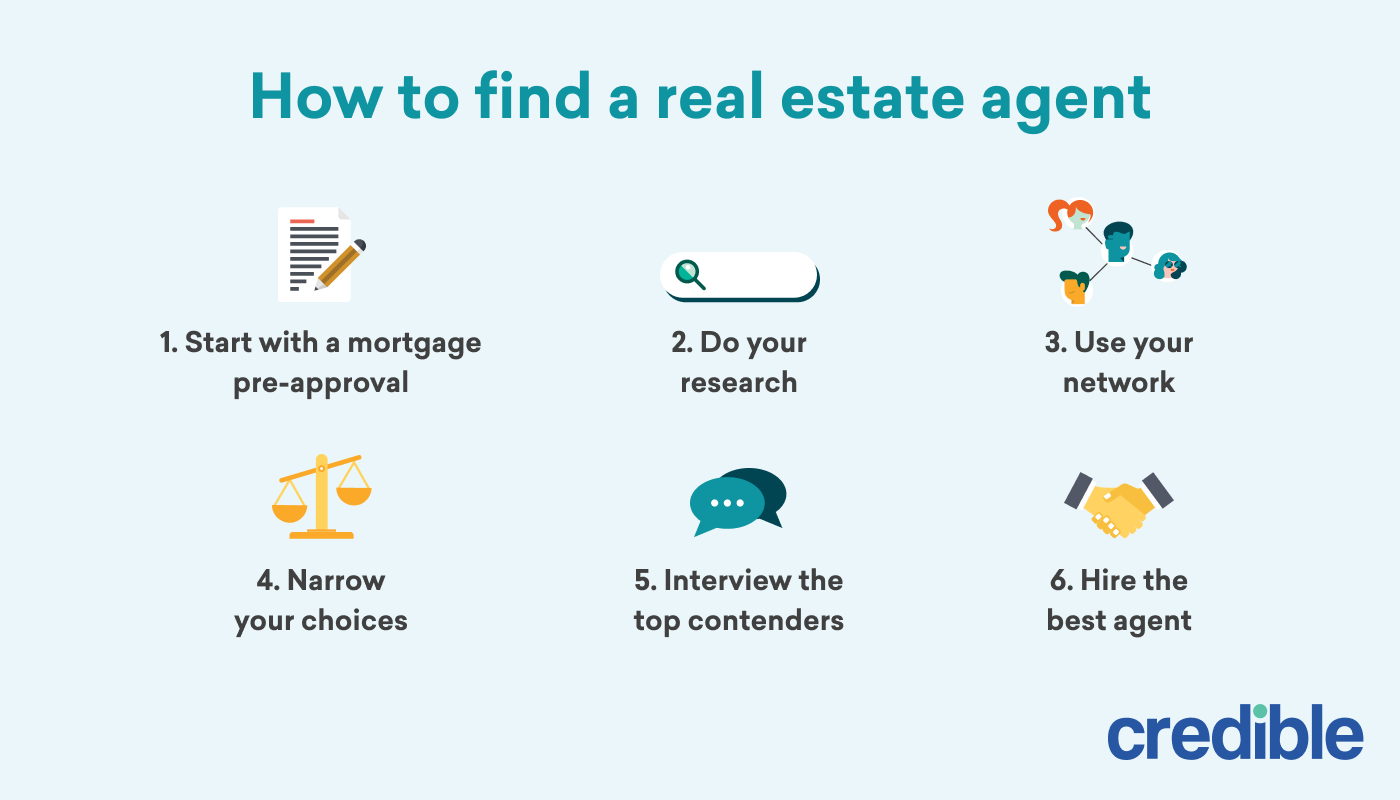 1. Start with a mortgage pre-approval
Get a mortgage pre-approval before you start working on finding a real estate agent. Unless you're paying cash, you won't know how much home you can afford — or if you even qualify for financing — until you've been pre-approved by a mortgage lender.

2. Do your research
One simple way to build an initial list of qualified agents is to search real estate portals like Zillow. These sites have agent directories that show agents' recent sales activity and reviews.
Google and Facebook are also good resources for finding local agents and reviews.
However, the multiple listing service (MLS) has much more detailed property information than the consumer portals. Make sure the agents you're considering have access to it.
The MLS is a valuable tool not just for researching available homes, but also for researching the comparables that guide your decision about how much to offer on your desired home.

Learn More: Off-Market Homes: How to Find Pocket Listings
3. Use your network
When struggling with how to find a real estate agent, buyers often overlook a prime resource — their own network.
You probably have family or friends who recently were in the same position you are but have since closed on a home. More than 90% of buyers who used an agent would use that agent again, according to a survey from the National Association of Realtors, so don't be afraid to ask people you know for referrals.

4. Narrow your choices
After you've done some preliminary research, the next step is to narrow your choices to a manageable number.
Reviews on Zillow and Google can be helpful. That said, lack of reviews isn't necessarily a bad sign. It might simply mean the agent gets their business through personal networking and referrals instead of from online sources.
Tip: Look at the agent's website and social media profiles. Make sure the agent has taken the time to introduce themself and their service in a way that shows they're knowledgeable and client-centered.
Agents' social media profiles can give you a good feel for their personal style. Chances are, some will resonate with you more than others. You can learn more about them and what they can do for you by calling them to schedule interviews.

5. Interview the top contenders
Most consumers go with the first agent they speak to, but it makes sense to speak with a few before you choose one to represent you in your home purchase. Here are six questions you might ask:
How many sales have you closed for buyers in the past year?
How many homes have you sold in my target neighborhood?
How often will we communicate, and what are your business hours?
What are the terms of your buyer's agency agreement?
What makes you the best choice for a buyer in my situation?
May I contact your references?
Learn More: How Long It Takes to Buy a House

6. Hire the best agent
As with any good relationship, communication is key. The interview is a great time to set expectations about how often you expect your agent to be in touch.
They'll need to be available to you, the mortgage rep who handles your home loan, the title agent, home inspector, and others involved in your transaction.
Before an agent can represent you, you'll also need to sign a buyer's agency agreement. The agreement typically explains:
How the agent is paid
Any fees you might pay the real estate brokerage (e.g., a retainer fee)
That you agree to work exclusively with the agency of your choice
General information on the type of property you're seeking (i.e., location, price range)
Often, an agent's commission comes from the seller's proceeds. If that compensation falls short, you might be responsible for making up the difference. However, this scenario is relatively uncommon.
Finally, be sure to speak with the agents' references before you make a final decision. These conversations are invaluable because they give you the opportunity to hear first-hand whether the agent handled the references' transactions efficiently and competently.
Credible makes finding a great mortgage rate easy. You can see prequalified rates from our partner lenders in the table below in just three minutes. We also provide transparency into lender fees that some comparison sites don't.
Loading widget - purchase-rate-table