Our goal is to give you the tools and confidence you need to improve your finances. Although we receive compensation from our partner lenders, whom we will always identify, all opinions are our own. Credible Operations, Inc. NMLS # 1681276, is referred to here as "Credible."
Many homebuyers feel so daunted by the idea of saving up for a 20% down payment that they forgo it altogether and end up paying private mortgage insurance (PMI).
If you're dead set on purchasing a mortgage but don't have 20% to put down, you may want to consider a piggyback loan.
A piggyback loan is essentially a second mortgage on your home and helps you avoid PMI by covering a portion of your down payment.
Here's what you need to know about piggyback loans:
What is a piggyback loan?
With a piggyback loan — also referred to as an 80/10/10 loan — you're essentially getting a smaller second mortgage to cover a portion of your down payment. This smaller mortgage "piggybacks" off the initial mortgage to get you to the amount that you wish to borrow.
This second mortgage is likely to be a home equity line of credit (HELOC) with a draw period of 10 years — but terms will vary from lender to lender.
Tip:
In some cases, a piggyback loan can also help you purchase a home with a higher value and allow you to avoid getting a
jumbo loan
.
Find Out: How Much Down Payment Do You Need to Buy a House

How a piggyback loan works
Piggyback loans are essentially two mortgages plus a down payment.
The first number in the loan represents your initial mortgage, while the second number represents your second "piggyback" mortgage. The third number is your down payment.
How 80/10/10 loans work
While the 80/10/10 structure is the most common way of structuring a piggyback loan, there are alternatives, and those percentages aren't always the same.
With the 80/10/10 piggyback loan, here's roughly what you can expect: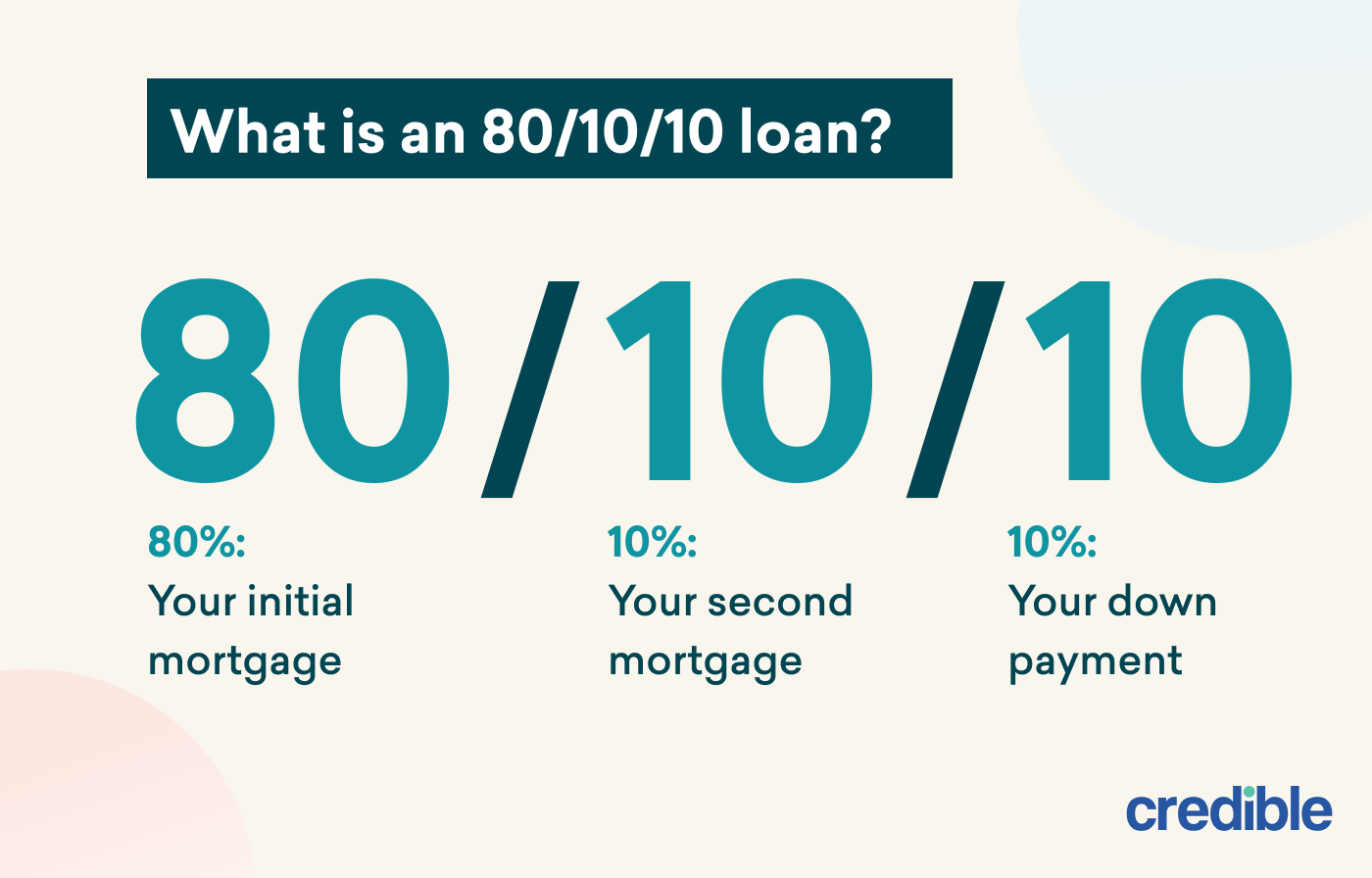 How 75/15/10 loans work
Another configuration of the piggyback loan is the 75/15/10 loan. A 75/15/10 loan is often used in condo purchases as it can qualify you for a lower mortgage rate.
In general, condo mortgages with a loan-to-value (LTV) ratio of more than 75% come with higher rates, which can cost more in the long run.
Check Out: Credit Score Needed to Get a Home Loan

Is a piggyback loan right for you?
A piggyback typically works best for borrowers who:
Want a smaller down payment
Don't wish to pay PMI
Are buying a condo and looking for a lower interest rate
Hope to avoid a jumbo loan
Before getting a piggyback loan, it's important to crunch the numbers. Make sure the cost of the piggyback loan doesn't exceed the cost of PMI.
Remember, you can eventually get rid of PMI, so that should figure into your calculations.
While Credible doesn't offer piggyback loans, it can help you compare great home loan rates and give you a better idea of how much you can afford. In just a few minutes, you can see personalized, prequalified rates from all of our partner lenders. Checking prequalified rates is simple and safe — and it won't affect your credit score.
Credible makes getting a mortgage easy
Instant streamlined pre-approval: It only takes 3 minutes to see if you qualify for an instant streamlined pre-approval letter, without affecting your credit.
We keep your data private: Compare rates from multiple lenders without your data being sold or getting spammed.
A modern approach to mortgages: Complete your mortgage online with bank integrations and automatic updates. Talk to a loan officer only if you want to.
Pros and cons of a piggyback loan
The main advantage of a piggyback loan is that it allows you to avoid PMI. While this might seem like a good enough reason to get one, there are also a number of drawbacks to be aware of.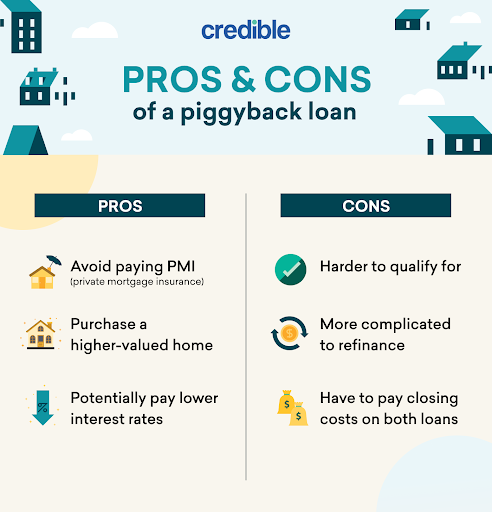 Pros
You can put less money down without paying PMI. In general, when you put less than 20% down on a home, you have to pay mortgage insurance. With the help of a piggyback loan, you can bring less of your own money to the table, but still avoid paying PMI.
You can get a condo at a lower rate. Many lenders charge higher interest rates on condo purchases that have a LTV of 75% or above. If you get a piggyback loan, you might see a lower interest rate by keeping the LTV below 75%. This could potentially save you thousands of dollars in interest over the life of the loan.
You can avoid getting a jumbo loan. If you want to buy a higher-value home, you might need a jumbo loan. However, if you don't want to deal with the requirements that come with qualifying for a jumbo loan, a piggyback loan can help. Since it brings down the amount you have to borrow, it might bring you below the jumbo loan threshold.
Cons
They're harder to qualify for. In many cases, you might have a harder time qualifying for a piggyback loan. Depending on the lender, you're likely to need a credit score of at least 680, as well as have a lower debt-to-income ratio. This is because you're qualifying for a HELOC on top of the original home loan — and doing it all at once.
They're more complicated to refinance. You generally need to get permission from your HELOC lender to refinance a first mortgage. As a result, you might need to pay off your piggyback loan before refinancing, or try to work out a situation in which you can refinance both at the same time.
You'll have to pay closing costs on two loans. Remember that a piggyback loan is a separate loan from your primary mortgage. As a result, when you close on your transaction, you need to pay closing costs for both loans. This can increase the cost of your home purchase.
While Credible doesn't offer piggyback loans, you can easily compare mortgage rates from our partner lenders without leaving our platform. Simply enter some basic financial information in the table below, and you'll see several prequalified rates. Then, choose the best one for your budget.
Low-down-payment alternatives to piggyback loans
Borrowers wishing to avoid a 20% down payment but who don't want to get a piggyback loan have other low-down-payment options.
For example, an FHA loan comes with more relaxed credit requirements and requires as little as 3.5% down. Fannie Mae and Freddie Mac also offer conventional mortgages with low down payment requirements.
Loan type
Description
Min. down payment
Min. credit score
Max DTI
FHA
Government-insured mortgage for borrowers with low credit scores
3.5% or 10%
(depending on credit score)
580 with 3.5% down; 500 with 10% down
50%
Fannie Mae 97% LTV Standard
At least one borrower must be a first-time homebuyer
3%
620
50%
Freddie Mac HomeOne
At least one borrower must be a first-time homebuyer
3%
620
No defined minimum, but generally 45%
Fannie Mae HomeReady
For credit-worthy low-income borrowers
3%
620
50%1
Freddie Mac Home Possible
Very-low-, low-, and moderate-income borrowers
3%
660
45%1
1Maximum income cannot exceed 80% of area median income
Before deciding on a piggyback loan, compare your options and figure out what's likely to be the best mortgage for your situation.