Our goal is to give you the tools and confidence you need to improve your finances. Although we receive compensation from our partner lenders, whom we will always identify, all opinions are our own. Credible Operations, Inc. NMLS # 1681276, is referred to here as "Credible."
When you're about to purchase a home, it helps to have experts on your side. The first one you're likely to retain is your real estate agent. But no matter how experienced your agent is, one thing they can't do for you is offer legal advice.
That's where a real estate attorney comes in. Although an attorney isn't required, having one can help you avoid problems before, during, and after you close.
Here's what you need to know about real estate lawyers:
Where real estate attorneys are required
You're not required to have your own attorney throughout the homebuying process, but some states do require that an attorney be present at closing.
In these cases, the attorney serves as the closing agent who conducts the closing and makes sure the mortgage and other documents are complete and the funds are properly disbursed.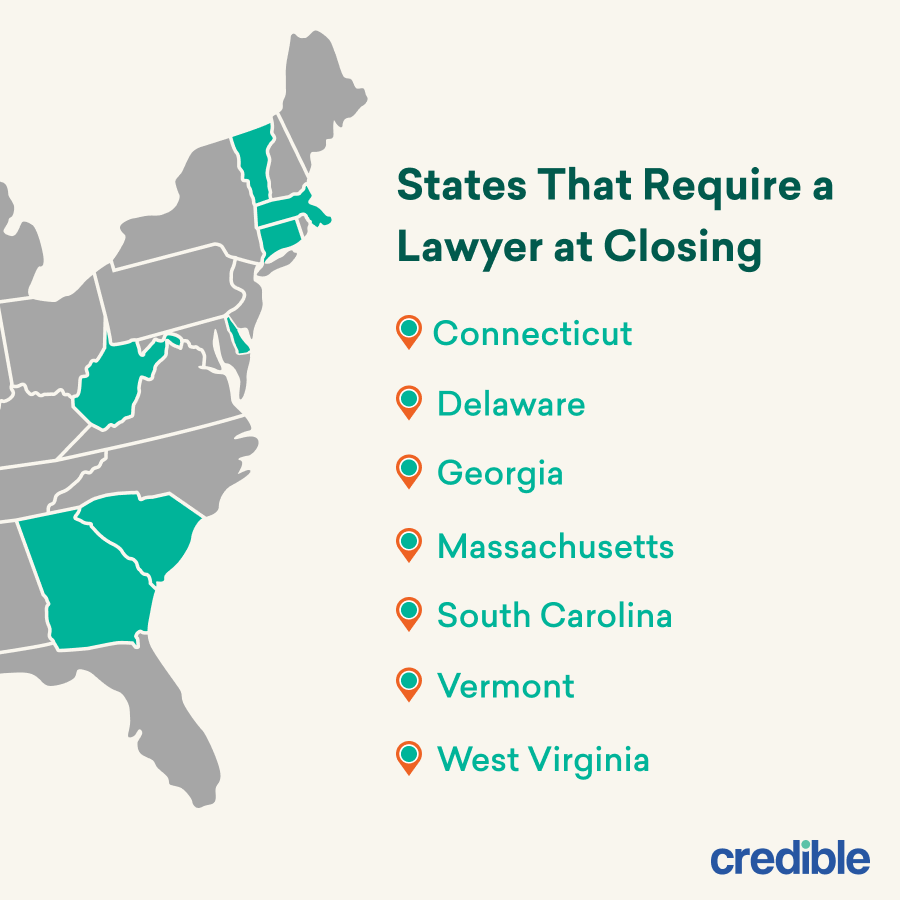 The following states require an attorney to be present at closing:
Connecticut
Delaware
Georgia
Massachusetts
South Carolina
Vermont
West Virginia
New Jersey doesn't require an attorney at closing, however, New Jersey real estate contracts must give the buyer and seller three business days to have an attorney review the contract. The contract is not binding until after the attorney review period ends.
If you're considering a home purchase, be sure to shop around for a great rate. Credible makes this easy — you can compare all of our partner lenders and see prequalified rates in as little as three minutes.
Credible makes getting a mortgage easy
Instant streamlined pre-approval: It only takes 3 minutes to see if you qualify for an instant streamlined pre-approval letter, without affecting your credit.
We keep your data private: Compare rates from multiple lenders without your data being sold or getting spammed.
A modern approach to mortgages: Complete your mortgage online with bank integrations and automatic updates. Talk to a loan officer only if you want to.
What a real estate lawyer does
A real estate lawyer specializes in working with buyers, sellers, and lenders to protect their client's interests throughout the real estate transaction.
Fees vary according to which party the attorney represents, the complexity of the transaction, and in some cases, the value of the property, but expect to pay $150 to $350 per hour.
Some attorneys charge a flat fee ranging from about $1,000 to several thousand dollars, depending on whether they're also taking care of the title work and deed.
Here are some of the things a real estate lawyer handles when they represent the buyer:
Negotiating contracts
Your attorney can draft a sales contract from scratch, but most buyers use a standard, pre-printed contract to submit purchase offers.
A real estate lawyer can also:
Review your offer before you submit it to the seller. This will ensure your rights are protected and you understand your responsibilities.
Add an addendum to the contract, if necessary.
Review any counter-offers from the seller.
Learn More: Loan Contingencies: What They Are and How to Use Them
Conducting title searches
One of the most important aspects of buying a home is making sure there are no judgments or liens that might limit your ownership rights. An attorney can accomplish this through a title search.
A title search involves examining the property's chain of ownership to verify that the seller owns the property free and clear. If the search shows that the property is encumbered — perhaps the previous owner left some property taxes unpaid — the attorney can coordinate whatever action needs to be taken to resolve the issue.
After the attorney verifies clear title, they'll submit a report to a title insurance company, which can then issue title insurance.
Tip:
Title insurance protects against any title defects that might be discovered after closing, and your lender will require that you purchase it.
Although the required insurance only covers the lender, you can purchase a separate owner's policy, also known as owner's title insurance, to protect yourself as well.
Navigating closing
The attorney's role in the closing process depends on whom the attorney represents. Unless you select an attorney to represent you at closing, the closing attorney typically represents your lender.
The closing attorney's responsibilities include:
Coordinating the completion and distribution of necessary documents
Preparing the closing statement that itemizes how the funds are to be distributed
Distributing the funds
Your attorney will help explain to you the documents you'll be signing and answer any last-minute questions that you may have about the transaction.
They'll also negotiate a resolution should an unexpected hiccup occur in the process, such as a delay in bank funds arriving or the seller failing to complete required repairs.
Filing paperwork
After closing, the closing attorney files your deed, and perhaps your mortgage, with the recording office located in the county where you purchased your home. This filing process is called recording, and it's what makes your deed and mortgage part of the public record.
That way they can be examined by anyone who is interested in the property and be discovered in future title searches, protecting your claim to the property.

When to get a real estate attorney
Even if you're working with a real estate agent and living in a state that doesn't require an attorney, having one can help your transaction go more smoothly.
Legal representation might be especially helpful when you're:
Purchasing a home in another state
Purchasing a foreclosed, short sale, or estate-sale property
Planning to use your home to operate a home-based business, short-term rental, or use it in a way that might violate zoning laws
Buying a home with environmental issues, such as radon or mold
Purchasing a home independently, without an agent
Purchasing a home with major improvements, such as a basement apartment, for which the seller can't provide a building permit or certificate of occupancy
Purchasing a home via a land-sale or rent-to-own contract
You should also consider using an attorney if you need an addendum to your contract later in the transaction. Although real estate agents often have pre-printed addendum forms for common additions to contracts — such as deadline extensions and itemized lists of repairs the seller must make — it's best to have an attorney write any addenda not covered in the pre-printed forms.
For example, a buyer and seller might agree that the seller will remain in the home for some period following closing. Having a lawyer write the addendum will ensure that it's a valid part of the contract that accurately reflects the buyer's and seller's agreement, and that it would hold up in court.
Check Out:
How much does a real estate lawyer cost?
Real estate lawyers' fees vary by lawyer and the service(s) they provide. Some lawyers charge an hourly fee, which generally ranges from $100 to $500, according to Nolo. A lawyer might charge you hourly to prepare and review your contract or negotiate on your behalf.
Lawyers often charge a flat fee to perform the title search and oversee the closing. That fee can range from several hundred dollars to around $1,200.
How to find a real estate lawyer
As tempting as it might be to rely on the seller's or lender's attorney to keep things moving smoothly, it's important to understand that attorneys work in their client's best interest. You'll need to hire your own if you want an attorney to represent your best interests in the transaction.
Where to find a reputable attorney:
Your real estate agent is a good source of attorney referrals, as they've likely worked with local real estate attorneys and can make recommendations based on their own experience.
It's also worth asking family and friends who've bought or sold a home recently to recommend (or not) the attorney they worked with.
Your county's bar association is another good source. Some attorneys offer a free or low-cost consultation to individuals referred to them by their bar association's referral service.
Reputable legal websites like Justia and Nolo have attorney directories that can serve as a good starting point too if you're unable to get a referral from someone you know and trust. You can also Google "real estate attorney" for a list of lawyers in your area, with reviews.
Questions to ask when interviewing real estate attorneys
Don't choose your attorney based purely off of online reviews or word of mouth. Contact them and set up a time for an interview.
Here are some questions you might want to ask when you're interviewing attorneys:
Do you charge an hourly rate or a flat fee?
What does your fee include?
How quickly can you respond in the event an issue arises with the transaction?
How many buyers do you represent in a typical year?
Will anyone other than you — a paralegal, for example — be working on my transaction?
You don't need your own lawyer to buy a house, and whether or not you should have one is a personal decision. But it's not an all-or-nothing one. Whereas a special circumstance might warrant representation through the whole transaction, a straightforward sale can benefit from an attorney review of your contract as well.
Whether you're researching rates or looking to buy a home, Credible is here to help. You can compare prequalified rates from our partner lenders in just a few minutes.
Loading widget - purchase-rate-table