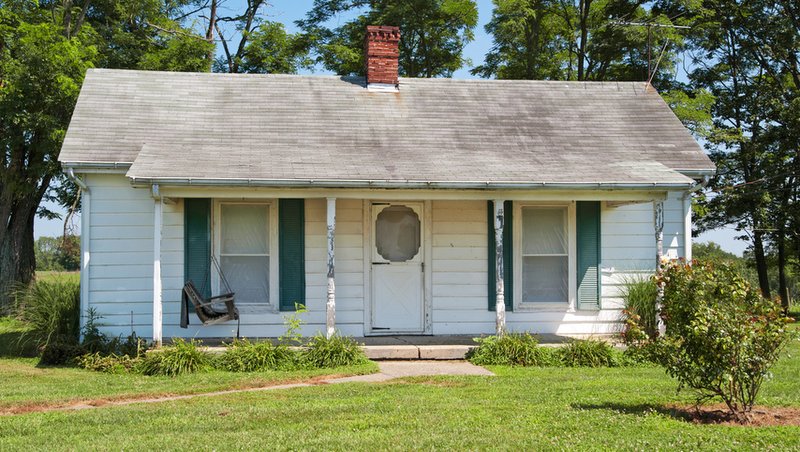 If you had any doubts that America is increasingly a nation of well-educated haves and less educated have-nots, a new analysis of the economic health of U.S. communities down to the ZIP code level may put them to rest.
You're more likely to bump into someone who holds a master's degree or a doctorate on the streets of a prosperous community than encounter a college graduate in a distressed one.
That's one interesting finding from the 2017 Distressed Communities Index, a detailed report by the Economic Innovation Group (EIG), a Washington, D.C.-based think tank that advocates for investments that create jobs and economic growth.
"Years into a steady economic expansion, it is all too easy to look at a low unemployment rate or record stock market gains and conclude that the tide is rising everywhere," the report notes. But more than 50 million Americans live in "distressed communities" afflicted by "deep poverty, pervasive joblessness, low levels of educational attainment, and little to no economic growth."
The 5,225 ZIP codes defined as distressed "are the places that have fallen through the cracks of the U.S. economy," the report said. Their residents — who tended to vote for Donald Trump in the November election — "struggle to access economic opportunities that offer the chance for a better life."
They're also more likely to die of cancer, commit suicide, be murdered, or have their lives cut short by issues related to mental disorders and substance abuse, compared to the 85 million Americans who live in prosperous communities.
Disparities in educational attainment
Looking at metrics like educational attainment, income, employment, and changes in the number of businesses, EIG researchers created distress scores characterizing the economic health of more than 26,000 ZIP codes as either "prosperous," "comfortable," "mid-tier," "at risk," or "distressed."
Educational attainment is "an excellent predictor" of the type of community you live in — only one in seven people living in distressed ZIP codes has a four-year college degree, compared to nearly half of those in communities defined as "prosperous."
About two out of three Americans who have earned at least a bachelor's degree live in "prosperous" or "comfortable" ZIP codes, the report said. This uneven distribution of Americans with college degrees appears to be "closely linked to the diverging fates of communities," the report found.
Community type by educational attainment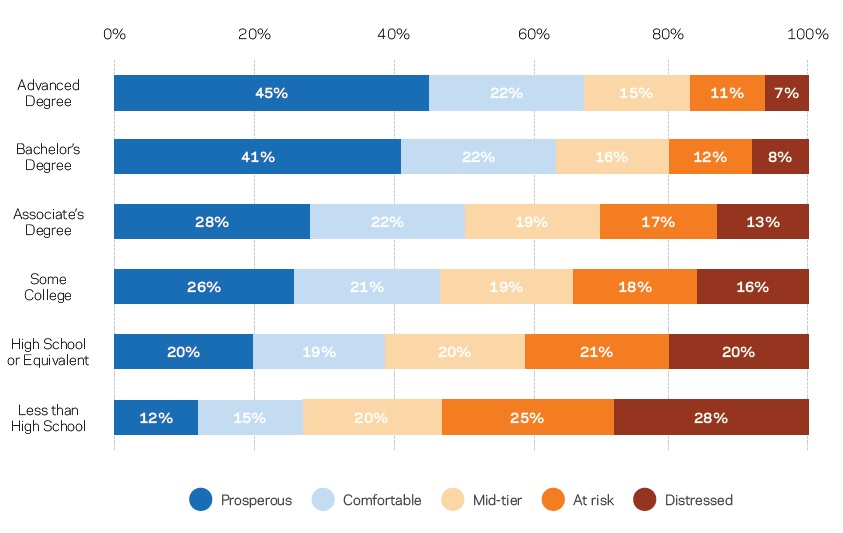 Source: 2017 Distressed Communities Index, Economic Innovation Group.
Even as more prosperous communities added jobs and created new businesses during the 2011-15 recovery from the "Great Recession" of 2007-09, the average distressed ZIP code lost 6 percent of its jobs and businesses.
During this same period, the most prosperous communities created jobs at a rate 2.6 times higher than the national avearge, and new businesses were created three times faster.
"Simply put, residents of prosperous communities are surrounded by a level of economic vibrancy that would be unrecognizable to the vast majority of Americans elsewhere," the report said.
EIG researchers pointed to a recent study by Georgetown University's Center on Education and the Workforce, which concluded that workers with college degrees claimed 73 percent of "good jobs" created during the economic recovery.
Racial composition of distressed vs. prosperous communities
Source: 2017 Distressed Communities Index, Economic Innovation Group.
African Americans and Hispanics — who are less likely to earn a bachelor's degree than whites and Asians — are overrepresented in distressed ZIP codes. More than one in four people living in distressed ZIP codes are African Americans, about twice as many as would be expected based on total population share.
Although distressed communities can be found in urban, rural and suburban communities, the report illuminated some regional trends. In the South, distressed communities are most likely to be in low-density, rural areas. It's the opposite in the Northeast, where 68 percent of those living in distressed communities are in "very high density" urban areas. It's a little easier to characterize prosperous communities — they're most often found in the suburbs.
Political implications
EIG's Distressed Communities Index drives home a point that's already understood by political pundits: Frustrated voters who live in communities that languished during the post-Recession recovery helped elect Republican Donald Trump to office.
The index — which can also be applied at the city, county or congressional district level — shows that in counties classified as "mid-tier," "at risk," or "distressed," Trump got 3.5 million more votes than his Democratic opponent, Hillary Clinton.
For her part, Clinton tallied 6.5 million more votes than Trump in counties categorized as "comfortable" or "prosperous."
Votes for Clinton, Trump by community type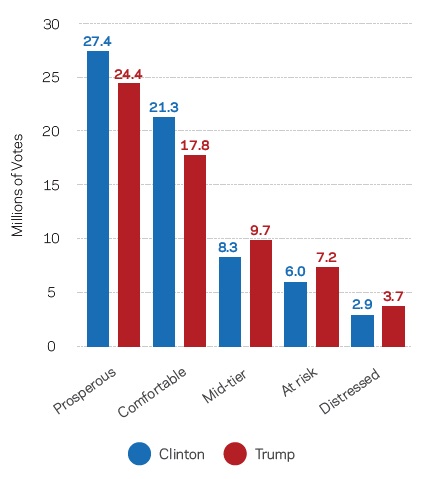 Source: 2017 Distressed Communities Index, Economic Innovation Group.
Among counties that "flipped" for Trump in 2016 after voting for Barack Obama in the two previous presidential elections, three quarters lost jobs and businesses from 2011-15.
This makes sense, the report's authors point out, to the extent that many voters perceived Clinton as the status quo candidate, and Trump as the "change" candidate.
But Republicans controlled Congress during most of Obama's two terms as president, limiting his ability to effect change.
When you looking at distress scores by congressional district, it's Republicans who represent 63 percent of the nation's prosperous districts, including nine out of the top 10 most prosperous.
"These important distinctions about how different groups of people or places broke on the margins should not obscure the fact that both candidates assembled economically diverse bases of over 60 million voters apiece," the report said. "President Trump may have won the largest shares of voters struggling locales, but the largest proportion of his overall votes came from prosperous counties. Similarly, large shares of Americans in distressed and otherwise lagging counties voted for Clinton."
Nevertheless, Democratic strategists are scrambling to come up with messaging that will resonate in distressed communities, and dispel accusations that their party is more in tune to the needs of elites and special interests.
In July, Democrats launched a "Better Deal" messaging campaign, to promote the idea that the party is out to "build an America in which working people know that somebody has their back."
Where Clinton's "New College Compact" promised "debt-free degrees" for most college students, the "Better Deal" would create new apprenticeship programs, provide tax credits to employers who provide worker training, and encourage businesses to help develop the curriculum at community colleges and technical schools.
When voters in less prosperous communities "hear people tell them that the answer to their concerns is college, their reaction is to essentially say — don't force your version of the American Dream on me," said strategists who helped Democrats develop the "Better Deal" campaign.
Trump's promises to bring manufacturing jobs back to the U.S. — largely by enacting protectionist policies — may have appealed to many less educated voters.
When Credible polled millennials about their financial outlook shortly after Trump took office, those without college degrees were the most likely to say they expected their finances to improve "a lot."
But the more education they had, the more likely millennials polled by Credible were to report being employed full-time, and that their personal finances had improved in the last 12 months.
---