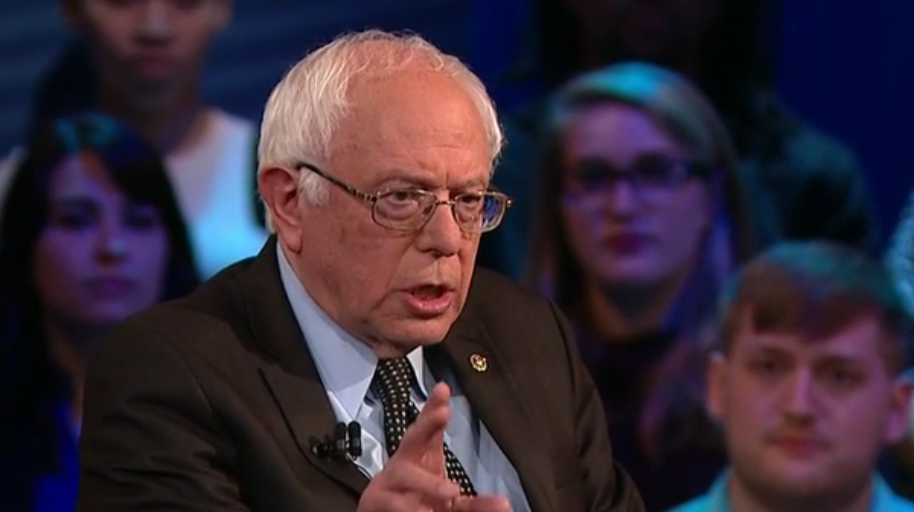 Bernie Sanders used a town hall meeting at Ohio State University Sunday as an opportunity to set the record straight about his $70-billion-a-year plan to make college "tuition free and debt free."
"This very often gets misunderstood," Sanders said. "I am not proposing free college for all. What I am proposing is free tuition at public colleges and universities, so that anybody in this country who has the ability will be able to get a college degree regardless of the income of his or her family."
Last year, the independent Senator from Vermont introduced a bill, the College for All Act, that would award grants to states to eliminate tuition and fees at public institutions of higher education.
Of the need for the legislation — which he proposes to fund with a $300-billion-a-year tax on trading of stocks, bonds, and derivatives — Sanders said it's gotten harder to get by with just a high school degree.
"I am doing this because today in many respects a college degree is the equivalent of what a high school degree was 50 years ago," Sanders said Sunday. "The world has changed, the economy has changed — people need more education."
About 40 other countries have financial transaction taxes similar to the one he's proposed, and Sanders said more than 1,000 economists have endorsed a tax of a "fraction of a percent" on Wall Street trades. The College for All Act would provide a tax credit for individual taxpayers with modified adjusted gross income of less than $50,000 (or $75,000 for married taxpayers filing joint returns) for the amount of tax they paid on covered transactions.
"I want every kid in this country who's in the 6th grade or 4th grade to understand that if he or she studies hard and does well, they will be able to go to college regardless of the income of their family," Sanders said.
Sanders wants to restore a 2006 formula for setting student loan interest rates, which he says would cut interest rates on loans to undergraduates from 4.29 percent to 2.37 percent.
As for students and graduates who already have student loan debt, Sanders proposes a government-subsidized program allowing them to refinance their loans at "at today's low interest rates" (Republicans have blocked legislation supported by Senate Democrats to do just that).
Sanders is hoping to build on his victory in Michigan's primary last week as Ohio voters go the polls Tuesday. His rival for the Democratic Party presidential nomination, Hillary Clinton, has put forward her own plan to reduce college costs and the burden of student loans. While Clinton's plan is more modest in some ways, it might also have a better chance of winning Congressional approval.
Clinton's "New College Compact" would provide grants to states and colleges to providing free tuition at community college, and help as many as 25 million students refinance student loan debt. Clinton proposes raising $350 billion for the program over 10 years by closing tax loopholes for the rich.
Along the same lines, Senate Democrats have put forward the Reducing Educational Debt (RED) Act, which would provide two years of tuition-free community college, low-cost student loan refinancing, and Pell Grants indexed to inflation. The RED Act builds on three previously introduced bills that Republicans have shown no interest in allowing to come to a vote.
Editor's note: This story has been updated to clarify that Bernie Sanders proposes rolling back rates on new student loans to 2006 levels, and allowing borrowers to refinance current loans at today's rates.
---