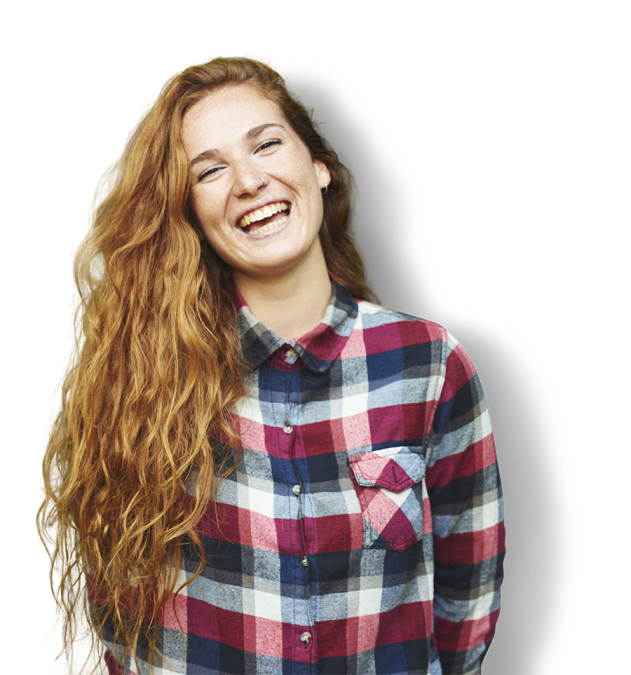 Compare offers from Citizens and other top lenders
Credible helps borrowers compare personalized offers in less than 2 minutes



How to Refinance Your Student Loans Through Credible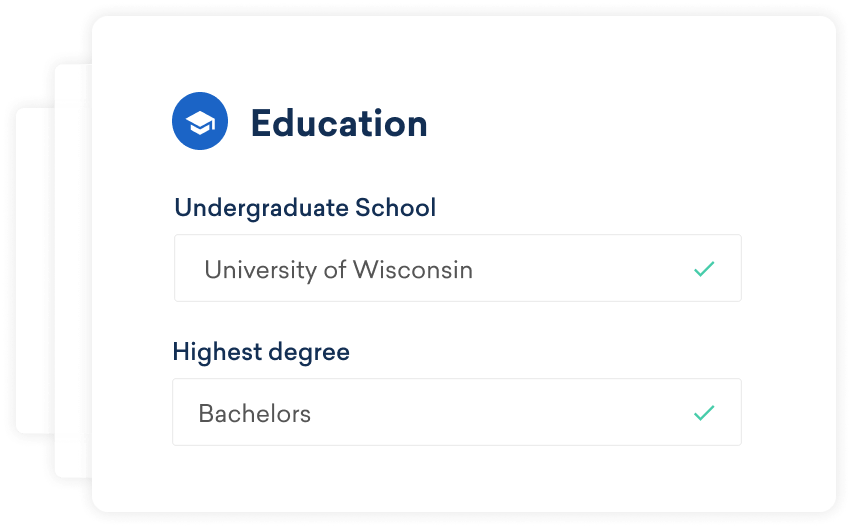 Fill out a quick simple form (2 mins)
One form to access options from top lenders

Checking your rates won't affect your credit score

Your information is not shared with lenders at this point







Choose an option you like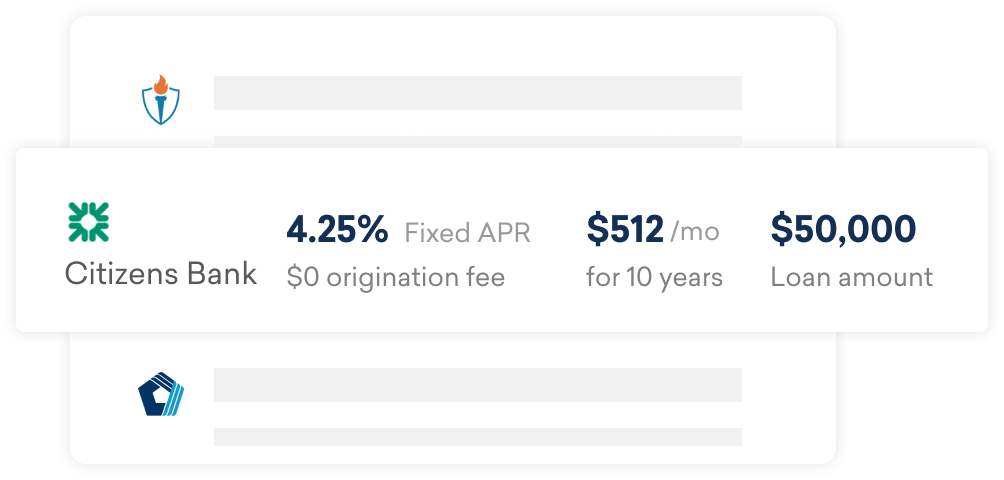 Easily compare your prequalified options in one place

Use our comprehensive tools to quickly find a plan for you

Get actual prequalified rates based on your credit profile, no estimates







* Actual results may vary. For illustrative purposes only.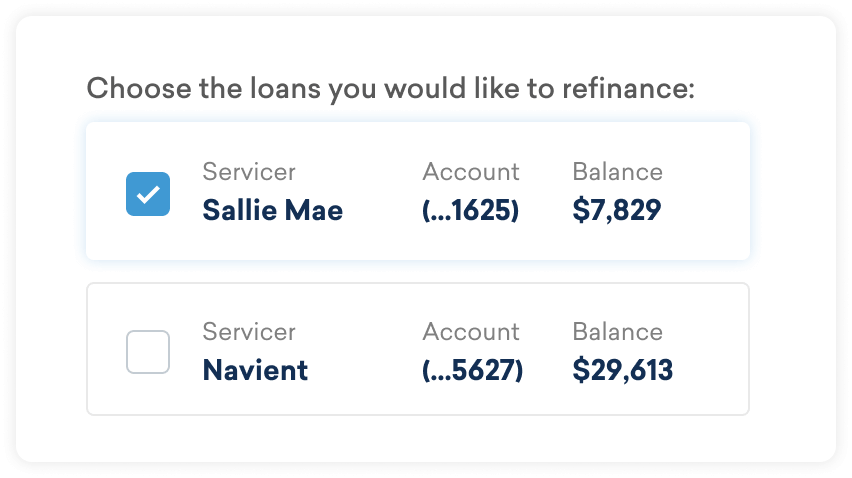 Provide your loan details (3 mins)
Use our easy import tools to add the loans you want to refinance

Provide some additional details about yourself

Get your final offer in as little as 1 business day

Join thousands of others who have already saved by refinancing.
Compare Options for Student Loan Consolidation and Refinancing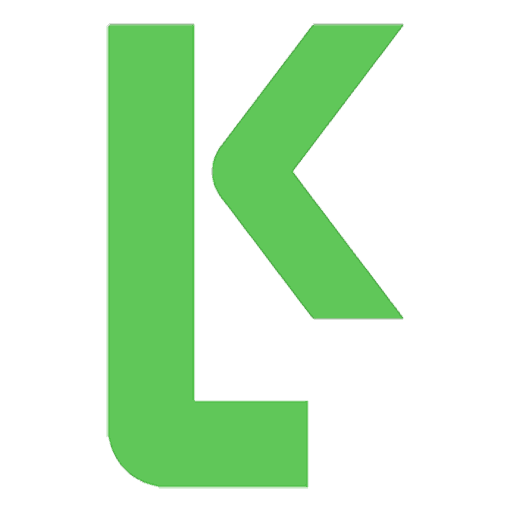 All APRs reflect all applicable discounts where available
See personalized rates

from multiple lenders in 2 minutes
Checking rates will not affect your credit score
What Our Users Are Saying



It was very easy to get a range of offers on student loan refinancing. I'm trying to rebuild my credit and after a dozen "no" answers credible got me several offers…
Amazing! I wished I went to this site sooner, lead me to the loans with the lowest rates, I was able to pick which one is best for me. Thanks Credible!
After my son used Credible to refinance his school loans, I decided to attempt refinancing my parent loans through them. I am very thankful for the opportunity to refinance my loans...
Now let us help you. Get started today.
Questions? Our Client Success Team is here to help
Student Loan Refinance FAQs
How do I refinance my student loans?
Student loan refinancing allows qualified borrowers to adjust the interest rate and repayment terms on their private and federal student loans by taking out a new loan that pays off some or all of their existing education debt.
You can refinance student loans through many private lenders. Depending on the interest rate and time it will take to pay off your new loan, refinancing can reduce your monthly payment, total interest paid, or both.
What do I need in order to qualify?
Qualifying to refinance student loan debt can depend on a number of factors including your credit and earnings history, credit report, the school you graduated from, your degree, and the size of the loan you want to refinance.
Credible's data show the most common reason borrowers are turned down for refinancing is not their credit score, but excessive debt-to-income ratio, or "DTI." If you have a limited or poor credit history, there are proven steps you can take to improve it.
Adding a creditworthy cosigner can improve your chances of prequalifying for a loan. The Credible marketplace allows you to request rates with a number of different cosigners, so you can see which helps you prequalify with the best rates. Many lenders offer cosigner release once borrowers have made a minimum number of on-time payments and can demonstrate they are ready to assume full responsibility for repayment of the loan on their own.
What credit score do I need to refinance student loans?
Most of Credible's partner lenders look for a credit score between 670 to 700 to refinance your student loans. Some lenders also have minimum income requirements and consider your ability to repay your loan by looking at your debt-to-income ratio (DTI).
If your credit history is limited or you have poor credit, adding a creditworthy cosigner can improve your chances of qualifying for a loan. Credible offers a tool that lets you check your rates with a number of different cosigners to see which can help you get the best rates.
What will refinancing cost me?
Nothing. Credible's partner lenders do not charge prepayment penalties, loan application fees, or origination fees.
Using Credible is free. Although our partner lenders do pay us a fee, the fee does not affect your loan terms or the loan amount you pay the lender.
Why should I refinance student loans?
Refinancing student loans can lower your interest rate, saving you thousands in total interest and enabling you to make monthly payments that pay off your loans faster. It can also give you peace of mind by allowing you to reduce your monthly payment, lock in a fixed interest rate, or remove a parent as the cosigner of a private loan.
Whatever your goal, you should weigh your options carefully. Here are some of the options that may be available to you:
Pay off loans faster

Reduce your monthly payment

Reduce interest charges and monthly payment

Relieve your co-signer of their obligations
Estimate Your Savings: Student Loan Refinancing Calculator

The best time to refinance your student loans is typically after graduation, when you've landed a job and established strong credit.
To be eligible to refinance at an attractive interest rate, you'll typically need a history of earnings and a credit score that gives lenders the confidence that you'll be able to repay your student debt.
If you don't qualify to refinance right after graduation on your own, you may be eligible with a creditworthy cosigner. Or, you can try again when your financial situation improves. If you earn a raise or manage to pay down credit card debt, your chances of qualifying will improve.
Many borrowers decide to refinance once they can qualify for lower interest rates than those on their existing loans. But some borrowers with variable-rate loans may choose to refinance into a fixed-rate loan with a higher student loan interest rate to avoid a potentially bigger increase in their interest rate and monthly payment.
Learn More: When to Refinance Your Student Loans
What is the difference between student loan refinancing and student loan consolidation?
Should I refinance or consolidate my student loans?
Refinancing your student loans through a private lender not only allows you to consolidate several loans into a new, single loan. You may also be able to get a lower interest rate which can save thousands in interest charges. If you refinance federal student loans, though, you give up certain benefits like access to income-driven repayment programs.
Consolidating federal student loans with a Direct Consolidation Loan provides the convenience of a single monthly payment, but will not lower your interest rate. However, you could lower monthly payments by qualifying for income-driven repayment options that stretch out your payments over a longer period of time (but you may end up paying considerably more in interest).
Learn More: Pros and Cons of Consolidating Federal Loans
What types of loans are eligible for refinancing?
Federal Student Loans: Our partner lenders can refinance some or all of your federal student loans into a private loan.

Private Student Loans: Lenders also refinance private student loans from banks, credit unions or schools.

Parent PLUS Loans: If you took out Parent PLUS loans for a student, you can refinance them through Credible.
How to choose between a fixed-rate and a variable-rate loan
The choice often comes down to your tolerance for risk. While you may start off with a lower rate if you choose a variable interest rate, the rate can go up and down, along with your monthly payment.
Refinancing into a fixed-rate loan often means starting at a higher interest rate, but that rate is locked in for the life of the loan.
How do I choose the best lender to refinance with?
To find the best lender for your situation, you should always compare rates and terms from multiple lenders. You should specifically look at the interest rate, length of repayment, fees, and any special repayment options each lender might offer (like deferment, forbearance, etc.).

These are Credible's best companies to refinance student loans:
Commonbond

INvestEd

ISL Education Lending

LendKey
Additional resources to help you refinance student loans: