Our goal is to give you the tools and confidence you need to improve your finances. Although we receive compensation from our partner lenders, whom we will always identify, all opinions are our own. Credible Operations, Inc. NMLS # 1681276, is referred to here as "Credible."
Homeowners insurance protects your investment in your property by helping pay for the cost of repairing or replacing your home if it's damaged by a covered event, such as a windstorm or fire. Coverage also extends beyond your home, to your personal belongings. It can even pay medical and legal expenses in the event someone injures themselves on your property.
The wide-ranging coverage homeowners insurance provides can be expensive. The average annual premium is $1,272, according to the National Association of Insurance Commissioners (NAIC). But if you consider the cost of rebuilding your home, the annual premium is a reasonable price to pay. And if you have a mortgage, your lender will require you to have home insurance.
Here's what you need to know about how homeowners insurance works:
What is homeowners insurance and how does it work?
Homeowners insurance is a type of hazard insurance policy that pays for losses and damage to your property caused by unexpected events like fires and theft. Although home insurance comes in different forms, each of which has specific coverages and exclusions, all homeowners insurance protects your investment by ensuring you receive the money you need to repair or replace your property.
Some policies provide additional protection in terms of both the perils they cover — events that cause damage — and the types of coverage and reimbursement they provide. The most common homeowners insurance policy is called HO-3 insurance, and it offers the following coverages:
Learn More: Is Homeowners Insurance Required?
Loading widget - hoi-embed
What does a homeowners insurance policy cover?
The specific perils that a homeowners insurance policy covers depend on the type of policy you have. While some policies provide more coverage than others, these are the most commonly covered perils: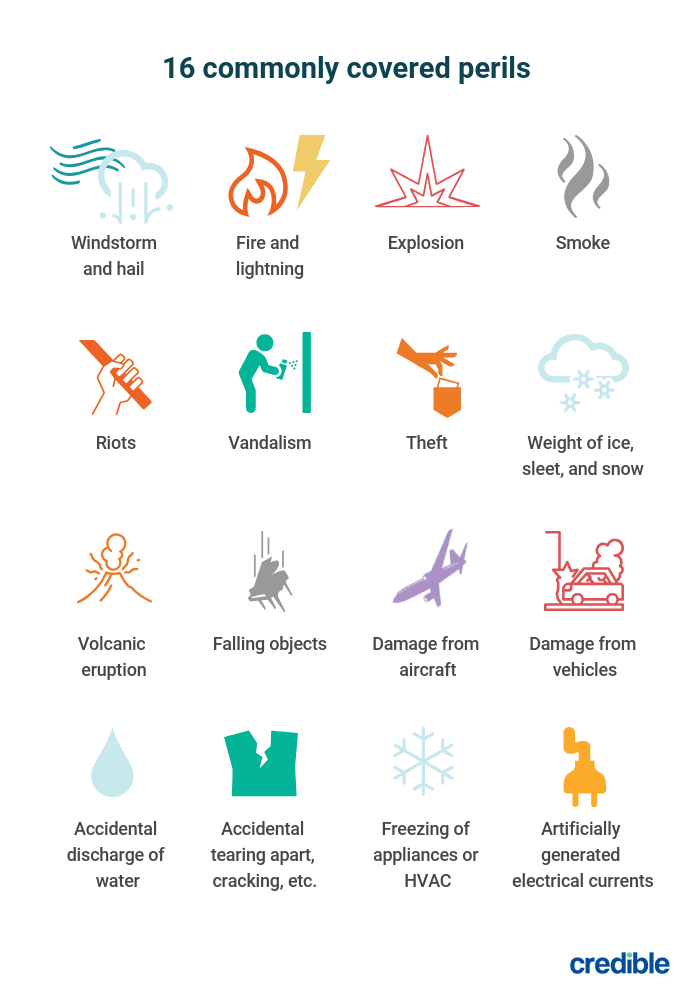 What does homeowners insurance coverage exclude?
A standard homeowners insurance policy doesn't cover everything. Home insurance either provides open perils coverage or named perils coverage (or both). An open perils policy covers all perils except those that are specifically excluded. A named perils policy provides coverage only for listed perils.
Home insurance policies generally exclude damage and losses from the following:
Floods
Earthquakes and other earth movement, such as landslides
Intentional acts
Lack of maintenance
War
Nuclear accidents
Sewer backups
You can cover some of these exclusions under a separate insurance policy or by adding a rider (additional coverage) to your existing policy.
Flood and earthquake insurance
You may assume that your homeowners insurance covers floods and earthquakes, but it doesn't. If you want or need this coverage, you'll have to purchase it separately. If you have a mortgage and live in a high-risk flood area, your lender will require you to buy flood insurance. You can purchase a flood insurance policy through the National Flood Insurance Program or a private insurer.
Earthquake insurance is also available as a separate policy, but you may be able to purchase it as a rider on your existing homeowners insurance policy. If you live in California, your home insurance company must offer this coverage to you every other year.
As with standard home insurance policies, earthquake insurance covers your home, personal property, and additional living expenses, up to your limits. However, you'll pay a higher deductible in the event you file a claim — typically up to 15% of your total policy limit.
Read More: Home Insurance Claim Denied? Why It Happened and What to Do
What are the types of homeowners insurance?
Homeowners insurance comes in eight different forms, known as HO-1 through HO-8. They offer different coverages and protect different types of property.
Here's a side-by-side comparison of all eight homeowners insurance policies:
| Policy form | Property type | What it covers | Best for |
| --- | --- | --- | --- |
| HO-1 (basic) | House | Limited named perils for structure and contents | Bare-bones coverage, where available |
| HO-2 (broad) | House | Greater number of named perils for structure and contents | More coverage than HO-1 but less than HO-3 |
| HO-3 (special) | House | Open perils for structure, named perils for contents | Most homeowners |
| HO-4 (contents broad) | Rental unit | Named perils for contents | Renters |
| HO-5 (comprehensive) | Higher-value house | Open perils for structure and personal property | Homeowners who want the most comprehensive coverage |
| HO-6 (unit-owners) | Condo or co-op unit | Named perils for contents and certain structural items | Condo or co-op unit owners |
| HO-7 (mobile home) | Mobile home | Open perils for structure, named perils for personal property | Mobile home owners |
| HO-8 (modified coverage) | Old, high-risk homes | Limited named perils for structure and personal property | Homeowners who don't qualify for any other coverage |
How do I get a homeowners insurance quote?
You can get insurance quotes by calling insurance providers directly or requesting a quote online.
It's a good idea to get quotes from at least three insurers to compare pricing and discounts. Choose the same coverage levels and deductibles for each quote to ensure you get a true apples-to-apples comparison.
How do I purchase a homeowners insurance policy?
While it's important to be thorough when shopping for homeowners insurance, the process doesn't have to be difficult. Follow these steps to purchase a policy:
Choose a policy. In addition to selecting the type of home insurance policy you need, decide whether you want an actual cash value policy, which reimburses you for repairs and replacements minus depreciation, or a replacement cost policy, which reimburses you for the full value, without deducting for depreciation.
Select your level of coverage. Talk to your insurance agent about coverage limits for your dwelling, personal property, and other coverages. It's helpful to prepare a home inventory beforehand so you can estimate the value of your belongings.
Compare quotes. Call insurers, request quotes online, or compare quotes with Credible to find the right policy for your needs.
Research the insurer. It's a good idea to verify an insurer's licensing and check complaint reports. The NAIC has a helpful tool for researching insurance carriers.
Select your deductible. Your deductible is the amount you're responsible for paying for an insurance claim before your insurance kicks in. A higher deductible will give you a more affordable premium, while a lower deductible will give you a higher premium. When choosing your deductible, be sure you can afford to pay it in the event that you file a claim.
Consider extra coverages. Decide whether you need extras, such as flood and earthquake insurance, or additional coverage for valuable items.
Tip:
Applying for insurance will be easier if you have some important information handy before you begin. For example, an insurer will ask for property information as well as information about who lives there, how you use your home, improvements you've made, and safety equipment you've installed.
If you already have insurance, don't cancel it until you've verified that your new policy is in effect.
Once your policy is in effect, it's vital that you pay your premiums on time to avoid lapses in coverage. If your mortgage lender submits payments on your behalf, you don't have to do anything because your premiums are included in your mortgage payment.
If you make your home insurance payments directly to your insurance provider, you can generally choose to pay monthly, semiannually (every six months), or annually.
Compare home insurance from top carriers
Fully digital experience — Fill out all of your insurance forms online, no phone call required!
Top-rated carriers — Choose from a mix of highly reputable national and regional home insurance carriers.
Data privacy — We don't sell your information to third parties, and you won't receive any spam phone calls from us.
Copyright (c) 2023, Credible Insurance, Inc. d/b/a Credible Insurance Agency (CA Lic. # 0M90597). Insurance Services provided through Credible Insurance, Inc., VA: Credible Insurance Agency, Inc., MN SOS: Credible Cover, Inc. Credible Insurance is a subsidiary of Credible Labs Inc. 1700 Market St. Ste. 1005, Philadelphia, PA 19103.