Our goal is to give you the tools and confidence you need to improve your finances. Although we receive compensation from our partner lenders, whom we will always identify, all opinions are our own. Credible Operations, Inc. NMLS # 1681276, is referred to here as "Credible."
Dwelling coverage is the part of your home insurance policy that covers damage or loss to the structure of your home. It won't cover the people in your home, the personal belongings in it, or any outbuildings.
While you can get a stand-alone dwelling policy, it's usually a better idea to get a full homeowners insurance policy. At a minimum, you want to have enough dwelling coverage to cover your home's replacement cost.
Here's what you should know about dwelling coverage, including how much you need:
What is dwelling coverage?
Dwelling coverage is a type of home insurance coverage that pays for damages to your home's physical structure. It only covers the property itself; it doesn't cover your personal property, liability, medical payments, or any other detached structures like barns or garages. Dwelling coverage is usually the most expensive portion of your homeowners insurance policy.
If you have a condo or townhouse, some dwelling coverage should be provided by your condo association's master policy. You'll want to check your association covenants and bylaws to see what exactly is covered for your condo. The inside of the condo is typically covered under a standard homeowners or condo insurance policy.
If you still hold a mortgage on your property, your mortgage lender will typically require a minimum amount of dwelling coverage to protect its investment. You'll be expected to send your lender your policy declarations page to prove that you have sufficient dwelling coverage.
Your homeowners insurance will pay out dwelling coverage in one of three ways:
Actual cash value: Actual cash value coverage pays out the value of your home, or parts of your home, minus any depreciation. This is the cheapest form of reimbursement, but you might end up paying out of pocket for some of the replacement costs since you won't receive the full value of the home.
Replacement cost: Replacement cost coverage pays out the cost to replace your dwelling or parts of your dwelling up to the limits of your policy. It doesn't factor in depreciation.
Extended replacement cost: Extended replacement cost coverage is a more expensive form of coverage, but it can help cover you if there's a sudden increase in construction costs in your area following a disaster. With extended replacement cost, you can potentially increase your dwelling limit by 25% to 50%.
Your individual dwelling coverage rate will depend on your home's location, square footage, and market value, as well as your coverage limits and deductible.
Loading widget - hoi-embed
What parts of my home are protected under dwelling coverage?
Dwelling coverage protects the physical structure of your home, such as your roof, walls, kitchen, living room, bathrooms, bedrooms, and any other rooms you have in your home. But it doesn't provide coverage for things like your personal belongings or medical payments.
What is covered?
Dwelling coverage will cover damage to the physical structure of your home under a named or open perils basis, depending on the type of coverage you choose. A peril is a sudden event that causes damage or loss to your property.
A named perils policy will cover only damage from the perils listed in the policy. An open perils policy will cover damage from any peril except for the ones explicitly listed in your policy. The specific coverages you have will be listed in your policy.
Most policies include coverage for the following perils: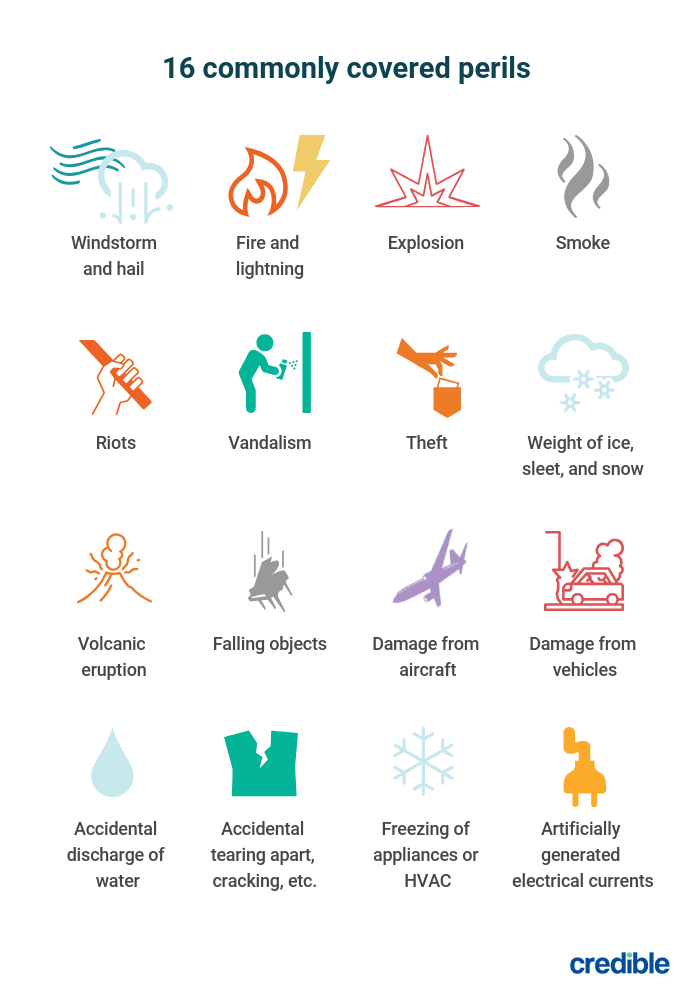 What isn't covered?
Standard homeowners insurance policies don't include coverage for earthquakes and floods. You need to purchase those coverages separately or add them to your existing coverage through an endorsement or rider.
Dwelling coverage also won't cover anything other than damage or loss to the physical structure of your home. Your homeowners insurance policy consists of five other coverages that protect you under different circumstances:
Good to know: Dwelling coverage also typically doesn't cover things like pests, mold, historic homes, and home-based businesses. For a full list of what's excluded in your policy, talk to your insurance carrier or review your policy documents.
How much coverage do I need?
The amount of dwelling coverage you need depends on how much it'll cost to replace your home in the event of a total loss. At the very least, you should maintain enough coverage to cover the full replacement cost of your home.
When calculating the replacement cost, you should base your estimate on today's prices, or consider getting extended replacement cost coverage so you have a buffer for future increases in material and labor costs.
Compare home insurance from top carriers
Fully digital experience — Fill out all of your insurance forms online, no phone call required!
Top-rated carriers — Choose from a mix of highly reputable national and regional home insurance carriers.
Data privacy — We don't sell your information to third parties, and you won't receive any spam phone calls from us.
Copyright (c) 2023, Credible Insurance, Inc. d/b/a Credible Insurance Agency (CA Lic. # 0M90597). Insurance Services provided through Credible Insurance, Inc., VA: Credible Insurance Agency, Inc., MN SOS: Credible Cover, Inc. Credible Insurance is a subsidiary of Credible Labs Inc. 1700 Market St. Ste. 1005, Philadelphia, PA 19103.