Our goal is to give you the tools and confidence you need to improve your finances. Although we receive compensation from our partner lenders, whom we will always identify, all opinions are our own. By refinancing your mortgage, total finance charges may be higher over the life of the loan.
Credible Operations, Inc. NMLS # 1681276, is referred to here as "Credible."
If you're about to search for a new home, getting pre-approved is a good step to take. A pre-approval gives you an idea of how much you can borrow and could even grant you a competitive edge when you put in an offer.
But since the lender performs a hard inquiry during this process, the pre-approval can affect your credit score.
Here's how getting pre-approved impacts your credit score:
What is mortgage pre-approval?
A mortgage pre-approval is a letter from a lender that estimates how much you can borrow on a home loan. The pre-approval is based on details like your income, credit history, assets, and debts.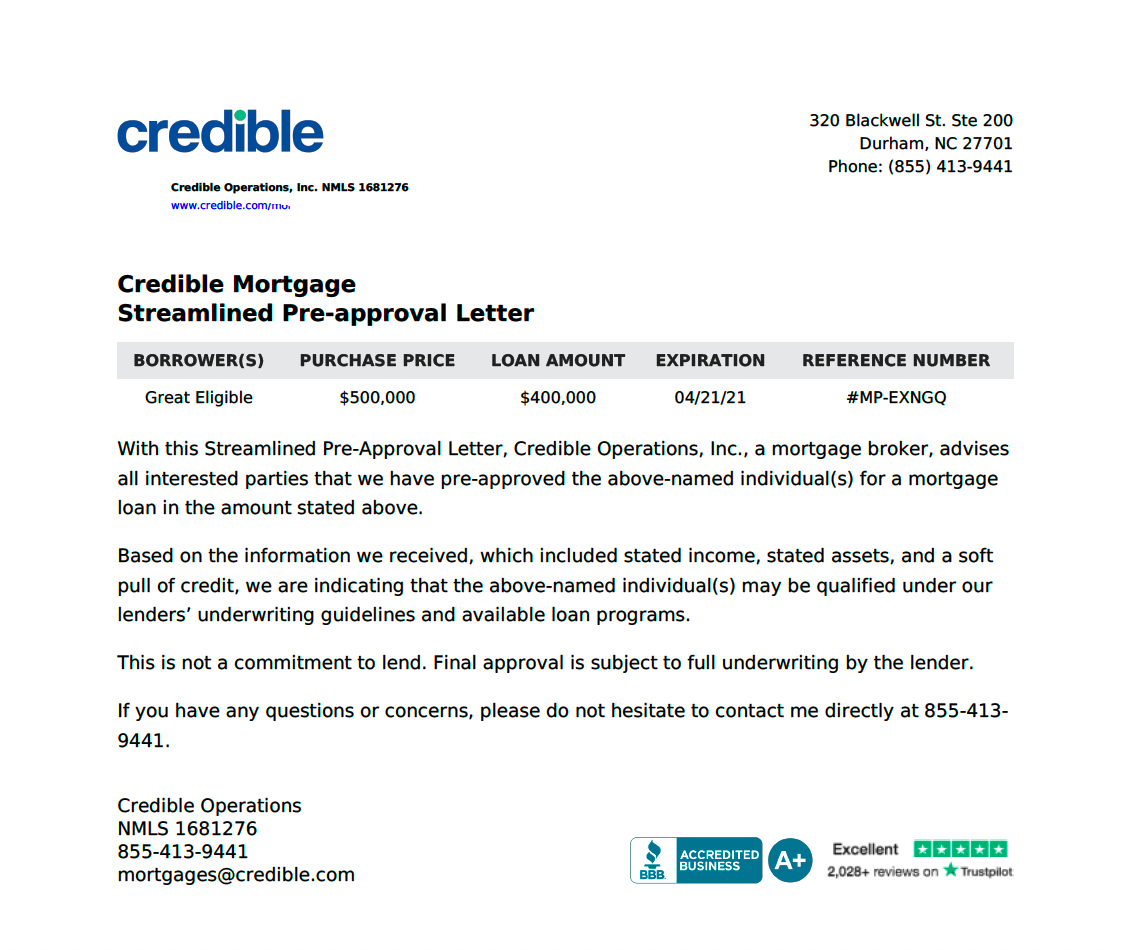 During the process, a loan officer will go over pre-approval documents such as your credit reports, recent pay stubs, personal bank statements, and your federal personal income tax returns.
They'll use this information to determine whether you qualify for the mortgage loan and the amount you can receive.
While you might hear the terms
pre-approval and prequalification
used interchangeably, there are differences between the two:
Mortgage pre-approval: Requires a more in-depth review of your finances to confirm your creditworthiness and determine the loan amount you qualify for.
Mortgage prequalification: A lender gives you an interest rate quote based on information you tell them, usually without documentation.
Why you should get pre-approved
It's always a good idea to get pre-approved before shopping for a home. That's because the pre-approval process helps you:
Set a budget: You'll be able to establish your price range and shop for homes within your budget, which can save you time.
Get organized: Because you'll have a lot of the paperwork gathered for the official home loan application later, this step helps you prepare for the homebuying process.
Support your purchase offer: When you're putting in an offer, a mortgage pre-approval letter can help you stand out from other buyers, especially in a bidding war.
Make a financial plan: If you don't qualify for a pre-approval, you'll be able to find out why and create a plan to improve your finances.
Check out: How Long Does It Take to Get Pre-Approved for a Mortgage?
How getting pre-approved affects your credit
There are many advantages of getting pre-approved, but one downside is that it can impact your credit. That's because you give the mortgage lender permission to review your credit reports from the three main credit bureaus — Experian, TransUnion, and Equifax — and pull your credit scores.
When a person or company pulls your credit, a notation known as an inquiry appears on your credit reports. Here's the difference between the two types of inquiries and when they can affect your credit:
A hard credit inquiry occurs when a lender checks your credit to make a lending decision. The inquiry will be recorded on your credit reports and may temporarily affect your credit scores because they're associated with new debt. These usually occur with traditional mortgage pre-approvals.
A soft credit inquiry, on the other hand, occurs when the lender only wants to provide a rate quote. Soft credit checks won't impact your credit scores because you're not applying for credit.
When you request personalized rates and generate a streamlined pre-approval letter from Credible, you're authorizing a soft inquiry that has no effect on your credit score. Should you decide to move forward with a specific lender, the lender will perform a hard credit inquiry.
Get pre-approved now
Pain-free mortgage: Generate your streamlined pre-approval letter today in just a few minutes, and see how much home you can afford.
How much traditional pre-approvals impact your credit
According to the credit-scoring company FICO, one inquiry may lower your credit scores by up to five points, while multiple hard inquiries may have a larger impact.
And if you have a short credit history or not many accounts, an inquiry may do more damage to your score.
Tip: FICO says it considers all mortgage applications — which include pre-approvals — within a 45-day window as just one credit event. So if you complete all of your mortgage pre-approvals within this time frame, you can limit the hit to your credit.
How long your credit will be impacted by a traditional pre-approval
Hard inquiries can stay on your credit reports for up to two years, but the impact of them diminishes over time. FICO says it only considers inquiries from the last 12 months when calculating your scores.
To reduce the effects of hard inquiries, you can request pre-approvals and submit mortgage applications within a short window.

Credible's pre-approval process won't hurt your credit at all
Credible's pre-approval process uses a soft credit pull, so it won't hit your credit like a traditional mortgage pre-approval. You'll also be able to compare home loan details from multiple lenders at once, saving you time and money.
Traditional lenders
Credible
How long does it take?
1 to 3 days
3 minutes
Credit check
Hard credit pull
(negative impact on your credit)
Soft credit pull
(no impact on your credit)
Online process
Typically minimal; instead processed via in-person visit at a branch or phone call with a licensed loan officer
100% online
Compare multiple lenders?
No, visit multiple lenders to receive multiple pre-approval letters
Yes, pre-approved across multiple lenders at once
Multiple pre-approval letters to make additional property offers?
No, must submit another request to lender for new pre-approval letter
Yes, generate additional letters instantly with a customized loan amount

Ready to get pre-approved through Credible?
Generate a pre-approval letter instantly

Start Now