Our goal is to give you the tools and confidence you need to improve your finances. Although we receive compensation from our partner lenders, whom we will always identify, all opinions are our own. Credible Operations, Inc. NMLS # 1681276, is referred to here as "Credible."
If you're a homeowner, refinancing can give you a chance to save money with a lower interest rate, cash in on your home equity, or adjust your loan terms. But the drawback is that your credit score could drop in the process. The good news, though, is that your credit can bounce back.
Here's what to know about how mortgage refinancing affects your credit and how to protect your finances in the process:
How a mortgage refinance affects your credit
There are many types of credit scores out there, but most mortgage lenders use the FICO credit score to determine your credit risk. Knowing what might cause your FICO score to drop can help you predict what will happen when you refinance.
Here's how your score is calculated, according to FICO:
Payment history: 35%
Amounts owed: 30%
Length of credit history: 15%
New credit: 10%
Credit mix: 10%
When you refinance, you're taking out new credit and changing the length of your credit history — so both of these factors will be affected. Refinancing also might change the amount of debt you owe if you do a cash-out refinance.
However, any credit hit is likely to be temporary and outweighed by the financial benefits of refinancing.
Credible makes refinancing easy. You can check out your personalized refinances rates from all of our partner lenders using our online tools. We also provide transparency into lender fees that other comparison sites typically don't.
Find out if refinancing is right for you
Actual rates from multiple lenders – In 3 minutes, get actual prequalified rates without impacting your credit score.
Smart technology – We streamline the questions you need to answer and automate the document upload process.
End-to-end experience – Complete the entire origination process from rate comparison up to closing, all on Credible.
Find My Refi Rate
Checking rates will not affect your credit
When you apply: Hard credit inquiries
Whenever you apply for credit, including a mortgage, the lender conducts a hard credit inquiry to see if you qualify for the product. The inquiry is recorded on your credit reports and may temporarily affect your credit scores.
New credit accounts for 10% of your FICO score. The credit-scoring company says one inquiry may lower your credit scores by five points, but multiple hard inquiries may have a larger impact.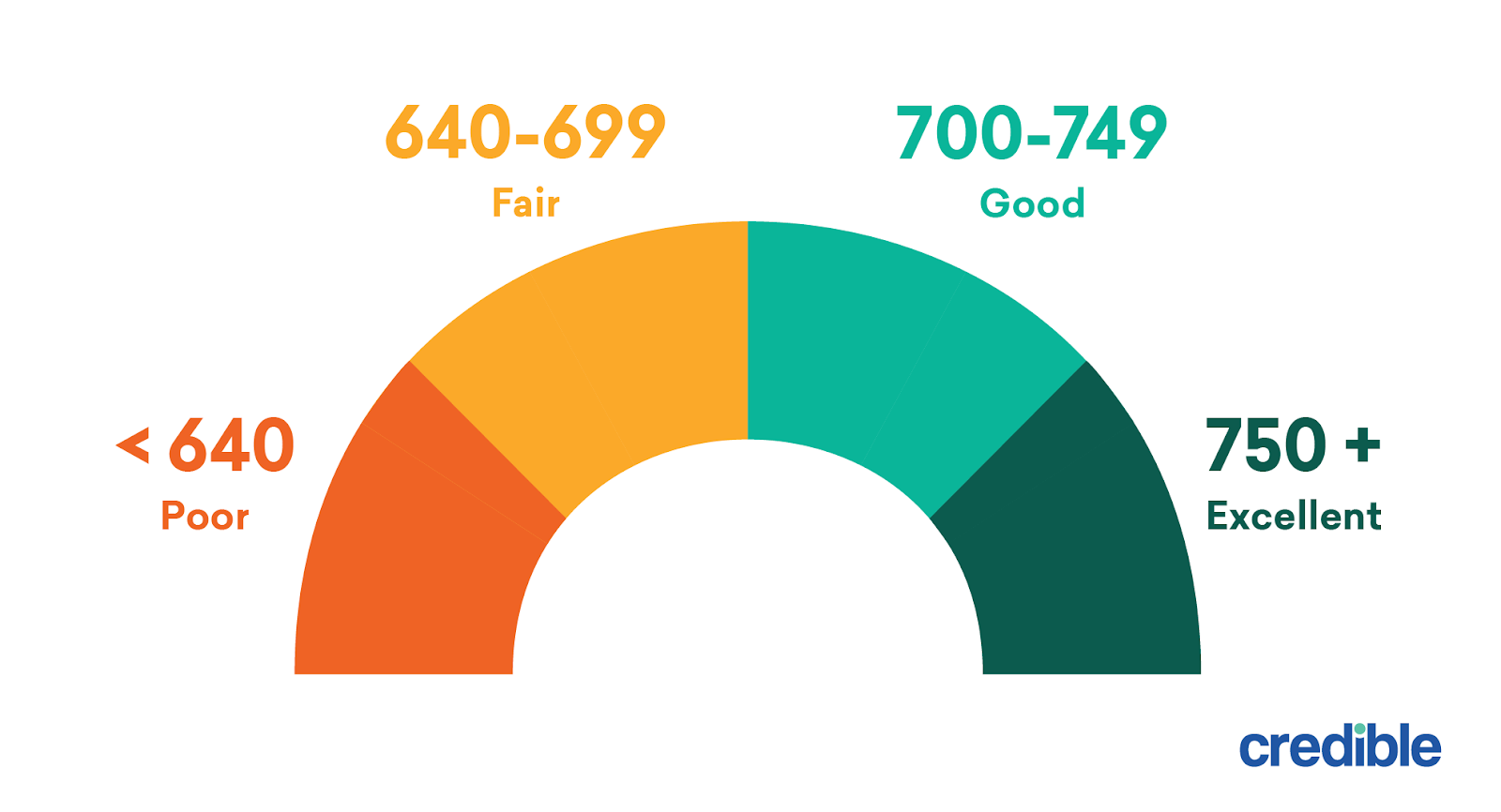 After you close: Getting rid of an older debt
The length of your credit history accounts for 15% of your FICO score. Generally, older accounts can help you maintain healthy credit because it shows lenders how you've handled debt for a longer period of time.
When you refinance your mortgage, you close an older loan and replace it with a new one. That shortens the age of your average credit account, which may lower your credit scores.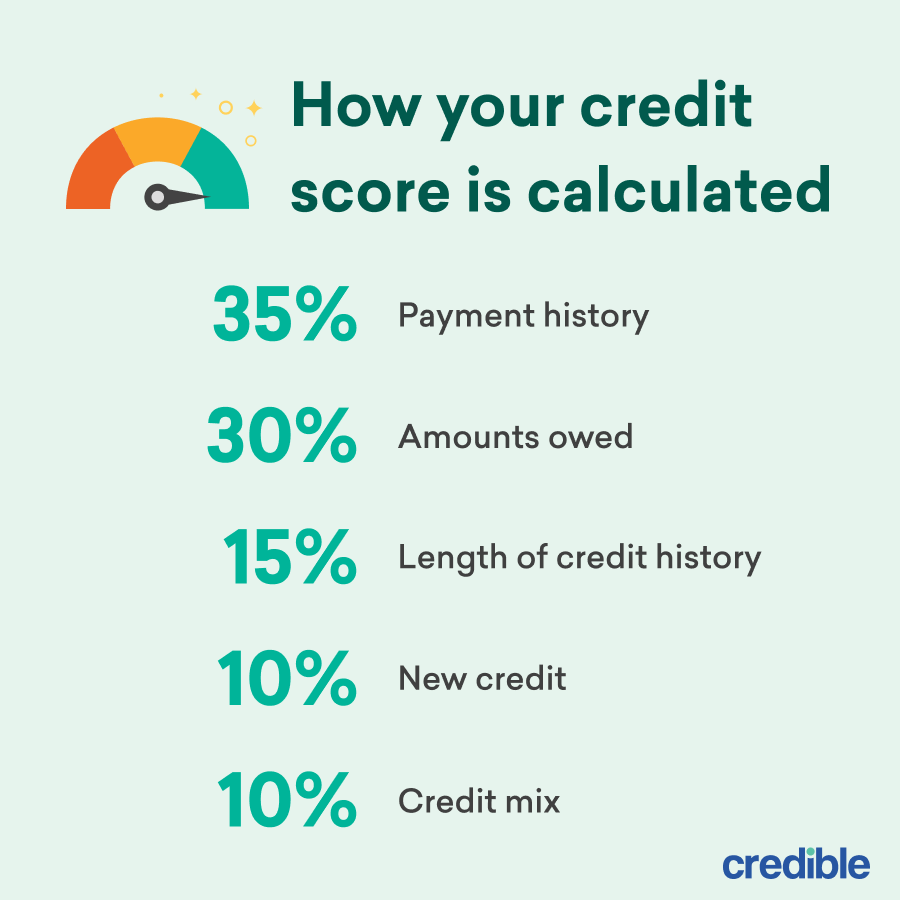 For cash-out refinances: Raising your credit utilization
Credit utilization measures how much credit you're using, and it accounts for 30% of a FICO credit score.
With a cash-out refinance, you take out a new mortgage for more than you currently owe, pay off the old loan, and keep the extra cash, minus the closing costs. But because you increase the amount of debt you have, your credit utilization ratio goes up, too.
Good to know: A higher utilization could make your credit scores drop. If you're using the cash from your cash-out refinance to pay down high-interest debt, though, refinancing could ultimately have a positive effect on your score.
Check Out: How to Refinance Your Mortgage in 6 Easy Steps

5 ways to protect your credit when you refinance
Ultimately, homeowners who can benefit from refinancing shouldn't be put off by the temporary credit hit. If you're considering this move, here are five steps you can take to protect your credit:
1. Make sure it's the right time to refinance
When interest rates drop, homeowners often consider refinancing to save on their monthly payments. Mortgage experts say refinancing makes sense if you can lower your interest rate by at least 0.75%.
Since you'll pay closing costs on a refinance, you should also consider whether you'll live in the home long enough to recoup that expense. For instance, if you save $200 a month by refinancing but pay $4,000 in closing costs, it will take 20 months to break even.
2. Check your own credit before you apply
Before applying for a refinance, it's a good idea to pull your credit to check whether you'd qualify for a new loan. This creates a soft inquiry, which won't impact your credit.
The minimum credit score you need depends on the mortgage program and your loan-to-value ratio, debt-to-income ratio, and cash reserves.
If your credit scores need work, consider hitting the pause button on your mortgage applications. You can work on improving your credit and applying for a refinance loan after a few months.
3. Space out your refinancing
Hard inquiries can remain on your credit reports for two years, but FICO scores only take into account inquiries from the last 12 months.
So if you refinanced recently, consider waiting at least a year before you refinance again. That way, the new round of credit inquiries won't accumulate with the first time you refinanced.
Keep Reading: Just How Often You Can Refinance Your Home
4. Don't open any other credit accounts
While you may have plans to buy a new car and fill your home with furniture, it's best to avoid using credit until after you close on the refinance loan.
While you wait, keep your credit healthy by paying all your bills on time and tackling any high-interest debt. Avoid opening or closing accounts.
5. Compare offers from multiple lenders
The best way to save money on your refinance is by submitting applications with multiple lenders and comparing offers. Credible can help you with this.
The key is to time it right. Credit-scoring companies know consumers shop around, so multiple inquiries within a certain time frame might have a minimal impact on your score.
FICO, for example, considers all mortgage applications within a 45-day window as just one inquiry. Consider submitting all your mortgage applications within this window to limit the hit to your credit.