Our goal is to give you the tools and confidence you need to improve your finances. Although we receive compensation from our partner lenders, whom we will always identify, all opinions are our own. By refinancing your mortgage, total finance charges may be higher over the life of the loan.
Credible Operations, Inc. NMLS # 1681276, is referred to here as "Credible."
The Loan Estimate and Closing Disclosure are two forms that you'll receive during the homebuying process. The Loan Estimate comes at the beginning, after you apply, while the Closing Disclosure comes at the end, before you sign the final paperwork for your mortgage.
Knowing how to interpret these standardized documents will help you get the best loan possible and avoid any unpleasant surprises at closing. Here's a quick look at how these two forms compare:
Loan Estimate vs. Closing Disclosure

| Document | When you get it | No. of pages | What it shows |
| --- | --- | --- | --- |
| Loan Estimate | Within 3 business days after applying for a loan | 3 | Estimated loan terms and costs |
| Closing Disclosure | At least 3 business days before closing your loan | 5 | Final loan terms and costs |
What is a Loan Estimate?
The Loan Estimate is a standardized, three-page document that a lender gives you after you apply for a home loan. It provides all the key information you should know before choosing a loan, such as:
Loan amount: This is the dollar amount you're borrowing.
Interest rate: This is the annual interest rate for the loan. Your rate is subject to change until you lock it in.
Monthly payment: This is the amount you'll pay the lender each month. It includes principal and interest, insurance, escrow payments, taxes, and other assessments.
Closing costs: This is the total you'll owe in lender fees and other fees, minus any lender credits. Itemized closing costs follow on page 2.
APR: This is the loan's fees and interest rate expressed as an annual percentage. If the loan has closing costs, the APR will be higher than the interest rate.
Learn More: APR vs. Interest Rate: Understanding the Difference
How to get the Loan Estimate
You should receive a Loan Estimate within three business days from every mortgage lender you applied to. From here, you can compare offers and choose the best deal.
The estimate is valid for 10 business days. An estimate will typically run you $30 or less, which covers the fee for pulling your credit report.
You don't need a signed purchase agreement in hand to receive a Loan Estimate. But you'll need to supply the following information:
Legal name
Social Security number
Income
Property address
Property value
Requested loan amount
Your Loan Estimate will be more accurate if you tell the lender what type of mortgage you want, such as a conventional loan or an FHA loan, and whether you want a fixed interest rate or an adjustable interest rate.
Making sense of your Loan Estimate
The first page of your Loan Estimate shows the loan amount, interest rate, estimated monthly payment, and estimated closing costs, as we described above.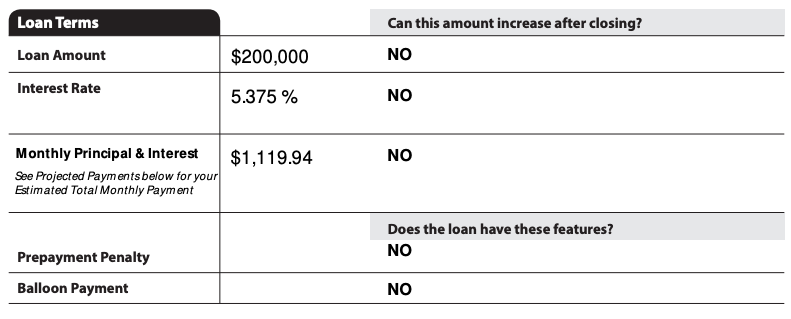 Certain parts of the Loan Estimate might include terms you're unfamiliar with. For example, the "Loan Terms" box on page 1 shows whether the loan has a prepayment penalty and balloon payment.
A prepayment penalty is a fee you'll owe the lender if you pay off the loan during the first few years, which might happen if you sell or refinance.
A balloon payment is a large sum of mortgage principal that isn't due until the end of your mortgage term. Because of their high risk, most loans don't have them, but the interest-only mortgages that were popular during the mid-2000s housing bubble did.
Comparing lenders using your Loan Estimate
Loan Estimates make it easy to compare the interest rates and fees different lenders have offered you. Here's the information you'll find on the second and third pages of your Loan Estimate.
Page 2
This page contains an itemized list of every closing cost you'll pay, along with an estimate of how much cash you'll need to close. One of the biggest fees is the origination charge. It consists of the lender's fee to process and underwrite your loan, plus any discount points you choose to pay to lower your interest rate. It's typical to pay around 1% of the loan amount in origination charges.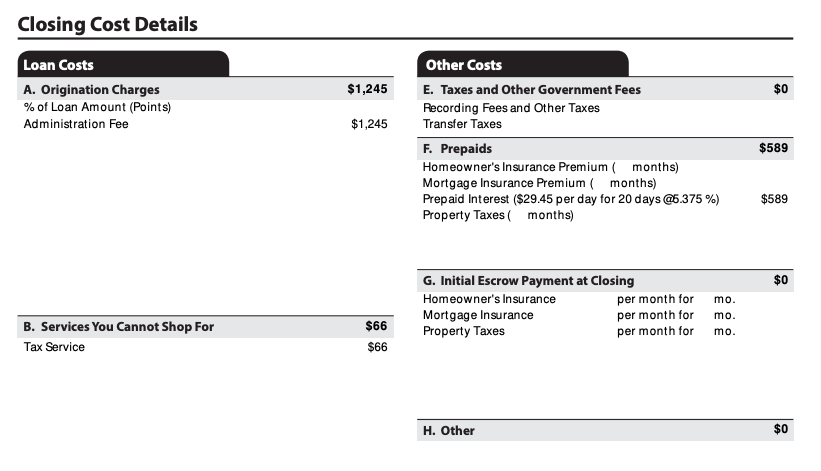 This page also shows "Services You Cannot Shop For." These are closing costs that are determined by the lender or by law, such as the appraisal fee, credit report fee, and flood determination fee.
Page 3
This page of the Loan Estimate contains a "Comparisons" section. It shows how much the loan will cost you during the first five years and how much of that cost will go toward loan principal. The loan's APR is listed here as well.
Finally, the section also shows the total interest percentage (TIP), which tells you how much interest you'll pay as a percentage of the loan amount if you keep your loan until it's paid off.

Example: If your loan amount is $200,000 and the TIP is 60%, then you'll pay $120,000 in interest over your loan term. The shorter your loan term and the lower your interest rate, the lower your TIP will be.
Credible can help you compare mortgage rates from multiple lenders — you can see your prequalified rates from our partner lenders in just a few minutes.
Credible makes getting a mortgage easy
Instant streamlined pre-approval: It only takes 3 minutes to see if you qualify for an instant streamlined pre-approval letter, without affecting your credit.
We keep your data private: Compare rates from multiple lenders without your data being sold or getting spammed.
A modern approach to mortgages: Complete your mortgage online with bank integrations and automatic updates. Talk to a loan officer only if you want to.
What is a Closing Disclosure?
The Closing Disclosure is a five-page form that presents all the information found in the Loan Estimate, but in finalized form. It shows how much you'll actually pay if you go through with closing and take on the loan.
Tip: To keep your lender honest, compare your Loan Estimate from the same lender to your Closing Disclosure to make sure all the key terms of your loan are as expected.
How to get the Closing Disclosure
Unlike the Loan Estimate, which you may have received from multiple lenders, you'll only get a Closing Disclosure from the lender you ultimately decide to work with.
Good to know: Your lender must give you the Closing Disclosure at least three business days before your loan is scheduled to close so you'll have time to review it and ask any questions.
After you receive your Closing Disclosure, there are three types of changes to the loan terms that could delay your closing:
APR changes by more than 1/8 of a percent for a fixed-rate loan or by more than 1/4 of a percent for an adjustable-rate loan
Loan type changes
Lender adds a prepayment penalty to the loan
If one of these three things happens, the lender is required to give you a new Closing Disclosure and restart the three-business-day review period before closing the loan.
Making sense of your Closing Disclosure
Here's what you'll find on each page of your Closing Disclosure:
Page 1
Contains the same information as your Loan Estimate, in the same format. It's easy to compare these pages to look for changes.
Page 2
Breaks down who pays each closing cost (borrower, seller, or other) and when (before closing or at closing). The origination charges and services you did not shop for should look about the same.

Page 3
Shows how much cash you need to close and how that amount differs from your Loan Estimate. For a home purchase, this page also summarizes both the buyer's and seller's sides of the transaction.

Page 4
Shows whether your loan has an escrow account for property taxes and homeowners insurance and explains how this account works. This page also discloses the lender's late payment policy.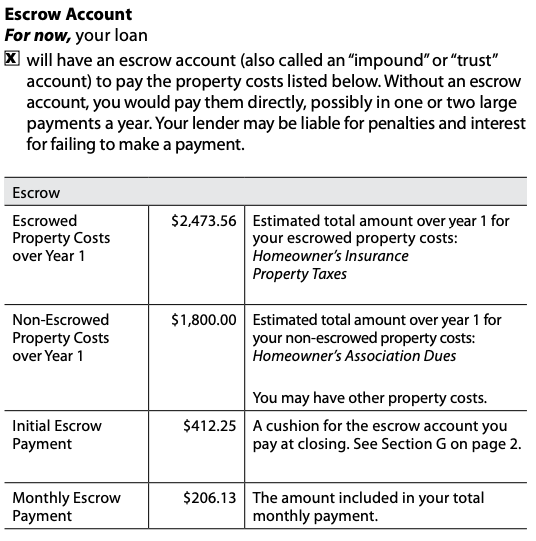 Page 5
Makes sure you have contact details for the lender and settlement agent, as well as the mortgage broker and real estate agent(s), if applicable. This page also shows your total loan costs and explains whether you'll be liable for the unpaid mortgage balance if you're foreclosed on.

Important: A Loan Estimate and Closing Disclosure can help you understand all the costs involved in getting a mortgage and make it harder for lenders to take advantage of you. If you take the time to review and understand these forms, you'll be in good shape.
Compare multiple lenders
If you're still shopping around for a home loan, you'll want to compare as many lenders as possible. Credible streamlines this process and makes comparing multiple lenders easy — you can see your prequalified rates from our partner lenders in the table below in just a few minutes.
Loading widget - purchase-rate-table