Our goal is to give you the tools and confidence you need to improve your finances. Although we receive compensation from our partner lenders, whom we will always identify, all opinions are our own. By refinancing your mortgage, total finance charges may be higher over the life of the loan.
Credible Operations, Inc. NMLS # 1681276, is referred to here as "Credible."
If you have a first mortgage, and you've thought about consolidating your debt or financing a few home improvements, you might have considered taking out a second mortgage.
A second mortgage loan — where you borrow against your home's equity — can give you the cash you need for important financial goals. However, they're not for everyone. Second mortgages come with some risk.
Here's what you should know about second mortgages:
What is a second mortgage?
A second mortgage is a form of loan where the collateral is your home. You can borrow against your home's equity to get the money you need for major expenses or big purchases.
Your home's equity is the house's current value minus what you still owe on the mortgage. For example, if your home is worth $300,000, and you still owe $200,000, your home's equity is $100,000.
Second mortgage vs. refinancing
When you take out a second mortgage, you're taking out a mortgage in addition to your existing one. That means you'll be responsible for another monthly payment.
If you have mortgages from two different lenders, you'll also have two liens on your home.
Tip: Second mortgages pose more risk to the lender — since your primary mortgage is paid first in the event of foreclosure — so they usually have higher interest rates than primary mortgages.
By contrast, a mortgage refinance replaces your existing loan with an entirely new one.
You can choose a new lender, loan term, and possibly receive a lower rate. With a cash-out refinance loan, you can also get money to put toward renovations or debt repayment.
If you're considering a home refinance, be sure to shop around for a great rate. Credible makes this easy — you can compare all of our partner lenders and see prequalified rates in as little as three minutes using the table below.
Learn More: When to Refinance a Mortgage: Is Now a Good Time?

Ways to use a second mortgage
Second mortgages can be used for whatever purpose you need, but in general, it's a good idea to save them solely for essential purchases rather than luxuries or splurges.
Your home serves as collateral, so if you can't keep up with the payments, you risk foreclosure.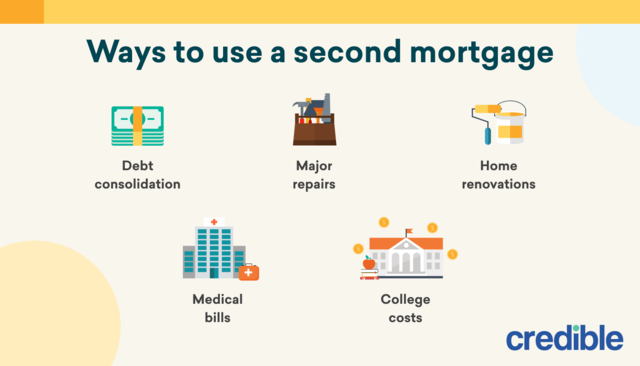 That said, there are occasions when taking out a second mortgage might make sense for you:
Debt consolidation: If you have higher interest rate debt, such as credit card balances or medical bills, using a second mortgage for debt consolidation can help you save money. Because the second mortgage is secured by your home, you might receive a lower interest rate than you'd get with a personal loan, which can help you pay off your debt faster.
Major repairs: If your home needs significant repairs, such as replacing your roof or installing solar panels, you can use a second mortgage to finance those costs.
Home renovations: You can use a second mortgage to renovate and update your home. Whether you're adding a bathroom or replacing kitchen appliances, renovations can help improve your home's resale value.
Medical bills: If you have medical procedures coming up, you know how expensive they can be. A second mortgage can help you pay for those procedures, and finance them over several years.
College costs: If your children are entering college, you can use a second mortgage to cover the cost of tuition and room and board.
Check out: Should You Get a Home Equity Loan for Debt Consolidation?
Types of second mortgages
Second mortgages come in two forms: home equity loans and home equity lines of credit.
Home equity loan
Home equity loans are disbursed as a lump sum, and typically have a fixed interest rate and fixed repayment term.
Home equity loans are best if you know exactly how much money you need, so they're suitable for debt consolidation or paying off existing medical bills.
HELOC
Home equity lines of credit (HELOCs) give you access to a revolving line of credit, so you can tap into the funds repeatedly and only pay interest on the amount you borrow.
When deciding between home equity loans and HELOCs, keep in mind that HELOCs are useful if you have a project and don't know the exact cost, such as home renovations or repairs.
Learn more about second mortgages:
Pros and cons of second mortgages
Pros
Cons

You gain access to low-interest loans
You can have up to 30 years to repay your debt
Your interest payments might be tax deductible (with certain caveats, of course)

The bank could foreclose on your home
Your home's value could go down; leaving you "underwater" on your house
If you're considering a second mortgage, there are some pros and cons to keep in mind before you take one out:
Pro: You'll get a lower interest loan
Because your second mortgage is secured by collateral, it's more likely that you'll qualify for a lower interest rate than you would get with an unsecured personal loan or credit card.
With lower rates, you'll pay less in interest over time, helping you save money on major expenses.
Pro: You'll have more time to repay your debt
With personal loans, the maximum loan term is usually around seven years. In comparison, the loan term for a second mortgage can be as long as 30 years.
With longer terms, your monthly payments will be lower, making them more affordable each month.
Pro: Your interest payments are tax-deductible
If you're using a home equity loan to buy, build, or make improvements to the home that secures your loan, your interest payments could be tax-deductible.
According to the IRS, you can only deduct interest payments on a total of $750,000 ($375,000 if married filing separately) in qualified mortgage debt.
For example:
Say you have a $650,000 first mortgage on your primary residence, and take out a $100,000 second mortgage to make improvements to that home, your interest payments on both loans should be deductible.
If you're using the proceeds of a second mortgage for personal expenses, such as paying off student loans or credit cards, then the interest would not be deductible, regardless of whether you have hit the limit. Consider contacting a tax professional before claiming the deduction.
Con: You're putting your home up as collateral
With a second mortgage, your home is your collateral. If you can't keep up with your mortgage payment, the bank could foreclose on your home.
Con: Your home's value could decline
While real estate is usually viewed as a sound investment, there's no guarantee that your home's value will increase over time.
If the housing market dips again, you could end up owing more on your home than it's worth if you take out a second mortgage.

How to get a second mortgage
To qualify for a second mortgage in the form of a home equity loan or HELOC, you'll need to meet the following loan requirements:
Equity: You need to have at least 15% equity in your home. The maximum you can borrow is typically 85% of your existing equity.
Debt-to-income ratio: Your debt-to-income ratio — or the amount of debt you have relative to your gross income — usually cannot exceed 43%.
Credit score: You should have good to excellent credit before applying for a home equity loan or HELOC. While exact credit score requirements vary by lender, you'll generally need a score in the mid-600s to qualify for a second mortgage.
Payment history: Lenders will expect you to have a strong payment history, without any recent missed payments.
If you meet that criteria, start by getting quotes from multiple mortgage lenders. The application process is similar to the process for getting your primary mortgage.
Tip: You'll need to get a home appraisal when applying for a home equity loan, so be sure to factor that cost into your budget.
Consider a cash-out refinance instead
While a second mortgage can be useful in certain circumstances, they're not for everyone. If you're looking for another alternative, consider cash-out refinancing.
A cash-out refinance involves tapping into your existing home equity and refinancing into a larger loan. The new loan typically has a lower interest rate — just remember that the rate applies to the entire new loan balance.
Be sure to shop around and compare rates with multiple lenders if you decide to go with a cash-out refinance. You can do this easily with Credible and see your prequalified rates in just a few minutes.
Get the cash you need and the rate you deserve
Compare lenders
Get cash out to pay off high-interest debt
Prequalify in just 3 minutes
Find My Loan
No annoying calls or emails from lenders!
Find Out: