Our goal is to give you the tools and confidence you need to improve your finances. Although we receive compensation from our partner lenders, whom we will always identify, all opinions are our own. By refinancing your mortgage, total finance charges may be higher over the life of the loan.
Credible Operations, Inc. NMLS # 1681276, is referred to here as "Credible."
Shopping around for a mortgage can be a daunting task. After all, you want the best rate and a loan that fits your situation. One way to find the best home loan for you is to work with a mortgage broker.
Working with a broker for your mortgage can make a big difference in the programs you have access to. With a mortgage broker, you can get help every step of the way, and you aren't limited to the offerings of one lender.
Here's what you need to know about using a mortgage broker:
What is a mortgage broker?
Mortgage brokers are licensed to act as a go-between with you and your lender. When working with a mortgage broker, you'll have access to a variety of home loan programs from different lenders. The broker doesn't actually make a loan. Instead, the broker has a variety of lenders they work with.
In general, a mortgage broker will have a lot of knowledge of different home loan programs, and a good idea of what you might qualify for, including what mortgage rates you're eligible for.
Don't confuse a mortgage broker for a loan officer. A loan officer works for a lender or bank and can only originate loans for a specific lender. Mortgage brokers, though, aren't limited to one lender.
Once you have decided on a loan program, the mortgage broker manages the process, from mortgage pre-approval to closing, by coordinating the efforts of the lender, real estate professional, and title company. This can be a huge help since the homebuying process is often difficult to navigate.
How are brokers paid? Mortgage brokers are usually paid by lenders for their efforts, although it's possible for you to handle the payment for services. However, understand that your broker can only be paid by either you or the lender — not both. Additionally, the legislation known as Dodd-Frank limits the broker's cut to 3% of the loan amount in points and fees.
Find Out: How to Buy a House: Step-by-Step Guide
Why would you choose a mortgage broker over a lender?
The benefits of working with a mortgage broker usually relate to the ability to access a variety of home loan programs in a short period of time. With a mortgage broker, you won't need to do a lot of the heavy lifting that comes with researching several different home loan options.
Pros
Potential for better access: Many mortgage brokers have regular lenders they work with, and might be able to get you the best mortgage rate. Additionally, some brokers have contacts with banks and lenders that you might not otherwise borrow from.
Saves you time: Because a mortgage broker knows about different programs, you can probably save time and effort by having your broker do most of the research and handle the paperwork and negotiations. This can also reduce the time it takes to buy a home.
Might save you money on fees: Depending on the broker and the lenders, working with a broker can potentially save you money since they might be able to get the lender to waive some fees.
Cons
Interests don't always align: Even though a mortgage broker might be able to steer you toward better programs, they might not always be incentivized to set you up with the best deal. Depending on the arrangement with the lender, your interests and the brokers may be at odds. But with Credible, you're in control. You can choose any loan you wish from any of our partner lenders. We have no incentive to steer you toward one lender or another, so it's your choice.
Estimates might not be guaranteed: When working with a broker for your mortgage, you might receive a "good faith estimate." This is just an estimate of what the final terms might be. Later, you might find that the lender has a higher rate or different fees. With Credible, there are no surprises. Our partner lenders send out the initial Loan Estimate, so the fees and rates you see in your disclosures should match.
Lenders don't always work with brokers: Not every lender works with every broker. While you have access to more options with a broker, you might not see all the possibilities.
Tip:
Whether you're working with an individual lender or with a broker, it's important to pay attention to fees. These are normal
homebuying costs
, but that doesn't mean you have to pay a lot. You can negotiate your fees with brokers and with lenders. If you aren't paying a broker fee, it usually means the broker is being compensated by the lender, so you need to make sure that you aren't being steered toward something that's of greater benefit to the broker.
Some brokers, like Credible, are based online and make it easy for you to compare multiple loans at once and then select the loan that's right for you. While other brokers might charge hidden fees or make it difficult to compare rates, we provide full transparency into the rates and fees available to you.
Credible allows you to compare prequalified rates from all of our partner lenders in the table below in just a few minutes.
Loading widget - purchase-rate-table
How to find a mortgage broker
If you're looking for a mortgage broker to help you get the best deal on your home loan, here are a few steps to follow.
Get referrals: Ask people in your network who they've used for home loan transactions. Additionally, ask the broker for referrals.
Find out how they get paid: Ask if the broker is being compensated by lenders, or whether the borrower pays a fee. Find out how much different lenders compensate them, and how they handle mortgage closing costs.
Ask who they work with: Get an idea of the top lenders they work with and what programs they have.
Ask about the process: Learn about the process used by the mortgage broker when working with clients, including how often they respond to messages and what you can expect when working with them.
Check their license: Mortgage brokers are licensed financial professionals, so you should be able to check with your state's financial licensing division to find out if they're up to date on everything.
Don't forget to check with online mortgage brokers. Rather than being steered in a specific direction, an online broker like Credible, can provide you with a list of eligible loans, and you can easily compare your mortgage options and choose what works best for you.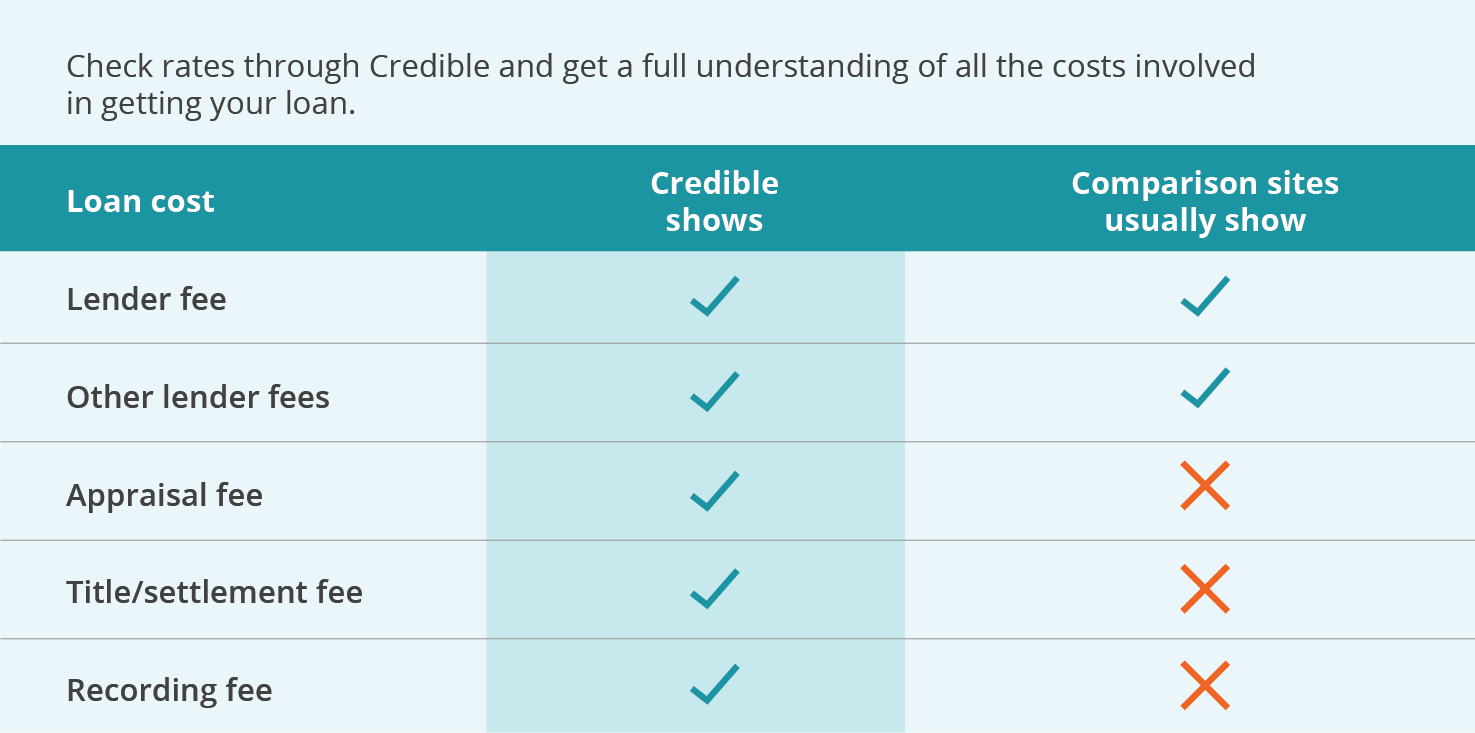 With Credible, you can get pre-approved in three minutes without impacting your credit score. We also streamline the closing process, making it easy for you to upload your documents securely online.
Credible makes getting a mortgage easy
Instant streamlined pre-approval: It only takes 3 minutes to see if you qualify for an instant streamlined pre-approval letter, without affecting your credit.
We keep your data private: Compare rates from multiple lenders without your data being sold or getting spammed.
A modern approach to mortgages: Complete your mortgage online with bank integrations and automatic updates. Talk to a loan officer only if you want to.