Our goal is to give you the tools and confidence you need to improve your finances. Although we receive compensation from our partner lenders, whom we will always identify, all opinions are our own. By refinancing your mortgage, total finance charges may be higher over the life of the loan.
Credible Operations, Inc. NMLS # 1681276, is referred to here as "Credible."
If you've managed to earn a credit score of 800 or higher, congratulations! You've achieved one of the highest scores out there. Credit scores stretch from 300 to 850, and the average American's score sits at 711 as of October 2020.
Generally, a high credit score shows you've managed debt responsibly in the past — and it comes with benefits. Aside from bragging rights, an exceptional credit score makes you an attractive borrower for mortgage lenders and puts the best interest rates within your reach.
Here's what you need to know about credit scores of 800 or higher:
How good is an 800 credit score?
Lenders tend to evaluate credit scores in ranges, and a credit score between 800 and 850 falls in the "excellent" range. People who achieve such a high score have generally shown they pay back borrowed money on time and don't miss payments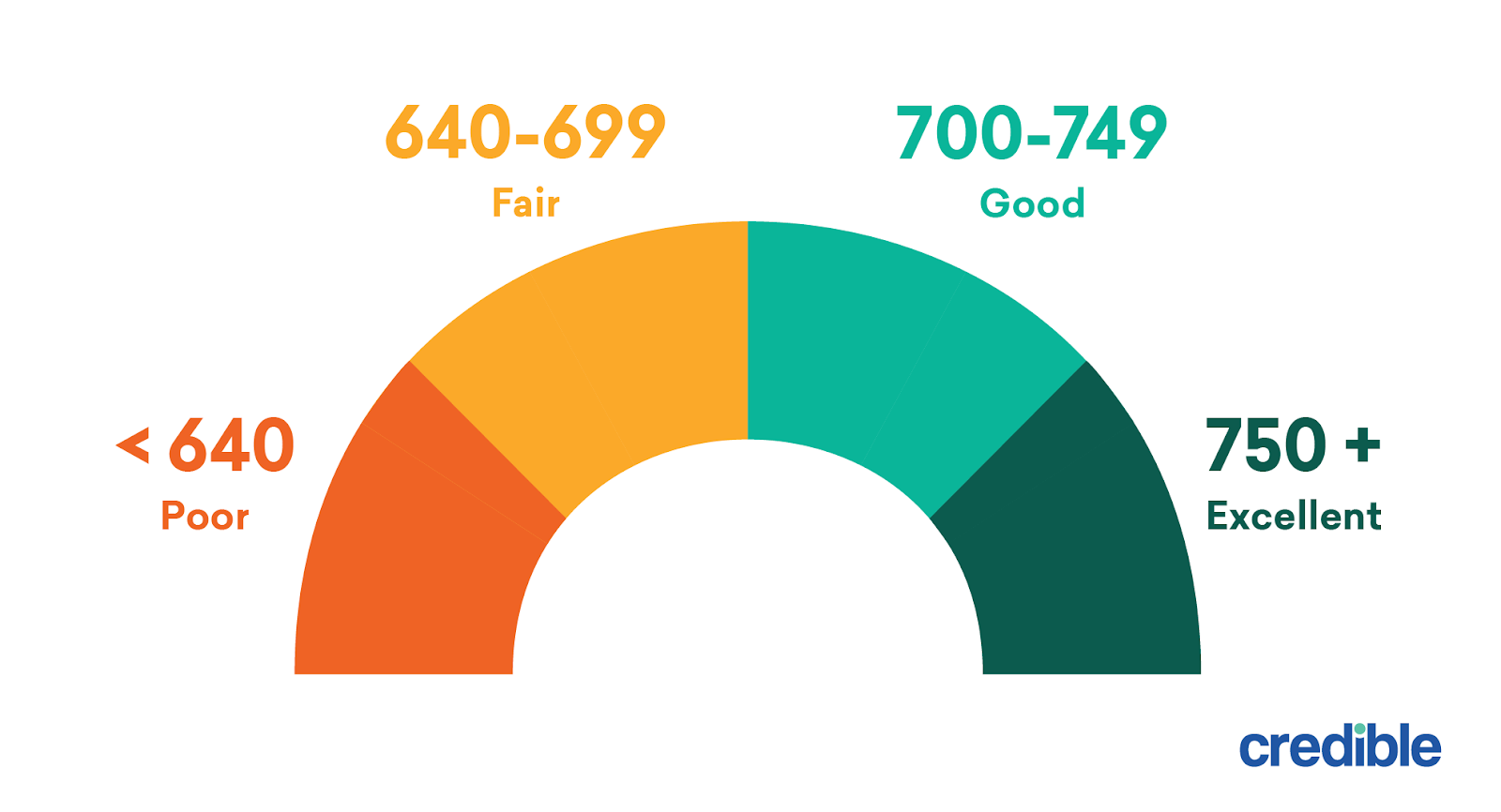 Here are just a few advantages to having an 800+ credit score:
You have a better chance at getting approved for a home loan
You may qualify for a low mortgage rate
You have more power to negotiate your interest rate and closing costs
Learn More: What Is a Mortgage Rate and How Do They Work?

Average mortgage rates for an 800 credit score
Your credit score plays a big part in whether you'll qualify for a mortgage and receive a good interest rate.
The table below shows a sampling of interest rates from our partner lenders. You can fill in your financial information and select a credit score range of Excellent (740+) to see what kind of mortgage rates are available to you in your area.
Loading widget - purchase-rate-table
These rates reflect the annual percentage rate (APR), which includes the interest rate plus lender fees. The APR is a good metric to check when comparing mortgage offers because it reflects the total cost of borrowing. Qualifying for a lower APR can help you save thousands of dollars over the life of the loan.
For example:
A high credit score might net you an APR of 2.606% on a 30-year, $200,000 mortgage with a monthly payment of $801 (not including insurance or taxes).
On the other hand, a borrower with a 620 credit score might receive an APR of 3.966% and pay $950 per month. That $150 difference in monthly payments adds up to $54,000 over the life of the loan.
But you don't need to seek perfection. If you can improve your credit score by just a few points, it might put you in the next credit score range and make you eligible for a better interest rate.
Enter your loan information to calculate how much you could pay
?

Enter the total amount borrowed
$
?

Enter your annual interest rate
%
or
?

Enter the amount of time you have to repay your loan
years
Total Payment $
Total Interest $
Monthly Payment $
With a $ home loan, you will pay $ monthly and a total of $ in interest over the life of your loan. You will pay a total of $ over the life of the mortgage.
---
Need a home loan?
Credible makes getting a mortgage easy. It only takes 3 minutes to see if you qualify for an instant streamlined pre-approval letter.
Checking rates won't affect your credit score.
Learn More: APR vs. Interest Rate: Understanding the Difference
Other factors behind your mortgage rate
While having a good credit score can help you get a low mortgage rate, it isn't the only factor driving your offer. Lenders also examine broader economic trends and other areas of your financial life when determining rates. Some examples include:
Larger economic factors
Personal economic factors

Strength of the economy
Inflation rates
Employment
Consumer spending
Housing construction and other market conditions
Stock and bond markets
10-year Treasury yields
Federal Reserve policies

Credit score
Credit history
Down payment size
Loan-to-value ratio
Loan size, type, and term
Debt-to-income ratio
Location of the property
While some of these factors are out of your control, you can work on other areas to boost your chances of getting a low mortgage rate — regardless of your credit score. Here are some factors you can control:
Down payment: Putting down at least 20% can help you avoid private mortgage insurance. And because the lender is taking on less risk, you'll likely get a break on the interest rate.
Loan size: Getting a particularly big mortgage might mean paying a higher interest rate. If possible, look for homes that are cheaper or increase your down payment so the loan size shrinks.
Loan term: Generally, shorter loan terms have lower interest rates because the lender is extending risk for a shorter period of time. Compare interest rates and monthly payment amounts on different loan terms —such as 15, 20, and 30 years— to see what you can afford.
Debt-to-income ratio: Your DTI ratio compares how much of your monthly income goes toward paying debt. A lower DTI ratio — around 43% or less — may help you qualify for a low mortgage rate.
Comparing rates from different lenders can also help you get a great rate. With Credible, you can see prequalified rates from our partner lenders in just a few minutes.
Credible makes getting a mortgage easy
Instant streamlined pre-approval: It only takes 3 minutes to see if you qualify for an instant streamlined pre-approval letter, without affecting your credit.
We keep your data private: Compare rates from multiple lenders without your data being sold or getting spammed.
A modern approach to mortgages: Complete your mortgage online with bank integrations and automatic updates. Talk to a loan officer only if you want to.