Our goal here at Credible is to give you the tools and confidence you need to improve your finances. Although we do promote products from our partner lenders, all opinions are our own.
Getting pre-approved for a mortgage is a great start to the homebuying process. However, not all pre-approvals are the same.
If you want to qualify for a pre-approval instantly without affecting your credit, here's what you need to know:
How to get pre-approved for a mortgage
With some preparation and homework, the mortgage pre-approval process can be a breeze. You can get pre-approved in five easy steps:
1. Budget for a down payment
The more money you can put down, the lower the interest rate and monthly payments will be. If you put down less than 20% of the home's purchase price, you'll have to pay for private mortgage insurance (PMI) on top of the cost of the home loan.
The type of mortgage you apply for will affect how much of a down payment you'll need. For example, for most mortgages, you'll need to put down 3% to 20%. But if you qualify for a Federal Housing Administration (FHA) loan, you can put down just 3.5%.
Credible makes this easy, allowing you to adjust your down payment and figure out how much home you can afford by simply adjusting a slider.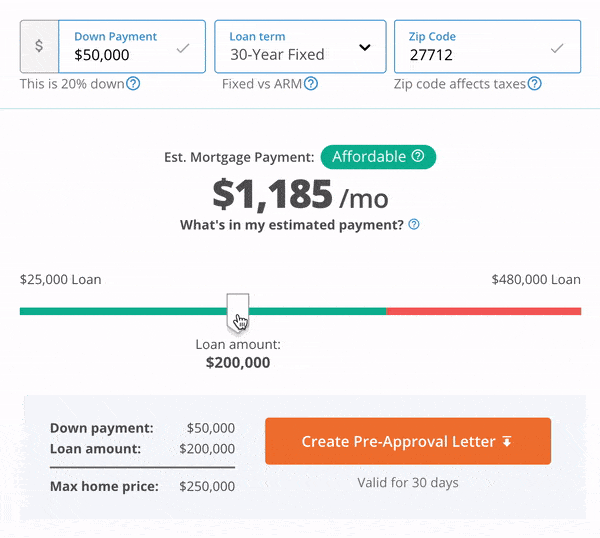 Disclaimer: This is a simulated scenario for illustrative purposes to demonstrate how the Credible Streamlined Pre-approval process works. These are not actual terms that are available.
2. Gather the information you'll need
Depending on where you get your pre-approval letter, traditional lenders require you to upload your documents upfront.
But if you choose to get an instant streamlined pre-approval letter online with Credible, the process is much quicker. Instead of having to upload documents or bring in copies, you'll just need to have your information on hand so you can type it in.
Here's some of the information you should have ready:
Proof of income: Such as pay stubs or W-2 forms
Federal income tax returns: Your tax returns for the past two years
Bank and investment account statements: Bank and investment account statements that show your current balances and contributions
Driver's license or passport: Some form of identification
Debt statements: Any outstanding debt statements that show your remaining balance and monthly payment, like student loans
3. Comparison shop with multiple lenders
It's a good idea to compare offers from several different lenders to ensure you get the lowest mortgage rates. If you choose to get a mortgage pre-approval from a bank, you typically have to go into a bank branch and it requires a hard credit inquiry (which can affect your credit score).
But with Credible, you can secure a pre-approval letter in just three minutes from our partner lenders in the table below. Plus, Credible uses a soft credit check which won't affect your score.
4. Limit your debt and stay current on your bills
Your pre-approval is dependent on your current credit score, debt, and income. Between your pre-approval and your loan application, try to keep your debt levels steady, or pay off the debt if possible. Running up credit card debt or taking out a loan could negatively affect your credit score and debt-to-income ratio, reducing how much you can borrow in the form of a mortgage.
It's also a good idea to ensure your income remains the same — so be sure you have the same employer and income throughout the process.
Your credit score is largely determined by your payment history, as well. So, to avoid a decrease in your credit score — which could ruin your mortgage pre-approval — make sure you make all of your payments on time during the entire mortgage process.
5. Submit your loan application
Once the offer on your house is accepted, you can apply for a home loan. With Credible, you can complete the whole process online in just a few minutes.
Getting pre-approved for a mortgage can make you a more desirable buyer, and can give you an idea of how much you can really afford to spend on a home, depending on your financial situation. By following the above steps, you can navigate through the process smoothly and be on your way to buying your dream home.
Ready to get pre-approved?
Instant streamlined pre-approval: It only takes 3 minutes to see if you qualify for an instant streamlined pre-approval letter, without affecting your credit.
We keep your data private: Compare rates from multiple lenders without your data being sold or getting spammed.
A modern approach to mortgages: Complete your mortgage online with bank integrations and automatic updates. Talk to a loan officer only if you want to.
Let's Get Started
Keep in mind that not all loan products are available through Credible.
Getting pre-approved with Credible vs. traditional lenders
Depending on the lender, the pre-approval may be valid for approximately 30 days. After that, your credit score could change, which would affect your mortgage pre-approval.
If the homebuying process takes several months, you'll likely need to get several pre-approvals which can take a lot of time. But with Credible, you're able to sign back into your dashboard and generate a new prequalification letter to present to your realtor in seconds.
Our process allows you to make changes to your down payment, amount of loan, and property address without having to put your information in each time. This way, you can easily create a new pre-approval letter for multiple scenarios should you need it.
Traditional lenders
Credible
How long does it take?
1 to 3 days
3 minutes
Credit check
Hard credit pull
(negative impact on your credit)
Soft credit pull
(no impact on your credit)
Online process
Typically minimal; instead processed via in-person visit at a branch or phone call with a licensed loan officer
100% online
Compare multiple lenders?
No, visit multiple lenders to receive multiple pre-approval letters
Yes, pre-approved across multiple lenders at once
Multiple pre-approval letters to make additional property offers?
No, must submit another request to lender for new pre-approval letter
Yes, generate additional letters instantly with a customized loan amount

Ready to get pre-approved through Credible?
Generate a pre-approval letter instantly

Start Now
Frequently asked questions
What is a mortgage pre-approval?
A mortgage pre-approval is a letter from a mortgage lender or broker that details how much money a lender is able to lend to you, based on certain assumptions about your creditworthiness and credit history. For example, a lender or broker might say that, based on your current credit score and income, the pre-approval letter supports a mortgage up to $250,000 in value.
In the pre-approval letter, you'll see an estimate of your mortgage loan amount, interest rate, and what your monthly payment would be, based on the assumptions made regarding your creditworthiness and credit history.
To decide whether or not to issue a mortgage pre-approval, lenders or brokers typically assess the following information:
Assets: How much you have in assets, including cash in your checking or savings account, stocks and bonds, and real estate
Income: Whether your income is sufficient to cover the cost of your mortgage — typically, they're looking to see that you have a debt-to-income ratio (DTI) below 50%, but ideally, your DTI is 43% or below
Credit history: Credit check to review your credit report (the lowest interest rates are reserved for those with excellent credit)
What are the benefits of having a mortgage pre-approval?
Qualifying for a mortgage pre-approval has several benefits:
You'll know how much home you can afford. Having a pre-approval can give you a solid idea of how much home you can really afford, especially as a first-time homebuyer. That can help you narrow down your home search, so you don't stretch your budget too far.
It makes you more desirable. If you're considering putting an offer on a house, having a mortgage pre-approval is essential. Otherwise, you risk being overlooked because home sellers won't see you as a serious buyer and will choose someone else.
Agents will be more willing to work with you. Many real estate agents won't work with buyers who don't have pre-approval letters, putting you at a huge disadvantage.
Jamie Young contributed to the reporting in this article.