Our goal here at Credible is to give you the tools and confidence you need to improve your finances. Although we do promote products from our partner lenders, no one dictates what we write on our blog. All guidance given is unbiased and all opinions are our own.
Federal student loans are a type of loan guaranteed by the U.S. government and they come in a few different forms.
There are three main types of federal student loans:
Federal student loan interest rates: 2006-2020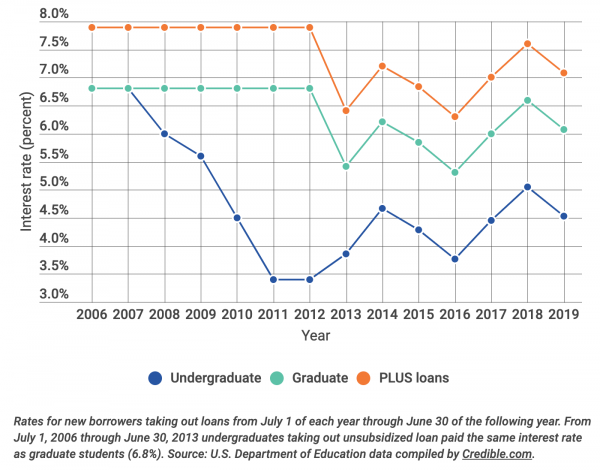 Direct Subsidized Loans: For students who demonstrate financial need
If you qualify, Direct Subsidized Loans are arguably the most favorable type of student loan. The biggest benefit to subsidized loans is that interest does not begin to accrue until the end of a six-month grace period after you graduate.
Here are a few other things you should know about direct subsidized loans:
They're only available to undergraduate students who demonstrate a financial need
They have some of the best interest rates out of the most popular federal loans
You must be in school at least half-time for the Department of Education to pick up the tab on your student loan interest while in school
Your school determines your cost of attendance and the amount you can borrow
Learn More: How to Pay for College
Direct Unsubsidized Loans: For any student in a degree or certificate program
If you need to borrow more than the limit for subsidized loans or don't qualify, you may want to look at Direct Unsubsidized Loans. These loans are for undergraduate, graduate, or professional students.
Here's what you should know about direct unsubsidized loans:
You don't have to demonstrate a financial need to qualify
Undergraduates pay the same rate as Direct Subsidized Loans, but grad students pay a bit more
Interest on these loans starts after disbursement, not after graduation (so interest accrues during school and increases how much you owe)
Direct PLUS Loans: For graduate students and parents of dependent undergraduate students
Direct PLUS Loans are for grad students, professional students, and parents of undergraduate students.
Here's how PLUS loans are a bit different:
You don't have to demonstrate a financial need to qualify
A credit check is required with these loans (if you have bad credit, you'll have to meet additional requirements)
PLUS Loans are not always the best deal. If you're considering this type of loan, compare your rate and options with private student loans to see which offers you the lowest interest rate. Many private student loans also allow a cosigner, which could save you even more.
Other types of federal student loans
Those are the most common types of federal student loans. Some other federal loans, like Federal Perkins Loans for example, are no longer available to new students.
There are also Direct Consolidation Loans, which are a type of loan you can use to consolidate loans above into one loan with one payment.
Check Out: The Pros and Cons of Consolidating Student Loans
Federal student loan benefits
Undergraduate students can borrow a maximum of $5,500 to $12,500 per school year in Direct Subsidized Loans and Direct Unsubsidized Loans. Graduate students can borrow up to $20,500 per year through these programs. PLUS Loans are available for additional costs above the subsidized and unsubsidized direct loans.
Federal student loans also have several benefits compared to other types of loans. Consider these benefits when deciding how to finance your education:
Low interest rates: One of the biggest benefits of federal student loans is interest rates. Depending on your credit, savings, and needs, this could be the cheapest way to borrow.
Credit not always a factor: Direct Subsidized and Direct Unsubsidized Loans do not look at your credit at all. PLUS Loans won't consider credit, but it won't completely disqualify you on its own.
Need is only a factor for subsidized loans: Federal student loans require completing the FAFSA, but financial need isn't a factor for unsubsidized or PLUS loans.
Subsidized loans are interest-free during school: If you're an undergraduate with subsidized loans, your interest is paid by the government until six months after you graduate.
Available to students and parents: Loans are available to undergraduate, graduate, and professional students as well as the parents of dependent students. The best private student loans are also available to any applicant, including parents.
Repayment plans available: After you graduate, you'll have access to income-based repayment plans and other payment schedules that are flexible with your ability to pay.
Federal student loans vs. private student loans
Federal student loans
Private student loans
Interest rates

Set by Congress
Typically lower than private student loans

Vary based on credit
Fixed or variable rate
Fixed
Fixed or variable
Approval based on credit?
No, except for PLUS loans
Yes
Repayment
Flexible terms (like IDR plans)
Less flexible than federal student loans
Benefits

Temporarily stop payments through deferment and forbearance
Public Service Loan Forgiveness program

Depends on the lender
How to apply for a federal student loan
Applying for federal student loans takes some time and effort. You'll need to gather your financial information and your family's financial information if you're a dependent student.
Follow these steps to apply for a federal student loan:
Create an FSA ID and complete the FAFSA: The FAFSA, or Free Application for Federal Student Aid, is the application for federal student loans. If you don't already have one, you'll need to create an FSA ID to login and save your progress. Plan on up to an hour to complete the FAFSA the first time and about 45 minutes for a renewal.
Complete any financial aid forms required by your school: Some colleges and universities require additional forms on top of what the government asks for. Contact your school to find out if there are any other steps after the FAFSA.
Check your Student Aid Report: The Student Aid Report (SAR) comes within three weeks after submitting the FAFSA, though it could come as soon as three days. The SAR is a summary of your data and gives you an opportunity to correct your FAFSA if you made any mistakes.
Watch for your award letter: Each school calculates financial aid for its students. You should get an award letter, either online or in the mail, explaining your student aid package.
Once you have your final choices made, make sure to accept your loans and other aid before any deadlines set by your school or preferred student aid programs. For more information, read the full guide to applying for student loans.
Helpful federal student loan resources
Your federal student loans may be eligible for a flexible repayment plan with a monthly payment lower than your default scheduled payment. But keep in mind that a lower payment typically means more total interest paid.
Here's what you should consider before you take out federal student loans: