After earning her associates degree at a local community college, Kaelia Russell is off to pursue her dreams at a private university in San Diego — where she'll have a little help with her tuition, as the winner of the #MyCredibleFuture $10,000 scholarship.
Russell, 21, was picked by the Credible community to receive the scholarship after sharing why her education is important to her.
When she began her studies at Southwestern College, a two-year community college in Chula Vista, California, right out of high school, "I was not 100% sure what direction I wanted to go with my life," Russell tells Credible.
Then she attended a preview day at Point Loma Nazarene University, a private, faith-based liberal arts school in San Diego. Preview days allow prospective PLNU students to get a feel for campus life by sitting in on classes, attending chapel, eating in the dining hall, and talking to professors and admissions officers.
For Russell, "everything changed," at her preview day.
"I knew I was being called to PLNU, and my passion to know Jesus more and to keep growing in worship pastoring hit me right in the face," she says.
PLNU promises that in the course of pursuing their degrees, students can expect to "grapple with challenging questions, explore complex theories, hold diverse viewpoints in tension, and engage in civil dialogue within an academic environment grounded in the Christian faith."
Those experiences don't come cheaply. According to the Department of Education's College Scorecard database, the average annual cost of attendance at the school is $31,473, nearly double the national average. Although nine out of 10 undergraduates receive financial assistance, 61% take out federal student loans, and the typical PLNU student has $25,000 in federal student loan debt after graduation.
But graduation rates and salaries after graduation are also above the national average, and 79% of PLNU students who take out loans start repaying them within three years of graduating, compared to 47% of students nationwide.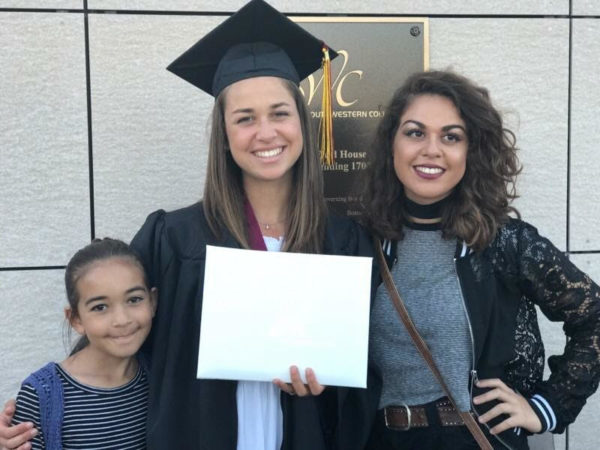 Russell has no doubts she's chosen the right path.
"My major, biblical studies, fills me with joy," she says. "This is what I am passionate about. And I know this will lead to something so much greater than myself."
Winning the #MyCredibleFuture $10,000 scholarship has "already been changing my future for the better," Russell says.
Financially, the scholarship "gives me a huge push towards paying my tuition." But Russell says sharing her story with the Credible community proved to be even more meaningful.
"What I've learned to be the most significant part about this scholarship is how much joy my community and I have experienced during these past few months," she says. "More than I could have ever thought! I have been finding it quite amusing to be asked almost every week from my people about scholarship news."
That support "has given me the confirmation I need to keep exploring endless opportunities and to trust that as long as I keep seeking and knocking, I will find what I'm looking for."