Our goal is to give you the tools and confidence you need to improve your finances. Although we receive compensation from our partner lenders, whom we will always identify, all opinions are our own. Credible Operations, Inc. NMLS # 1681276, is referred to here as "Credible."
Graduating from college can be an exhilarating experience – until your first student loan payment is due.
If repaying student loans is in your future, you are not alone. The average annual cost of tuition and fees during the 2016-2017 school year was $33,480 at private non-profit four-year colleges, according to the College Board.
With such a hefty price tag, chances are you got some help in the form of loans to finance your education.
Under the Department of Education's Federal Family Education Loan (FFEL) Program, there are a number of loan servicers who provide loans to college students. One of those servicers is the Missouri Higher Education Loan Authority, also known as MOHELA.
Are you paying more than 6% on your MOHELA Loans?
See if you can get lower rates using Credible's rate estimator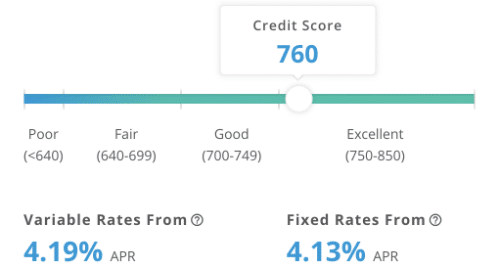 What is MOHELA?
Based in St. Louis, Missouri with offices in Columbia, Missouri and Washington, DC, MOHELA has more than 30 years of experience in the student loan servicing industry. MOHELA works with students and graduates who have faced many different types of financial circumstances and offers a number of options designed to make repayment easier, helping to move students along the road to being debt-free.
If you have MOHELA student loans, it's important to know how the company operates and how to make good on your debt. Read on for more information on how to repay your student loans and take charge of your financial life.
How to start repaying your student loans
When you're in college, you should be focused on your studies. But when you graduate, you must balance finding a job with the responsibility of having to pay off your student loans. Here's what you should know about repaying your MOHELA student loans when graduation day rolls around.
When you're in college, you should be focused on your studies. But when you graduate, you must balance finding a job with the responsibility of having to pay off your student loans. Here's what you should know about repaying your MOHELA student loans when graduation day rolls around.
The first thing you should do is create an online account at MOHELA.com. In fact, you might want to create your account while you're still in school. This is where you update your contact information so MOHELA can get in touch with you if they need to. It's also where you can view your balance and make your payments electronically, once they start being due
While college students typically have a grace period of a few months after graduation when they don't have to make any payments, it is wise to start paying off your loans as soon as you can afford to. No payment is too small, and beginning repayment early will save you money in the long run. Once the grace period is over, the unpaid interest on your student loans will be added to the principal balance, adding to the amount of money you have to pay back
Create a budget where you make a list of all of your income and expenses, and determine how much money you can afford to put toward your loans. Then you can determine which MOHELA repayment plan works best for you
Choosing a MOHELA repayment plan
MOHELA offers several different types of repayment plans, including:
Standard Repayment
Subsidized and unsubsidized direct loans, subsidized and unsubsidized Federal Stafford Loans, and all PLUS Loans are eligible for the Standard 10-year repayment plan. On this plan, monthly payments are fixed, with a minimum of $50 per month, and a standard payment term of 10 years (consolidated student loans may take up to 30 years in standard repayment). This is the default plan that you start out with for most federal loans.
Extended Repayment plan
The Extended Repayment plan typically offers you lower monthly payments as compared to the other repayment plans, because you can extend your repayment term to 25 years. Your payments may be fixed or graduated on this plan. While lower monthly payments might sound tempting, remember that extending your repayment term will mean that you'll end up paying more in interest over the lifetime of your loan.
To qualify for this plan, you must have more than $30,000 in either Direct Loans or FFEL Program Loans.
Graduated Repayment plan
Subsidized and unsubsidized Direct loans, Stafford loans, and PLUS Loans are all eligible for the Graduated Repayment plan. Instead of being fixed, like on the Standard Plan, your monthly payments will start out low on the Graduated Repayment plan, and then gradually increase. The Graduated Repayment plan gives you a chance to start out paying less, which can be helpful if you've recently graduated and haven't been working for very long.
Loading widget - loan-score-tool
Income-driven repayment plans
Plans like Revised Pay As You Earn (REPAYE), Pay As You Earn (PAYE), Income-Based Repayment (IBR) plan, and Income-Contingent Repayment (ICR) are called income-driven repayment plans, since the monthly payments on these plans are set as a percentage of your discretionary income.
This ensures that you'll never owe more in monthly payments than you can afford. But remember, since you will be making lower monthly payments, it will take you longer to pay off your loan, thus extending your repayment term and causing you to pay more in interest overall.
But not everyone can qualify for an income-driven repayment plan. Your eligibility is determined by your income, family size, and type of student loan that you have.
You must also renew your income-driven repayment plan each year, and show proof of your most current income and family size in order to have your payment plan recalculated. If you've gotten a raise or your financial situation has drastically improved in the past year, your payment may go up accordingly, or you may no longer be eligible for an income-driven plan.
If you forget to renew your income-driven loan repayment plan each year, you may be automatically taken out of the plan and put into a standard repayment plan, which could mean higher monthly payments. You can learn more about whether an income-driven plan may be right for you here.
How payments work
One of the first rules of debt is that it is always wise to pay loans off as soon as possible. After all, the faster you pay off a loan, the less interest you'll pay. However, it is important to have an understanding of how payments are applied.
When you make your monthly payments on your repayment plan, the money goes toward paying fees and interest first. Then, the remaining money is applied toward the principal. If you have multiple loans, the payment is distributed proportionally across each one, unless you indicate that you want to focus on a particular loan first.
*Generally speaking, if you have multiple loans, it's best to always try to pay off the loans with the highest interest rate first. Similarly, if you have a mix of federal and private student loans, with a mix of fixed and variable rates, it's best to always try to pay off the loans with variable rates first, as they may increase in the future.
There are several ways to make payments on MOHELA loans.
You can make a one-time payment via the MOHELA.com website
You can use MOHELA's automated phone system to pay
You can utilize your bank's online bill payment service; or
You can mail a check or money order to MOHELA
If you enroll in MOHELA's Auto Debit program, you can receive a 0.25% interest rate deduction simply for having payments automatically debited from your bank account. If you can ensure that the money is always available on the due date, setting up autopay will ensure that you never miss payments and will also help you save some money.
For those borrowers who want to try and pay off their loans faster and make payments in advance or greater than the amount due, there is no advanced payment fee. MOHELA will use your advance payments towards outstanding fees first, then towards interest, and finally toward the principal balance.
However, if you're under an income-based repayment plan, advanced payments are applied to interest before outstanding fees. You can also specifically target which loans you want to pay off through advanced payments.
Learn more: Aspire Resources in and out of federal direct student loan servicing
Taking advantage of MOHELA student loan forgiveness
Nobody wants to pay more than they have to. Those who don't make a lot of money or who choose a life of public service could have the opportunity to take advantage of MOHELA's loan forgiveness programs.
You could be eligible to have part of your loans forgiven in the following situations:
If you are in an income-driven repayment plan, and you've made on-time payments for 20 to 25 years, you may be eligible to have the remaining balance on your loans forgiven. However, keep in mind that the forgiven amount is considered taxable income, so you will have to pay taxes on it
If you work for a government or not-for-profit organization, are on an income-driven repayment plan, and have made 10 years of qualifying payments, you might be eligible for Public Service Loan Forgiveness
If you are a teacher, you may also benefit from loan forgiveness if you teach full-time in a low-income school for five consecutive years. If you fit the bill, you may be able to have up to $17,500 in loans forgiven
In the case of the death of the primary borrower or a dependent student on a PLUS Loan, your loans may be eligible for partial or full discharge
If your school closes while you are enrolled and you're unable to complete your program as a result, or your school closes within 120 days after you withdraw, your loans may be eligible for a discharge
If you are unable to work due to a disability or are a veteran who is unable to work due to a service-related disability, you may qualify to have your federal student loans discharged.
You can learn more about Public Service Loan Forgiveness and other loan forgiveness programs here.
What to do if you can't pay
Sometimes circumstances may leave you in a financial bind. Whether you suffer a layoff, a medical crisis, or some other unforeseen circumstance, you may find that you are unable to make the monthly payment on your MOHELA student loans. The worst thing you can do in that situation is put your head in the sand and ignore it.
If you don't pay your student loans on time, it could adversely impact your credit. You can protect your credit by contacting customer service immediately, as MOHELA offers borrowers options such as deferment and forbearance to help them get through a rough financial patch.
Deferment: A deferment is a period of time in which you can postpone your payments. Situations that may qualify you for deferment include unemployment, economic hardship, and active military duty. One of the benefits of getting a deferment is that interest does not accrue during the period that you are not making payments
Forbearance: Like deferments, a forbearance is a period of time in which you can postpone your payments. However, there is a big difference. With forbearance, the interest accrues during the period that you are not making payments. This is problematic because your total balance and your monthly payments may be higher when you do start making payments again. For that reason, forbearance should be an option that you choose only if you are experiencing extreme hardship
Contacting MOHELA for assistance
When it comes to repaying your MOHELA loans, communication is key. Whether you have questions about making a payment or letting your servicer know that you are having financial trouble, having a direct channel to MOHELA can be extremely helpful.
You can call MOHELA at 888-866-4352, or even fax or mail them. If you have complaints about MOHELA, you can take advantage of their ombudsman program. The ombudsman will help you by resolving account disputes and working with you to solve your problems.
Student loans are valuable because they allow us to get an education that we might not otherwise be able to afford. If MOHELA is your servicer, understanding their rules and repayment processes can help make paying for your education as stress-free as possible.