Our goal is to give you the tools and confidence you need to improve your finances. Although we receive compensation from our partner lenders, whom we will always identify, all opinions are our own. By refinancing your mortgage, total finance charges may be higher over the life of the loan.
Credible Operations, Inc. NMLS # 1681276, is referred to here as "Credible."
Content provided by Credible. Although we do promote products from our partner lenders who compensate us for our services, all opinions are our own.
If you have no credit or a negative credit history, you may find it difficult to get approved for credit at favorable interest rates and terms. That's where a credit-builder loan comes in. It can help you establish or reestablish a good credit score. Here's a closer look at credit-builder loans and how they work.
What's a credit-builder loan?
Also known as a "fresh start loan" or "starting over loan," a credit-builder loan is more of a moderated savings plan than a loan. It's designed to help people with little or no credit build a credit history. A credit-builder loan may be more effective for people with thin credit than negative credit, according to the Consumer Financial Protection Bureau. This means you'll probably benefit more if you get a credit-builder loan before you have any other debt.
It's easy to compare rates on personal loans from multiple lenders through Credible.

How do credit-builder loans work?
Credit-builder loans usually range from $300 to $1,000, with terms of six to 24 months. Once you get approved for a credit-builder loan, you won't get access to the funds right away. Instead, the money you borrow will be kept in a locked escrow account while you make monthly payments.
Your funds will be available to you after each payment is made or at the end of the loan term, depending on your loan agreement, as long as you've made all your payments on time. Whether you get interest on what you paid depends on your lender and terms.
A credit-builder loan will allow you to build your savings and credit at once. And it gives lenders reassurance that there's less risk around extending credit to someone with little credit history.
The lender will report your loan payments to at least one of the major credit bureaus: Equifax, Experian, or TransUnion. Payment history is an important factor in determining credit scores. Your timely payments will show up on your credit report, helping you establish a solid credit history or improve your current credit.
How much will a credit-builder loan cost me?
The cost of credit-builder loans varies significantly from lender to lender. But no matter which loan you choose, you'll be on the hook for interest. You may also have to pay various fees like origination fees.
Before you move forward with a credit-builder loan, be sure to consider its total cost. This way you can avoid unwanted financial surprises and budget accordingly.
Looking at the annual percentage rate, or APR, of a loan — rather than just the interest rate — can give you a better idea of the total cost of the loan, since APR typically takes into account fees and other loan costs.
Where to find credit-builder loans
You can find a credit-builder loan from several sources, including credit unions, community banks, and online lenders. Generally speaking, big banks and financial institutions don't offer them.
Do your research and make sure the lenders you consider for a credit-builder loan are reputable. Read customer reviews and check out their rating on the Better Business Bureau (BBB). By doing so, you can reduce your risk of falling prey to a credit scam.
With Credible, you can compare rates on personal loans from various lenders in just two minutes.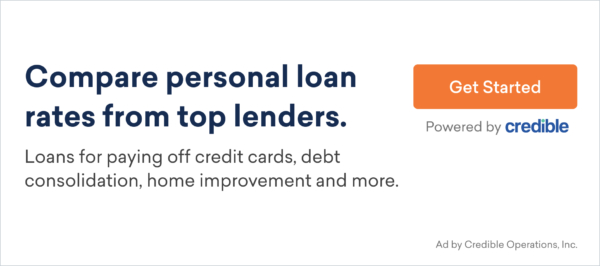 Pros and cons of credit-builder loans
As with all financial products, credit-builder loans come with pros and cons. Here are some benefits and downsides to consider.
Pros
Easy to qualify for: Lenders that offer credit-builder loans tend to have lenient requirements.
Build credit and grow savings: With a credit-builder loan, you can kill two birds with one stone and build your credit while boosting your savings.
Gain experience: A credit-builder loan can help you gain valuable experience in how to manage loan payments within your budget.
Cons
Must wait for your money: You'll have to wait to access your money, usually until your term is up.
Interest and fees: Credit-builder loans come with interest and fees that you'll have to factor into your budget.
Late or missed payments can hurt you: If you don't make your payments on time, your credit will take a hit.
Alternative ways to build credit
If you'd like to build credit but don't think a credit-builder loan is right for you, consider these alternatives.
Become an authorized user on someone else's credit card: If you can't get approved for your own card, become an authorized user on a friend or family member's credit card account. Then, make payments on time so you can build your credit. Note that the primary cardholder's credit (and yours) will suffer if you don't stay on top of your payments.
Secured credit card: To open a secured card, you'll need to provide a security deposit, which will likely be the same as your credit limit. You'll be able to improve your credit by paying it on time. After a certain amount of consistent payments, you may get your deposit back.
Secured personal loan: A secured personal loan is protected by collateral, which is something valuable that you own, like a house or car. It allows a lender to take on less risk than they would with an unsecured loan that isn't tied to any asset. If you default on the loan, the lender will seize your collateral.
Credit card in your name: With a credit card in your name, you can build your credit, as long as you make your payments on time. The downfall of this option is that you may get a higher APR.
Check out Credible to compare personal loan rates from multiple lenders at once.

---
About the author: Anna Baluch writes about a variety of personal finance topics, including mortgages, debt management, student loans, personal loans, and more. Her work can be found on media outlets like The Balance, Freedom Debt Relief, LendingTree, Credit Karma, Nav, and RateGenius. When she's not typing away on her computer in sunny Hudson, OH, she can be found working out, volunteering, trying new restaurants, and hanging out with her husband and daughter.
Anna holds a bachelor's degree in marketing from Northwood University, and an MBA from Roosevelt University. You can find her on LinkedIn.