Our goal is to give you the tools and confidence you need to improve your finances. Although we receive compensation from our partner lenders, whom we will always identify, all opinions are our own. Credible Operations, Inc. NMLS # 1681276, is referred to here as "Credible."

Content provided by Credible. Although we do promote products from our partner lenders who compensate us for our services, all opinions are our own.
This article first appeared on the Credible blog.
Your student loan interest rate is a percentage that represents how much you'll pay in interest charges each year — essentially the cost of borrowing money.
The interest rates on federal student loans are set by Congress and can change each year. For the 2022-23 academic year, the interest rates on federal Direct Loans will be rising.
New federal rates for the 2022-2023 school year
Federal student loan interest rates are calculated each year based on the 10-year Treasury note rate. Here are the rates for the 2022-2023 academic year:
Direct Subsidized Loans: 4.99%
Direct Unsubsidized Loans (for undergraduate students): 4.99%
Direct Unsubsidized Loans (for graduate and professional students): 6.54%
Direct PLUS Loans: 7.54%
These rates are higher compared to last year and also surpass rates from the 2019-20 academic year. Here's how the new rates compare to the past three years: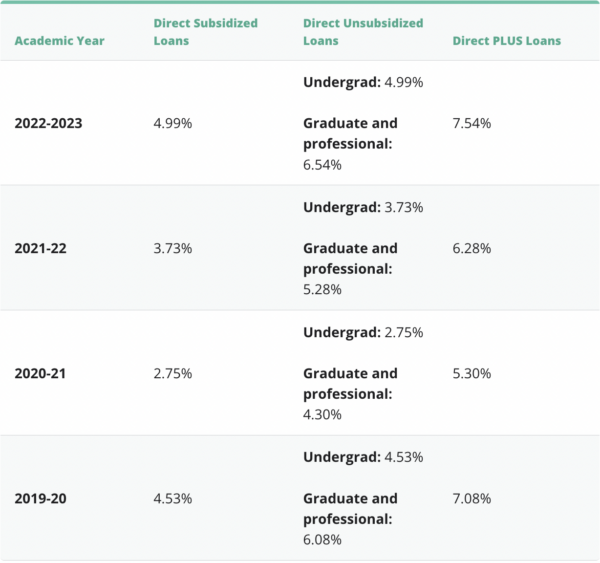 Tip: If you need to borrow for school, it's usually a good idea to take out federal student loans first. This is mainly because these loans come with federal benefits and protections, such as access to income-driven repayment plans and student loan forgiveness programs.
But if you've exhausted your federal loan and other financial aid options — such as scholarships and grants — then private student loans could help fill any financial gaps left over.
A rise in interest rates can impact how much you'll pay over the life of a student loan. You can find out how much you'll owe over the life of your federal or private student loans using Credible's student loan calculator.
Need a student loan?
Compare rates without affecting your credit score. 100% free!

How federal rate changes affect your student loans
The new federal rates will apply to Direct Loans disbursed on or after July 1, 2022, and before July 1, 2023. If you already have federal student loans, your current interest rates likely won't be affected by this change.
Keep in mind: How much interest you'll actually pay on your federal student loans is determined not only by your interest rate but also by the type of federal loan you have.
The government covers the interest on Direct Subsidized Loans while you're in school. But if you have Direct Unsubsidized Loans or Direct PLUS Loans, you're responsible for all of the interest that accrues on them.
Private student loan interest rates for the 2022-2023 school year
Here are the interest rates you can expect on private student loans from Credible's partner lenders:
Fixed rates from (APR): 3.2%+
Variable rates from (APR): 1.13%+
Interest rates for long-term private student loans have fallen since last year while short-term rates have risen. As of April 2022, the average student loan interest rates for borrowers who had credit scores of 720 or higher and who used Credible to take out a private loan were:
5.64% for a 10-year fixed-rate loan, down from 6.06% a year ago
4.33% for a 5-year variable-rate loan, up from 3.44% last year
Tip: If you have excellent credit, you might qualify for a lower interest rate on a private student loan compared to what you'd get with a Direct PLUS Loan. Just keep in mind that private loans don't come with federal benefits and protections.
If you decide to take out a private student loan, be sure to consider as many lenders as possible to find the right loan for you. Credible makes this easy — you can compare your prequalified rates from Credible partner lenders in two minutes.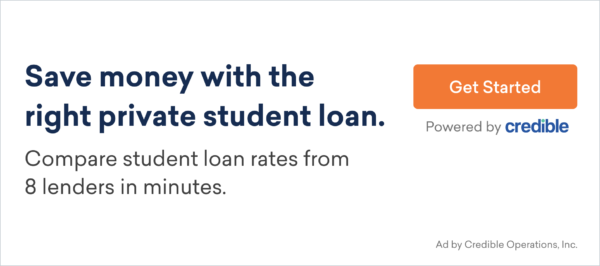 How interest is calculated on private student loans
Unlike federal loans, private student loan rates aren't set by the government. Instead, these rates are determined by individual lenders based on current market rates.
Your credit score will also affect the kind of rates you get approved for — in general, the better your credit, the lower your rate.
If you'd like to qualify for a lower interest rate, here are a couple of options to consider:
Build your credit: If you can wait to take out a private student loan, you could consider working to improve your credit before you apply to get a better interest rate in the future. There are several ways to potentially boost your credit, such as making on-time payments on all of your bills or becoming an authorized user on a credit card account owned by someone you trust.
Apply with a cosigner: Having a creditworthy cosigner can improve your chances of getting approved for a private student loan if you have bad credit. Even if you don't need a cosigner to qualify, having one could get you a lower interest rate than you'd get on your own.
COVID-19 and student loans
Here's how the COVID-19 pandemic has affected student loans:
Federal student loans: Due to the pandemic, federal student loan payments and interest accrual have been suspended by the CARES Act until August 31, 2022. If you need to take out a new federal loan, the process has remained the same.
Private student loans: Unfortunately, private student loans don't qualify for CARES Act benefits. However, many private lenders are offering various forms of assistance to borrowers impacted by the pandemic, such as deferment and forbearance options — be sure to reach out to your lender to see what options might be available to you. Like with federal loans, the process for taking out a new private student loan during the COVID-19 pandemic has remained unchanged.
How the new federal loan rates impact existing student loans
Here's how you can expect the new federal student loan rates to affect existing loans:
Fixed-rate loans: If you have fixed-rate federal loans, your rates will remain the same over the life of your loan. This also means your payments won't ever change unless you sign up for a different repayment plan.
Variable-rate loans: While new federal student loans come with fixed rates, you might have variable-rate federal loans if you borrowed before June 1, 2006. Unlike fixed rates, variable rates can fluctuate depending on market conditions — which means your rate might change in the future. If you have questions regarding your variable rate, you'll need to contact your loan servicer for details.
If you have excellent credit, you might be able to get a lower interest rate by refinancing your federal student loans. This could save you money on interest and even help you pay off your loan faster. You also have the option to switch from a variable rate to a fixed rate — or vice versa — through refinancing.
However, while you can refinance both federal and private student loans, refinancing federal student loans will cost you your federal benefits and protections — so be sure to weigh your options carefully.
Keep in mind: Refinancing federal student loans into a private loan will also make you ineligible for the administrative forbearance under the CARES Act due to the pandemic.
If you're thinking about refinancing federal loans, it's likely a good idea to wait until after August 31, 2022.
Does refinancing make sense for you?
Compare offers from top refinancing lenders to determine your actual savings.
---
About the author: Taylor Medine is a Certified Financial Education Instructor and finance writer with over seven years of experience writing books, courses, guides, and articles that demystify personal finance topics, such as how to repay debt, build credit, shop for credit cards, and more.