Our goal is to give you the tools and confidence you need to improve your finances. Although we receive compensation from our partner lenders, whom we will always identify, all opinions are our own. Credible Operations, Inc. NMLS # 1681276, is referred to here as "Credible."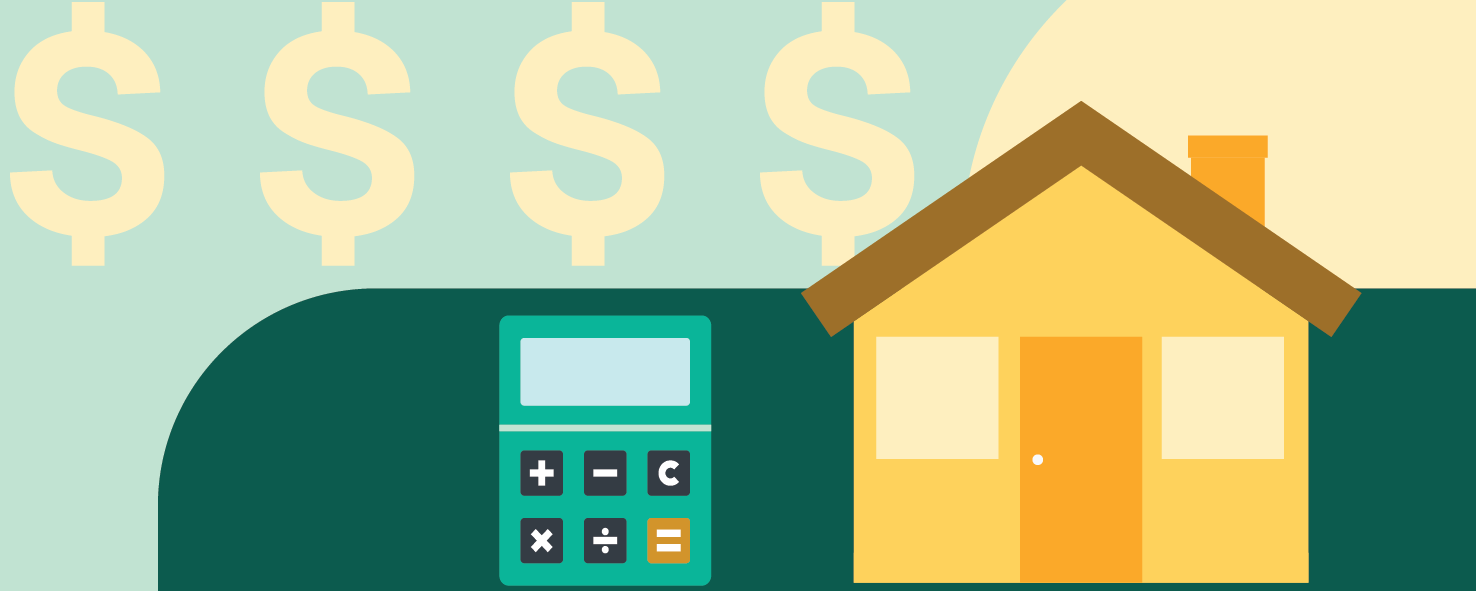 Credible Operations, Inc. NMLS# 1681276, "Credible." Not available in all states. www.nmlsconsumeraccess.org.
This article first appeared on the Credible blog.
If you're wondering how much it cost to buy a house, you're not alone. This guide can help you get started on preparing your savings account and your monthly budget for buying a new home. Here's a breakdown of both the upfront costs of buying a house and the recurring costs of homeownership.
Credible makes it easy to compare mortgage rates from multiple lenders in minutes. It's 100% free and seeing your rates won't affect your credit.

Median cost to buy a home in the U.S.
When you're thinking of getting a mortgage to buy a home, the first cost that you have to consider is the home's price. As of February 2022, the median sale price across the nation was $388,535, which is a 15.8% increase from this time last year, according to data from Redfin. And nearly half of the homes sold in February 2022 closed above their list price.
Upfront costs of buying a home
Beyond the home price, there's a significant upfront cost to buying a home. In order to make saving toward that expense a little easier, here's a breakdown of the most common upfront costs that you'll need to take into account when you're ready to become a homeowner.
1. Down payment
First, there's your down payment to consider. Your down payment is the portion of the sale price that you'll be expected to pay upfront when buying a home. The remainder of the sale price will be financed by your mortgage. As a general rule, the more money you can put down, the better. But here are the most common loan programs with their minimum down payment requirement:
Conventional loan: 3%
FHA loan: 3.5%
VA loan: 0%
USDA loan: 0%
Jumbo loan: 10% to 20%

2. Closing costs
In real estate, closing costs are any fees required to close on a home. While coverage of these fees can be negotiated as part of your offer, they're typically split between the buyer and the seller. Closing costs you'll need to cover as the buyer usually add up to about 2% to 5% of the home's purchase price.
The exact closing costs that you'll be charged will depend on your unique transaction. However, as the buyer, you'll typically be expected to cover things like the cost of any inspections, the appraisal fee, the cost of a title search and insurance, and a loan origination fee.
To get a better idea of what to expect, ask your lender to work up closing costs for you at a few different price points when you're given your pre-approval letter.

3. Reserves
Many first-time homebuyers are unfamiliar with reserves. While reserves aren't necessarily a cost of buying a home, they do represent money that you need to have in the bank after you pay your down payment and closing costs. Mortgage companies don't want you to deplete your savings after buying a house. Rather, they want to ensure that you still have some money left over, so that you have the ability to make your mortgage payments, even if something happens to your income.
Typically, when you're buying a primary residence, they'll ask to see that you still have at least two months of reserves — or two months worth of mortgage payments left. Depending on your loan program, however, you might need to have even more months set aside.

Recurring costs of owning a home
Once you're done saving for the upfront costs of buying a home, there are the recurring costs of being a homeowner to consider. For the most part, you'll want to make sure that these costs make sense in your monthly budget. However, you should also think about building up an emergency fund to cover one-time costs like maintenance or home improvement projects.
1. Mortgage payments
Your mortgage payment is likely to be your biggest monthly expense. But the amount you can expect to pay will vary widely, depending on the sale price of your home, the size of your down payment, mortgage rates, and which fees are included in your payment. You can see what your estimated monthly payment will be by using a mortgage payment calculator.
The median mortgage payment across the nation is $1,100 per month, according to the latest American Housing Survey by the U.S. Census Bureau. Keep in mind that as with the cost to buy a home, that amount can also change depending on where you live.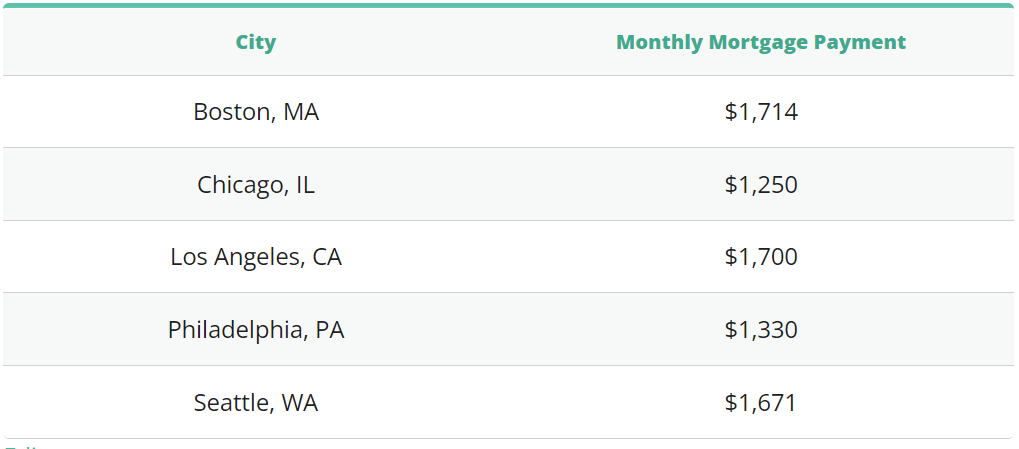 2. Property taxes
The amount you pay in property taxes will depend on the state and county where your home is. Real estate property taxes are paid annually and usually between 0% and 2.5% of your home price. Typically, your first property taxes will be collected upfront at closing. Sometimes your mortgage company will collect them for you as part of your monthly mortgage bill. Other times, you're responsible for paying these fees on your own.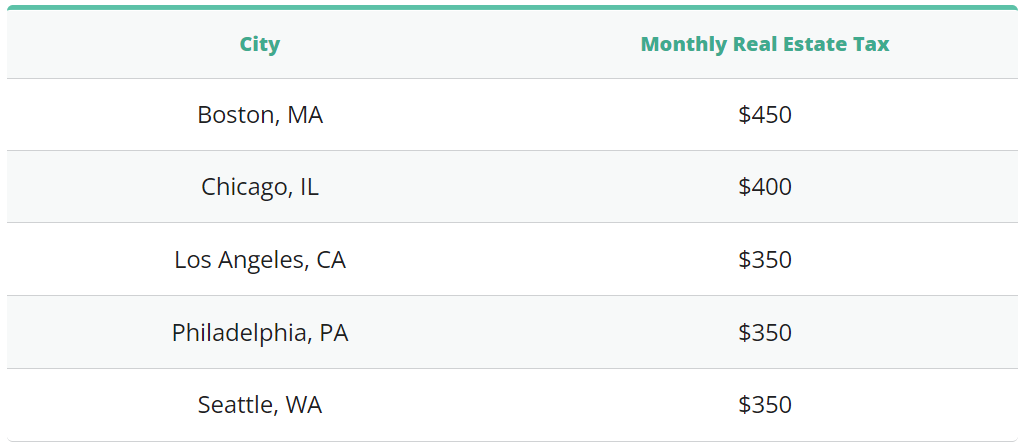 3. Mortgage insurance
If you put down less than 20% in a down payment, lenders will charge you mortgage insurance as a way to minimize their risk of not getting paid back. Though it might sound strange, mortgage insurance isn't meant to protect you. It's actually meant to protect the lender from taking a loss in the event that you default on the loan.
Mortgage insurance is collected either monthly, annually, or monthly and annually. It costs an additional 0.5% to 2% of the loan amount and is usually rolled into your monthly mortgage payment. There are two types of PMI:
Private mortgage insurance (PMI): This type is used with conventional loans and can usually be canceled after you reach 80% loan-to-value, or the equivalent of having made a 20% down payment.
Mortgage Insurance Premium (MIP): This type of mortgage insurance is found on FHA loans. If your loan-to-value ratio is less than or equal to 90%, you'll be required to pay MIP for 11 years. However, if your ratio is greater than 90%, you'll pay MIP for the entire life of the loan.
Credible makes it easy to compare mortgage rates from multiple lenders in minutes.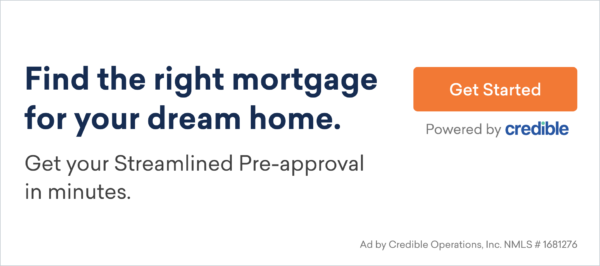 4. Homeowners insurance
Homeowners insurance can help you cover the costs that might occur if any substantial damage happens to your home. Sometimes your mortgage company will also require that you get supplemental insurance policies to cover specific types of damages like a flood or earthquake. On average, homeowners pay $67 per month for their coverage. However, like taxes, the cost of homeowners insurance can also vary by location.
5. HOA fees
If you're planning on buying a home in a planned association or a condo building, you'll probably have to account for an additional fee on top of your mortgage payment. These association or condo fees pay for the upkeep and improvement of common spaces or amenities. Sometimes they also include building-wide utilities.
The average homeowner pays just $62 per month in HOA dues. That said, this fee will vary, depending on where you live and how much of the property is under the care of the association.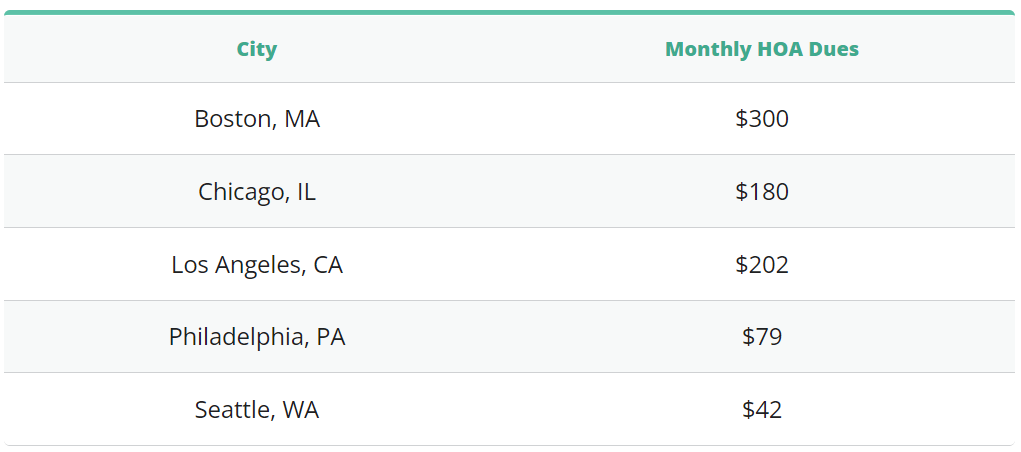 6. Utilities
If you're used to paying rent, you're already used to paying monthly utilities, but you still can't forget to account for these costs. Typically, you can expect to pay for electricity, water, trash collection, and gas (or another type of fuel).
According to the American Housing Survey, the average American spends $202 per month on total utility costs. In this case, the amount that you'll pay will depend on your location and your usage from month to month.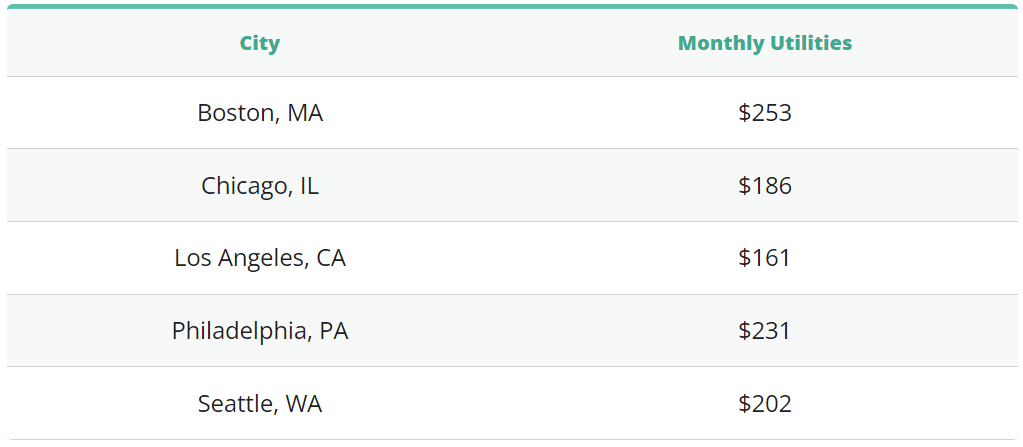 7. Home maintenance
The last cost you'll need to consider is home maintenance. The amount of work your home needs and the type of work required will depend on your individual property. But as a rule of thumb, it's recommended you set aside 1% of your home's value per year to cover home maintenance costs.

Preparing to buy a home
There's no denying that buying a home can get costly. But using the figures in this post as a guide, you can feel more prepared when the time comes. Keep in mind, though, that your costs can be more or less depending on your specific situation.
And if you're ready to take the next step toward homeownership, Credible has you covered. Credible makes it easy for you to compare prequalified mortgage rates in just three minutes without impacting your credit score.

---
About the author: Tara Mastroeni is an authority on real estate. Her work has been featured in Forbes, Fox Business, Business Insider, and more.