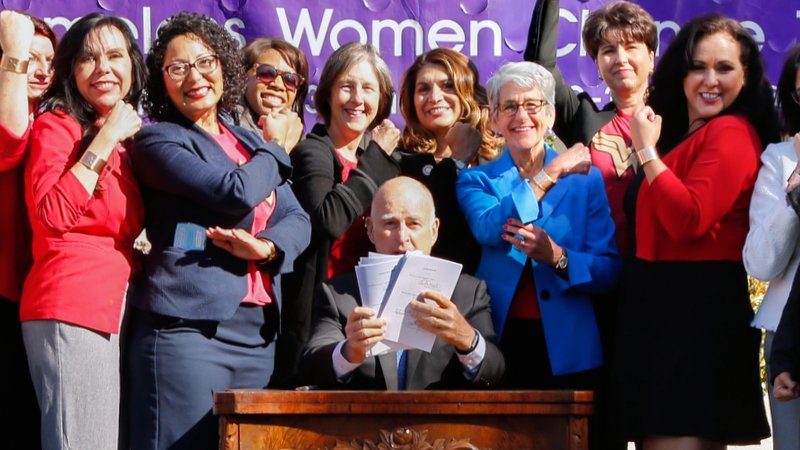 It will soon be illegal for employers to ask you what you've made at your previous jobs when you go to job interviews in four states: California, Delaware, Massachusetts and Oregon.
San Francisco and Philadelphia have also adopted "salary privacy" ordinances, and if you want to work for New York City or the cities of Pittsburgh or New Orleans, you won't be asked about your earnings history.
Supporters of salary privacy laws say they're out to solve a seemingly intractable problem: Despite years of efforts to close the gender pay gap, women still make 80 cents for every dollar earned by men. Even after ruling out potentially confounding factors like race, education, and work experience, 38 percent of the wage gap can't be accounted for.
But critics say the new laws limit the ability of employers to negotiate salaries, and create costly legal liabilities. It's also tricky for companies who do business nationwide to deal with different rules in each state.
Although there's a movement afoot to make salary privacy and other measures aimed at closing the gender pay gap the law of the land, the Republican-controlled Congress has shown little interest to date. So the battle is being fought state-by-state.
Salary history as a starting point for negotiations
The logic behind barring prospective employers from asking what you make is simple: Companies often use applicants' historical earnings as the basis for salary offers. As explained in a backgrounder by the National Women's Law Center, if you've been discriminated against in the past, the resulting dent in your salary baseline may distort your earnings over your entire career.
"The practice of seeking or requiring the salary history of job applicants helps perpetuate wage inequality that has spanned generations of women in the workforce," said California Assemblywoman Susan Talamantes Eggman, a Stockton-based Democrat who sponsored a bill that recently landed the governor's desk.
The gender pay gap is a double whammy for women borrow for college, because women typically take on more student loan debt than men. More debt and lower pay means it can take longer for women pay off their student loans, the American Association of University Women (AAUW) has found.
When California Assembly Bill 168 bill takes effect Jan. 1, 2018, it will not only bar employers from asking a job applicant about their salary history, it will require them to provide prospective employees with the pay scale for the position they are applying for.
Applicants will still be able to share their salary history if they wish, and employers will be able to use that information in determining what compensation to offer.
In other words, Eggman says, California's salary privacy bill "empowers women to determine for themselves where they start negotiating."
A similar bill that will become law in Massachusetts next year has an additional twist: Employers will be banned from telling employees that they can't tell their coworkers how much they make — making it easier to compare notes, and figure out whether they're being discriminated against.
California's Labor Code already includes such language. According to the AAUW, 17 states have laws on the books designed to protect employees who share salary information.
Delaware's salary privacy bill will be the first to be in full effect, on Dec. 14, while Oregon's law gives employers some time to implement procedures that would help them comply.
The Oregon Equal Pay Act protects employers from lawsuits until Jan. 1, 2019, and they won't have to pay out punitive damages if they can demonstrate that they've audit their own compensation practices and fixed problems that are unearthed. Oregon's law also prohibits pay discrimination based on race, color, religion, sexual orientation, national origin, marital status, veteran status, disability or age.
Opposition from business groups
Business groups opposed to California's salary privacy bill included the California Chamber of Commerce, the California Manufacturers and Technology Association, and the California Building Industry Association.
Critics pointed out that the state already has numerous laws on the books aimed at preventing gender discrimination. The California Equal Pay Act — which prohibits employers from paying an employee less than an employee of the opposite sex who does comparable work — dates back to 1949.
Last year, the California Equal Pay Act was amended to specify that salary history can't be used to justify disparity in compensation, and the act was also expanded to prohibit discrimination based on race and ethnicity.
As summarized in a nonpartisan analysis by the California state senate staff, opponents of Eggman's salary privacy bill argued that "there are several legitimate, non-discriminatory reasons" for asking applicants for their salary history. Employers, for example, "do not necessarily have accurate wage information on what the current market is for all potential positions."
Nevertheless, California's salary privacy bill sailed through the state Senate on a 27-10 vote, and won Assembly approval two days later with 57 votes for and 15 against. Assembly Bill 168 and eight other new laws aimed at improving women's rights and services were signed into law on Oct. 12 by California Gov. Jerry Brown.
National movement afoot?
The gender pay gap is an even bigger deal for minority women. According an analysis of Census data by the National Partnership for Women & Families, Black women earn just 63 cents for every dollar paid to white men, with Latinas making 54 cents for every dollar.
Although Asian women as a whole are paid 85 cents for every dollar paid to white men, some ethnic subgroups do better, and others do worse. When the National Asian Pacific American Women's Forum (NAPAWF) crunched Census data, it found Indian, Taiwanese and Chinese women make as much or more than white men, while Filipino, Vietnamese and Cambodian women make considerably less.
In a March report, NAPAWF called for a "comprehensive federal policy" to amend the Equal Pay Act of 1963, requiring regulators to collect data on compensation, hiring, termination and promotion based on gender and ethnicity. The group also called for a federal salary privacy law to "ensure that previous wage discrimination would not be replicated and exacerbated in future job searches and would mitigate employer bias in setting wages."
There's legislation in play that would put many protections for women already adopted by some states in place nationwide. The Paycheck Fairness Act, sponsored by Connecticut Rep. Rosa DeLauro and Sen. Patty Murray of Washington, would:
Protect workers from retaliation for discussing salaries with colleagues
Prohibit employers from screening job applicants based on their salary history, or requiring them to provide their salary history during the interview and hiring process
Require employers to prove that pay disparities exist for legitimate, job-related reasons;
Provide plaintiffs who file gender-based wage discrimination claims under the Equal Pay Act with the same remedies as are available to plaintiffs who file race- or ethnicity-based wage discrimination claims under the Civil Rights Act;
Remove obstacles in the Equal Pay Act to facilitate plaintiffs' participation in class action lawsuits that challenge systemic pay discrimination
Create a negotiation skills training program for women and girls
If the bill sounds familiar, that's because DeLauro has been trying to get it passed for nearly 20 years. Although the House and Senate versions of the bills currently have 243 cosponsors between them, Rep. Chris Smith of New Jersey is the only Republican supporting the Paycheck Fairness Act. With Republicans in firm control of the House and Senate, the legislation stands little chance of coming to a vote.
Battle being fought state-by-state
That means that, for the time being, lawmakers in states where Democrats have the votes push bills through the legislature are mulling whether to follow in the footsteps of California, Delaware, Massachusetts and Oregon.
Democrats control just 14 state legislatures, so the only other states where salary privacy laws might get traction are Washington, Nevada, New Mexico, Illinois, New York, Vermont, Maine, Rhode Island, New Jersey, and Maryland.
Illinois lawmakers recently attempted to amend the state's 2003 Equal Pay Act, passing a bill in May that would have added salary privacy language. The bill, which would have given job applicants 5 years to sue for damages, was vetoed by Republican Gov. Bruce Rauner.
In explaining his veto, Rauner said he "strongly support(s) wage equality," but that Illinois should model any such legislation on Massachusetts' bill, which he called "a best-in-the-country approach." The bill's sponsor, Rep. Anna Moeller, filed a motion to override the governor's veto on Tuesday.
According to the AAUW, 16 states currently have "poor" or no equal pay protections: Alabama, Arizona, Florida, Georgia, Indiana, Kansas, Louisiana, Missouri, Mississippi, Montana, North Carolina, South Carolina, Texas, Utah, Virginia, and Washington.
---