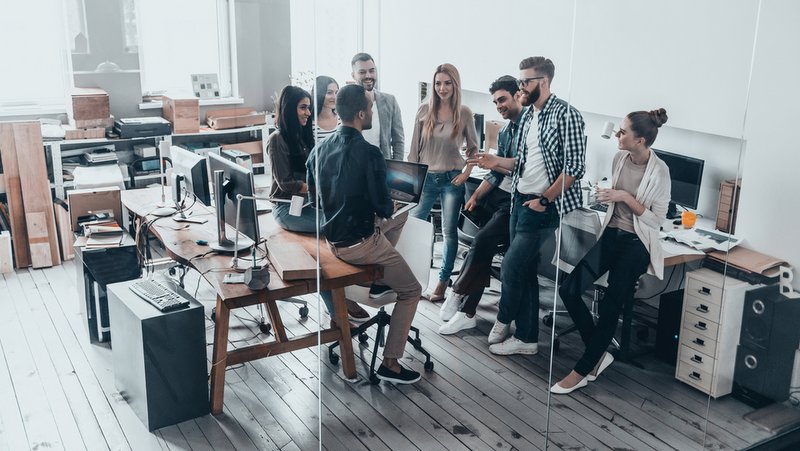 In the first agreement of its kind, fintech lender Upstart will help federal regulators understand how new techniques for evaluating borrowers could make loans more available to underserved populations — including millennials with "thin" credit files.
The Consumer Financial Protection Bureau is interested in learning how alternative data like a borrower's education and employment history could help lenders make better decisions — without discriminating against particular types of borrowers, or putting them at greater risk.
Traditional lenders rely heavily on a borrower's credit history and credit score to decide whether to loan to them. But many borrowers don't have enough information on file with credit bureaus to generate a score.
The CFPB estimates that something like 26 million Americans are "credit invisible" — credit bureaus have no data on them at all — and that the information they have for another 19 million consumers is too old or too sparse to generate a credit score.
The Bureau put out a request for information in February on the potential for lenders to use alternative data to evaluate borrowers. The timeliness of payments on monthly cell phone bills and rent, or electronic transactions such as deposits and withdrawals, could used "to show a track record of meeting obligations that may not turn up in a credit history," the Bureau noted.
"Alternative data from unconventional sources may help consumers who are stuck outside the system build a credit history to access mainstream credit sources," CFPB Director Richard Cordray said at the time. "We want to learn more about whether this non-traditional approach can offer opportunities to millions of Americans who are credit invisible and how to minimize any risks in how this information is used."
Upstart will serve as guinea pig
That Bureau's request for information generated 109 comments from consumer advocates, the lending industry, and the general public.
Now San Carlos, California-based lender Upstart has volunteered to provide the CFPB with a wealth of information on its lending practices, sharing anonymized data that could help the Bureau understand how the company decides which loans to approve and how it minimizes risks to consumers.
In exchange, the CFPB agreed to issue a "no-action" letter that assures the company and its investors that the Bureau has reviewed Upstart's automated process for evaluating borrowers, and found that it does not appear to violate the Equal Credit Opportunity Act.
It was the first no-action letter issued under a program announced three years ago to promote consumer-friendly innovation. Letters are only issued when applicants can demonstrate that a "product holds the promise of substantial consumer benefit."
The Equal Credit Opportunity Act prohibits lenders from discriminating against borrowers on the basis of race, religion, sex, age, color, national origin, marital status, or receipt of public assistance.
One concern the CFPB has voiced is that lenders relying on alternative data might inadvertently discriminate against "certain groups or behaviors in unpredictable ways."
Somebody who's on active military duty might move a lot, for example, "which might give a false impression of personal instability that would affect whether they can get credit."
The CFPB is also studying whether the use of data that might be correlated to a person's race, ethnicity or gender could lead to discrimination, and how to manage such risks.
In its request for a no-action letter, Upstart said it employs "a strong internal compliance management system, with multiple checks and balances, to ensure full compliance with relevant laws and regulations."
Upstart, which provided confidential information to the Bureau to back up its case, said it will continue to conduct fair lending testing "taking corrective action as appropriate" during the three years that the no-action letter remains in effect.
The CFPB was careful to point out that the no-action letter only applies to the Upstart — it's not an endorsement of the fintech approach to lending — and can be revoked at any time.
The fintech approach to lending
To make its case with regulators, Upstart detailed how its underwriting methods can expand the pool of borrowers who can qualify for loans.
Although Upstart said it agrees that traditional credit scores "are a good predictor of the likelihood that a … borrower will repay a loan," it believes lenders "should use other variabes as well."
Traditional lenders expect borrowers to have at least 3 years of credit history, and a "significant percentage of an individual's credit score is based directly on the length of his or her credit history," Upstart said.
Other factors used to calculate credit scores — including payment history, new credit, credit mix, and credit utilization — "also tend to penalize younger borrowers and recent immigrants with fewer accounts, lower credit limits, and fewer years of making payments, " the company said.
Credit score by age, 2003-2015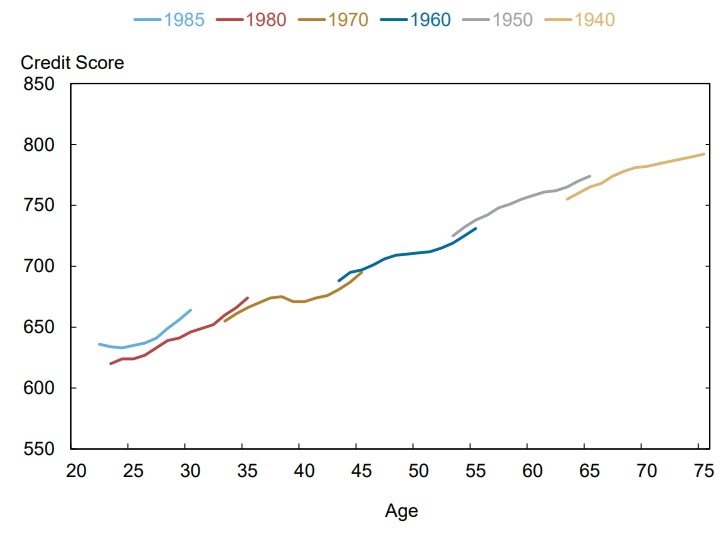 Median Equifax credit scores over time for borrowers in six age groups. The chart above tracks median credit scores of borrowers born in 1985, 1980, 1970, 1960, 1950 and 1940 from 2003-2015. Source: "The Graying of American Debt," New York Fed Consumer Credit Panel / Equifax.
While borrowers taking out loans from large lenders have almost 20 years of credit history, on average, the typical borrower taking out a loan through Upstart is only 28 years old.
Upstart says it can serve younger borrowers because in addition to credit score, it can factor in employment and educational information such as the school attended and degree obtained. This information is plugged into a statistical model of the borrower's "financial capacity and personal propensity to repay," the company said.
Fintech lenders like Upstart are not only embracing alternative data, but employing machine learning to improve the models they use to evaluate borrowers.
Upstart said it tracks approval rates, utilization rates, and loan performance, allowing it to improve its underwriting methodology. The percentage of Upstart applicants who qualify for credit has more than doubled since 2014, the company said, while loss rates have remained consistent. In July 2016, Upstart decided it could reduce its minimum FICO score by 20 points, to 620, and make loans to borrowers who'd declared bankruptcy, as long as it was more than three years ago.
Upstart told the CFPB that it's not only able to approve borrowers that would be rejected by other lenders — it can often offer them better rates.
Running a random sample of borrowers who received loans through Upstart between 2014-2016 through a model intended to simulate underwriting employed by traditional lenders, Upstart found those borrowers would have been stuck with much higher interest rates — 25.3 percent, on average, compared to 16.7 percent through Upstart.
Regulators will be keeping an eye out for any potential risks to consumers posed by Upstart's automated process — whether borrowers are allowed to take out loans that are too risky, for example.
"The potential consumer risks associated with Upstart's loans include the risks associated with any loan product," Upstart acknowledged. Although all lenders to their best to determine the borrower's ability to repay, some "will inevitably default on a loan offered through Upstart. In turn, this default may leave the borrower worse off than that borrower would have been had they never obtained a loan."
Upstart also acknowledged that its underwriting model "may not be equally predictive across all demographic groups. In particular, the benefits offered by Upstart's model to thin file applicants at the start of their financial lives, by forecasting their future ability to repay, may not be as useful for older borrowers at a later point in their financial lives."
Upstart assured the CFPB that it "will continue to evaluate whether its underwriting model provides expanded access to credit to traditionally disadvantaged groups. On a routine basis, Upstart will compare applicant outcomes from its underwriting model against outcomes that would result under a model without nontraditional variables. This will include an analysis of any different outcomes for specific applicant groups, including groups defined by race/ethnicity, sex, age, income, credit history, educational background, and other non-credit based variables."
---