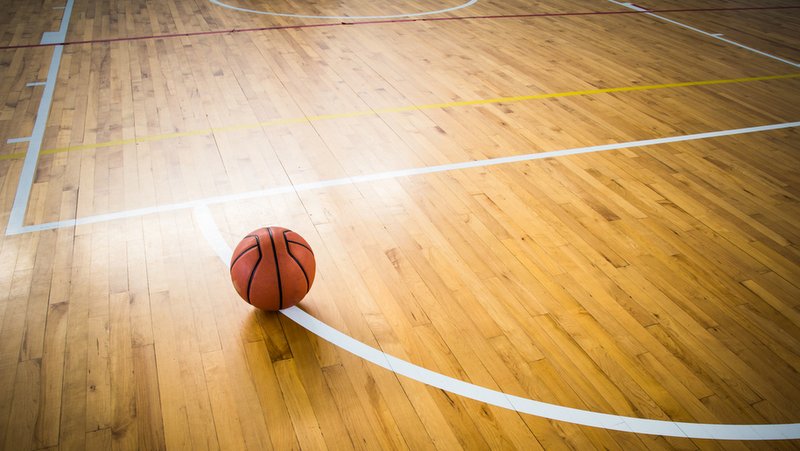 With only 2 percent going on to the pros, the ultimate measure of success or failure for most college athletes is whether they're able to turn their athletic scholarship into a diploma.
But the next time you turn on the TV and see an African-American college athlete driving to the basket or emerging from the huddle to take a snap, consider this at the commercial break: Nearly half of black male student-athletes recruited by powerhouse sports programs around the U.S. fail to graduate within six years of starting college.
It's a well-known problem that's been extensively studied over the years. While many schools have made headway, some big-time programs like Ohio State University and the University of Georgia have seen significant drops in black male student graduation rates in the last two years.
Those are some of the findings from the latest edition of an ongoing study of graduation outcomes at 65 NCAA Division 1 schools that are members of the "Power 5" conferences — the ACC, Big Ten, Big 12, Pac-12, and SEC.

While 76 percent of undergraduates and 69 percent of student-athletes at Power 5 colleges graduated within six years, the graduation rate for black male student-athletes was significantly lower from 2013-2016 — 55 percent.
Although some schools do better, few have been able to eliminate the gap in graduation rates between black male athletes and undergraduates overall.
Duke, for example, deserves praise for graduating 81 percent of black male student-athletes, said the report's author, Professor Shaun R. Harper, the executive director of the USC Race and Equity Center. But the school's administrators and coaches are still on the hook for a 14-point gap between black male athletes and undergraduates, he said.
Black male student-athletes and their families should "resist the seductive lure of choosing a university because it appears to be a promising gateway to careers in professional sports," Harper said. Instead, they should ask, "What is the graduation rate for black men on your team?"
That's good advice for any student-athlete — colleges and universities give out more than $3 billion in athletic scholarships each year, but most awards are not a "full ride" — they cover only a portion of college expenses.
Power 5 colleges with highest graduation rates for black male athletes
Northwestern University (88 percent)
Vanderbilt University (86 percent)
University of Notre Dame (86 percent)
Stanford University (82 percent)
Duke University (81 percent)
Georgia Institute of Technology (70 percent)
University of Michigan (67 percent)
Wake Forest University (67 percent)
University of Louisville (65 percent)
University of Virginia (65 percent)
Clemson University (65 percent)
University of Utah (64 percent)
University of Miami (64 percent)
Power 5 colleges with lowest graduation rates for black male athletes
Louisiana State University (34 percent)
University of Georgia (36 percent)
University of Florida (37 percent)
Oklahoma State University (38 percent)
University of California, Berkeley (39 percent)
University of Iowa (40 percent)
University of Arkansas (40 percent)
University of Kentucky (41 percent)
Ohio State University (41 percent)
University of North Carolina (43 percent)
Kansas State University (44 percent)
Iowa State University (44 percent)
University of Mississippi (45 percent)
Looking at the more than 170,000 student-athletes at close to 350 Division I schools nationwide, black male student-athletes graduate at higher rates than black undergraduates overall — a fact that the NCAA has publicized in TV ads.
Harper says his research is focused on the 65 colleges that are members of the "Power 5" conferences because their sports programs are the most lucrative. The ACC, Big Ten, Big 12, Pac-12, and SEC field the championship teams that dominate television ratings and claim the lion's share of invitations to Division I college football bowl games and basketball tournaments that generate millions in TV revenue.
What really grates on Harper is that while those colleges go to great lengths to recruit African-American athletes to star on their sports teams, there are a "disgracefully small number of black male students" elsewhere on campus.
While Power 5 programs rely on black male athletes to fill more than half of the roster spots on their football and basketball teams, African American men represent just 2.4 percent of undergraduates at those schools.
"These are campuses on which admissions officers and others often maintain that academically qualified black men cannot be found," Harper laments. "Yet their football and basketball teams are overwhelmingly comprised of black male student-athletes."
It's simply "astonishing" to Harper that the American public continues to "accept as normal the widespread racial inequities that are cyclically reproduced in most revenue-generating college sports programs."
Harper's recommendations include:
Create an NCAA commission on racial equity to produce and respond to research reports that segment data by race, sex, sport, and athletic division.
Impose sanctions that take into account not only graduation rates for teams, but racial trends for teams — "Teams that sustain racial inequities should not be rewarded with opportunities to play for NCAA championships."
Allocate a portion of the revenue generated by sports to fund initiatives that improve racial equity, within and beyond sports programs. College admissions officers, for example, could be given resources to help them proactively recruit more black male students who are not athletes, in the same way that coaches and scouts recruit athletes.
Athletic departments should develop "comprehensive and actionable" strategies for narrowing racial gaps in graduation rates and other academic success indicators including grade point averages.
---