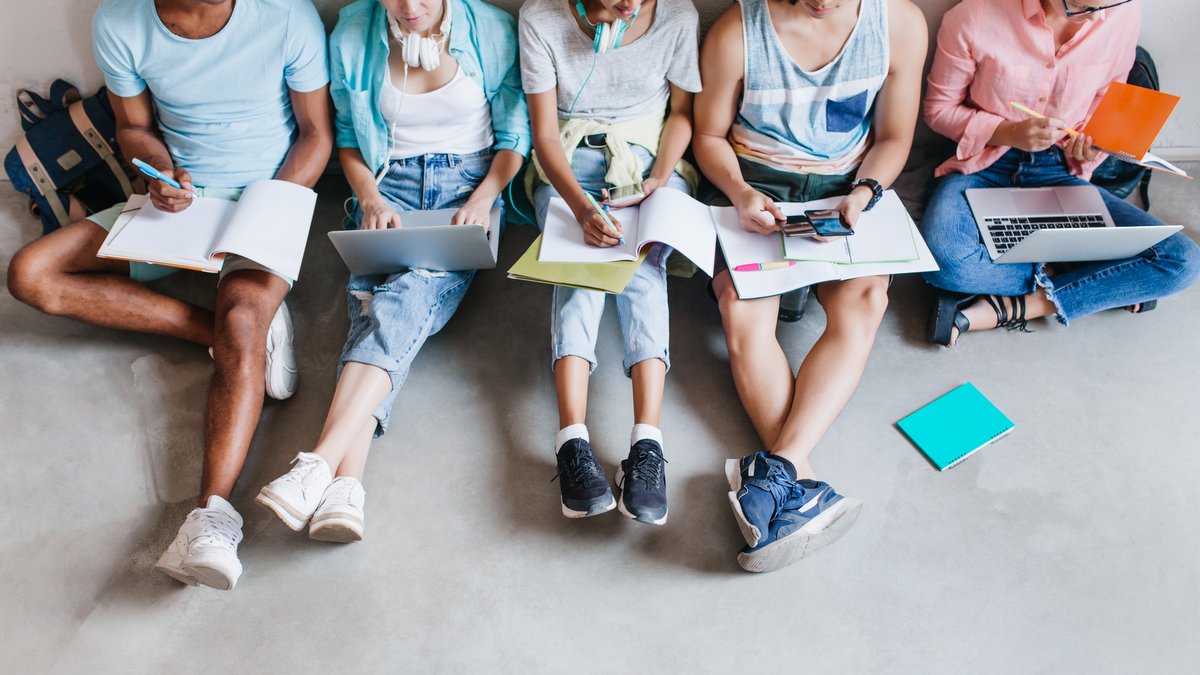 Once they've taken care of their tuition, there's nothing more stressful to college students than the cost of textbooks and course materials, according to a recent survey by Cengage, a Boston-based provider of eBooks, textbooks and digital learning materials.
It's no wonder. Not only are textbooks one of the fastest-rising components of the cost of a college degree, but students now face a bewildering number of options for obtaining them.
But those choices can produce some big savings for students who know how to negotiate them, and a new wave of open-source textbooks with permissive copyrights are already helping slash costs for students taking required introductory courses.
Although textbooks and course materials are a legitimate use for student loans, there's no reason to borrow more than you need to. For students headed to college this fall, key takeaways from the latest trends include:
Students can benefit by using websites to compare the cost of buying and reselling new or used textbooks to renting course materials or obtaining access to them through a subscription model.
While course materials are often sold as pricey "bundles" with password-protected extras like tutorials and quizzes, publishers are required by law to offer all components of a bundle for sale individually.
Because it's teachers who choose course materials, students can help keep costs in check by objecting to bundling, and requesting that teachers opt for open textbooks with public copyrights when quality alternatives are available.
Buy, rent or subscribe?
Textbooks are often available in print and digital formats, new or used. Students who want to reduce their initial outlay often have the option of renting books — although they may end up paying more in the end than a student who buys a textbook and sells it when they're done.
A growing number of students now have the option of paying for a bucket of course materials for the semester or year through subscription models that have been compared to "Netflix for textbooks."
No matter how students pay for their course materials, the fact is that over the last decade, textbook prices have risen at more than four times the rate of inflation.

According to the latest numbers from the National Center for Education Statistics, students attending 4-year colleges must now budget about $1,263 a year for books and supplies.
While the cost of textbooks and course materials has been rising faster than college tuition and fees, the growing popularity of open-source digital course materials with public copyrights — known as open educational resources (OER) — has the potential to keep costs in check.
Paper or digital?
The first dilemma facing many students shopping for textbooks is often whether to pick up traditional paper or digital versions of course materials.
Although Ebooks are cheaper to produce and have fewer environmental impacts than printed course materials, many students find paper books to be easier to navigate and digest.
Whether you prefer printed or digital course materials can factor into the decision to buy, rent or subscribe. According to CampusBook.com, a textbook price comparison website, purchasing hardcover textbooks can still be the best deal, because they're easily resold.
If you'd rather rent, you'll often have a choice of printed or digital course materials. Last year, Pearson began making some of its most popular textbooks available for rent through Chegg in both print and electronic versions.
CampusBooks, which offers a "Buy vs. Rent" price prediction tool to help students get an idea of how much they might be able to resell a textbook for when they're done with it, estimates that rentals have grown to a 20 percent share of the textbook market.
But while renting course materials can help students keep their upfront costs down, there's no opportunity to recoup their costs on the backend.
"Rentals might be the cheapest but they don't help pay off student loans," because they can't be resold, said CampusBooks CEO Alex Neal.
Other popular comparison services that scour websites like Amazon, AbeBooks and Chegg for deals on textbooks include textsurf, bigwords, and BookFinder.com.
Cengage, which also lets students compare the cost of buying versus renting the course materials it produces, recently introduced a new subscription model that gives students access to all of the company's digital course materials for a semester or year.
The service costs $119.99 a semester or $179.99 a year, potentially saving students half of what they'd otherwise pay, the company says (course materials not provided by Cengage are not included).
"The best way to think of this is like a Netflix or Hulu for textbooks: for a flat fee, students get every educational product created by the largest academic publisher in the United States, all at their fingertips, on their tablets, computer, or smart phone instantly," said Will Austin, president of New Jersey-based Warren County Community College.
You don't HAVE to buy that bundle
One problem that can arise for students when buying and selling used textbooks is that publishers often bundle them with access codes that unlock extras like tutorials, quizzes and homework assignments. Because the access codes can only be used once, a used textbook is of limited value for many courses.
According to a recent report by the US Public Interest Research Group (US PIRG), publishers are most likely to bundle access codes with textbooks for introductory core classes that freshmen and sophomores are required to take for their degrees.
US PIRG found that 38 percent of the core courses it studied at 40 public and private nonprofit colleges used course materials with access codes, and that the codes were sold in a bundle 94 percent of the time.
"When publishers bundle a textbook with an access code, it eliminates most opportunities for students to cut costs with the used book market," the report said. "Of the access code bundles in our sample, forty-five percent — nearly half — were unavailable from any other source we could find except the campus bookstore."
Congress mandated a decade ago that publishers "unbundle" course materials by offering textbooks and related materials like or workbooks, lab activities, and study guides for sale individually.
So in theory, at least, students can't be forced to buy bundled course materials. But it can be hard for them to track each component down.
Some bundles are unique to an individual campus, US PIRG said, because professors assign "custom book" editions, or campus bookstores don't give students enough information to buy all the components separately.
When bundles were unique to an individual campus, US PIRG found the average price was $157. While the average cost of a new, unbundled textbook was $134 at the campus bookstore, the same book could be found used online for $56 — a 58 percent savings.
"The practice of bundling textbooks with access codes essentially locks students in to paying full price," US PIRG concluded. "When faculty choose not to use a bundled access code the costs not only drop, but students can seek out more affordable used options instead."
The National Association of College Stores took issue with several aspects of US PIRG's report, saying college stores "provide students with a number of low-cost options for acquiring course materials," not acknowledged in the report.
"In addition to offering alternative pricing and format options in-store, many college stores offer price comparisons that allows students to shop for the best price or take advantage of price match guarantees with local and online sellers, including Amazon," the trade association said.
The Southwest Oregon Community College Bookstore, for example, offers used rentals and provides students with pricing from online sellers who are active on websites including Amazon, eBay, Abe Books, and Valore Books, the group said.
Open-source textbooks drive down costs
According to US PIRG, one of the most promising avenues for keeping the cost of textbooks and other course materials in check are "open textbooks" and other educational resources like video tutorials and workbooks with permissive licensing that allow them to be freely redistributed.
If all students taking the ten introductory core classes studied by US PIRG could take advantage of open textbooks, they'd save $1.5 billion a year, the group said (the National Association of College Stores dismissed that estimate as "irresponsible and overstated," since it assumes all students currently pay the highest price possible).
A survey of more than 2,700 college teaching faculty by Babson Survey Research Group suggests that adoption of "open educational resources," or OER, is about to take off.
Adoption of open-licensed textbooks nearly doubled in the 2016-17 academic year, to 9 percent, Babson researchers reported. Adoption rates were even higher among faculty teaching introductory-level classes with large enrollments.
OpenStax, a nonprofit "OER" publisher based at Rice University, now has a 16.5 percent adoption rate among this subset of teachers that "rivals that of most commercial textbooks," Babson analysts said.
Faculty choosing OpenStax textbooks said their students paid an average of $31 for course materials, compared to $125 for those who went with textbooks from other publishers.
In addition to providing a cost advantage, OpenStax has been successful in meeting teacher demand for supplementary materials like tests, quizzes and homework provided by commercial publishers, and by making printed editions available to students through their campus bookstore, the report said.
But it remains to be seen if open textbooks will catch on with faculty teaching smaller, more specialized courses. Open textbook publishers not only have to expand their catalogs to cover a broader range of subjects in more depth, but convince teachers to use their course materials.
Babson found that open educational resources are only on the radar of about one-third of college faculty members, with 20 percent saying they were "aware" of them and 10 percent "very aware."
Since two-thirds of teachers are the sole decision maker about what course material to provide, and one-fifth participate in group decisions, more widespread adoption of open textbooks hinges on raising faculty awareness.
Textbook prices have also captured the attention of politicians, with Congress appropriating $5 million in the federal government's 2018 budget in support of open textbooks. California, Colorado, Georgia, New York and Maryland are among states providing resources at their public colleges and universities.
For a list of initiatives and pending legislation in other states, see the OER State Policy Tracker maintained by SPARC (the Scholarly Publishing and Academic Resources Coalition).
Further reading
---