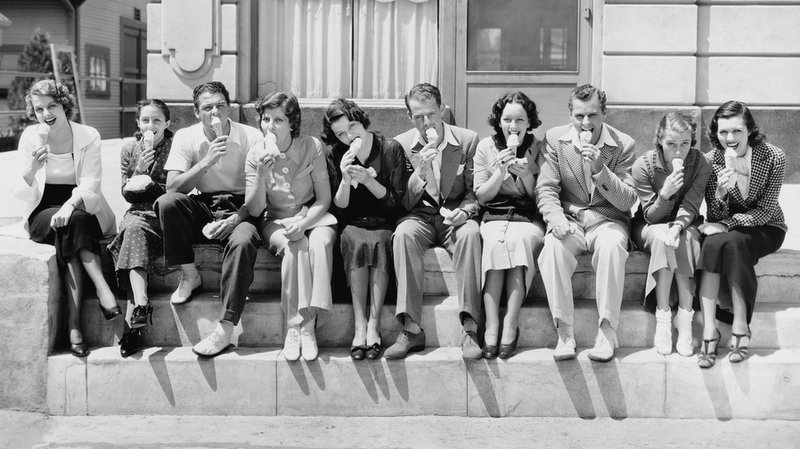 Students from low-income families are eight times less likely to earn a bachelor's degree than their wealthier peers, and the college financial aid system is part of the problem.
That's according to a new report from the Jack Kent Cooke Foundation, "Making College Affordable," which outlines 11 changes colleges and universities should make to improve the odds of success for low-income students.
Even low-income students who excel in high school and ace their standardized admissions tests are less likely to go on and obtain a degree than low-achieving students from wealthy families — a problem that's been dubbed the "excellence gap."
"Students' success in higher education should be decided by their talent and hard work, it should not depend on their families' incomes," said Harold Levy, executive director of the Cooke Foundation, in announcing the release of the report. "When colleges are inaccessible to students with financial need, those students are cheated out of an education, and we, as a society, lose out on their talent and contributions."
Providing low-income students and their families with better information about how much college will cost and how to pay for it would get more to attend college. But after they're admitted, students need resources to stay on track and complete their degree, the report said.
"Once enrolled in college, low-income students are more likely to leave without obtaining a degree," the report noted. "Insufficient funds to meet basic needs and the requirement to work while in school contribute to the increased rate of attrition."
Previous studies have shown that a college degree can provide a boost in earnings that makes debt students take on more manageable. But students who drop out of college or don't obtain skills valued by employers often struggle to repay their loans.
A report released in October by the think tank New America concluded that close to two-thirds of selective public universities have reduced the share of students they enrolled from the bottom 40 percent of the income scale since the 1990s.
New America's "Moving on Up?" report warned that, as a result of this trend, low-income students are more likely to end up at "colleges with the least resources, be they community colleges, regional state schools, or nonselective or barely selective private nonprofit colleges. These schools, as well as for-profit colleges that also enroll a substantial share of low-income students, generally have the worst outcomes, giving these students far less chance of succeeding than their wealthier counterparts have."
Share of low-income students served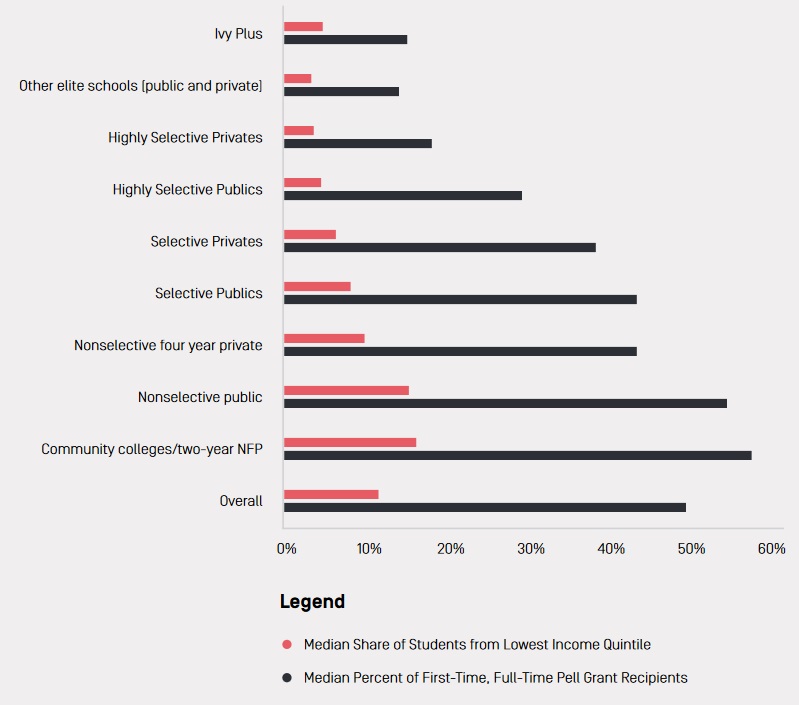 Source: "Moving on Up? What a Groundbreaking Study Tells Us about Access, Success, and Mobility in Higher Ed." New America analysis of The Equality of Opportunity Project's Mobility Report Cards.
Improving college access
"Making College Affordable" includes six recommendations for improving college access for low-income students.
Educate students about financial aid
The cost of college can make it seem unattainable for low-income students, and they are more likely to give up on the idea of going because of "perceived financial constraints," the report noted. If they know how and where to get financial aid, they're more likely to go to college and make smart decisions about financing it.
"Schools should encourage or require students to meet with a financial aid adviser before signing off on financial aid packages to ensure students understand their packages and make informed financial decisions," the report said.
A recent study by MassMutual found that while only about one in four families expect their child will have to borrow for college, the fact is that most students take on debt in the course of getting a degree.
Standardize financial aid letters so that students can compare offers
Since 2012, the Department of Education has published a "Financial Aid Shopping Sheet" developed in conjunction with the Consumer Financial Protection Bureau. The Shopping Sheet is a standardized form that — if every school actually adopted it — would make it easier for students to compare the financial aid offers they get from schools where they've been accepted. Although more than 3,240 schools had agreed to use the Shopping Sheet as of July 2017, many provide it only to military veterans.
Provide better estimates of living expenses
Although it's fairly straightforward to estimate what students will pay to live in dorms or other university-provided housing, off-campus living expenses can present a bigger challenge. Something like one-third of colleges underestimate living expenses — often because they rely on surveys of students that may understate expenses.
Restore need-based grants
Two decades ago, most of the grant funding provided by colleges and universities was "need-based" — it went to students who might not be able to attend college without it. A shift to merit-based aid has meant that a lot of that money goes to students who can afford to pay for college.
"In other words, wealthier students may be getting more aid than they need, while low-income students are unable to meet even their minimum financial requirements," the report noted.
Don't penalize students who receive private scholarships
Many colleges and universities reduce grant funding if students receive private scholarships, limiting the benefit of those scholarships for low-income students. "Scholarships should supplement institutional aid, rather than supplant it," the report said.
Cram down textbook prices
Textbooks cost 73 percent more than they did 10 years ago, and a single book can cost more than $200. The report recommended that administrators and teachers look for opportunities to use open-licensed educational materials or open textbooks.
Getting the degree
There are five recommendations in "Making College Affordable" for improving college completion rates for low-income students.
Make financial aid eligibility requirements clear
The main reason students lose their eligibility for financial aid is because they fail to demonstrate "satisfactory academic progress" — their grades fall short, or they haven't earned enough credits at the end of each year they're enrolled. The requirements vary from school to school, and students don't always understand exactly what is required of them.
Schools should provide this information in the same envelope as a student's financial aid award letter, the report said, and provide ongoing reminders of requirements and deadlines — text messages are particularly effective. Students should be reminded that the Free Application for Federal Student Aid (FAFSA) form must be completed annually if they are to continue receiving need-based aid.
Provide students with a four-year estimate of expected costs
While schools may not know exactly how much tuition will increase while a student is enrolled, they should provide projections of potential increases to help students make informed decisions and budget for the entire four to six years they'll be in school.
Make a commitment to maintain grant levels
Researchers have found grant funding tends to decline as students get closer to graduation. Private universities provide $1,000 less in grant funding to seniors than freshman, the report noted.
"Unexpected losses in grant funds can potentially interfere with a student's educational progress, particularly when loss of grants are coupled with increases in tuition and fees," its authors said. "Schools should seek to maintain grant funds throughout the course of a student's academic program, provided the student maintains minimum academic standards."
Provide access to emergency aid
Emergency aid programs can help students stay in school by helping them weather difficult times when they may be having trouble covering basic necessities like housing and food.
Integrate financial aid, social services
College financial aid offices should be able to connect students to social services programs that they may qualify for, such as the Supplemental Nutrition Assistance Program (SNAP); Women, Infants, and Children Program (WIC), and the Earned Income Tax Credit (EITC).
Schools that are paving the way
"Helping low-income students pay for college and increasing students' financial literacy takes more than just a financial aid check," the report concludes. "It requires a commitment on the part of university administration and faculty members to consider both large and small financial obstacles standing in students' path and to seek out ways to remove those obstacles."
The report provides examples of colleges and universities that are already instituting "best practices" that could be implemented by other schools. For example:
---