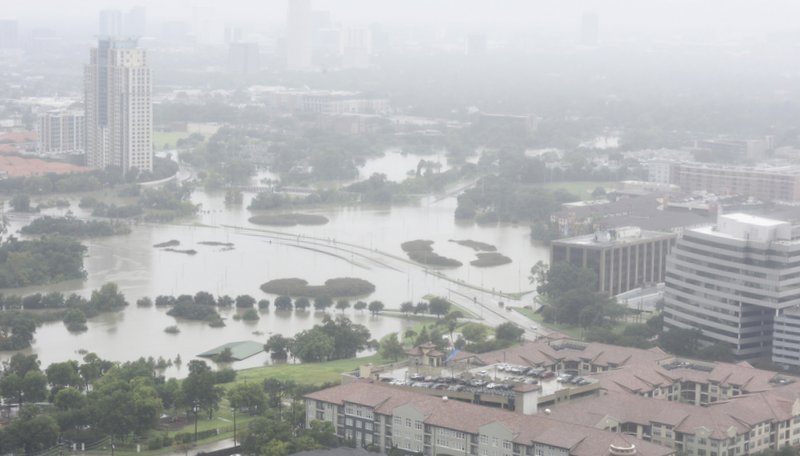 A new pool of $2.7 billion in federal assistance earmarked for students and schools hit by last year's hurricanes and wildfires includes $175 million in aid to be distributed to colleges in affected areas including Texas, Louisiana, Florida, Puerto Rico and California.
Most of the disaster relief funds the Bipartisan Budget Act of 2018 allocates to the Department of Education will be distributed to local school districts, to help them defray expenses associated with getting elementary, middle and high schools up and running again. Aid will also be distributed to school districts that took in students in the aftermath of a series of natural disasters.
Aid for 965 affected colleges and universities
But Congress also authorized a smaller pool of funding to help the 965 colleges and universities affected by Hurricanes Harvey, Irma and Maria, and wildfires that swept through eight California counties last fall.
The Department of Education will distribute up to $100 million in emergency assistance to colleges directly affected by those disasters, and another $75 million to schools that racked up unexpected expenses to enroll displaced students.
The emergency assistance to colleges and universities in the disaster zones can be used for student financial assistance, to pay faculty and staff, and to purchase equipment, student supplies and instruments. Schools won't be required to provide matching funds.
"The long road to recovery continues, but these funds should provide vital support to schools and institutions to help them return to their full capabilities as quickly and effectively as possible," Secretary of Education Betsy DeVos said in announcing the launch of programs funded by the aid. "I continue to be inspired every day by the dedication shown by educators, administrators and local leaders to getting students' lives back to normal."
Back-to-back natural disasters
Hurricanes Harvey, Irma and Maria swept through the Southeast U.S. and the Caribbean in rapid succession in August and September, leaving massive destruction from winds and flooding in their wake. Then dry weather and high winds fueled California wildfires that displaced thousands.
In Texas alone, the Federal Emergency Management Agency approved more than 370,000 applications for help after Harvey struck, awarding $1.56 billion in assistance to individuals and households, and another $625 million in public assistance grants.
In Florida, FEMA has approved $990 million in assistance to more than 772,000 applicants to help the recovery from Hurricane Irma.
More than 430,000 individual assistance applications totaling $1.05 billion have been approved in Puerto Rico, with another $558.4 million in public assistance grants.
The wildfires that raged in California last October generated more than $15.3 million in federal assistance to 4,458 individuals, and $210 million in public assistance grants.
Although many colleges and universities affected by flooding resumed classes when floodwaters receded, residents of Puerto Rico faced long-term outages of water and power. A number of colleges and universities in Florida are offering in-state tuition to Puerto Rico residents, including Broward College, Miami Dade College, the University of Central Florida and Seminole State College of Florida.
Rights of student loan borrowers
When the federal government declares a natural disaster, students receiving federal student aid to attend a school that's located in an affected area have a number of rights and protections. So do student loan borrowers who have left school, as the Department of Education reminded college financial aid administrators and companies that collect payments on federal student loans in guidance issued after Harvey struck.
Those rights include:
Refunds for students forced to withdraw. If students are forced to withdraw from school because of the storm, the Department of Education "strongly encourages" schools to provide "a full refund of tuition, fees, and other institutional charges, or to provide a credit in a comparable amount against future charges." Schools must return any federal financial aid above and beyond amounts "earned" by the student during the time that they were enrolled.
No impact on Expected Family Contribution. If a student or their family receives disaster relief from a federal or state agency, such as grants or low-interest loans, that money is not supposed to be counted as income in calculating the student's Expected Family Contribution — an important calculation in determining whether students are eligible for need-based financial aid.
Accommodations for struggling students. Schools that are unable to continue to provide programs are "strongly encouraged" to establish written agreements with other schools that would allow their students to continue their studies. If students fail to meet academic progress standards because of the storm, schools can make a finding that because of "special circumstances" the student should be still be considered to be meeting the school's standards, and eligible to continue receiving financial aid.
Forbearance for student loan borrowers. Federal direct student loan borrowers who have already left school and are repaying their loans can apply for administrative forbearance if they're affected by a storm. Forbearance allows borrowers to stop making the monthly payments on their loans for up to 12 months, but interest will continue to accrue.
The office of Federal Student Aid offers further tips and resources for current students and borrowers affected by natural disasters on its website.
---