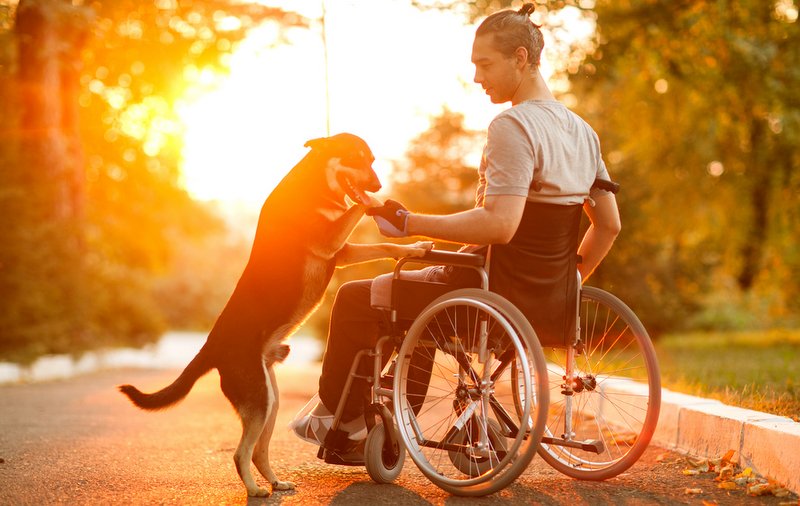 Military veterans and others who become permanently disabled while they're still repaying federal student loan debt will no longer be hit with a tax bill when that debt is forgiven.
That's great news for any disabled borrowers who are granted loan forgiveness in the future. But what about anyone who needed help before Congress changed the rules in December?
The bad news is that the change, part of a massive overhaul of the tax code spelled out by the Tax Cuts and Jobs Act, is not retroactive.
Borrowers whose student loans are forgiven on or after Jan. 1, 2018, due to "total and permanent disability" no longer have to pay federal income taxes on those forgiven loans.
But disabled borrowers who were granted loan forgiveness before that — like retired Army 1st. Lt. Will Milzarski, who was hit with a $70,000 tax bill after having $223,000 in undergraduate and law school debt forgiven — will still have to pay.
Milzarski is an Afghan war veteran whose story helped motivate lawmakers to amend the tax code, according to the Lansing State Journal's Judy Putnam, who has been following his plight.
After the tax waiver on student loan forgiveness granted to disabled borrowers took effect, Milzarski's lawyer offered a partial settlement to the IRS, which it rejected last month.
"It wasn't a real decision made on whether this is fair and just," MIlzarski told the State Journal. "This was made strictly by someone running numbers."
Running the numbers
According to a December, 2016 report by the U.S. Government Accountability Office, the Department of Education forgives about $2 billion in loans owed by disabled borrowers every year — forgiveness that used to taxed as income by the IRS.
Veterans with service-related injuries aren't the only disabled borrowers who can qualify for federal student loan forgiveness. Anyone who's receiving disability benefits from the Social Security Administration, or has been certified as "totally and permanently disabled" by a physician, may qualify.
According to the GAO, more than 213,000 people were approved for total and permanent disability (TPD) discharges in 2014 and 2015 — about 100,000 people a year. The typical (median) amount forgiven in 2015 was $17,500 — money the IRS would have considered taxable income, at the time.
Billions in unclaimed forgiveness
Using a computer matching program to identify borrowers receiving social security disability payments, in 2016 the Department of Education identified another 387,000 borrowers making payments on more than $7 billion in educational debt who appeared to be eligible for loan forgiveness.
Notifications sent to those borrowers alerting them of their eligibility for forgiveness — and warning them of the potential tax consequences — generated a surge in applications, and 19,000 new approvals for loan forgiveness.
But the fact that more borrowers weren't spurred into action suggests that many were either too intimidated by the paperwork to request forgiveness, or afraid of the tax bill that claiming it might generate.
Now that there are no federal tax implications when disabled borrowers are granted loan forgiveness, lawmakers want the Department of Education to automatically wipe out the debt of those who meet eligibility requirements.
To identify eligible veterans, the Department of Education will use a computer matching program to comb the records of the Department of Veterans Affairs — just as it did two years ago with the Social Security Administration.
Although the Department of Education announced in December 2016 that it planned to work with the VA to launch a computer matching program, lawmakers were recently disappointed to learn that the program has yet to get off the ground.
In a Feb. 15 letter to Secretary of Education Betsy DeVos and VA Secretary David Shulkin, eight lawmakers urged the agencies to get moving.
"Veterans who have served our country with honor and sustained a debilitating service-connected disability are still facing the burden of payments on debt that is eligible to be forgiven," the letter said. "Delaying benefits owed to our veterans due to a lack of coordination among federal agencies is unacceptable."
The letter was signed by six U.S. Senators — Chris Coons (D-Delaware), Rob Portman (R-Ohio), Angus King (I-Maine), Susan Collins (R-Maine), Tammy Duckworth (D-Illinois), and Cory Gardner (R-Colorado) — and two members of the House of Representatives: Ron Kind (D-Wisconsin), and Peter Roskam (R-Illinois).
How to win approval for a disability discharge
If there's a silver lining in the lack of coordination between the Department of Education and the VA, it's that many disabled veterans who might have been unaware that they could apply to have their student loans forgiven will now be able to take action without generating a big tax bill.
The VA estimates that there are 800,000 veterans who can't work because of the severity of their service-connected disability. It's unknown how many have student loans.
But there are a number of issues that can derail borrowers who file for a "total and permanent disability" (TPD) discharge — particularly those who aren't veterans.
"Borrowers with disabilities who are eligible for loan discharge may still struggle to get relief from the burden of their student loans," the Consumer Financial Protection Bureau's student loan ombudsman, Seth Frotman, reports. "Borrowers complain to the Bureau about problems related to every stage of the TPD discharge process."
Borrowers who are receiving Social Security disability insurance (SSDI), for example, can prove they are disabled by submitting an award letter indicating that their next scheduled disability review will be five to seven years from their last disability determination.
But it's a little more complicated for older borrowers, whose disability benefits are reclassified as "retirement" benefits when they reach their full retirement age. One solution in such cases is to request a Benefits Planning Query (BPQY) from the Social Security Administration, which documents the history of benefits they've received.
If you're trying to get a doctor to certify you as totally and permanently disabled, you may need to gather opinions from several specialists that are providing treatment to you.
Once you've proved your disability and been approved for forgiveness, the government can still take it away. When the GAO crunched the numbers in 2016, it found that many — if not most — approvals for forgiveness were eventually rescinded, often because borrowers failed to submit annual income verification as required during a three-year monitoring period.
The good news for borrowers who are subject to monitoring is that loan forgiveness is not reported to the IRS until they have completed the three-year monitoring period. So borrowers approved for TPD discharges before Jan. 1, 2018 can still qualify for tax-free forgiveness if they completed their monitoring on or after that date.
Borrowers who are approved for a TPD discharge through a Veterans Administration application are not subject to the monitoring period and annual income verification requirement, so their loan discharges are reported to the IRS in the same year that they're approved.
Keep in mind that your state may still consider loan forgiveness granted through a TPD discharge to be taxable income. The Department of Education suggests checking with your state tax office or a tax professional before you file your state tax return.
The Consumer Financial Protection Bureau offers the following tips to borrowers seeking total and permanent disability (TPD) loan discharges:
Have current proof of your disability from a doctor, the Social Security Administration, or the Veterans Administration.
Apply as soon as you can. If your loans are in default and the government is taking payments out of your social security benefits, those payments will be suspended while your application is under review.
Stay in touch with your loan servicer until your 3-year review period is complete. If you start receiving an income or your disability determination changes, your forgiveness may be revoked and you may be required to repay the balance your loans (does not apply to disabled veterans).
Ask about other options. If you're turned down for a TPD discharge, you may be eligible for another repayment plan. Most federal student loan borrowers are eligible for income-driven repayment plans that can reduce or eliminate the borrower's monthly payment.
Government workers and employees of qualified nonprofits can also qualify for tax-free Public Service Loan Forgiveness after making 10 years of payments. It takes 20 or 25 years for other borrowers to qualify for loan forgiveness in an income-driven repayment program, and the IRS still classifies that type of forgiveness as taxable income.
Editor's note: This story has been updated to note that loan forgiveness granted through a "total and permanent disability" (TPD) discharge supported by SSA documentation or a physician's certification is not reported to the IRS until after a three-year monitoring period is completed.  
---