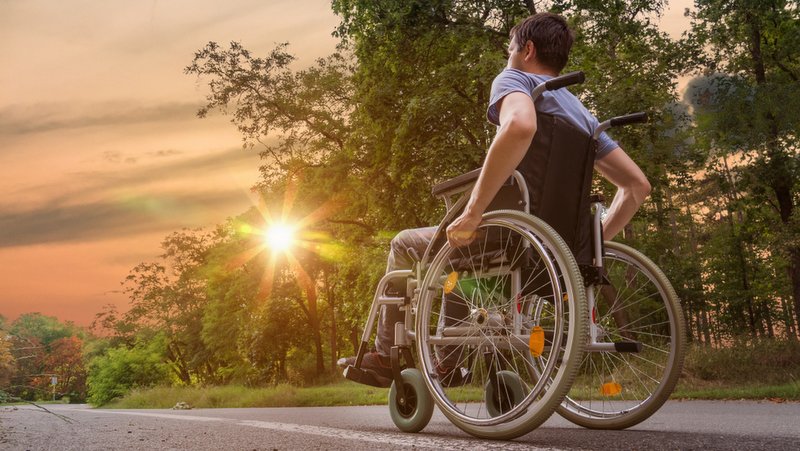 Disabled veterans who may not have realized they can apply to have their student loans forgiven — or who were afraid of the tax implications of claiming the benefit — will soon be getting letters in the mail inviting them to apply for tax-free loan discharges.
Until recently, the IRS treated student loan forgiveness granted to disabled borrowers as taxable income. The plight of retired Army 1st. Lt. Will Milzarski, an Afghan war vet who was received a $70,000 tax bill after having $223,000 in loans forgiven, helped inspire Congress to change the law.
As part of the changes to the tax code made by Congress in December, borrowers whose student loans are forgiven on or after Jan. 1, 2018, due to "total and permanent disability" no longer have to pay federal income taxes on those forgiven loans.
The Department of Education said today it's partnering with the Veteran's Administration to launch a computer matching program that will identify disabled veterans who have outstanding federal student loans or Teacher Education Assistance for College and Higher Education (TEACH) grants, which are often converted into loans. Veterans who appear eligible to qualify to have their loans forgiven will be mailed an application for a total and permanent disability (TPD) discharge.
The VA has estimated that 800,000 veterans are unable to work because of service-connected disabilities, but it's unknown how many have student loan debt.
"Simplifying the loan forgiveness process and proactively identifying veterans with federal student loans who may be eligible for a discharge is a small but critical way we can show our gratitude for veterans' service," Secretary of Education Betsy DeVos said.
Why not just automatically discharge the student loan debt obligations for borrowers who qualify?
"While recent tax changes have removed federal tax implications, there still may be state tax implications associated with discharges that a veteran may consider," Department of Education spokeswoman Liz Hill tells the Washington Post.
Delayed launch of computer matching
Plans to launch the computer matching program date to 2016, but the first letters to disabled veterans with student loan debt are just going out this this month. For some veterans, the program's slow launch could be a blessing in disguise. Because changes to the tax code aren't retroactive, veterans and other disabled borrowers granted loan forgiveness before Jan. 1, 2018 still face federal tax implications.
A similar computer matching initiative in 2016 identified 387,000 borrowers classified as disabled by the Social Security Administration who owed $7 billion in educational debt. Notifications mailed to those borrowers also warned of the potential tax consequences. The campaign generated about 19,000 new approvals for loan forgiveness.
Monitoring period for non-veterans
Student loan forgiveness can be granted immediately to veterans classified as 100 percent disabled by the VA. Borrowers seeking loan discharges after being classified as disabled by the Social Security Administration or a physician are subject to a three-year monitoring period.
Loan forgiveness granted through a "total and permanent disability" (TPD) discharge supported by SSA documentation or a physician's certification is not reported to the IRS until after the three-year monitoring period is completed.
Government workers and employees of qualified nonprofits can also qualify for tax-free Public Service Loan Forgiveness after making 10 years of payments. It takes 20 or 25 years for other borrowers to qualify for loan forgiveness in an income-driven repayment program, and the IRS still classifies that type of forgiveness as taxable income.
Editor's note: This story has been updated to note that some states may consider forgiven student loan debt as taxable income, even in cases where the federal government does not. 
---