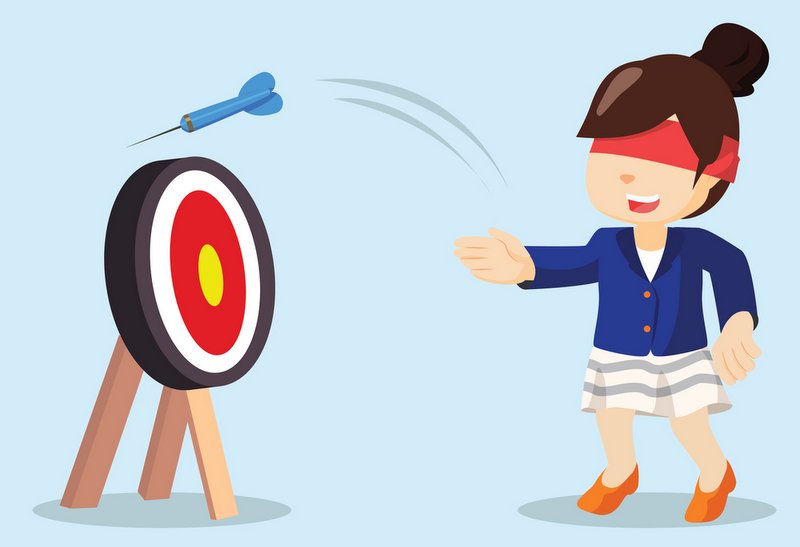 Concerns about the debt many students take on in pursuit of a degree has spurred a movement to arm them with hard numbers about what college will actually cost, and what kind return they can expect on their investment.
If students have an idea of how much they'll earn with a degree in a particular major from a specific school, the thinking goes, they'll be careful about taking on more student loan debt than they can reasonably repay.
Not so fast, say researchers at the Urban Institute who built a website that serves up detailed information on college costs and projected earnings to high school students in Virginia, and then studied whether it helped them make better decisions.
The researchers found that not only was it hard to get students to use the website, but that those who did were no more likely to choose a more affordable school, or pick a major that could lead to higher earnings.
Although the results of the study don't necessarily apply to other similar websites, "Policymakers should not assume that providing more information, on its own, is likely to solve any of the shortcomings of the U.S. higher education systems," Urban Institute researchers said in summarizing their findings.
Nevertheless, making such information available is "a necessary first step to support consumer choice, market-based accountability, and government regulation," they concluded.
College Scorecard
Since late 2015, the Department of Education's College Scorecard website has provided earnings data for most U.S. colleges. Visitors to the site can pull the average annual cost of attendance at just about any college or university, and see graduation rates and salaries for graduates.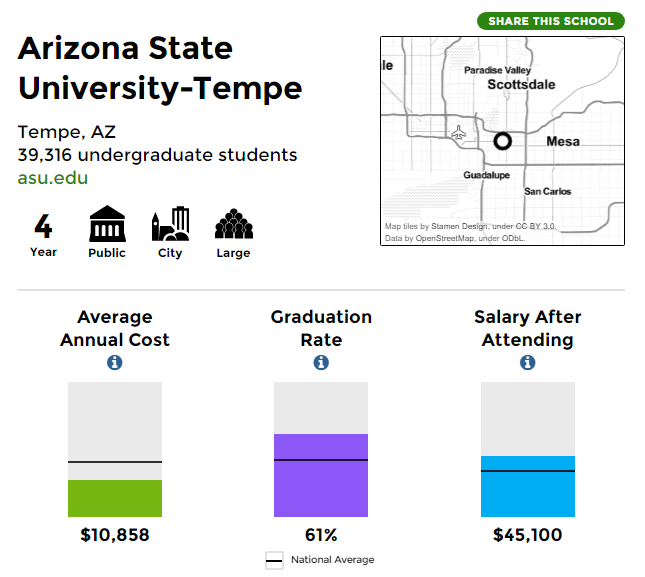 Screenshot detailing some of the information provided by College Scorecard about Arizona State University.
But as a tool for evaluating "college ROI" (return on investment), College Scorecard is rudimentary, at best. Critics say its shortcomings include an inability to break out earnings data by major — a degree in electrical engineering will usually lead to higher earnings than a degree in child and family studies, researchers at the Brookings Institution have noted.
Because College Scorecard only has salary data for students who received federal financial aid, it also excludes "significant numbers of students" from its calculations.
Politics and privacy concerns
A major obstacle preventing the Department of Education from building a more sophisticated college ROI tool is that Congress has prohibited the federal government from using a "unit record system" to track students through college and into the workplace.
Privacy concerns have been put forward as justification for the federal student unit record ban. But private colleges have lobbied against lifting the ban, fearing that poorly performing schools could lose students and federal funding if more data on student outcomes comes to light, the think tank New America maintained in a 2014 report.
In May, four U.S. senators — Republicans Orrin Hatch and Bill Cassidy, and Democrats Elizabeth Warren Hatch and Sheldon Whitehouse — introduced the College Transparency Act of 2017, an attempt to simplify the process of collecting the information needed to power college ROI tools while addressing privacy concerns.
The bill's backers did not provide any assurances to operators of poorly performing schools, however.
The information that will become available if the federal student unit record ban is lifted, "will tell students how others with their backgrounds have succeeded at an institution, and help point them towards schools best suited to their unique needs and desired outcomes," the senators said in a press release.
But two months after its introduction, the bill has picked up no additional cosponsors — suggesting it may never emerge from the Senate Health and Education Committee where it's been referred.
In the mean time, a number of states — including Colorado, Kansas and Texas — have launched college ROI tools of their own. Launched last year, Kansas DegreeStats now serves up cost and earnings data for 1,100 undergraduate degree programs offered by 26 public universities and colleges in Kansas.
"While there are several other states which publish earnings data, there is no other state which provides data on the actual costs experienced by graduates, and no other resource available which combines detailed degree-level cost and earnings data in one place," the Kansas Board of Regents boasted last week in announcing updates to the site.
Lessons learned
The college ROI tool built by the Urban Institute to study Virginia high school students, GradpathVA, was recently made public, and will be available through September, 2017.
What's interesting about the website is that it was build to test the assumption behind other college ROI tools — that with the right information, prospective college students will make better choices about which schools provide the most bank for the buck.
But the study found no evidence that those who used the site changed their behavior, based on the colleges and majors they chose after graduation.
One reason might be that it's hard to know what to do with the kind detailed information that a sophisticated college ROI tool can serve up. All other things being equal, Urban Institute researchers said, "it is not obvious how to weigh a higher average salary against a lower graduation rate, a higher tuition price, or a less attractive campus."
Another problem is that even if students are able to use the information provided by a college ROI tool to identify schools that would be the best fit for them, they might have only a limited ability to act on that information. The Urban Institute had previously concluded that nearly two-thirds of Virginia students wouldn't be able to use college earnings data to pick a college because many must attend college near home, and may not be admitted to the most selective colleges.
Another problem with college ROI tools uncovered by the Urban Institute could be summed up as, "If you build it, they may not come."
Researchers with the think tank contacted more than 300 Virginia high schools to invite them to participate in its study. Only 25 said yes. Even after the website was made publicly available and guidance counselors at high schools around the state were invited to refer their students, it attracted only 127 users over a 9-month period, and just 72 actually searched for information about a school.
Those who use other college ROI tools probably may come from more affluent homes, and already be comparing multiple colleges. A contractor that evaluated College Scorecard for the Department of Education found that students and families using the site tended to look at highly selective schools.
Despite the "disappointing results" of the Virginia study, efforts to make data on college costs and outcomes available should continue, the Urban Institute said, "as the existence of high-quality data is necessary to support continue experimentation."
One experiment worth conducting might be to make such information available on websites that students already use, rather than through a dedicated site.
Focus groups conducted by the Urban Institute revealed that "many high schools already have well-developed procedures to help their students navigate the college selection process. These schools provide access to information sources and tools such as Big Future, Cappex, and Naviance, which are full-service platforms that do much more than simply provide information."
Other college ROI tools
For those who are simply looking for information, other college ROI resources include:
---