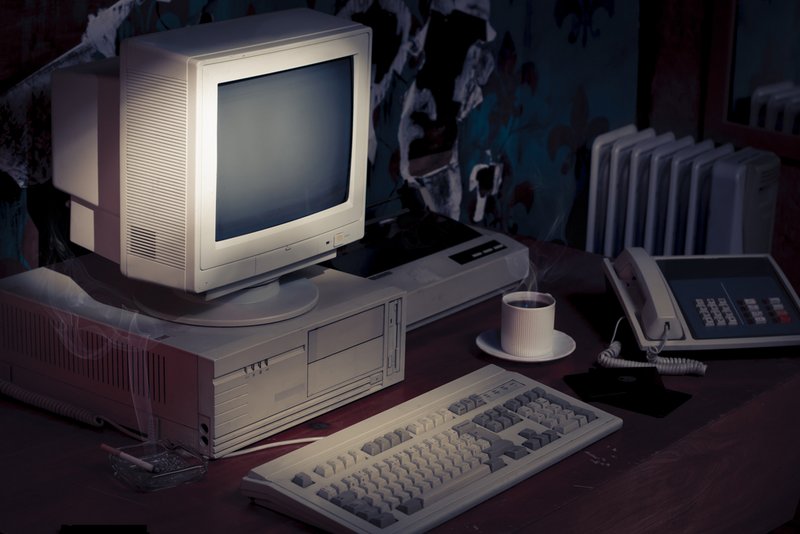 Close your eyes and try to imagine the typical American college campus, and chances are you'll picture majestic oak trees scattered between brick lecture halls and dormitories that have been around for a century or two, and which will continue to attract students for generations to come.
But as the closure of for-profit schools like those operated by Corinthian Colleges and ITT Educational Services Inc. remind us, colleges and universities are businesses, with revenue and expenses. If they can't pay their bills, they sometimes close their doors — leaving students and faculty in the lurch, and taxpayers on the hook for millions in student loan debt.
Before closed its doors April 2015, there were 72,000 students attending classes offered by Corinthian Colleges through schools including Heald College, Everest University, and WyoTech. Those students received an estimated $1.4 billion dollars in federal student aid — more than $550 million of which has already been forgiven.
Last year, ITT Educational Services Inc. closed 136 campuses where 35,000 students sought associate, bachelor's, and master's degrees. In 2015, as the school's problems began to mount, there were 45,000 students enrolled in ITT degree programs, relying on $580 million in federal loans and student aid.
The U.S. Department of Education is supposed to monitor the financial condition of 6,000 schools where students receive about $125 billion in federal student aid. A new report by the U.S. Government Accountability Office calls into question whether it's got the right tools for the job.
Scoring system unchanged since 1997
At issue is a scoring system that determines whether schools are getting into financial trouble and require additional oversight and, in extreme cases, a letter of credit that can help pay for expenses that will need to be covered if the school fails.
The scoring system is a composite score based on three factors, mined from audited financial statements:
The primary reserve ratio (whether it has the resources needed to cover its expenses)
The equity ratio (the school's assets versus its liabilities)
The net income ratio (is more money coming out than is going in?)
But the GAO, which analyzed 10 years of data on school closures, found that the composite score isn't very good at predicting which schools are at risk of closure. Among the 96 schools that closed in 2015-2016, 60 percent had received passing scores on their last assessment before they closed.
The GAO concluded that one problem with the score is that its underlying methodology hasn't been updated since it was created 20 years ago, and doesn't incorporate the latest accounting practices and financial measures.
"Education's composite score formula does not capture recent advances in financial analysis that could provide a broader indicator of a school's financial health," the report found. "When the composite score formula was designed in 1997, it was based on the key measures of financial health that were available at the time. Over the last 20 years, the composite score formula has remained unchanged, but the field of financial analysis has continued to evolve with new measures becoming important as economic conditions change."
The composite score is "solely based on annual snapshots of a school's finances" — something that rating agencies that evaluate the debt issued by schools wouldn't dream of doing.
Analysts the GAO interviewed at one credit rating agency said that for their debt assessments, they look back at 5 to 10 years of historical trends, and make projections 2 to 3 years into the future.
Last year, 30 schools that received passing grades on their Department of Education composite scores had the bonds they issued rated as "non-investment grade" — "junk" in the vernacular of bond investors.
Gaming the system
The composite score is also vulnerable to manipulation — some schools have gamed their score by taking out loans and then paying them back right away.
For three years in a row, Corinthian took out loans at the end of the fiscal year — $43 million in 2011, $58 million in 2012, and $86 million in 2013 — and quickly repaid them.
This artificially boosted Corinthian's composite score, allowing it to avoid having to provide a letter of credit that might have covered some of the $550 million in federal student loans that were discharged after the school went bankrupt, the report said.
The implications GAO report — nearly two years in the making — are of particular concern given the rising number of school closures. Nearly 100 schools closed in the 2015-2016 school year, up from less than 30 in 2010-2011.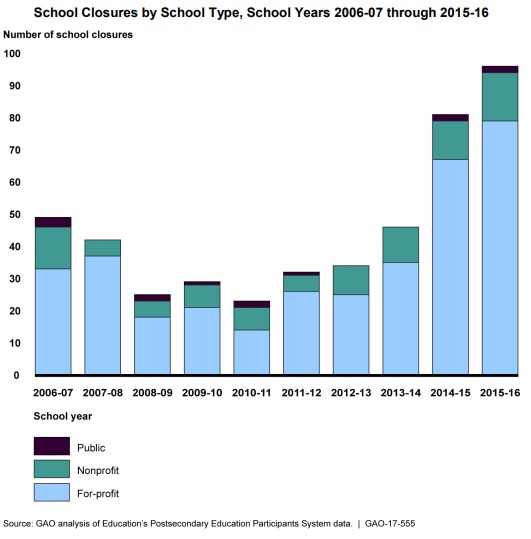 The vast majority of schools that close are private, for-profit institutions. Although for-profit colleges did booming business when unemployment surged during the "Great Recession" of 2007-2009, many have since found it more difficult to recruit students.
Public disclosure
Financial health composite scores are not only intended to alert the Department of Education to problem schools, but help students decide whether pursuing a degree at a particular school is worth the investment of time and money.
The composite scores for most schools are published on the Department of Education's website. But in the most recent data release, covering the 2014-15 academic year, there were no scores for about 17 percent of schools. That includes including seven of the largest 30 recipients of federal student aid. All told, students at schools for which composite scores were unavailable recieved more than $8 billion in federal student aid.
In most cases, if there's no composite score for a school, it's because it's owned by a parent company. All of the schools owned by the same company receive the same composite score, based on the evaluation of the parent company. But the Department of Education only publicly discloses the composite score for one school owned by a parent.
If you're one of more than 50,000 students attending Laureate Education's Walden University, for example, you won't find a composite score. The score associated with Laureate is only publicly disclosed as the score for Kendall College, which is attended by about 50 times fewer students.
Department of Education's response
It should be noted that the 96 schools that closed during the 2015-16 schools year accounted for less than 2 percent of the 6,000 schools monitored by the Department of Education.
Responding to the report's findings, the Department of Education acknowledged that the ability to game the composite score was a factor to consider and address.
But it insisted that the report did not demonstrate how changing accounting standards have made the composite score less accurate, or that it's not a reliable measure of financial strength.
"The fact that GAO identified 30 schools that would have been rated differently by credit rating agencies does not support that the composite score was an unreliable measure of the relative financially strength of those schools, " Deputy Chief Operating Officer Matthew Sessa said in a formal response.
---