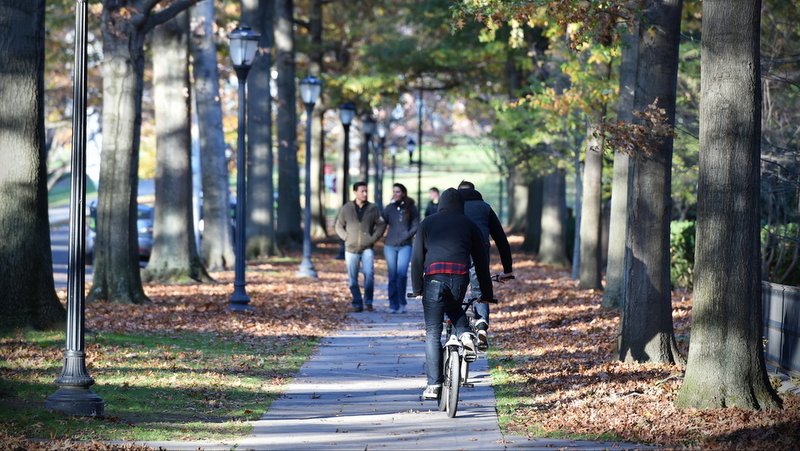 When students head off to college but don't manage to get their degrees after four years, every additional year they take will cost them more than $68,000.
That's according to one estimate from Complete College America that tallied up the additional tuition, fees, living expenses and also factored in lost income.
According to the National Center for Education Statistics, only 40 percent of students complete their degrees within four years.
The numbers are even more stark for some minority groups — one in five African Americans starting college these days finishes within four years, and only 30 percent of Hispanics graduate on time.
So why would a college advisor get an incoming student off on the wrong foot, and suggest that they sign up for less than 15 credits in a semester — the minimum required to stay on track to graduate on time?
Maybe it's because their high school grades weren't the best. Or perhaps they'll be working while attending school.
Ed Venit says college advisors and administrators often have a "desire to protect their new students from overwhelming themselves with coursework in their first year" — and that "many students think the same way."
Venit, a researcher with "best practices" firm EAB, just completed an analysis of the academic performance of 1.3 million students starting out as full-time freshmen at 137 colleges.
What the analysis found was that students taking 15 or more credits got better grades during their freshman year, and were less likely to drop out.
Many colleges have already instituted "15-to-Finish" campaigns designed to help keep students on track to graduate in four years. According to Complete College America's Dhanfu Elston, there are "15 to Finish" programs underway in 25 states.
All students should consider taking full course load
What's interesting about EAB's analysis is that it didn't just demonstrate measurable benefits for students taking a full course load. It also suggests that college advisors should not have reservations about encouraging all of their students to at least consider that path.
Venit's analysis found that taking 15 credits also paid off for students who didn't have great grades in high school, or who came from low-income families and were likely to be holding down a part-time job while in school.
"Students, no matter their academic preparedness or financial situation, should consider taking 15 credits per semester — and then work with their advisor to make the decision that makes the most sense for them," Venit said.
You only need to take 12 credits to be considered a full-time student and maintain your eligibility to receive financial aid. Currently, 44 percent of incoming full-time students take only 12-14 credits per term during their freshman year, EAB says.
That's a habit that sticks with them through college — students who start out taking less than 15 credits average just 13.5 credits per term through the remainder of school. That compares to 15.9 credits per term for those who take 15 credits or more their first term.
"That extra time in college comes at a cost, both in tuition and in the opportunity cost of delayed entry to the workforce," Venit said — more than $68,000 a year, according to Complete College America.
While not every students will decide take a full load, "every student should be exposed to information and an academic map that communicate the importance and value of graduating on time," Elston said.
Incentives can give college students momentum
So how do schools go about encouraging more students to take a full load?
Colleges participating in the "15 to Finish" program typically offer flat-rate tuition for students who are taking more than 12 credits — meaning they pay nothing extra when they add an extra class or two.
A study of college students in Tennessee by the Community College Research Center concluded that students who take 15 credits in their first semester and keep it up all through college can expect to pay 20 percent less for their degree.
At Temple University, need-based "Fly in 4" grants provide $4,000 in assistance per year to eligible students, allowing them to work less and focus more on their studies.
The Fly in 4 program also requires that students pledge to meet with academic advisors every term, and map out their path to take the required courses to get their degree in four years.
About nine in 10 incoming freshman are taking the pledge, and those who do are less likely to drop out and more likely to be on track to graduate in four years.
Part of New York's promise of "tuition-free college" requires students to take 30 credits a calendar year (which can include classes taken in the summer). Indiana has a similar scholarship program.
In addition to taking a full course load, students and college advisors need to make sure that students are taking the right courses for their major, in the right sequence, and not being derailed by bad grades.
The University of Texas at Austin is using predictive analytics to flag students who need help, boosting graduation rates by 10 percentage points in five years.
UT Austin was one of five schools named today as finalists for the Association of Public and Land-grant Universities' 2017 Project Degree Completion Award.
The other finalists are Boise State University, Colorado State University, the University of Hawaii at Manoa, and Western Michigan University.
---