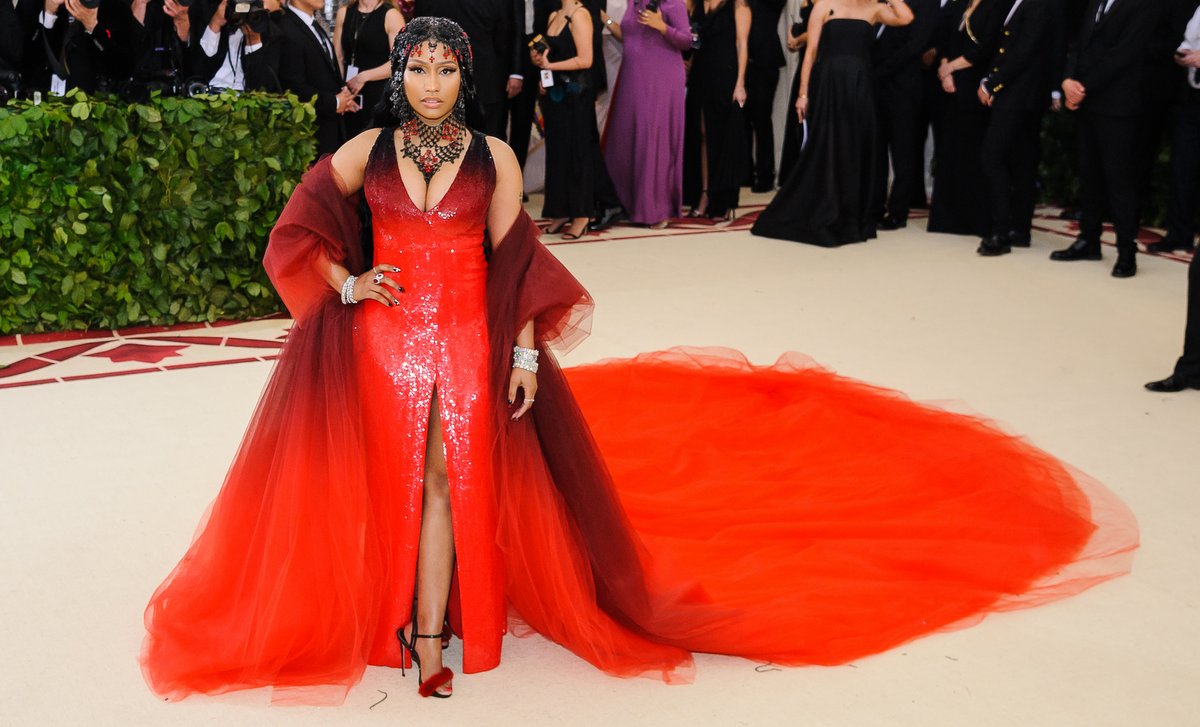 It started last year as a spontaneous response to a tweet from a fan who asked for help paying her college tuition.
Now, after providing more than $18,400 in assistance in 2017, Nicki Minaj is proving that she's in it for the long run. This year, the recording star's "Student of the Game" college fund is helping more than 30 of her fans cover expenses like tuition, fees, books, room and board.
On May 24, Minaj invited her Twitter followers to clue her in to what kind of help they needed for college (including help repaying old student loans):
Ok just send one tweet w|hashtag #StudentOfTheGame saying how much $ you need & what it's for. All $ will b paid directly towards the tuition, books, etc. I'll fave ur tweet & DM you if you've been chosen, for more info. Not every faved tweet will get a DM. ♥️🦄🙏🏽♥️

— Chun-Li (@NICKIMINAJ) May 25, 2018

Last week, the handles of more than 30 #StudentOfTheGame winners were announced:
Congratulations 💕 to the #StudentOfTheGame winners! Thank you @NICKIMINAJ for doing this! pic.twitter.com/9iBQQ4U3Y1

— Pink Queen Tingz 🎀 (@pinkqueentingz) June 29, 2018

We've rounded up all the winning entries we could find (a few accounts, or their requests to Minaj, have been deleted).
These requests for help show the kinds of issues students from all walks of life are grappling with and how sometimes, even a little bit of help can make a huge difference.
Some are just finishing high school. Others are done with college but not with their loans.
They're earning degrees in business administration, sociology, and theater arts. They're hoping to become engineers, dentists, computer scientists, nurse practitioners, math teachers, and lawyers.
They need help with tuition, living expenses, class materials, and computers. Without Minaj's help, some said they wouldn't be able to continue school — or even obtain their transcript.
For students who want to better the odds of landing a scholarship or merit-based aid, check out the College Board's Scholarship Search tool. It tracks more than 2,200 programs offering nearly $6 billion in help paying for college.
Now, without further ado, in their own words, here are the stories of more than 30 students who are getting a helping hand from Nicki Minaj:
$2K would be more than enough 😫🙏 I need this summer class @NICKIMINAJ #StudentOfTheGame

— Cesar (@cesarszn) May 25, 2018
Hey Nicki, I just completed my second year of a 4-5 year engineering degree at UBC in Canada
My tuition per semester is usually about $3500 for 6 classes, I would be so shook and happy if you helped me out❤️ @NICKIMINAJ #StudentOfTheGame pic.twitter.com/0WRoVYjkYs

— SaltyMusicStan x2 (@SaltyMusicStan) May 25, 2018
I am a student at the University of Michigan, and am working hard pay my way through school. I currently have $25,000 in student loans right now. Hope mama Nicki sees this 💙💛💕 #StudentOfTheGame

— T. M I N A J (@MINAJ_4LYFE) May 25, 2018
$4300 to buy dental instrumens and pay a semester❤️ @NICKIMINAJ #StudentOfTheGame pic.twitter.com/KWTF0nVbwa

— KING J (@NICKIPURPOSE) May 25, 2018
@NICKIMINAJ Please Help me with $500 for buy a New computer for my school.I'm studying Computer science on high school.I will finish it soon.And i will to enter in the University on September. PLEASE HELP ME. #StudentOfTheGame

— IG:Drako Buitron (@DrakoBuitron) May 25, 2018
#StudentOfTheGame https://t.co/8q0KmYVYEw 11

— Wally ™ Maraj🇩🇴 (@wjoaquin9) May 25, 2018
@NICKIMINAJ I'll finally be starting my 1st year in college starting fall (2018) majoring in "theater arts" 🎞📽🎭 if you could help me w/ getting a new computer for my classes that would help SO MUCH for my future career 💕 #StudentOfTheGame pic.twitter.com/WnMle2QHo0

— Pussy On W (@Johntavius6) May 25, 2018
@NICKIMINAJ Queen, Please Help me buy a computer for my Senior year, I've been using my phone to do all my edits and do all my school work for the past 2 years.I'd be more than Thankful😭🙏. Help me buy my dream MacBook Pro its 1,200 ❤️ It will help me so much #StudentOfTheGame pic.twitter.com/VMWQeQVJfJ

— Nicki's Watermelon (@NickiWatermelon) May 25, 2018
Hi nicki will you buy me a laptop ?? I sold my laptop last year to pay my 2nd semester college fees ! ❤ #StudentOfTheGame @NICKIMINAJ I really need a laptop to make physics, chemistry project etc❤❤

— Sunny Maraj 👑 (@Sunny_Maraj) May 25, 2018
@NICKIMINAJ i need $1200 for my books and laptop sis please help me #StudentOfTheGame❤️🙏🙏🙏🙏

— Chun-Li son (@Amanitingz) May 25, 2018
I'd truly appreciate it if you considered me for #StudentOfTheGame. I HAVE ONE STUDENT LOAN of $1,750. 💕 That will be the only debt I occur as I'm finishing my degrees. I have a 4.0 GPA as a full time student & full time Mom. I'm really GRINDING to become & Nurse Practicioner.

— тαℓιѕα. 🌞 (@MonaTalisa) May 25, 2018
@NICKIMINAJ I owe $3,082.79 in student loan. This is my one & only. Would be a blessing 🙏🏾 #StudentOfTheGame pic.twitter.com/glhwFLV0Lt

— ✨kʀiรтєɳ ✨ (@_krisDUH) May 25, 2018
@NICKIMINAJ My previous school won't release my transcripts (so that I can continue my education elsewhere) because I owe them over 2k in loans. The exact amount is shown in the photo, sis. I'd forever be indebted by ANY help. Love you always. 🖤✨ #StudentOfTheGame pic.twitter.com/dxSwFuLl1N

— Arte. (@pieceofarte) May 25, 2018
I can't go into my 4th year of uni because of outstanding tuition. I'd be eternally grateful if you could help me out. ♥️♥️♥️ @NICKIMINAJ #StudentOfTheGame pic.twitter.com/awWcyZdrXD

— taylor. (@OnikaHBMaraj) May 25, 2018
I am currently a senior in college studying to become an elementary school MATH TEACHER. I've loved you and fought for you ever since i was in middle school & i've NEVER gave up. I'm trying to get into my masters program next year. $3,000 Pls notice me 🦄🦄!! #StudentOfTheGame pic.twitter.com/TIUsBAMfSK

— 🦄 (@onikanickii) May 25, 2018
@NICKIMINAJ I graduated in December with a B.S. in Business Administration! Here is one of my loans. Anything would help. I would really appreciate it!! #StudentOfTheGame 💕💕 pic.twitter.com/gGn5OtEAot

— Brianna 💕🌸 (@Down_SouthBarb) May 25, 2018
@NICKIMINAJ I just finished out my sophomore year of college and will be a junior this upcoming semester! I made the Dean's list at my school ! I currently need $7000 to pay off loans/out of state tuition costs.. I work really hard to continue to be at my best #StudentOfTheGame pic.twitter.com/Xc5YTCAKZX

— YANNA✨ (@NickiAnaconda) May 25, 2018
#StudentOfTheGame Loans from law school!! Anything would help sis! @NICKIMINAJ pic.twitter.com/8HVo9g8Gy8

— Rye (@Classy_Barb) May 25, 2018
This scholarship would mean so much to me. I have an $1000 balance to start back in the fall and receive my degree in Legal Studies. One step closer to law school and my dreams coming true @NICKIMINAJ #StudentOfTheGame pic.twitter.com/SEXNl7lKAr

— Barb'Bree 🦄 (@_ProBarb) May 25, 2018
Hey Nic in order to enter my sophomore year at Clark Atlanta i have to pay $2,928 dollars in the fall. any amount would help ❤️ #StudentOfTheGame #Queen pic.twitter.com/33fnIrgwRM

— j. (@thejemerialenae) May 25, 2018
$1700 for the 3 classes im taking this semester 😭❤ #StudentOfTheGame pic.twitter.com/lnJgCSJuRi

— Shanice Alsina-Brewster 🇯🇲 (@NieceyXMinaj) May 25, 2018
@NICKIMINAJ finishing my curriculum for nursing school to become an RN! Fall semester 2018 tuition. #StudentOfTheGame pic.twitter.com/PE1PmjMCqp

— TM BAISLEY 💜💜 (@TM_BaisleyBlvd) May 25, 2018
#StudentOfTheGame @NICKIMINAJ 🙏🏽 https://t.co/FC0I1e9wyP

— 𝔦𝔩𝔩𝔢𝔤𝔞𝔩 (@PRADAGYAL) May 25, 2018
Digital marketing major from NY. Here on DACA sis, so I don't qualify for financial aid. My parents bust their ass to help me pay most of it out of pocket. I owe $2604 for this past spring semester. ANYTHING would be a huge help sis 🙏🏼❤️ @NICKIMINAJ #StudentOfTheGame pic.twitter.com/Ofm4MrlPYQ

— Aubrey Carter (@jayvald_) May 25, 2018
#StudentOfTheGame
I need whatever u r honestly willing to give to pay for my classes next semester. pic.twitter.com/SEHAw0siAw

— ॐ Melony ❥ (@xMelCole) May 25, 2018
@NICKIMINAJ #StudentOfTheGame 💕💕💕💕💕👇🏽👇🏽👇🏽👇🏽👇🏽 https://t.co/ieAHEI5Q6x

— Devin (@Devin__TM) May 25, 2018
The debt is REAL! i put myself through my first year with you as my source of motivation! it would mean the entire WORLD to mean if you can help out, even just a lil bit 😩🙏🏽 #StudentOfTheGame @NICKIMINAJ pic.twitter.com/Y487mhs6xG

— 🍪 (@onikaslaysme) May 25, 2018
It's my last semester of college this coming Fall and I graduate with my Bachelors in Sociology. Help me out Generous Queen? @NICKIMINAJ #StudentOfTheGame 💕💕 pic.twitter.com/vq0kqbYzE2

— JZA • (@Jerihmi) May 25, 2018
@NICKIMINAJ even if you only wanna pay the 120 for me to get my GED I would be forever grateful. But I truly need like 1,000-1,500 so I can pay for classes in the fall because fasfa doesn't give me enough aid. #StudentOfTheGame or help so I can get the equipment for my class❤️ pic.twitter.com/jxIQivjLFG

— QUEEN x SWEETNER (@ethanlevels) May 25, 2018
---